Films With a 'Social Conscience': Stanley Kramer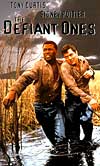 In the early 1950s, when McCarthyism and the Hollywood blacklist had taken a firm hold, scrappy independent producer/director Stanley Kramer was producing the classic, Best Picture-nominated western High Noon (1952) directed by Fred Zinnemann, a veiled anti-McCarthy allegorical film about a marshal (Oscar-winning Gary Cooper) in a showdown against evil threats to the community.
Other powerful films from the fearless director/producer Kramer, exhibiting a strong social conscience and a serious 'message' about sensitive subjects were:
Champion (1949), directed by Mark Robson, a boxing expose-drama with Kirk Douglas (who earned his first Oscar nomination)
Home of the Brave (1949), a ground-breaking film exposing racial prejudice and racism in an Army platoon during WWII
The Men (1950), directed by Fred Zinnemann, produced by Kramer, noted for the screen debut of Marlon Brando as a disabled veteran
Death of a Salesman (1951), directed by László Benedek but produced by Kramer, a screen adaptation of Arthur Miller's Pulitzer Prize-winning play, with Fredric March in an Oscar-nominated performance as the tragic middle-aged title character Willy Loman; blacklisted Broadway play actor Lee J. Cobb was denied the role, although Mildred Dunnock recreated her stage role as Willy's wife Linda
The Caine Mutiny (1954), directed by Edward Dymtryk and produced by Kramer, starring Humphrey Bogart in his Oscar-nominated role as paranoid Captain Queeg
The Wild One (1954), about youth rebellion in the guise of black-jacketed bikers led by the iconic Johnny (Marlon Brando)
The Defiant Ones (1958), another film about racism, about a black and white prisoner (Sidney Poitier, the first black actor to star in mainstream Hollywood films in non-stereotyped roles, and Tony Curtis) who escaped from a prison chained together; the film's award-winning script was co-written by blacklisted writer-actor Nedrick Young; the film brought Kramer his first Best Director nomination
the thought-provoking, grim, anti-nuclear film about the futility of nuclear war, On the Beach (1959), a doomsday account (based on Nevil Shute's novel) of survivors (Ava Gardner, Anthony Perkins, Fred Astaire) in the aftermath of a devastating nuclear attack, with Gregory Peck as a stalwart submarine commander
Inherit the Wind (1960) - a dramatization of the John Scopes 'Monkey Trial' regarding evolution, religious conservatism, and creationism, pitting courtroom figures (Fredric March and Spencer Tracy) against each other
Later, Kramer also tackled anti-Semitism and the atrocities of Nazi war crimes (the Holocaust) with Judgment at Nuremberg (1961), and race relations (and inter-racial marriage) with Guess Who's Coming to Dinner (1967). Another Kramer film, Bless the Beasts and the Children (1971), was about animal rights. In his entire career, Stanley Kramer's 35 pictures received much critical and financial acclaim, and received 85 Oscar nominations (and 16 Academy Awards).
Director John Sturges' Bad Day at Black Rock (1955) was a suspenseful, modern-day western/drama about a one-armed stranger (Spencer Tracy) confronting a town's awful, racist secret. Elia Kazan's A Face in the Crowd (1957) (with Andy Griffith and Lee Remick in their screen debuts) examined how easily the media could manipulate and dupe the public. And Will Success Spoil Rock Hunter? (1957) satirized 50s morals, advertising, sex, and the growing power of television.
Hitchcock's sombre and noirish The Wrong Man (1956) examined the plight of Henry Fonda as a family man unjustly accused of armed robbery. Another definitive film noir was Fritz Lang's The Big Heat (1953) - it was an example of a sub-genre of criminal/gangster-syndicate films, along with Joseph H. Lewis' The Big Combo (1955), Phil Karlson's The Brothers Rico (1957), and Burt Balaban and Stuart Rosenberg's CinemaScope Murder, Inc. (1960).
Censorship Challenges: Otto Preminger
Since the mid 1930s, films exhibited a seal and number, showing that they were in compliance with the Motion Picture Production Code Administration (better known as the Breen Office because of the PCA's head Joseph Breen). The Hays Production Code was amended in 1951 (its first major revision since 1934!) with content restrictions for the film subjects of drugs, abortion, prostitution, and kidnapping. The constraints of the system were increasingly criticized by the mid-1950s, because filmmakers were forced to make changes in their films in order to qualify for a seal of approval, but some filmmakers were willing to take risks.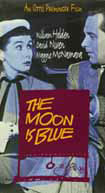 The first studio-produced film from Hollywood that was released without the seal, deliberately, was producer/director Otto Preminger's daring The Moon is Blue (1953), a dated sex comedy about seduction and chastity that was also condemned by the Catholic Legion of Decency, in part because of its offensive use of prohibited words such as "virgin," "seduce," "pregnant," and "mistress" in the dialogue. Nonetheless, the film received three Academy Award nominations (Best Actress, Best Song, and Best Film Editing) and great viewer curiosity and box-office publicity due to the controversy. Director Henry Cornelius' I Am A Camera (1955), the pre-cursor to the Broadway musical hit Cabaret, was also denied an approval seal for its subject matter of abortion.
UA's stark black and white The Man With the Golden Arm (1955), under director/producer Otto Preminger's direction and starring Frank Sinatra, was also denied a production seal by the Motion Picture Association of America because the film dealt with the forbidden subject of drug (heroin) addiction. It was a test of the 'morals code' ruling on drugs. UA Studios resigned from the MPPDA and submitted the film to state censorship boards instead. Otto Preminger's legal drama Anatomy of a Murder (1959) (with Stewart as a crafty defense lawyer) dealt with another taboo subject - rape. It featured real-life lawyer Joseph Welch (famous for asking in the Army-McCarthy hearings - "Have you no decency at last, sir?") as the presiding Judge Weaver. [By the beginning of the next decade, Preminger was able to release the controversial Advise and Consent (1962), a drama about power politics and homosexuality (and Charles Laughton's last film).]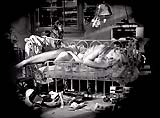 The release of director Elia Kazan's version of Tennessee Williams' steamy Southern tale Baby Doll (1956) brought condemnation by the National Legion of Decency (although released with a seal of approval) - it was especially controversial for its gigantic Times Square billboard promoting the film with its star Carroll Baker curled up on a cot sucking her thumb (based on one of the earliest scenes in the film). The film was about a young teen bride nicknamed "Baby Doll" (Carroll Baker) who had only two days left until her 20th birthday when she had to give up her virginity to her older husband (Karl Malden). Yet the film, along with Preminger's challenges and other lessening of restrictions on film-makers in 1956, was instrumental in breaking the back of the Production Code and bringing in a new era of frank Hollywood movie-making.
Darryl Zanuck's first independent production, Island in the Sun (1957) was daring for its time, since the Hays Code banned miscegenation. It offered two inter-racial romances between John Justin and Dorothy Dandridge, and Harry Belafonte and Joan Fontaine. The film provided the first scene in a US film where a white woman (Joan Fontaine) was kissed by a black man (Harry Belafonte). As the 50s progressed, there were other indications that the production code was weakening. Best Supporting Actress nominee Carolyn Jones played the role of a "nympho" in The Bachelor Party (1957), and four consecutive Best Actress Oscar winners portrayed "easy women" or prostitutes:
Joanne Woodward in The Three Faces of Eve (1957), about a patient with several distinct personalities (one a loose party girl) suffering from a rare and controversial psychiatric condition, and being treated with hypnosis by doctor Lee J. Cobb
Susan Hayward in I Want to Live! (1958)
Simone Signoret in Room at the Top (1959)
Elizabeth Taylor in Butterfield 8 (1960)
Doris Day's Films and Other Romantic Musicals and Comedies: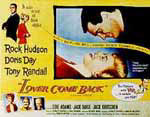 Besides Marlon Brando, James Dean, and other rebellious characters in the 1950s, there were also squeaky-clean and wholesome stars such as Doris Day. She appeared with Gordon MacRae in the musical Tea For Two (1950), in Roy Del Ruth's and WB's musical romance On Moonlight Bay (1951) based upon Booth Tarkington's Alice Adams and the Penrod stories, and its sequel By the Light of the Silvery Moon (1953). She also had lots of roles in similar musicals in the period, such as It's a Great Feeling (1949), The West Point Story (1950), The Lullaby of Broadway (1951), I'll See You in My Dreams (1951), April in Paris (1952), Calamity Jane (1953), Lucky Me (1954), and The Pajama Game (1957).
The first in a long line of fluffy, light-hearted adult sex comedies in the early 60s appeared in the final year of the decade. The light-hearted, witty Pillow Talk (1959) starred the steadfastly-virginal Doris Day and Rock Hudson (the first of their three films together) - portraying two perfectly matched people who battled it out in a war between the sexes. Delbert Mann's Lover Come Back (1961) and Norman Jewison's Send Me No Flowers (1964) were other vintage Hudson-Day comedies. Doris Day also starred with other leading men in romantic comedies or dramas, such as Ronald Reagan in The Winning Team (1952), James Cagney in Love Me or Leave Me (1955), Richard Widmark in The Tunnel of Love (1958), an aging Clark Gable in Teacher's Pet (1958), David Niven in Please Don't Eat the Daisies (1960), and Cary Grant in That Touch of Mink (1962).
The romantic drama Three Coins in the Fountain (1954), with Frank Sinatra singing the film's Oscar-winning theme song, told the story of three secretaries (Maggie McNamara, Jean Peters, and Dorothy McGuire) who traveled to Rome looking for romance with Louis Jourdan, Clifton Webb, and Rozanno Brazzi. Rosalind Russell starred as the title character in Auntie Mame (1958), recreating her stage role in a play that was based on Patrick Dennis' book about his eccentric relation. It was noted for her statement of her life's philosophy: "Life is a banquet—and some poor suckers are starving to death." A witchy Kim Novak with a cat named Pyewacket cast a love spell on publisher James Stewart in the fantasy comedy Bell, Book and Candle (1958).
Intelligent 50s Westerns: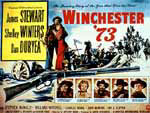 Low-budget Westerns turned brooding, intelligent, widescreen and psychological in the 1950s, emphasizing well-drawn, complex and ambiguous characters rather than blazing action. Three new directors replaced traditional Westerns with creative, dramatic, "adult" Westerns:
Delmer Daves
Budd Boetticher
Anthony Mann
Writer/director Delmer Daves filmed Broken Arrow (1950) - one of the first Westerns to show the Indian perspective (although white actor Jeff Chandler played the role of Cochise), the first-rate 3:10 To Yuma (1957) (the best of the High Noon imitations), Cowboy (1958), and The Hanging Tree (1959).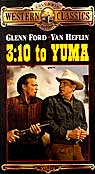 Budd Boetticher made some of the best Westerns in the late 50s starring actor Randolph Scott, including Decision at Sundown (1957), the little known classic The Tall T (1957), Ride Lonesome (1959), and Comanche Station (1960).
The third new director was Anthony Mann who typically teamed up with James Stewart in five films including the episodic, 'psychological' western Winchester '73 (1950) (the film that helped popularize Westerns for the entire decade), Bend of the River (1952), The Naked Spur (1953), The Far Country (1954), and The Man From Laramie (1955). Other excellent Mann westerns included The Tin Star (1957) and The Man of the West (1958), with Gary Cooper as a former outlaw plagued by his past.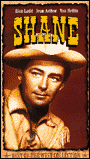 Two of Howard Hawks' landmark westerns book-ended the decade: Red River (1948) and Rio Bravo (1959). The top male star of 1950, John Wayne, starred in both films.
Three other intelligent and popular Westerns were Fred Zinnemann's anti-HUAC western High Noon (1952) for which Gary Cooper won a Best Actor Oscar by portraying an archetypal loner/marshal taking a showdown stand for justice against the bad guys as the clock tensely ticked towards noon. [Ironically, he was one of Hollywood's actors who cooperated with the HUAC and targeted "Communist sympathizers" in the industry.] High Noon was marked by Grace Kelly's first starring role as the lawman's new bride, and an innovative real-time structure. The second Western film was George Stevens' mythic classic Shane (1953), a new kind of Western which featured an individualistic, existential loner/hero gunslinger. The third Western was John Ford's greatest masterpiece The Searchers (1956), possibly the greatest Western ever made.
At the end of the decade before his classic The Magnificent Seven (1960), John Sturges directed Gunfight at the O.K. Corral (1957) and The Last Train from Gun Hill (1958). And from Japanese director Akira Kurosawa came The Seven Samurai (1954) - a 16th century style 'western' tale of seven hired professionals commissioned to defend a small farming village.

Film History of the 1950s
Part 1, Part 2, Part 3, Part 4, Part 5, Part 6
---



---