Background
---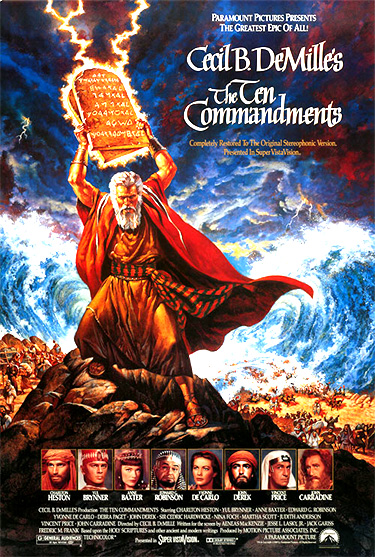 The Ten Commandments (1956) was Cecil B. De Mille's most spectacular epic and last film. It was the highest-earning live-action film of the 1950s.
Although a blockbuster, the film reverts to melodramatic style, with great actors adopting static attitudes, postures and gestures.
It was a remake of De Mille's own 1923 silent film of the same name.
The Story
---
This commanding film was the epic account of the liberation of the Hebrew people from Egyptian bondage by Egyptian prince Moses (Charlton Heston), born a Hebrew slave. Raised as the Pharaoh's adopted son by royal Egyptian Pharaoh Sethi (Sir Cedric Hardwicke), he helps in the construction of the giant pyramids. While saving a slave's life, he delivers a famous line:
Blood makes poor mortar.
Moses is banished by his half-brother Rameses II (Yul Brynner) when it is discovered that he is an Israelite. Princess Nefretiri (Anne Baxter) evaluates her once-princely lover:
Oh, Moses! Moses! You stubborn, splendid, adorable fool!
Moses returns years later to free the slaves. He learns of his destiny to confront the Pharaoh and lead the Israelites in the spectacular Burning Bush scene on Mt. Sinai.
Moses confronts Rameses II:
Thus sayeth the Lord God of Israel: Let my people go.
The Pharaoh also makes pronouncements:
So let it be written. So let it be done.
The scenes of the many deadly plagues are masterfully done, especially when the Nile turns red. When the Pharaoh gives in, Moses views the mass of Hebrews waiting to leave Egypt and exclaims in this enormous crowd scene: "There are so many, so many."
As the Hebrews reach the Red Sea, the Pharaoh has decided to pursue them. One of the most miraculous visual effects scenes in film history is the parting of the Red Sea, prefaced by Moses' statement: "The Lord of Hosts will do battle for us. Behold his mighty hand." An old man comments: "God opens the sea with a blast of His nostrils!"
Other memorable scenes are dramatically enacted at Mt. Sinai including the creation and delivery of the Ten Commandments by the finger of God, and the orgiastic scene of the Hebrews worshipping the idolatrous Golden Calf.