Technological and Special Effects Innovations of the Decade:
See more in History of Visual/Special Effects overview.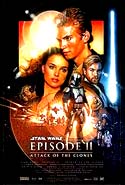 George Lucas' second Star Wars pre-quel, Star Wars: Episode II - Attack of the Clones (2002), the fifth film in the hugely successful Star Wars series, was the first big-budget major Hollywood film shot entirely with digital video cameras (at 24 fps) - best screened in theaters equipped with digital projectors. The 96-minute long film Russian Ark (2002) (aka Russkiy kovcheg) from director Aleksandr Sokurov was the longest single-shot feature-length narrative film (with no cuts) in movie history, as the camera roamed through the halls of the Hermitage in St. Petersburg during 19th century Russia. Its tagline described: "2000 cast members, 3 orchestras, 33 rooms, 300 years, ALL IN ONE TAKE." Able Edwards (2004) was the first publicly-released feature film shot entirely without physical sets against a green screen. Produced in similar fashion was the big-budget Sky Captain and the World of Tomorrow (2004) with very photo-realistic, all-CGI backgrounds and live actors. Human actors were completely filmed in front of a green/blue screen with no background sets at all.
Director Peter Jackson's King Kong (2005), a remake of the classic and tragic beauty-and-the-beast love story of the 1933 Kong film, featured a computer-generated Kong. It was remarkable for having the largest number of special/visual effects shots in a single film, surpassing the previous records set by Star Wars Episode III: Revenge of the Sith (2005), and Jackson's own trilogy of The Lord of the Rings films. The more than 3,200 final shots in the film were culled from 3 million feet of live-action footage and 2,510 visual effects shots.
Visual Effects: The Technique of Performance Capture
Performance capture (or motion capture) became more widespread and sophisticated as a special effects technique in the 2000s. Performance capture referred to a digital blend of live performance and animated elements. Actors wore heavy, dot-sensor-covered spandex body suits and a helmet, and initially acted out their scenes in isolation from other sets, props, costumes, or actors. Expressions and movements were first recorded by digital cameras as 3D "moving data points" - and afterwards, the digitally-recorded performances were translated and embellished by key-frame artists and integrated into an exclusively virtual environment.
in the second part of Peter Jackson's trilogy, The Lord of the Rings: The Two Towers (2002), CGI-imagery was combined with "motion capturing" (of the movements and expressions of actor Andy Serkis, who also served as the voice) to produce the barely-seen, supporting character of Gollum (originally known as Sméagol)
performance capture-advocate Robert Zemeckis experimented with the technology in his own The Polar Express (2004); in his next film, Beowulf (2007), an adaptation of the Old English epic poem, he used advanced motion-capture technology to transform live action into digital animation - it was released simultaneously in standard 2-D and non-Imax 3D versions and had the biggest 3-D rollout of any film in history (to date)
the technique was also used in Disney's and Zemeckis' 3-D A Christmas Carol (2009), an adaptation of Dickens' 1843 classic story, in which Jim Carrey played multiple roles, including old miser Scrooge (at different stages of his life) and the three Christmas ghosts; it was released in both Disney Digital 3-D and IMAX 3-D (it was the first Disney animated film released in this format)
director Zack Snyder's Watchmen (2009), a filmed adaptation of Alan Moore's graphic novel (a 12-issue publication by DC Comics between 1986 and 1987), featured the photo-realistic, all-CGI character of the all-powerful, blue-glowing "atomized" scientist Dr. Manhattan (Billy Crudup) which was also created with the process of motion capture
James Cameron's ambitious, monumental animated/live-action fantasy Avatar (2009), his first feature film since Titanic (1997), was a futuristic, epic 3-D film with ground-breaking special effects involving performance capture. The expensive sci-fi romance epic was set in the year 2154 and told about invasive Earth-dwellers (created as avatars) seeking the rare mineral unobtanium on the distant alien moon of Pandora, inhabited by indigenous blue-skinned, 10 foot tall Na'vi
The Expansion of 3-D and IMAX Releases: The Future of Film
The decade of the 2000s saw advancements in 3D and an explosion of releases of both 3-D films and IMAX films. There were many varieties of 3-D, including Disney Digital 3D, Real D 3D, InTru3D, D-BOX, and IMAX 3D. And with many more theatres converted to the 3D format, that meant increased demand and bookings (and ticket prices) for 3D films. Would 3D be the future of filmmaking, a logical extension of CGI? One of the major concerns of the burgeoning trend toward 3D was the availability of theater chains to meet the demand, and the additional cost of, on average, about $3.50 more per ticket.
Films released in IMAX 3-D included: Ghosts of the Abyss (2003) and Aliens of the Deep (2005) and many other IMAX-only short features, as well as portions of feature films, such as The Dark Knight (2008).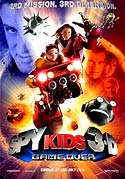 The DreamWorks sci-fi spoof of 50s monster movies Monsters vs. Aliens (2009) was the first computer-animated feature film to be shot directly in stereoscopic 3-D -- dubbed the Ultimate 3-D. Previously, 3-D CGI films were made in a non 3-D version and then dimensionalized. The film was about the growth of Californian Susan Murphy (voice of Reese Witherspoon) who was hit by a meteor on her wedding day and grew to monstrous size (49 feet and 11 inches) and was named Ginormica.
3D releases in the decade included: Spy Kids 3D: Game Over (2003), The Polar Express (2004), Chicken Little (2005), Monster House (2006), Superman Returns (2006) - with 20 minutes in converted 3D, Meet the Robinsons (2007), Beowulf (2007), Journey to the Center of the Earth 3D (2008), Bolt (2008), My Bloody Valentine 3D (2009) - the first R-rated horror film released in Real D 3D, Coraline (2009), Cloudy with a Chance of Meatballs (2009), Up (2009), Ice Age: Dawn of the Dinosaurs (2009), The Final Destination: Death Trip 3D (2009), A Christmas Carol (2009), and James Cameron's sci-fi epic Avatar (2009).
Older films were also re-released in 3-D: The Nightmare Before Christmas 3D (2006, original 1993), Toy Story in 3D (2009, original 1995), Toy Story 2 in 3D (2009, original 1999), and Night of the Living Dead 3D (2009, original 1968). There were indications that the next phase of the 3-D Renaissance would include more 3D re-releases of classic blockbusters, such as Star Wars (1977), Clash of the Titans (1981), The Lord of the Rings (2001-2003), The Matrix (1999), Top Gun (1986), and Titanic (1997).
It eventually turned out that five of 2010's 10 highest-grossing movies were released in 3-D: Pixar's Toy Story 3 (2010), Alice in Wonderland (2010) (shot in 2-D and converted later), Despicable Me (2010), Shrek Forever After (2010), and How To Train Your Dragon (2010). However, some of the buzz for 3D faded when a few films exhibited the over-hyped gimmicky nature of 3D, such as Clash of the Titans (2010), or The Last Airbender (2010). But it was expected that in 2011, almost three dozen films were scheduled to be released in 3D, including new installments of major franchises including Pirates of the Caribbean: On Stranger Tides (2011), Transformers: Dark of the Moon (2011), and Harry Potter and the Deathly Hallows, Part 2 (2011).

Film History of the 2000s
Part 1, Part 2, Part 3, Part 4, Part 5, Part 6
---



---