Biggest Flops (or Box-Office Bombs) of the Decade: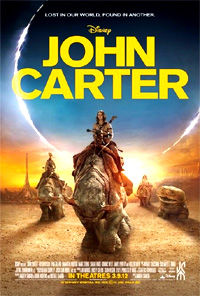 There are many reasons for a film to "bomb" at the box-office - the major causes have usually been lack of studio promotion, heavy competition from other movies released at the same time, exorbitant production costs difficult to recoup and other production problems, negative word of mouth (especially in the era of the Internet and social media) or critical reviews, and other external factors such as bad timing or economic problems in society at large.
Disney's big-budget live-action film John Carter (2012) acquired the dubious honor (early in the decade) of becoming the largest box-office loss of any film ever. In addition to its exorbitant $250 million budget, it also spent over $100 million for marketing costs. There were issues with the inadequate and lackluster marketing (lack of merchandising and other ancillary tie-ins) and management changes at the studio. Another problem was that the film had no big-name stars. It ultimately proved unwise to select Andrew Stanton as the director because it was his first live-action film (his previous experience was with Pixar animations), and Stanton ultimately engaged in lots of expensive reshoots. It was also commonly acknowledged that the film's teaser trailers, posters, and ads (TV and print) were way off-the-mark (generically flat and uninspiring), provided an unclear message about the film (a non-sequel), and generated only moderate interest.
Another major box-office bomb of the decade, coming after John Carter (2012), was the co-produced US/NZ post-apocalyptic adventure film Mortal Engines (2018) from Peter Jackson. Its exorbitant budget of over $100 million dwarfed its worldwide revenue gross of $83.7 million, and made it a major money-loser.
The biggest flops of the decade included all of these monumental bombs:
Disney's CGI-computer-animated sci-fi family adventure film Mars Needs Moms (2011)
Martin Scorsese's big-budget family adventure drama Hugo (2011), set in 1930s Paris, the director's first 3-D film
Disney's sci-fi action film John Carter (2012)
Disney's and Jerry Bruckheimer's much-hyped western remake The Lone Ranger (2013), starring Johnny Depp as Tonto
Warner Bros.' and Legendary Pictures' Jack the Giant Slayer (2013), a version of the Jack and the Beanstalk tale
Universal's sci-fi comic-book adaptation R.I.P.D. (2013), ripping off Men in Black (1997)
Universal's fantasy action film 47 Ronin (2013) starring Keanu Reeves
Warners' and director Joe Wright's Pan (2015, UK), another version of the Peter Pan story
the Wachowskis' space opera Jupiter Ascending (2015)
Brad Bird's and Disney's Tomorrowland (2015)
the little-seen historical drama The Promise (2016)
Paramount's comedy Monster Trucks (2016)
the faulty fifth remake or 're-imagining' of the historical epic Ben-Hur (2016)
director Guy Ritchie's epic fantasy King Arthur: Legend of the Sword (2017)
Universal's rebooted action-adventure film The Mummy (2017) starring Tom Cruise - it was Universal's failed and desperate attempt to establish a "Dark Universe" franchise (composed of modern updates of classic movie monsters)
director Christian Rivers' directorial debut (with co-writer Peter Jackson) - the failed post-apocalyptic Mortal Engines (2018, NZ/US) - ultimately the biggest box-office bomb of 2018, and the biggest box-office bomb of all time
the retelling of the Robin Hood legend, Robin Hood (2018), from Summit Entertainment, grossed only $86.5 million - worldwide (on a budget of $100 million) - it was a 2018 contender for the Razzie Award of Worst Picture
Disney's sci-fi adventure film A Wrinkle in Time (2018) - although it was notable for being the first live-action film with a million dollar budget to be directed by a non-white woman (Ava DuVernay); DuVernay was also the first African-American woman to direct a film that earned at least $100 million domestically
director Tom Hooper's and Universal's big-budget musical adaptation Cats (2019), a $95 million film (budgeted) with A-list stars, told about a tribe of cats known as Jellicles; it was savaged for its poor CGI ('digital fur') and sexualized felines, although it was a follow-up to Andrew Lloyd Webber's very popular Broadway hit; its worldwide box office was only $73.8 million, and it was expected to lose $100 million for the studio
the 12th entry in the X-Men series franchise, the spin-off Dark Phoenix (2019) (aka X-Men: Dark Phoenix), a sequel to X-Men: Apocalypse (2016), was a major bomb that grossed only $65.8 million (domestic) and $252.4 million worldwide (its exorbitant production budget was $200 million), and it became the lowest-grossing installment in the series to date; it was expected to lose $120 million for Disney (after its merger with Fox)
the most recent entry in the Terminator series franchise, Paramount's Terminator: Dark Fate (2019), had an exorbitant budget of $185 million including an expensive marketing campaign; it performed well below expectations, with many complaining it was only a rehash, and losses were ultimately expected to be over $100 million
Violence in Films: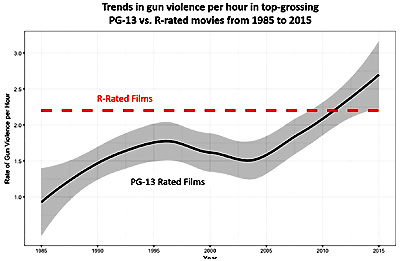 A study published in 2013 (and updated in 2015) in a journal titled Pediatrics noted that the amount of gun violence in the 30 top-grossing PG-13 movies (from 1985 to 2015), which could be seen by children of all ages, exceeded the gun violence in the biggest box-office R-rated (age 17+) films (see chart). In fact, violence in films had more than doubled since 1950, and gun violence in PG-13 films (age 13+) had more than tripled since the PG-13 rating was first introduced in 1985. These findings suggested that young people were being exposed to increasing gun violence in top-selling films.
For the top 30 films rated PG-13 and R from 1985 to 2015, the rate per hour of gun violence (in 5-minute film segments) was measured. Coders observed the number of 5-minute segments in each film in which a character fired a gun and hit a character. Each five-minute segment with gun violence was counted once, no matter how many times violence occurred in it.
One of the more troubling findings was that the consequences of gun violence in films were not visible. Many PG-13 films ignored the results of gun violence (blood and suffering), and much of the film violence was perpetrated by or on comic book-inspired heroes and antiheroes (e.g., Avengers, Star Wars, Star Trek, Superman and X-Men). Detractors argued that comic-book character violence was less realistic and brutal - and therefore less harmful to children than R-rated violence.
The presence of weapons in violent films could also amplify behavioral aggression. Repeatedly viewing violent media content could influence some youth to become more aggressive, but more study was needed to determine the potential effects of films with gun violence. The study concluded that Hollywood continued to rely on gun violence as a prominent feature in its highly popular PG-13 action-oriented films. The following PG-13 and R-rated films in the first half of the decade were among those analyzed by the study, with the number of gun segments specified:
Advances in Diversity:
12 Years A Slave (2013) won Best Picture - this marked the first time in Oscar history that a movie directed and produced by a black filmmaker (Steve McQueen) won Best Picture. The second African-American to win the Oscar for Best Adapted Screenplay was John Ridley for the Best Picture-winning 12 Years A Slave (2013) - the previous African-American winner for the same Oscar was Geoffrey Fletcher for Precious (2009).
However in 2015, the Academy of Motion Picture Arts and Sciences was criticized for a lack of diversity among its voting members, and among the homogeneous 20 performers nominated for acting awards. There were no women in the year's directing and writing categories (the first time since the 1999 Oscars), and all 20 of the year's acting contenders were white. There were no non-white contenders for the first time since the Oscars honored the films of 1995.
AMPAS was again criticized almost immediately for its white-centric performance Oscar nominations in 2016 (for the second year in a row) - all 20 of its acting nominees were white. This marked the first time since 1998 that the Academy in back-to-back years did not nominate a single black performer.
The push was on to pressure industry executives to green-light a more diverse and inclusive movie pipeline. After two highly-criticized previous years of Oscar recognitions that were accused of misrepresenting minorities and blacks ("OscarsSoWhite"), 2017 had a diverse slate of entries for films made in 2016. Four Best Picture nominees were led by non-white characters. The Academy of Motion Pictures Arts & Sciences was praised for seven black (or non-white) acting nominations (among the possible 20 nominations), in contrast to the previous two years when there were no non-white nominees. There were seven non-white actors and actresses nominated (six African-American and one Indian) - in five different films (Fences (2016), Loving (2016), Moonlight (2016), Lion (2016) and Hidden Figures (2016)) - a major record for a single year.
In fact, 2017 (for films made in 2016) was the first year in Academy history in which black actors/actresses were nominated in each of the four acting categories. And it was the first year that a single acting category (Best Supporting Actress) featured three black nominees: Viola Davis for Fences (2016), Naomie Harris for Moonlight (2016), and Octavia Spencer for Hidden Figures (2016). Moonlight (2016) - about a gay black youngster growing up in a rough section of Miami, won Oscars for Best Picture, Best Supporting Actor (Mahershala Ali) and Best Adapted Screenplay (for its director Barry Jenkins, from a story by Tarell Alvin McCraney). Its director Barry Jenkins became the 4th black director to be nominated in the category, and the first African-American to direct a Best Picture-winning film. It was the first LGBTQ film to win the Oscar for Best Picture. Best Supporting Actor (Mahershala Ali) became the first Muslim to win an Oscar. And it became the first Best Picture winner without a single white cast member.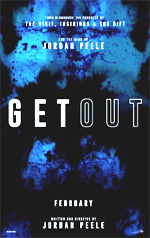 63 year-old Denzel Washington became the most nominated black actor of all-time, when he received his eighth performance nomination of his career, for his title role as a lawyer in writer/director Dan Gilroy's legal drama Roman J. Israel, Esq. (2017). And writer/director Jordan Peele's sleeper hit and horror film Get Out (2017) (with 4 Oscar nominations) received one memorable Oscar - for Best Original Screenplay, the first for an African-American nominee. He was the first black filmmaker (and the third filmmaker of all time, after Warren Beatty and James L. Brooks) ever nominated for the trifecta of directing, writing, and producing in the same year for his debut feature film. Peele's nomination for Best Director made him the fifth black director ever nominated for the Oscar.
Disney's/Marvel's Black Panther (2018), the 18th release in Marvel's Cinematic Universe, had the the fifth largest three-day domestic opening gross in cinematic history at $202 million, and finished around $242 million for the four-day holiday weekend. At the time, it was the highest debut ever for a February film, and was the 9th highest-grossing film ever, unadjusted for inflation. It became the top-grossing film in history by a black director (Ryan Coogler) ($700 million domestic and $1.34 billion worldwide) and featured a largely black cast. Incidentally, it was Marvel's first film directed by an African-American. It received seven Academy Award nominations and became the first superhero movie ever nominated for Best Picture.
And Ava DuVernay became the first black woman to direct a film with a $100 million or more budget, Disney's family adventure A Wrinkle in Time (2018).
Female Inequalities in Film-Making: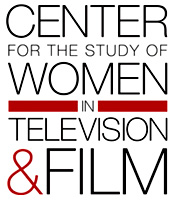 Studies proved that women were vastly under-represented in the film-making industry (and on-screen) and that little had significantly changed in the past 60 years. The San Diego-based Center for the Study of Women in Television and Film conducted a number of studies throughout the decade, known as the so-called "Celluloid Ceiling" study. In summary, in the span of the most recent two decades, there were no significant losses or gains in terms of female employment in key roles on the top 250 films:
the number of major studio films directed by women was exceedingly low (ranging from about 8% to 11% each year during the decade). Females usually directed only romantic comedies or documentaries, while the Hollywood 'boys-club' regularly employed men to make the bigger blockbusters comprised of action and super-hero films.
there was basically a 5:1 ratio of men working behind-the-scenes on films to women
the number of women working in film as directors and cinematographers had stagnated or declined
the only areas of film-making production where women had significant percentages were as producers, executive producers, writers and editors.
the ratio of male to female characters in movies was also out of balance and declining - women accounted for only a small percentage of all characters and an even smaller percentage as the protagonists
The Phenomenon of Wonder Woman: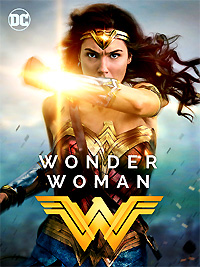 Wonder Woman (2017), a superhero movie from Warner Bros. and DC Comics and directed by Patty Jenkins, became the biggest blockbuster ever directed by a woman. It was the first superhero film directed by a female. It was a major entry in the DC Extended Universe franchise (competing with Marvel's Cinematic Universe). Jenkins, who previously directed Monster (2003) starring Charlize Theron, became the record holder for the biggest domestic opening for a feature film by a female director, and the first to top the $100 million mark.
[Note: Jenkins was also the second woman to ever direct a movie with a $100 million-plus budget. The first was Kathryn Bigelow for K-19: The Widowmaker (2002).]
It took almost 40 years since the end of the Wonder Woman TV show (with Lynda Carter) (that aired from 1975 to 1979), to bring the character to the big screen. Despite Wonder Woman (2017) and the hit comedy Girls Trip (2017) and a few other instances, on-screen female representation was actually dropping.
It was remarkable, then, that the three top-grossing films of 2017 featured women in lead roles:
[Note: It had been many decades since the same feat had been accomplished - some claimed since 1958's trio of female-led films: Mitzi Gaynor in South Pacific (1958), Rosalind Russell in Auntie Mame (1958), and Elizabeth Taylor in Cat on a Hot Tin Roof (1958).]
Allegations of Sexual Abuse:
Case Study - The Weinstein Companies: Rise and Fall
In the latter part of the decade, the # MeToo (and #Time's Up) movements called attention to the lack of diversity in film-making and abuses within the industry. In 2018, 300 Hollywood women signed an initiative known as "Time's Up" to fight sexual harassment.
Charges in late 2017 and 2018 against influential film producer Harvey Weinstein brought to light a long history of sexual abuse inflicted upon many female performers (A-listers and foreign film stars) and others employed (or hopefuls) by the company, and by other high-profile celebrities within the industry. A number of other alleged accusations of sexual abuse and harrassment were brought to light when questions were raised about convicted sex offender Roman Polanski, Bill Cosby, Dustin Hoffman, Hollywood writer-director James Toback, and actor Kevin Spacey, among others.
One of the most influential producers in the film industry, 65 year-old Harvey Weinstein, fell from his position of power and influence due to allegations of sexual harassment, misconduct and predatory behavior. Miramax (co-founded by Harvey Weinstein and his brother Bob in 1979) was the most influential film company in the 1990s, with many classic and Academy Award-winning films, and their subsequent Weinstein Company produced other winning films. Weinstein's movies earned more than three hundred Oscar nominations (29 films received Best Picture nominations under the Miramax or Weinstein Co. banners), and many won top awards. Late in 2017, producer Harvey Weinstein was fired from The Weinstein Company, was expelled as a member of AMPAS, and faced ongoing serious criminal and civil charges (of rape and other abuses).
Animations Flourished: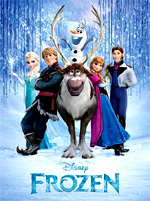 Many animated feature films did very well in the decade. By winning the Best Animated Feature Oscar prize, Disney's hit musical Frozen (2013) became the first non-Pixar, Walt Disney Animation Studios film to win the Best Animated Feature prize since the category was created in 2001.
By springtime of 2014, Disney's Frozen (2013), a loose retelling of Hans Christian Andersen's fairy tale "The Snow Queen," and Disney's 53rd animated feature film, became the highest-grossing (worldwide) animated movie of all time, at $1.276 billion. It overtook Toy Story 3 (2010) (the first animated movie in history to cross the $1 billion worldwide mark) in the top spot. Frozen was also the third highest-grossing (domestic) film in the year of 2013 at $400.7 million, just behind The Hunger Games: Catching Fire (2013) and Iron Man 3 (2013).
2016 was the first year in which two animated films grossed more than $1 billion (worldwide), and both were Disney films: Finding Dory (2016) at $1.028 billion, and Zootopia (2016) at $1.024 billion. By the year 2019, a total of ten animated films had reached over the $1 billion mark (worldwide) (see chart).
Pixar's sequel Incredibles 2 (2018) took the top domestic revenue spot with $608.6 million, while Disney's The Lion King (2019) remained the highest-grossing (worldwide) animated film of all-time (at $1.657 billion), with Frozen II (2019) in second place (worldwide) at $1.45 billion, and Frozen (2013) in third place at $1.274 billion. Twelve animated films in the 2010s decade that were on the all-time top 15 list (based upon domestic revenue) are shaded below.

Film History of the 2010s
Part 1, Part 2, Part 3, Part 4, Part 5
---



---