MGM - The Top Studio for Musicals: Arthur Freed
By the end of the 1930s, MGM was emerging as a revolutionary new force in Hollywood musicals (and dominated the musical genre in terms of Academy Awards). MGM producer Arthur Freed was originally a skilled lyricist/songwriter from the earliest days of the musical talkies at MGM. He had come to Hollywood to write the score for The Broadway Melody (1928/29), and then had played a key role as Associate Producer for The Wizard of Oz (1939) (and had spotted Judy Garland's talent early on). During the 40s and 50s over a period of twenty years, Freed produced for MGM some of the greatest landmark musical films in the history of the genre, and worked with some of Hollywood's most talented musical film directors and stars.
With his sharp eye for quality and freshness, his promotion of new, integrated musical forms (to make song and dance numbers a more natural part of the story), and the choice of skilled directors for his Freed Unit (e.g., Vincente Minnelli, Busby Berkeley, and Stanley Donen imported from Broadway, also Rouben Mamoulian and Charles Waters), dance/directors (Gene Kelly), choreographers (Michael Kidd, Robert Alton, Nick Castle, Fred Astaire and Hermes Pan), musical directors (Andre Previn), and dazzling stars (Judy Garland, Gene Kelly, Cyd Charisse, Debbie Reynolds, Fred Astaire, Frank Sinatra, Leslie Caron and June Allyson among others), Arthur Freed created musical fantasy worlds on screen - and some of the greatest musicals ever made.
The 50 Top-Grossing MGM Musicals
(produced by the Freed Unit - in red)

1. That's Entertainment (1974)
26. Two Sisters From Boston (1946)
2. Victor/Victoria (1982)
27. This Time For Keeps (1947)
3. The Unsinkable Molly Brown (1964)
28. Singin' In The Rain (1952)
4. Gigi (1958)
29. Thousands Cheer (1943)
5. I'll Cry Tomorrow (1955)
30. Bathing Beauty (1944)
6. High Society (1956)
31. Two Girls and a Sailor (1944)
7. Meet Me in St. Louis (1944)
32. Fiesta (1947)
8. Show Boat (1951)
33. Words and Music (1948)
9. Seven Brides for Seven Brothers (1954)
34. Deep in My Heart (1954)
10. The Wonderful World of the Brothers Grimm (1962)
35. Neptune's Daughter (1949)
11. Till the Clouds Roll By (1946)
36. Maytime (1937)
12. Anchors Aweigh (1945)
37. Take Me Out to the Ball Game (1949)
13. The Great Caruso (1951)
38. In the Good Old Summertime (1949)
14. An American in Paris (1951)
39. On An Island With You (1948)
15. Thrill of a Romance (1945)
40. The Barkleys of Broadway (1949)
16. Easter Parade (1948)
41. The Broadway Melody (1929)
17. Annie Get Your Gun (1950)
42. The Great Ziegfeld (1936)
18. Easy to Wed (1946)
43. Sweethearts (1938)
19. The Harvey Girls (1946)
44. Girl Crazy (1943)
20. Love Me or Leave Me (1955)
45. That's Entertainment, Part 2 (1976)
21. San Francisco (1936)
46. On the Town (1949)
22. Holiday in Mexico (1946)
47. Three Little Words (1950)
23. A Date With Judy (1948)
48. Million Dollar Mermaid (1952)
24. The Singing Nun (1966)
49. Les Girls (1957)
25. Ziegfeld Follies (1946)
50. The Duchess of Idaho (1950)
Other Arthur Freed-Produced Musicals for MGM
(a sampling)

Babes in Arms (1939)
Pagan Love Song (1950)
Strike Up the Band (1940)
Royal Wedding (1951)
Babes on Broadway (1941)
The Band Wagon (1953)
For Me and My Gal (1942)
Brigadoon (1954)
Cabin in the Sky (1943)
It's Always Fair Weather (1955)
The Clock (1945)
Kismet (1955)
Yolanda and the Thief (1945)
Silk Stockings (1957)
The Pirate (1948)
Bells Are Ringing (1960)
Vincente Minnelli: Great Musical Director
Under Freed's guidance, Minnelli directed Cabin in the Sky (1943), his debut Hollywood film and the first all-black musical in many years. (That same year, another one of the greatest all-black musicals of all-time was released, Stormy Weather (1943), a revue starring the ravishing Lena Horne -- who sang what would become her signature tune, the title song Stormy Weather. Other performers included Bill "Bojangles" Robinson, the Nicholas Brothers, Cab Calloway, Babe Wallace, Katherine Dunham, Ada Brown, Dooley Wilson and Fats Waller. Ironically, the scenes of Cabin in the Sky's star Eddie 'Rochester' Anderson were deleted in Stormy Weather!)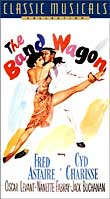 Arthur Freed's unit also produced Minnelli's Yolanda and the Thief (1945), an exotic, charming fantasy about a con man (Fred Astaire) who convinces a rich, virginal, South American heiress that he is her guardian angel. One of Minnelli's most lavish films was The Ziegfeld Follies (1946), with scores of MGM stars (Lucille Ball, William Powell, Judy Garland, Fanny Brice, Lena Horne, Red Skelton, and more), a Ziegfeld-style stage revue of musical numbers, and comedy. The film included Astaire and Kelly appearing together in their only duet ever. Another Minnelli-directed film was The Pirate (1948), set on a remote Caribbean island with Gene Kelly as a pirate wooing a lonely woman. Garland co-starred and sang Cole Porter's hit tune "Be A Clown" with Kelly.
Under the guidance of MGM producer Freed, Vincente Minnelli (with Michael Kidd as choreographer) also directed the big-scale classic The Band Wagon (1953), an extravagant film that marked a pinnacle for musicals. It starred Fred Astaire as a fading Hollywood movie star interested in a Broadway comeback as a sparkling, song-and-dance man, opposite partner Cyd Charisse. The musical featured the well-recognized hymn to show business - "That's Entertainment." The duo performed "Dancing in the Dark" in Central Park and the "Girl-Hunt" Ballet final production number, a film-noiric satire of Mickey Spillane's pulp novels (with the characters of a private eye and two dangerous femme fatale sirens - a blonde and a brunette in a sparkling red dress). Astaire also danced with a black shoeshine boy in "Shine on My Shoes."
Gene Kelly: MGM's New Musical Dance Star
Freed was responsible for bringing a new musical star from Broadway to Hollywood in the early 40s - the dynamic, ballet-oriented, Irish-American Gene Kelly. As a dancer, Kelly brought an imaginative freshness and athletic-style, muscular vitality to a number of films, projecting a very different down-to-earth persona from the sophisticated, suave and stylish tap dancing of Fred Astaire who often wore top hats and tails. His first major role, in a stage production of Pal Joey, brought him a Hollywood contract.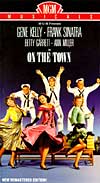 In Kelly's film debut, he was teamed with director Busby Berkeley, playing a song-and-dance man opposite co-star Judy Garland in MGM's For Me and My Gal (1942). He was successful in Columbia's Techni-colored Cover Girl (1944) opposite Rita Hayworth, particularly when he danced with his own reflection in "Alter Ego." And then in MGM's Best Picture-nominated Anchors Aweigh (1945) in the post-war years, Kelly (with his sole Best Actor nomination in his career) performed a dance with a scene-stealing Jerry, the cartoon mouse from "Tom and Jerry" - and the film co-starred a young and thin Frank Sinatra who crooned Styne-Cahn tunes. As mentioned earlier, Kelly also performed a song-and-dance duet with Fred Astaire (their sole dance together) in The Ziegfeld Follies (1946). The Pirate (1948) featured Kelly's singing and acrobatic, graceful dancing opposite Judy Garland, accompanied with a Cole Porter score - its most famous dance sequence was "Be a Clown."
Teamed with co-director Stanley Donen for the first time (they directed three MGM post-war musicals), Kelly made his directorial debut with On The Town (1949), an energetic dance/musical that took the musical out of the wall-bound studio and on location into New York City. The adapted Leonard Bernstein stage show was a story about three on-leave sailors (Kelly, Sinatra, and Munshin) looking for romance during a 24-hour shore leave-furlough. Some of the film's production numbers included the opening "New York, New York," the "Miss Turnstiles" ballet, and "Prehistoric Man." Stanley Donen also directed MGM's Royal Wedding (1951), a story inspired by star actor Astaire's real-life story, and featuring Astaire's two famous solos: a 'tap-dance on the ceiling' routine, and a hat-rack duet.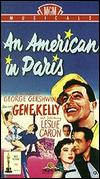 There were two musicals that won the Academy Award for Best Picture in the 1950s, and both were the works of Freed's and MGM's remarkable musical production unit, and directed by Vincente Minnelli. Kelly expressed his amazing appeal and choreography in MGM's trademark film, An American in Paris (1951), a classic, Award-winning Best Picture film (over A Streetcar Named Desire (1951) and A Place in the Sun (1951)) about the romance between an American painter (Gene Kelly) and a French girl (Leslie Caron). It featured George and Ira Gershwin music and a climactic, 17-minute, half-million-dollar 'dream ballet' - one of Freed's pioneering inventions. The musical won five other Oscars (Best Screenplay, Best Score, Best Cinematography, Best Art Direction and Best Costume Design), and Kelly was awarded an honorary Oscar for "his brilliant achievements in the art of choreography on film."
Freed's other Best Picture award winner was another Minnelli-directed film, MGM's adaptation of Colette's story of Gigi (1958). The story within this original film musical was about a shy Paris courtesan (Leslie Caron) who was courted as a wife by a wealthy Parisian playboy/patron named Gaston (Louis Jourdan). [Leslie Caron's other major musical hit was in the title role as the charming Lili (1953), a film that became the basis for the 1961 Broadway musical hit Carnival.] The visually-enjoyable, Parisian-flavored film was actually filmed in the City of Lights and used the talents of the composers (Alan Jay Lerner and Frederick Loewe) and the costume designer (Cecil Beaton) of the play My Fair Lady. Gigi set a new record by winning nine Oscars in all the categories in which it was nominated - one more than any other film had received up to that time (Gone With the Wind (1939), From Here to Eternity (1953), and On the Waterfront (1954) each had received eight Oscars). Maurice Chevalier received an Honorary statue, and Vincente Minnelli became the first director to win an Oscar for a musical. [The win was Minnelli's second nomination as Best Director and first and only Best Director win. His first nomination was for another 50s musical, An American in Paris (1951).]
The Greatest Musical Ever:
By most accounts, the greatest musical ever produced (co-directed by Kelly and Donen and produced by Freed), a comic, satirical spoof of the dawn of the Hollywood sound era, was MGM's Singin' In The Rain (1952). It included Kelly's now-classic solo dance of the title song in the rain, Donald O'Connor's energetic, acrobatic, slapstick dance/song "Make 'Em Laugh," the Kelly/O'Connor duet of "Moses Supposes," and a remarkable "Broadway Melody" ballet sequence in the finale (with Kelly dancing with Cyd Charisse). It is one of Hollywood's best-loved films, with Kelly as silent film star Don Lockwood, and Jean Hagen as dumb, squeaky-voiced actress Lina Lamont, but it was ignored by the Academy Awards (with only two Oscar nominations for Best Supporting Actress for Jean Hagen, and Best Scoring of a Musical Picture). The film's setting was during the disruptive transitional period between silent films and the coming of the talkies. It captured the confusion caused by the introduction of talking-film technology in Hollywood, and its often disastrous effects upon silent era performers.
More Musicals in the 50s:
Gene Kelly's third and last musical with director Stanley Donen was the cynical and odd It's Always Fair Weather (1955) about three WWII soldier friends who reunited after ten years and discovered that they didn't have anything in common. The film was memorable for the scene in which Kelly and his co-stars danced down the street with trash-can lids on their feet.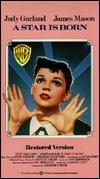 A 50s-decade Warner Bros. film (directed by George Cukor) that resembled the classic Freed-produced musicals at MGM but with a melodramatic edge was the oft-filmed classic romantic tragedy-drama A Star Is Born (1954) - a remake of a 1937 non-musical, tearjerker film version with Janet Gaynor and Fredric March. It told the poignant story of aging, but alcoholic and self-destructive Hollywood actor/mentor Norman Maine (James Mason) on the decline as he sabotaged the show business career of his loving partner. The 1954 film starred Judy Garland (as a band singer turned movie star - Garland's sole Best Actress nomination in her career) and capitalized on her acting and singing talents (especially in "The Man That Got Away" and the "Born in a Trunk" sequence), marking the peak of her career.
Paramount's and director Stanley Donen's gaudily-colorful Funny Face (1957), with Fred Astaire and Audrey Hepburn (in her first major musical and singing her own songs!), was a filmed version of the 1927 George Gershwin Broadway musical, with tunes including the title song, "S'wonderful", "How Long Has This Been Going On" and "He Loves and She Loves". Although the film was a box-office disappointment, and the leads were miles apart in age, the film is still considered a musical favorite.
The Demise of the Cinematic Musical:
In the 1950s and early 60s, when the studio system started its demise and the public again grew tired of a long succession of musicals, the expensive-to-produce, risky screen musicals were among the first genre to be discarded. Television was making inroads and grabbing the film-attending public. And many of the biggest musical stars were approaching their swan-song years, such as Fred Astaire, Gene Kelly, and Frank Sinatra. Some Hollywood musicals had to be made cheaply, such as Top Banana (1953) starring Phil Silvers in the film version of his Broadway hit, and shot on location at NYC's Winter Garden Theatre. Other musicals such as MGM's and Minnelli's Brigadoon (1954), WB's Damn Yankees (1958) with Gwen Verdon, and Paramount's Li'l Abner (1959) (both lesser renditions of their 1956 Broadway hits), were examples of the decline of the musical feature film during the 1950s.
Disney's Animated Musicals:
Not to be overlooked, Disney Studios produced many classic animated musicals in the 50s with hand-drawn animation and great scores, including:
Cinderella (1950)
Alice in Wonderland (1951)
Peter Pan (1953)
The Lady and the Tramp (1955)
Sleeping Beauty (1959)
The Rise of Big-Budget Screen Adaptations of Broadway Hits: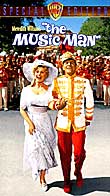 During the age of television (and song-and-dance variety shows), the Hollywood studios played it safe. Most musicals were lifted directly from established Broadway smash-hits on the "Great White Way" - and adapted into film versions for the big screen. Classic Broadway hits that opened on the silver screen in the 50s included Annie Get Your Gun (1950) with Betty Hutton and Howard Keel in the lead roles, the colorful Show Boat (1951), MGM's Kiss Me Kate (1953) - a musical version of The Taming of the Shrew with Howard Keel and Kathryn Grayson [and the only musical ever filmed in 3-D], and the breathlessly entertaining barn-raising dancing of MGM's and Stanley Donen's Seven Brides for Seven Brothers (1954) (sensationally choreographed by Michael Kidd, especially in the "Challenge Dance" sequence). This Best Picture nominee, with completely original songs, later became a Broadway musical in the 70s.
In addition, there were other great hits in the 50s and 60s:
Frank Loesser's Guys and Dolls (1955), that substituted Frank Sinatra and Marlon Brando for the original musical talent
Fox's and collaborators Rodgers and Hammerstein's Oklahoma! (1955), derived from the smash 1943 Broadway musical of the same name
Carousel (1956), adapted from the 1945 Rodgers and Hammerstein Broadway musical of the same name
The King and I (1956) with Yul Brynner in an Oscar-winning, Best Actor role as the King of Siam and Oscar-nominated Deborah Kerr (with singing dubbed by ghost vocalist Marni Nixon)
Gypsy (1962), with Natalie Wood miscast in the title role of stripper Gypsy Rose Lee
director Joshua Logan's and Fox's South Pacific (1958), based on another popular Rodgers and Hammerstein Broadway musical
the superior The Music Man (1962) from Warners, with Robert Preston reprising his greatest Broadway role as charlatan Professor Harold Hill; future TV child star (The Andy Griffith Show and Happy Days) and Oscar-winning director Ron Howard appeared as the insecure, stuttering boy Winthrop
MGM's The Unsinkable Molly Brown (1964), with Debbie Reynolds