Background
---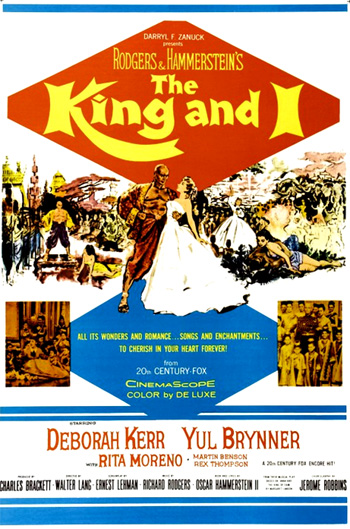 The King and I (1956) is the popular and elaborate musical and story of the tutoring of the stubborn, King of Siam's wives and children by widowed English school teacher Anna Leonowens in 1862. It was based on American missionary Margaret Landon's 1944 novel Anna and the King of Siam that was based on Anna's own autobiographical story and memoirs - considered historically questionable by some sources. Controversy has arisen over the historical accuracy of the film and its disrespectful depiction of the King, leading to the film's recent banning in Thailand.
Richard Rodgers and Oscar Hammerstein II's fifth musical that opened on Broadway in 1951 was adapted into an opulent Best Picture-nominated film (with Jerome Robbins' choreography) five years later. An earlier non-musical film Anna and the King of Siam (1946) starred Rex Harrison and Irene Dunne, was remade into another non-musical version as Anna and the King (1999) with Jodie Foster and Chow Yun-Fat. The story also resurfaced in CBS-TV's 1972 13-episode (half-season) series, Anna and the King (with Brynner and Samantha Eggar).
It was convincingly alleged that many of The King and I's plot points were repurposed for Rodgers' and Hammerstein's later musical The Sound of Music (1965) - the story of a feisty and stubborn governess tutoring a large group of children, who eventually fell in love with her master - an initially-belligerent and strong-willed father. In addition, the forbidden romance between the King's Burmese slave-concubine and her lover was also reflected in the star-crossed, secret romance between the eldest teenaged daughter Liesl von Trapp and 17 year-old Nazi delivery boy Rolf Gruber.
The Cinemascopic 20th Century Fox film featured the signature roles of both Oscar-winner (and Tony-winner) Yul Brynner (a Russian actor as the bald-headed, bare-footed King Mongkut of Siam) and Oscar-nominated Deborah Kerr (as feminist British tutor Anna Leonowens). The film was highlighted by a series of vignettes and adversarial confrontations between the strong-willed and imperious King and Anna. They eventually came to love, admire and respect each other, however. The King's two most familiar refrains and phrases were: "Hah," and: "Et cetera, et cetera, et cetera," and he often repeated words in triplicate.
The film's taglines were: "More than your eyes have ever seen... More than your heart has ever known!", and "All Its Wonders and Romance...Songs and Enchantments...To Cherish In Your Heart Forever!"
The film was memorable for the timeless Rodgers and Hammerstein music and songs (Kerr's voice was dubbed by uncredited Marni Nixon), including the famed scene in which Anna and the King danced energetically and joyously in the memorable number Shall We Dance? Other famous tunes included I Whistle a Happy Tune, Hello, Young Lovers, and Getting to Know You (sung to the King's children).
Budgeted at $4.55 million, the film was a box-office success, garnering $21.3 million. It was nominated for nine Academy Awards including Best Picture, Best Director (Walter Lang), Best Actress and Best Color Cinematography (Leon Shamroy), with five Oscars including Best Actor (Brynner), Best Music Score (Alfred Newman & Ken Darby), Best Color Art Director/Set Decoration, Best Color Costume Design, and Best Sound (Carlton W. Faulkner).
Plot Synopsis
---
English Schoolteacher Anna's Arrival in Bangkok, Siam:
In the film's opening set in 1862, widowed, prim and Victorian English (Welsh) schoolteacher/governess Anna Leonowens (Deborah Kerr) arrived from Wales by ship (helmed by Captain Orton (Charles Irwin)) in Bangkok, Siam (present-day Thailand). Anna had been hired (for £ 20 pounds a month) to be a schoolmistress to tutor the King's royal children in learning English. She was accompanied by her excited young son Louis (Rex Thompson). The Captain wondered if she knew what she had bargained for:
Sometimes I wonder if you know what you're really facing. An Englishwoman alone in a country like Siam.
They were to be greeted on board the ship by a royal barge carrying "half-naked" Kralahome (Martin Benson), King Mongkut's confidant ("right-hand man") and Siam's Prime Minister. Louis asked if his mother was ever afraid and what she did when frightened, prompting her to sing the tune: "I Whistle A Happy Tune." (Lyrics: "Whenever I feel afraid I hold my head erect And whistle a happy tune So no one will suspect I'm afraid While shivering in my shoes I strike a careless pose And whistle a happy tune And no one ever knows I'm afraid").
Although believing that she had been promised a house of her own, Anna was shocked when the intimidating and stern Kralahome informed her that he had come to escort them to their living quarters in the Royal Palace. The strong-willed Anna considered it a violation of her agreed-upon and promised "letter of agreement" to live outside the palace's walls. The Kralahome dismissed Anna's claim: "King do not always remember what he promise." Anna firmly retorted: "I have come here to work and I intend to work, but I shall take nothing less than I have been promised." Anna decided that she must personally deliver her disagreement to the arrogant King when the Kralahome expressed fearful reluctance in bringing him the news. She even threatened to return to England, but then disembarked.
Anna's First Audience With the King in the Throne Room:
The plucky Anna charged into the massive Throne Room of autocratic King Mongkut (Yul Brynner in a star-making role), who was sitting in his chambers. At first, the proud and bald King refused to see her, as relayed by the Kralahome: "King in bad spirit today. Suggest schoolteacher wait for better day." Anna declined: "My spirit is just as bad, your Excellency. I cannot wait." Anna watched from the side as the King was being presented with the gift of a Burmese slave-concubine named Tuptim (Rita Moreno, a Puerto Rican actress), a present from the subjugated Prince of Burma. (Note: Tumtim was clearly in love with Burmese ambassador Lun Tha (Carlos Rivas) who had brought her to the palace.)
Afterwards, although she was told the arrogant King refused giving her an audience, Anna pushed forward and unceremoniously approached the throne to speak to the King. He expressed how he had hired her to bring advancements to his country, including the printing press: "You are part of general plan I have for bringing to Siam what is good in Western culture." He brought her into his harem room to introduce her to his many wives: "A few of my wives. They have beauty but not gift for knowledge." He presented his head wife to her - Lady Thiang (Terry Saunders) - known as "The Number One" wife, who was taught English by missionaries. Lady Thiang's son Chowfa Chulalongkorn (Patrick Adiarte), was heir to the throne as the Crown Prince. Although it was not part of Anna's contract, the King again reinforced that Anna would be teaching his wives, in addition to the children:
I think I have fine idea. In addition to children, you will also teach those of my wives as have sense enough for learning. Siam to be very modern, scientific country. Everybody speaking the English.
The King remained adamant that Anna live and teach in the palace when she again brought up the uncomfortable subject: "My house, Your Majesty. The one you promised me, adjoining the palace." But the King insisted: "You teach in palace, and you shall live in palace." Anna happened to teach the King a new phrase "et cetera, et cetera" that he soon adopted as a catchphrase.
As Anna was about to be introduced to King Mongkut's many children ("the royal princes and princesses"), she stressed how she might be leaving: "If there is to be no house, I shall have to get back to the boat before it sails," but he ignored her threat and imperiously commanded her to meet his royal children. During the sequence of "The March of the Siamese Children," the King's fifteen children who were to be tutored were introduced, including his eldest son and heir Prince Chulalongkorn. Charmed by the fifteen cute children (that were in the King's favor) she would be tutoring, Anna agreed to remain for the time being (and live in the Palace), and the King was pleased: "Schoolteacher has graciously changed her mind and shall live in palace." She was told there were 67 other children - who he would introduce later - they were "children of wives not in favor with king."
Later in the Evening - Unpacking Anna's Bags and Thoughts About Lost Loves:
In her first night in the Palace, Lady Thiang and some of the other giggling wives helped Anna to unpack her belongings, and Anna became distraught by their over-enthusiastic help: "I must have some privacy." The independent-minded and assertive Anna asked why the wives kept addressing her as "Sir" - and Lady Thiang explained that she was regarded as a superior Western woman in their misogynistic country - much higher in social status than other Siamese women: "Because you scientific, not lowly like woman." Anna expressed her own feminist opinion with a questioning statement: "But do you all think that women are more lowly than men?" She also mentioned how the headstrong and chauvinistic King, unfamiliar with challenges to his supreme rule, might need to be confronted: "Perhaps it's time somebody did tell him a thing or two."
The many wives laughed derisively at Tuptim as a "foolish girl," who had expressed her unhappiness and longing to be with her lover Lun Tha, after being forcibly brought by him to the Palace to be with the King. Tuptim confided in Anna: "Is love for one I shall never see again....We tried so hard not to have love for each other but we could not help ourselves." Anna fondly recalled her love for her own late husband Tom: "It isn't easy to stop loving a man if he's the man you want. Even if you know you will never see him again....I was very much in love with my husband." Anna became upset that the wives had discovered an old photograph of Tom in her luggage, but then sang a tribute to him: "Hello, Young Lovers."
Anna's Revolutionary Teachings to Her Pupils:
Shortly later, the children marched into the Palace, singing a song taught to them by Anna: "Home Sweet Home (There's No Place Like Home)." The King overheard them and became perturbed and irritated that Anna was deliberately teaching his children about the value of a home. She was obviously instructing her pupils to sing "Home Sweet Home" and to learn proverbs (such as "East or west, home is best" and "A man's house is only less dear to him than his honor") - to remind the King of his promise to give her a separate house to live in. He also realized that advanced truths and new, more complicated and confounding scientific wonders were also being taught by Anna - to the future King:
"The world is a round ball which spins on an invisible stick through its middle" (new teachings of Anna)
"The world rides on the back of a great turtle who keeps it from running into the stars" (old understandings of his son, now being challenged)
The King contemplated to himself: "In my head are many facts, but I am not sure. What to tell a growing son? How to bring truth and justice to my people?" He sang "A Puzzlement" - (Lyrics: "When I was a boy World was better spot What was so was so What was not was not Now I am a man; World have changed a lot Some things nearly so Others nearly not..."), with lyrics about how the world of knowledge, due to education, was becoming more complex and complicated during his search for truth. When he was younger, the world was more settled and black-and-white. He concluded with the words: "But no matter what I think I must go on living life As leader of my kingdom."
During one of Anna's tutorial lessons, after Lady Thiang pointed out the prominence and supremacy of Siam on an outdated map 25 years old, Anna introduced a new map of the world that had just arrived from England. It displayed Siam as quite a small county, but she diplomatically pointed out that her country of England was even smaller. She also added that getting to know Siam's people and its children was the most rewarding: "Before I came here, Siam was just that little white spot to me. Now that I've been here many months it has become far more than that, because I've met the people of Siam, and I'm learning to understand them." Her words sequed into one of the film's most familiar welcoming songs: "Getting to Know You" (Lyrics: "Getting to know you Getting to know all about you Getting to like you Getting to hope you like me Getting to know you Putting it my way But nicely You are precisely my cup of tea...").
Anna's subsequent geography lesson on Norway, about ice (frozen water allowed one to "walk on water") and snow ("the raindrops change into small white spots that look like lace") caused controversy, when some the tutored childred (who had never seen ice or snow) stood up and refused to believe her incomprehensible account of ice and snow. They also restated that they didn't like her revised map of the world showing Siam as a very small country ("Siam is biggest country in world!"). The King entered and ordered the cheering, chaotic students to stop, and spoke harshly to Anna: "How can schoolroom be so unscientific?" However, he agreed that the schoolteacher was justified to teach about snow (he had seen pictures of snow on mountaintops in Switzerland), and instructed the children: "Never let me hear of not believing schoolteacher whom I have bring here at high expense....I command all of you to make most of this opportunity for expensive education."
Then, he happened to notice an unapproved study book in the hands of Tuptim - a copy of The Small House of Uncle Thomas (aka Uncle Tom's Cabin), written by Harriet Beecher Stowe. Anna, who had lent the book to Tuptim, called it "all about the evils of slavery in America." The King agreed: "Slavery very bad thing." Anna praised President Lincoln for the Civil War fought to end slavery: "Mr. Lincoln is fighting a war, even now, to set the slaves free." The King and Anna entered into an argument about the war's winning strategy, as the King offered an incredulous proposal to send elephants to America to ensure victory:
King: Shall Mr. Lincoln be winning this war he is fighting at present?...Does he have enough guns and elephants for transporting same?
Anna: I don't think they have elephants in America, Your Majesty.
King: No elephants?...No wonder he's not winning war.
When the class resumed, the young Prince stood up and defended the institution of slavery - a practice that was permitted in Siam: "I do not understand how slaves can be set free if their masters wish to keep them...But my slaves and the slaves of my father - Suppose there was such a law in Siam and we did not want it so?" Anna responded: "Sometimes things can't be just a question of what we want, Highness, but of what is right." After the class was dismissed, the disapproving Prime Minister Kralahome expressed his concern that Anna's teachings were contrary to the country's traditional ways, and although the King was open to new and "scientific" teachings, he would become torn between the two worlds (traditional vs. modern):
Young prince has healthy respect for ways of his own people. Sometimes more than king....What is important for him to learn I do not think he will find in this classroom....King tries impossible task wishing to be scientific man who learn all modern things....Inside him is strong king like his father, who cannot change. He will only tear himself in two, trying to be something he can never be.
He warned her that she was duping herself to believe that she could change the stubborn King's opinions, and would end up as the King's slave: "You believe you have great influence over him. You will end up as his slave like all the others."