Resurgence of Musicals: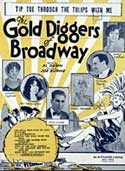 Warner Bros. was the studio that produced the first talking picture in 1927, the first movie operetta (The Desert Song (1929)), and the first color musicals. The first all-color (actually two-strip Technicolor) sound musical was Warners' and director Alan Crosland's backstage musical On With the Show! (1929) - advertised as "the first 100%, Natural Color, All-Singing Production" - with a plot similar to the later release, 42nd Street (1932/33). Director Edmund Goulding's big-budget musical Reaching for the Moon (1930), starring Douglas Fairbanks (in one of his few sound pictures) and Bebe Daniels, was to be the first musical to feature an all-Irving Berlin song score, but the studio eliminated all of them except "When the Folks High-Up Do the Mean Low-Down", performed by a young Bing Crosby, June MacCloy and Bebe Daniels. The studios began to fear that audiences were becoming exhausted by the number of songs in films.
The second full-length color sound feature film ever made was Warners' ambitious and successful Technicolor musical The Gold Diggers of Broadway (1929) by director Roy Del Ruth. It featured a number of popular variety stage stars, including talented dancers, singers, and comedians. It was famous for "Tip-Toe Through the Tulips With Me" and "Painting the Clouds with Sunshine" by Nick Lucas, who also starred in the film. It was a remake of the silent, non-musical comedy film about chorus girls, The Gold Diggers (1923) - and it was followed by Mervyn LeRoy's musical remake The Gold Diggers of 1933 (1933). [In all, Warner Bros. made five Gold Diggers pictures, four of which were made in the 1930s. See more below.]
By 1932, however, Hollywood studios had glutted the public's tired appetite and their overexposed song-and-dance epics (often sacrificing plot and character development) went into a commercial decline, coinciding with the height of the Great Depression. There were approximately 60 musicals in 1929, and over 80 in 1930, but by 1931, there were only 11. Audiences bypassed many of the musical films that were being cranked out, and preferred to watch other genre creations, such as the early gangster films: Public Enemy (1931) and Little Caesar (1930), the comedy film Min and Bill (1930), or the Best Picture-winning western film Cimarron (1931). The novelty of sound had worn off and the popularity of musicals suffered. For example, MGM's star-studded, over-produced Hollywood Party (1934) with a host of writers and directors, originally titled Hollywood Revue of 1933, was basically a disaster. It had a mish-mashed plot, and starred such diverse actors as Laurel and Hardy, Jimmy Durante, Lupe Velez, Polly Moran, Frances Williams, and The Three Stooges.
The Landmark Film: 42nd Street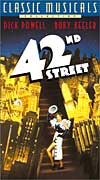 The musical genre was really sparked, fortunately, when the Warners studio stole director and dance choreographer Busby Berkeley away from United Artists. (Earlier in the decade, Berkeley was hired by Sam Goldwyn as dance director on four Eddie Cantor films (one each year), where he began to display his talents. In Whoopee! (1930), his debut film, Berkeley's first number was "Cowboys," partly crooned by 16 year-old Betty Grable, and the film also contained the first evidence of Berkeley's trademark "top shot" in "Song of the Setting Sun". In his next film Palmy Days (1931), Berkeley continued to demonstrate his visual ingenuity by having the Goldwyn Girls use placards to form a train at the end of the hit tune "My Honey Said Yes, Yes." And in The Kid From Spain (1932), Berkeley brought on criticism for his 'peeping tom' views of chorines' silhouettes behind a translucent screen. Finally, in Roman Scandals (1933), he exhibited further excesses, with his "No More Love" sequence in which long blonde-haired slave girls were chained nude to a wall.)
The Warners film that breathed new life into the musical form was Darryl Zanuck's executive production of director Lloyd Bacon's 42nd Street (1932/33), another lively backstage drama that chronicled the hard work of a manic Broadway director (Warner Baxter) behind the making of a musical comedy - where life (whether as a director or chorus girl) depended upon the success of the opening show. The Warner Bros.' 'putting on a show' film (with two Oscar nominations for Best Picture and Best Sound, with no wins) also featured two fresh new juvenile stars, Ruby Keeler (as a chorus girl) and tenor Dick Powell, and it starred Ginger Rogers as veteran showgirl Anytime Annie.
Berkeley made screen history in this milestone-grandfather of spectacular musicals, with scores of chorus girls, large extravagant musical 'production numbers' and sumptuous art deco sets, surrealistic imagery, optical effects, zoom lenses, escapist musical numbers, fast-paced timing and rhythmic editing, and wise-cracking dialogue. Berkeley was aided by the penned tunes of Harry Warren (and co-writer Al Dubin), who contributed "Shuffle Off to Buffalo", "Young and Healthy", and the climactic title song "42nd Street". [Songwriter/composer Warren also worked on Berkeley's other 1933 films, and wrote some of the best-remembered musical songs ever created.]
Busby Berkeley - Master Musical and Dance Choreographer:
It was the first real look at the imaginative choreography of former Broadway dance director Busby Berkeley, a transplant from Broadway musical-directing. He was the first to truly realize that a filmed musical was totally different from a staged musical, with the camera becoming an integral participant with the choreography. He was becoming known for his trademark sensual, kaleidoscopic patterns of carefully-positioned, often scantily-clad chorus girls with props photographed from above (his "top shot"), from swooping cranes, from the trench below the stage, or from cameras placed on specially-designed tracks to capture audacious camera movements. Abstract, shifting geometric patterns, screen compositions, and props in his highly-stylized 'moving pictures' included giant flowers, neon violins, and waterfalls.
In most of these unique films, emphasis was on large extravagant (sometimes outlandish) musical numbers and sets. He used his chorus girls not as individuals but as parts of large, attractive geometric patterns moving with precise choreography. The images could be animated tiles in vast, ever-shifting mosaics, fanciful geometric patterns or cascading designs. Often, he would use his legendary cinematic "top view" shot to capture the kaleidoscopic views. He dressed the girls up in preposterous costumes, sometimes as coins or musical instruments, or the chorus girls would wear next to nothing but wisps of gauze. He also introduced the 'chorine close-up' shot.
Berkeley produced many more distinctive musicals during the Depression-afflicted 1930s for Warner Bros. In fact, Berkeley alone choreographed three films for WB in 1933 (*). [Note: These three films all featured performers Dick Powell, Ruby Keeler, Guy Kibbee, Lorena Layson, Renee Whitney and Pat Wing. They also featured songs written by Al Dubin and Harry Warren, and conducted by Leo F. Forbstein.] Each movie attempted to outdo the previous extravaganza in exotic, erotic flamboyance (in chronological order):
Gold Diggers of 1933 (1933) *
Roman Scandals (1933)
Fashions of 1934 (1934)
Dames (1934)
Gold Diggers of 1935 (1935)
Gold Diggers of 1937 (1936)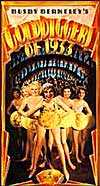 He introduced spectacular musical numbers (often non-integrated into the narrative) with stylized action, astonishing sets, and huge lavish dance numbers for the Gold Digger series. Mervyn LeRoy's blockbuster Gold Diggers of 1933 (1933) (a remake of the Gold Diggers of Broadway (1929) which itself was a remake of the silent film Gold Diggers (1923) about chorus girls), was one of Berkeley's purest fantasies for the Depression Era. It featured a young, coin-clad Ginger Rogers in the opening production number leading a chorus line of showgirls garbed in more gold-coin costumes singing "We're in the Money" (with one verse in Pig Latin). In another scene, Berkeley undressed his pretty chorus girls entirely behind screens, backlighting them so that the audience could see all they had to offer in silhouette. In another romantic scene "The Shadow Waltz", neon-lighted violins formed geometric designs on the screen with girls dressed all in white. The film ended with the social commentary of the finale's downbeat number: "Remember My Forgotten Man" accompanied by the singing of Joan Blondell.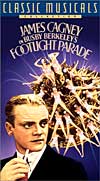 One of Berkeley's greatest extravaganzas in the same year was another Lloyd Bacon collaboration: Footlight Parade (1933), in which Ruby Keeler and Joan Blondell co-starred with lively yet crazed Broadway musical producer Chester Kent (James Cagney). The film had three classic musical production numbers including "Honeymoon Hotel" about a hotel full of newlywed couples, "By a Waterfall," and "Shanghai Lil." The most incredible and showy of all the sequences of musical fantasy in Berkeley's films was the 10-minute production number "By a Waterfall". It featured an elaborate aquacade of 100 bathing-suited girls, performing kaleidoscopic patterns in the water, and climaxing in a huge, revolving human fountain (resembling a wedding cake) that was reflected in a pool.
Dames (1934) included Berkeley's inventive, staged choreography in a title production number (Harry Warren's and Al Dubin's love song "I Only Have Eyes For You") in which gigantic, precision-fit jigsaw puzzle pieces on the backs of dancing chorus girls came together to form a large picture of the face of Ruby Keeler. The 'backstage musical' film also featured showgirl Mabel Anderson (Joan Blondell) solo-singing "The Girl at the Ironing Board".
The visually-stunning Gold Diggers of 1935 (1935), not only production-designed but directed by Berkeley, featured one of the finest examples of Berkeley's inventiveness. He traced the experiences of a chorus girl through a day and night, culminating with her death fall from a Manhattan balcony. In another sequence titled "The Words Are In My Heart", pretty chorus girls playing long rows of two-dozen separate white pianos were merged together into one huge piano. He accomplished this spectacular feat by having his stagehands invisibly dressed in black while they wheeled the pianos around on stage. The film climaxed with Berkeley's large-scale dancing number "Lullaby of Broadway". The inventive, show-stopping, tap-dancing climactic finale - a film within a film - of a day in the life of the Great White Way of New York, started with an opening shot (in a dark frame) of a lit, approaching, disembodied, singing, and upturned face (singer Wini Shaw's face) followed by a famous dissolve (into an aerial shot of Manhattan) - and then told a mordant and cautionary tale of life (and death by falling from a skyscraper balcony) in the hedonistic night-time city.
The era of extravagant Gold Diggers/Berkeley numbers began its decline shortly after the mid-30s, due to production cuts and enforcement of the Production code that forbade some of Berkeley's sublimated sexual images. The famed director/choreographer was restricted to only two production numbers in Lloyd Bacon's Gold Diggers of 1937 (1936), featuring the ten-minute final musical number "All's Fair in Love and War", nominated for Best Dance Direction. It featured Joan Blondell leading a chorus of 104 women dressed in white military uniforms (against a shiny black floor) as they tapped their way through a series of military formations and flag-wavings with Berkeley's trademarked geometric patterns. By the time the last Gold Diggers film was released, Gold Diggers in Paris (1938), Rudy Vallee had replaced Dick Powell (who had starred in the previous three Gold Digger films), and the budgets for Berkeley's numbers were drastically cut and scaled down.
MGM's 'Singing Sweethearts': Jeanette MacDonald and Nelson Eddy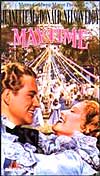 MGM studios also contributed to the resurgence of musicals in the 1930s, filming a number of "singing sweethearts" or "America's sweethearts" films teaming baritone Nelson Eddy and Jeanette MacDonald singing romantic duets in remade operettas with bittersweet romantic themes. After Jeanette starred in Paramount's film version of the operetta The Vagabond King (1930) as heroine Katherine with co-star Dennis King as the roguish poet Francois Villon, and in the Ernst Lubitsch/Paramount production of One Hour With You (1932), she appeared in Rouben Mamoulian's/Paramount's musical fairytale Love Me Tonight (1932) (with a star-making role for Myrna Loy) featuring a Rodgers and Hart score. She also starred in MGM's The Merry Widow (1934) with Maurice Chevalier, and then was successfully and profitably paired with Nelson Eddy. They starred in eight films together from 1935 to 1942:
Naughty Marietta (1935)
Rose-Marie (1936) (with the song "Indian Love Call" known for its phrase, "When I'm calling you-Oo-Oo-Oo")
The Girl of the Golden West (1938)
Sweethearts (1938)
Bitter Sweet (1940)
New Moon (1940)
I Married an Angel (1942)
Nelson Eddy's debut was in the revised operetta Naughty Marietta (1935). Their best remembered (and most commercially successful film together) was Rose Marie (1936). Maytime (1937), a 1937 box-office champion was a beautiful, bittersweet love story featuring the famed duo reprising the oft-repeated "Will You Remember?" Their film Sweethearts (1938), MGM's first Technicolor feature, demonstrated the effectiveness of color - its color cinematography won an Oscar.
MGM Dancing Star Eleanor Powell: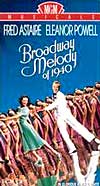 Another of the musical stars on the MGM studio lot during the 1930s was former Broadway performer and glamorous tap dancer Eleanor Powell, who starred in a number of popular musical films. Over her long career, she danced with the likes of Fred Astaire. The best of her films were the following (notice that they included three Broadway Melody films):
The Broadway Melody of 1936 (1935) - a bit role, but Powell's first association with MGM; Powell played opposite Robert Taylor, and supporting cast members Jack Benny and June Knight; this film, the best in the series, was one of the few sequels to be nominated for Best Picture
Born to Dance (1936) featuring Powell in her first lead film role tap-dancing on board an Art-Deco battleship
the expensive, over-produced Rosalie (1937) featuring a Cole Porter score and co-star Nelson Eddy
The Broadway Melody of 1938 (1937), a film in which Powell's dance solos were overshadowed by a young Judy Garland (her original name was Frances Gumm, in her first feature film appearance) singing and dancing with Buddy Ebsen and singing the classic "You Made Me Love You" to a photograph of Clark Gable ("Dear Mr. Gable")
Honolulu (1939), in which Powell performs a hula-style tap dance, and also a stair-tapping tribute - in blackface - to Bill "Bojangles" Robinson
The Broadway Melody of 1940 (1940), one of Powell's best, with a six-minute, film-ending tap-dance with Fred Astaire to Cole Porter's tune "Begin the Beguine"
Lady Be Good (1941), with George Gershwin songs
Ship Ahoy (1942)
Sensations of 1945 (1944) - Powell's final starring film
1936's Best-Picture Winning Biopic Musical: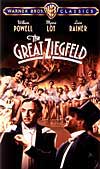 Another lavish musical from MGM during the 1930s was The Great Ziegfeld (1936), the second Oscar-winning musical. It was the epic musical biography of impresario/showman Florenz Ziegfeld (starring William Powell, Luise Rainer, and Myrna Loy), that also featured actual Follies stars as themselves, such as Fannie Brice, Will Rogers, and Eddie Cantor. The three-hour, over-rated Best Picture Academy Award winning film, defeated other worthy Best Picture nominees A Tale of Two Cities (1936) and Dodsworth (1936) in a year in which Astaire-Rogers' Swing Time (1936) was not nominated for the top award. Gargantuan numbers and songs included: "Won't You Come Play With Me?," "It's Delightful to be Married," "If You Knew Susie," "Shine on Harvest Moon," "A Pretty Girl is Like a Melody," "You Gotta Pull Strings," "She's a Follies Girl," "You," and "You Never Looked So Beautiful." Luise Rainer also won the first Oscar statuette awarded to an actress in a musical, for her role as Ziegfeld's stage star Anna Held - for a memorable telephone scene.
Goldwyn's Musicals with Eddie Cantor:
Broadway comedian Eddie Cantor starred in six musical comedies independently produced by Samuel Goldwyn in the 30s, including:
Whoopee! (1930) - from Flo Ziegfeld's Broadway spectacular, with the hit songs: "My Baby Just Cares For Me" and "Makin' Whoopee"
Palmy Days (1931)
The Kid From Spain (1932)
Roman Scandals (1933) - probably the best of the group
Kid Millions (1934)
Strike Me Pink (1936)
Shirley Temple at 20th Century Fox: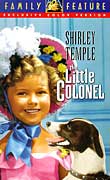 Besides MGM, other studios had their own musical attractions, and merchandising 'cash cows.' One of the biggest money-making, musical super-stars of the mid-1930s was Twentieth Century Fox's talented, naturally-acting, charming child attraction Shirley Temple. The diminutive, curly-topped sensation earned a special Oscar in 1934 "in grateful recognition to her outstanding contribution to screen entertainment." Although her films went into decline by the late 30s as she got older, she achieved legendary film status in such films as:
Baby Take A Bow (1934) - her first starring vehicle
Bright Eyes (1934) - one of Shirley's best, with her classic rendition of "On the Good Ship Lollipop"
Little Miss Marker (1934)
Curly Top (1935) - with Shirley as a resident of an orphanage, and noted for her phrase: "Oh, my goo'ness!" - [this phrase was referenced in the latter film Annie (1980)]
The Little Colonel (1935) with her famous staircase dance sequence with 56 year-old vaudevillian and musical stage star Bill "Bojangles" Robinson; has a short Technicolor finale
The Littlest Rebel (1935) - a Civil War era film, the finale includes a 'challenge dance' against Bill Robinson
Captain January (1936) including the delightful song/dance number "At The Codfish Ball" with Buddy Ebsen
Dimples (1936) - famous for Shirley's convincing re-enactment of Little Eva's death scene in Uncle Tom's Cabin
Poor Little Rich Girl (1936) - a remake of Mary Pickford's 1917 film, co-starring Alice Faye
Stowaway (1936) - as a character named Ching-Ching, orphaned and stranded in Shanghai, China who stowaways on a ship bound for San Francisco; known for Shirley's frequent spouting of wise 'Charlie Chan' sayings, and her wonderful rendition of "You've got to S-M-I-L-E, To be H-A-Double-P-Y"

Heidi (1937) - includes a dream sequence set in Holland with the singing of "In My Little Wooden Shoes"
Wee Willie Winkie (1937) - directed by John Ford and set in India
Rebecca of Sunnybrook Farm (1938) with 10 year-old Shirley performing a medley of many of her earlier hit songs, "On the Good Ship Lollipop," "When I'm With You," and more
Little Miss Broadway (1938)
The Little Princess (1939) - her first Technicolor feature film
Alice Fay and Betty Grable at 20th Century Fox:
For adult audiences, Fox's singer/dancer and musical performer Alice Faye starred in such hits as:
Sing, Baby, Sing (1936)
You're a Sweetheart (1937) - Faye's only film for Universal
On the Avenue (1937) featuring Irving Berlin songs
In Old Chicago (1938)
Alexander's Ragtime Band (1938), a large-scale Irving Berlin backstage musical with Don Ameche, Tyrone Power and young Ethel Merman - director Henry King's Best Picture-nominated film was the first all-star epic musical to feature classic Irving Berlin songs (28 songs including "Heat Wave", "Now It Can Be Told" and Jack Haley's rendition of "Oh How I Hate To Get Up In the Morning," among others) and set the pattern for musicals into the 1940s; the film won the Best Score Oscar for Alfred Newman's musical direction
Rose of Washington Square (1939), with song classics "California Here I Come," "Toot Toot Tootsie Goodbye," "I'm Just Wild About Harry," and "My Man"
Tin Pan Alley (1940), an enjoyable costume picture starring Alice Faye and Betty Grable as a pair of singing sisters, won the Best Score Academy Award
Hello Frisco, Hello (1943) - starring Faye (singing "You'll Never Know") and co-star John Payne
The Gang's All Here (1943) - this was Faye's final starring role in a musical, director Busby Berkeley's only film for Fox, and the one noted for Carmen Miranda's fruit-laden hat and the song "The Lady in the Tutti-Frutti Hat"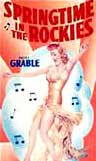 After Alice Faye, Twentieth Century Fox found a successor in the person of blonde bombshell Betty Grable for much of the 40s decade and into the mid-50s. They capitalized on her popular and shapely "million dollar legs" made famous in WWII pin-ups showing her mostly in a rear-view image. Grable appeared in many nonsensical, Technicolor extravaganzas including the musical comedy Moon Over Miami (1941) with Carol Landis and supporting player Charlotte Greenwood, Footlight Serenade (1942) with Victor Mature, Springtime in the Rockies (1942) with supporting Brazilian player Carmen Miranda, Coney Island (1943), Pin-Up Girl (1944) - a title that capitalized on her earlier fame, and the hit film The Dolly Sisters (1945). Fox's Technicolored State Fair (1945), with Jeanne Crain and Dana Andrews, was the only Rodgers & Hammerstein musical written directly for the screen. Its tune, "It Might As Well Be Spring" won the Oscar for Best Song.
June Allyson:
MGM's 'girl-next-door' star was June Allyson who made her film debut in Best Foot Forward (1943). Later she starred in MGM's war-time musical revue Two Girls and a Sailor (1944), and in three roles she portrayed James Stewart's wife: in The Stratton Story (1949), in Universal's Big Band musical biography The Glenn Miller Story (1954) (considered her best role), and in Strategic Air Command (1955).