A Revival of Dance Pictures: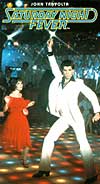 Dance pictures were revived in the late 1970s by director John Badham's classic urban drama/dance film Saturday Night Fever (1977) that starred John Travolta (with the film's sole nomination for Best Actor) as a vulgar, blue-collar Brooklyn paint-store clerk - transformed into a pulsating, white-suited disco king Tony Manero who struts across a dance floor of rainbow-colored squares. The famous disco film featured a popular Bee Gees soundtrack (un-nominated by AMPAS!). Dance champion Denny Terrio and choreographer Lester Wilson trained Travolta, who was a teen idol and starring on TV's Welcome Back, Kotter (as Vinnie Barbarino), to swivel his hips on the dance floor. The film, costing about $3.5 million, made almost $300 million for Paramount Studios. [The film's lesser sequel was Sylvester Stallone's Staying Alive (1983).]
The next year, Travolta co-starred with Australian singer Olivia Newton-John in Randal Kleiser's popular, spirited, nostalgic 50s film Grease (1978) with smutty dialogue - it was a former 1972 hit Broadway musical that brought two big hit songs: "Summer Nights" and "You're The One That I Want", to the charts. (The film's only nomination was Best Song for "Hopelessly Devoted to You.") It was about two lovers, Australian transfer student Sandy (Newton-John) and American greaser Danny Zucko (Travolta), who enjoyed a summertime romance but had to adapt to new roles back in their high school cliques, the T-Birds and the Pink Ladies. Its popularity made it one of the highest grossing movie musicals ever. Patricia Birch's lesser sequel, Grease 2 (1982), her debut film as director (she had choreographed the original film) maintained the same locale, Rydell High School, but brought a new cast including Michelle Pfeiffer and Maxwell Caulfield. Olivia Newton-John's follow-up film to Grease was a disaster -- the musical roller disco fantasy Xanadu (1980), in which she starred as a Greek muse in Los Angeles alongside co-star Gene Kelly (in an attempted comeback).
In response to Grease, independent film producer Roger Corman provided the low-budget Rock 'n' Roll High School (1979) with a soundtrack by The Ramones. A Western-style Saturday Night Fever film, James Bridges' Urban Cowboy (1980), with popular young stars John Travolta and Debra Winger, featured Houston honky-tonks, mechanical bull-riding in bars, blue-collar cowboys, and country music dancing (including the Cotton-Eyed Joe). Alan Parker succeeded with the dance musical Fame (1980), a story of eight struggling young dancers in New York High School for the Performing Arts - so popular that it helped launch a television show - and it received six Academy Award nominations and two wins (Best Score and Best Song).
Adrian Lyne's slick Flashdance (1983) was the immensely popular, highly kinetic, music-video style film - with an Oscar-winning title song by Irene Cara. It featured 19 year-old Jennifer Beals in her first starring role as Alex - a day welder in Pittsburgh and night dancer in a men's club who aspired to successfully audition for ballet school. Herbert Ross' energetic rock/dance film Footloose (1984) was also a culturally-significant film with a pounding, hit soundtrack (that featured Kenny Loggins' Oscar-nominated hit single of the title song, and a second nominated Best Song "Let's Hear It For the Boy"). It starred John Lithgow as a strict minister and Kevin Bacon as the illegal and defiant dancer in town. Singer Prince (in his first starring film) played "The Kid" in the feature-length music video Purple Rain (1984), and succeeded in having the #1 movie, album, and single simultaneously. The sleeper hit, feel-good teen-oriented dance/romance film Dirty Dancing (1987) with Jennifer Grey and Patrick Swayze provided nostalgia, great dance routines, sexy young stars, and a coming-of-age story set in the Catskills in 1963. The film sparked a short-lived revival of the sexy Latin dance - the lambada - with such exploitative films as Joel Silberg's Lambada (1989), and The Forbidden Dance (1990), starring Laura Elena (Martinez) Herring (the first Latina to win Miss USA - in 1985).
A Revival of Musical (Rock and Roll) Biopics:
A number of musical biopics were released in this time period, to remember the lives of various popular musical artists and important figures, such as:
American Hot Wax (1978) - in tribute to influential rock DJ Alan Freed, who promoted the popularity of R&R in the 1950s
The Buddy Holly Story (1978) - with Oscar-nominated Gary Busey as the 50's singing rock hero from Lubbock, Texas with his group The Crickets, in this film with an Oscar-winning Adapted Musical Score; the film concluded with 22 year-old Holly's tragic plane crash in February, 1959 ("...and the rest is rock 'n' roll")
This is Elvis (1981) - a documentary on the life of Elvis Presley
La Bamba (1987) - with Lou Diamond Phillips as rock singer Ritchie Valens (with songs in the film performed by Los Lobos), who died tragically with Holly in the 1959 plane crash
John Lennon in Imagine: John Lennon (1988), a music-video collection of tracks from Lennon's Imagine album
Great Balls of Fire (1989) - named after Jerry Lee Lewis' 1957 hit song; a biopic starring Dennis Quaid as the controversial rocker who married 13 year-old second cousin Myra (Winona Ryder)
Biopics of Musical Singers:
Both Diana Ross and Bette Midler were Best Actress-nominated for their lead roles (based respectively on the lives of legendary jazz singer Billie Holiday and tragically burned-out rock star Janis Joplin) in Lady Sings the Blues (1972) and director Mark Rydell's The Rose (1979). Director Michael Apted's Coal Miner's Daughter (1980) with Best Actress-winning Sissy Spacek was a quasi-musical/biopic about country music singer Loretta Lynn. Patsy Cline (portrayed by Best Actress-nominated Jessica Lange) was also remembered with Sweet Dreams (1985), as was Jim Morrison (portrayed by Val Kilmer) in Oliver Stone's The Doors (1991), Tina Turner (portrayed by Oscar-nominated Angela Bassett) in What's Love Got to Do With It? (1993), Bobby Darin (portrayed by Kevin Spacey) in Beyond the Sea (2004), and country singer Johnny Cash (portrayed by Joaquin Phoenix, with Oscar-winning Reese Witherspoon as wife June Carter) in Walk the Line (2005).
Religious-oriented Musical Films and Other Musical Hits:
A run of hippie/religious musicals (or rock operas) included Godspell (1973) - adapted from the successful Broadway musical by composer Stephen Schwartz, Norman Jewison's Jesus Christ Superstar (1973) (with an Andrew Lloyd Webber-Tim Rice score), and Milos Forman's subversive version of Broadway's Age-of-Aquarius hippie stage hit Hair (1979), with its popular tunes "Aquarius" and "Good Morning Starshine." Shortly later came Andrew Lloyd Webber's Broadway production of Joseph And The Amazing Technicolor Dreamcoat in 1982 (later made into a film in 1999) - an adaptation of the biblical account in Genesis 37-46.
One of the most enduring cult musicals of all time was The Rocky Horror Picture Show (1975) - adapted from a 1973 stage production. It was a bizarre midnight movie favorite that built a reputation for audience participation during screenings.
Rock Musicals: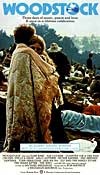 The three best films that documented the counter-cultural era of the 60s and 70s were the concert picture rockumentaries:
Woodstock: Three Days of Peace & Music (1970), the three-hour long epic of the four-day 1969 upper state New York rock concert
Gimme Shelter (1970), chronicling the Rolling Stones' late 1969 appearance at a violent free concert at Altamont
The Last Waltz (1978), Martin Scorsese's film of The Band's final concert appearance with other musical guests
Tommy (1975) was highlighted with music by The Who. Technically, director Alan Parker's visually impressive and highly-stylized rock musical Pink Floyd: The Wall (1982) wasn't a true musical but a very long music video. The mockumentary This is Spinal Tap (1984), director Rob Reiner's debut film, was a marvelous satire-spoof on the subgenre of rockumentaries - it followed the career and US concert tour of a fictional British heavy-metal band called Spinal Tap.
Cinematographer Jordan Cronenweth's and director Jonathan Demme's Stop Making Sense (1984), featuring the influential rock band Talking Heads, was considered by many critics as the best rock concert film of all-time, featuring lead singer/guitarist David Byrne. The film won the National Society of Film Critics' Best Documentary Feature Award - a rare occurrence for a concert film. In its documentation of the group during three nights in December, 1983 at Hollywood's Pantages Theater, the film was notable for being the first made entirely with direct-to-digital audio techniques. It captured many memorable moments without intrusive upstaging by the photography (it was basically devoid of audience shots, quick-cuts, artificial lighting, etc.), including Byrne's solo performance of "Psycho Killer" on a bare stage in the film's opening, played with an acoustic guitar to the simple accompaniment of a portable boom box (providing synthetic percussion drumming).
Animated Musicals from Disney Revived:
Animated musical blockbusters from Disney's studios also succeeded with high-quality feature films that kept musical scores alive. They proved to be more popular than live-action efforts (such as Bedknobs and Broomsticks (1971), Pete's Dragon (1977), and others). Alan Menken was instrumental in leading the songwriting and storytelling for a number of Disney animations in the 1990s, as were pop stars (such as Elton John, Phil Collins, and Sting):
The Little Mermaid (1989), based on the Hans Christian Andersen fairy tale with the popular songs "Part of Your World," "Kiss the Girl," the Oscar for Best Original Score (Alan Menken) and Best Song-winning "Under the Sea"
Beauty and the Beast (1991), the classic French romantic fable (from Jean Cocteau's 1948 La Belle et La Bete) that was the first Best Picture-nominated animated musical feature film, with the Oscar for Best Original Score (Alan Menken), a Best Song-winning title tune, and two other Best Song nominees including "Belle" and "Be Our Guest"; its success was recreated when it was adapted into a Broadway show
Aladdin (1992), with the Oscar for Best Original Score (Alan Menken), the Best Song-winning "A Whole New World", and Robin Williams as the voice of the Genie
The Lion King (1994), with a pop music score by Elton John and Tim Rice, including the Oscar for Best Original Score (Hans Zimmer), the Best Song-winning "Can You Feel the Love Tonight," also "Circle of Life" and "Hakuna Matata"; later in 1997 became a Broadway hit musical
Pocahontas (1995), with Academy Awards for Best Original Score (Alan Menken, Stephen Schwartz) and Best Song-winning "Colors of the Wind"
The Hunchback of Notre Dame (1996), inspired by Victor Hugo's The Hunchback of Notre Dame, with songs composed by Alan Menken (Oscar nominated for Best Original Score) and Stephen Schwartz
Hercules (1997), a Disneyfication of the myth of Hercules, with the Academy Award-nominated Best Original Song "Go the Distance"
Mulan (1998), nominated for an Academy Award for Best Original Music Score
Tarzan (1999), with songs by Phil Collins, including the Best Song-winning "You'll Be In My Heart"
The Emperor's New Groove (2000), Academy Award-nominated for Best Song "My Funny Friend and Me" (performed by Sting)
Dreamworks' attempted to compete with the Disney animated musicals with Prince of Egypt (1998), and won the Academy Award for Best Song (Stephen Schwartz) for "When You Believe." Another unbelievably tasteless animated musical was director Trey Parker's independent South Park: Bigger, Longer and Uncut (1999), a spin-off based upon a cable-TV series with foul-mouthed characters - it had an obscene title song ("Blame Canada") that was nominated for Best Original Song.
Modern Day Musicals: The 80s and After
Pink Panther-director Blake Edwards' Victor/Victoria (1982) with a Henry Mancini score featured the director's wife Julie Andrews in a 1930's Parisian story "of a woman pretending to be a man pretending to be a woman." [In 1996, Victor/Victoria was transformed into a Broadway musical, again directed by Edwards and starring Andrews.] Barbra Streisand's directorial debut film Yentl (1983), the story of a young Jewish woman disguised as a boy, won only one Oscar (Best Original Song Score) from its five nominations. And the 1984 Best Picture Oscar victor, Amadeus (1984), was a drama/musical about child prodigy Mozart. An off-Broadway musical was successfully adapted into Frank Oz's cartoonish film version Little Shop of Horrors (1986) - originally based on horror film director Roger Corman's 1961 low budget cult favorite.
Arnold Glimcher's The Mambo Kings (1992) celebrated Latin American music with its story of two Cuban brothers Nestor and Cesar Castillo (Antonio Banderas and Armand Assante) in a NYC mambo band in the early 1950s. Martin Brest's dramatic Scent of a Woman (1992), with a Best Actor-winning role for Al Pacino as blind, irascible army veteran Frank Slade, was most notable for his passionate tango scene with Donna (Gabrielle Anwar). Australian director Baz Luhrmann's first film, Strictly Ballroom (1992) told the story of ballroom dancer Scott Hastings (Paul Mercurio) and his Hispanic partner Fran (Tara Morice) who refused to follow the conventional rules of a Dance Federation during the film's final Pan-Pacific dance competition. Although The Mask (1994) was basically a fanciful comedy, the film featured a memorable dance routine ("Cuban Pete") by the mild-mannered, geeky bank teller (Jim Carrey) while wearing his magical mask to successfully woo the beautiful Tina Carlyle (Cameron Diaz in her screen debut).
Live-action musicals seemed to almost fade in the 1990s. There was only one successful live-action musical in the 90s - director Alan Parker's musical drama Evita (1996), adapted from the 1976 theater version by Andrew Lloyd Webber and Tim Rice, with Madonna (singing the Oscar-winning Best Original Song "You Must Love Me"). There were just a few other musicals to be mentioned in the 90s:
Woody Allen's engaging musical comedy Everyone Says I Love You (1996), with inexperienced, non-singing stars such as Goldie Hawn (memorably singing "I'm Through With Love" next to the Seine), Edward Norton, and Alan Alda belting out songs
the dramatic musical biography of Tejano recording artist Selena (1997) with pop-star diva Jennifer Lopez in the lead, breakthrough role
The New Millennium:
It would take the new millennium to bring more well-received musicals, but the first few struggled to find audiences: Kenneth Branagh's Shakespeare-inspired musical comedy Love's Labour's Lost (2000), Lars von Trier's dramatic musical Dancer in the Dark (2000) with Bjork, and John Cameron Mitchell's rock musical Hedwig and the Angry Inch (2001). Baz Luhrmann's eye-catching and dazzling, Best Picture-nominated Moulin Rouge (2001) (the first live-action musical to be nominated for Best Picture since All That Jazz (1979)), and choreographer Rob Marshall's debut feature film and razzle-dazzle film Chicago (2002) (at $171 million) proved that adaptations of modern stage musicals (a rock-opera bio in this case) or inventive fantasy musicals were still possible. Marshall's film was a musical drama and a screen adaptation of the 1975 Broadway hit musical Chicago from John Kander and Fred Ebb, originally directed and choreographed by Bob Fosse, and revived on Broadway in 1996. It garnered six Oscars from its thirteen nominations, including Best Picture. It was the first musical since Oliver! (1968) to win the top award. To reflect the hip-hop fad at the time, white rapper Eminem starred in Curtis Hanson's 8 Mile (2002).
However, the trend could be short-lived, due to the total box office failures of stage-to-screen adaptations of such acclaimed and popular Tony-winning musicals as Joel Schumacher's The Phantom of the Opera (2004) (at $51.2 million), Rent (2005) (at $29.1 million) and the get-rich-quick scheming of theatrical con-men in The Producers (2005) (at $19.4 million), as well as other notable musical flops, such as From Justin to Kelly (2003) (starring American Idol singers Justin Guarini and Kelly Clarkson), Beyond the Sea (2003), Camp (2003) and the Cole Porter biopic De-Lovely (2004).
Director Bill Condon's Dreamgirls (2006) (at $103.1 million) was a lavish and vibrant screen adaptation of Michael Bennett's popular 1981 Broadway musical about a trio of Motown-style soul singers The Dreams, in a thinly veiled roman a clef of the real Motown singing group The Supremes. It acquired eight nominations but came away with only two wins: Best Supporting Actress (Jennifer Hudson), and Best Sound Mixing, even though it won at the Golden Globes awards as the Best Musical or Comedy. Hairspray (2007) (at $119 million) - the song-and-dance adaptation of the Broadway smash hit, with stars Nikki Blonsky and John Travolta in early 1960s Baltimore, became one of the few movie musicals that grossed over $100 million, joining Chicago (2002), Dreamgirls (2006), and Grease (1978). However, it received no Oscar nominations, although it did have three Golden Globe nominations. Also, Tim Burton's Sweeney Todd (2007) (at $52 million), with Johnny Depp as a Victorian-era vengeful barber, was recognized with three Oscar nominations (and only one win). In some respects, the entire musical genre wasn't being blamed for the decline in big-screen movie musicals, only individual films.