Best Picture-Winning Musicals in the 60s: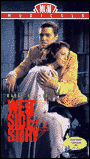 From 1958 to 1968, there were five musical Best Picture winners out of eight nominees. Four musicals in the decade of the 1960s adapted for the screen won the Academy Award for Best Picture. All four were based on Broadway hits, but with a distinct difference - each one involved a major cast change:
UA's West Side Story (1961), from Best Director-winning co-directors Jerome Robbins and Robert Wise, with ten Academy Awards from eleven nominations, was the Romeo-and-Juliet inspired 1957 hit Broadway musical with spectacular choreography (especially in the film's opening), hit songs including the exhilarating "America" (performed on a rooftop), and "Maria" with music by Leonard Bernstein and lyrics by Stephen Sondheim. Its romantic tale featured star-crossed young lovers: Puerto Rican Maria (Natalie Wood replacing Carol Lawrence, with singing dubbed by Marni Nixon) and American Tony (Richard Beymer replacing Larry Kert, with singing dubbed by Jim Bryant) associated with competing juvenile gangs in Manhattan's Upper West Side


Warners' and Lerner's and Loew's musical play My Fair Lady (1964), with twelve nominations and eight Oscars, was directed by the legendary George Cukor and based upon George Bernard Shaw's Pygmalion and the 1956 stage production. It was about a Cockney street urchin named Eliza Doolittle (Audrey Hepburn replacing Broadway star Julie Andrews, with singing again dubbed by Marni Nixon) who was transformed by linguist Henry Higgins (Rex Harrison) into a proper lady; Cukor won his sole Best Director Oscar with his fifth nomination, and all three British cast members (Stanley Holloway, Gladys Cooper, and Rex Harrison) were nominated in acting categories, with Harrison the winner as Best Actor; Audrey Hepburn was conspicuously absent from the nominees; My Fair Lady (1964) defeated another Best Picture-nominated musical, Mary Poppins (1964) - see below


Rodgers and Hammerstein's and producer/director Robert Wise's most successful work - 20th Century Fox's romantic musical/drama The Sound of Music (1965) based on Howard Lindsay and Russel Crouse's 1959 Broadway hit about a romance between a nun-turned-governess (Julie Andrews) and a widower (Christopher Plummer) with seven children, with ten nominations and five Oscars, featured an unforgettable Julie Andrews (replacing Broadway star Mary Martin) in the lead role, singing melodic Rodgers and Hammerstein songs (including the lively "Do-Re-Mi" and lyrical "Edelweiss"). The sweet, somewhat sentimental film was set in 1938 Salzburg, Austria and shot with beautiful views of the Alps and the city.


[The Sound of Music (1965) surpassed Gone With the Wind (1939) to become the biggest money-making box-office hit to date (and the biggest, most profitable box-office musical of all time.) It saved 20th Century Fox from going into bankruptcy after their lavish spending on the disastrous Cleopatra (1963). The film won five Oscars - Best Picture, Best Director (Robert Wise), Best Sound, Best Musical Score, and Best Film Editing. (Julie Andrews starred a year earlier, with her film debut and a Best Actress-winning role, in the marvelous childrens' film Mary Poppins (1964), with 13 Academy Awards nominations and five wins, that blended animation and live action and was filled with delightful Disney songs, including Oscar winner "Chim, Chim Chiree".) And Andrews would go on to star in the 1920s musical spoof Thoroughly Modern Millie (1967), and reteamed with director Wise in the box-office failure Star! (1968), a biography of stage musical comedy star Gertrude Lawrence.]

Columbia's Oliver! (1968), the British film adaptation of the classic Charles Dickens tale about an orphan boy in 19th century England, with eleven nominations and five wins, whose major musical competitor was director William Wyler's and Columbia Studios' Funny Girl (1968), with eight nominations and one win (Best Actress for Barbra Streisand in her screen debut in the role of Fanny Brice)
All of the directors of the Best Picture-winning musicals in the 60s were long-overdue recipients of a Best Director Oscar:
- co-directors Jerome Robbins (with his sole nomination) and Robert Wise (with his second nomination) for West Side Story (1961)
- director George Cukor (with his fifth nomination) for My Fair Lady (1964)
- director Robert Wise (with his third nomination) for The Sound of Music (1965)
- director Carol Reed (with his third nomination) for Oliver! (1968)
The Demise of the Musical in the Late 60s and 70s: Flops and Failures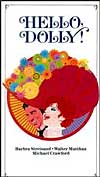 The adaptation of stage material for the screen remained the predominant trend in Hollywood with extravagant, lavish productions that attempted to duplicate the successes of the 60s, in films such as: Bells Are Ringing (1960), Bye Bye Birdie (1963) - the first Broadway musical to include rock songs, Richard Lester's A Funny Thing Happened on the Way to the Forum (1966) based on Stephen Sondheim's 1964 Broadway show (with Zero Mostel), director Norman Jewison's Fiddler on the Roof (1971) based on the stories of Sholem Aleichem about changing times and the life of a Ukranian milkman's family in pre-revolutionary Russia - and one of the longest-running Broadway musicals of all time, Man of La Mancha (1972) and more. However, by the end of the 1960s and early 70s, musicals were virtually extinct and had significantly diminished in popularity.
For a few decades (until the 80s), major musicals, whether adaptations or original productions, seemed to have disappeared or fared poorly at the box-office, and were regarded as insipid and overblown. A number of disappointing flops and sometimes disastrous films spelled an end to the large-scale film musical:
Universal's Flower Drum Song (1961), inspired by Rodgers and Hammerstein's 1958 Broadway hit about the clash of East-West romantic/marital customs, and set in San Francisco's Chinatown
the overlong and below-average box-office failure Billy Rose's Jumbo (1962), one of the last lavish musicals from MGM, a circus film musical starring Jimmy Durante (in his last non-cameo role), Doris Day (in her last musical) and Martha Raye, and with an Oscar-nominated Musical Score, including the Rodgers and Hart song "The Most Beautiful Girl in the World"
Warner Bros.' $15 million flop Camelot (1967), with non-musical lead actors Vanessa Redgrave and Richard Harris
20th Century Fox's Doctor Doolittle (1967), another overlong and expensive flop, with Rex Harrison (as Doctor Doolittle) 'talking to the animals' - it astonishingly received nine Oscar nominations (including Best Picture) and only two wins (including the Oscar-winning "Talk To The Animals")
the unusual, uninspiring dramatic musical satire about corporate America - How to Succeed in Business Without Really Trying (1967), adapted from Frank Loesser's Tony Award-winning Broadway musical from 1961
20th Century Fox's and director Robert Wise's $12 million Star! (1968), a biopic of Gertrude Lawrence and a disastrous film for Julie Andrews, with seven nominations and no wins
Finian's Rainbow (1968)
MGM's disastrous Goodbye, Mr. Chips (1969), with two nominations (including a Best Actor nomination for Peter O'Toole!)
Hello, Dolly! (1969), another Fox financial disaster, directed by Gene Kelly, with seven nominations (including Best Picture) and three wins; a young Barbra Streisand was miscast as the titular matchmaker Dolly Levi, who replaced the stage originator Carol Channing; it was noted for Louis Armstrong's performance of the title song
Paramount's Paint Your Wagon (1969), an adaptation of Lerner and Loewe's 1951 western-musical about the California gold rush, from director Joshua Logan, with one nomination (for Nelson Riddle's Best Score), featuring action/western stars Lee Marvin and Clint Eastwood playing against-type as singing gold prospectors, in numbers such as "Wand'rin' Star' and "I Talk to the Trees"!
director/choreographer Bob Fosse's Sweet Charity (1969) with Shirley MacLaine - adapted from the 1965 Broadway musical
On a Clear Day, You Can See Forever (1970), directed by Vincente Minnelli
Song of Norway (1970) - a musical biography of Norwegian composer Edvard Grieg
Willy Wonka and the Chocolate Factory (1971), with only one nomination, for Best Score
Bedknobs and Broomsticks (1971), an appealing animated musical similar to Mary Poppins (1964)
The Boy Friend (1971) - a Ken Russell parody of Busby Berkeley's musical and visual extravaganzas, starring 70's model Twiggy - with disappointing results
1776 (1972)
Man of La Mancha (1972) - a disastrous adaptation of the hit Broadway musical (with Peter O'Toole and bosomy Sophia Loren)
Lost Horizon (1973) - often rated as one of the worst films ever (a remake of Frank Capra's non-musical Lost Horizon 1937)), with a Burt Bacharach score and a tone-deaf all-star cast (including Peter Finch and John Gielgud)
The Little Prince (1974) - the 1943 French novella by Antoine de Saint Exupéry was transformed into Lerner's and Loew's disappointing musical (their final collaboration together)
Mame (1974) - with comedienne Lucille Ball in the lead role
the innovative and original film from Fox, At Long Last Love (1975), Peter Bogdanovich's homage to musicals of the 30s, although it was a disaster at the box-office due to its lack of sparkle, dull screenplay and miscasting - it was a failed attempt to have Cole Porter songs recorded live by his miscast cast
Lisztomania (1975), British director Ken Russell's bizarre musical biography with The Who's Roger Daltry as composer Franz Liszt
New York, New York (1977) - director Martin Scorsese's failed tribute to 1940s musicals, with stars Robert De Niro and Liza Minnelli
A Little Night Music (1978), the commercially-failed film version of Stephen Sondheim's Broadway stage musical starring Elizabeth Taylor, with two nominations and one win - Best Score
Sgt. Pepper's Lonely Hearts Club Band (1978) - this rock musical featured a soundtrack of Peter Frampton and The Bee Gees masquerading as The Beatles
director Richard Fleischer's poorly-acted The Jazz Singer (1980) - a third version (the second remake of the classic film) with popular singer Neil Diamond in the lead role, and Laurence Olivier as his father
director Robert Altman's very quirky Popeye (1980), critically-assailed, with Robin Williams as the comic-book sailor man with bulging arms
Herbert Ross' original and somewhat somber Pennies From Heaven (1981), with stars Steve Martin and Bernadette Peters lip-synching to their songs, reproduced some of Busby Berkeley's spectacular production numbers of the 30s - with little box-office success
director John Huston's big-budget, all-star Annie (1982), adapted from the 1977 hit Broadway musical, misused the talents of Carol Burnett, Bernadette Peters, and Albert Finney
The Best Little Whorehouse in Texas (1982) - another Broadway musical adaptation from the 1978 stage production
Francis Ford Coppola's One From the Heart (1982), a stylized musical romance two years in the making - the director's biggest flop and financial gamble due to its experimental nature
the awful musical romance Yes, Giorgio (1982), with opera star Luciano Pavarotti
Richard Attenborough's A Chorus Line (1985), a heavy film version of Michael Bennett's longest-running Broadway musical, was a less-than sparkling and misguided rendition, with the cut of the classic popular song "Hello Twelve, Hello Thirteen, Hello Love", replaced with a song written for the film - the Oscar-nominated "Surprise, Surprise"
Taylor Hackford's White Nights (1985), highlighted only by the tap dancing of Gregory Hines and of Soviet ballet dancer Mikhail Baryshnikov, and the Oscar-winning Lionel Richie song "Say You, Say Me"
Younger directors experimented with re-creating the splendor of 1930s musicals, with limited success, as mentioned above:
director Peter Bogdanovich's stinker - the embarrassing At Long Last Love (1975) - starring his miscast then-girlfriend Cybill Shepherd and Burt Reynolds and others 'singing' sixteen Cole Porter standard tunes!
director Robert Altman's country-western music classic Nashville (1975)
Martin Scorsese's big-band era musical New York, New York (1977), a tragic, romantic musical starring Robert De Niro and Liza Minnelli
Best Picture-Nominated Musicals in the 1970s: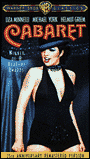 Hollywood musicals generated 50 Academy Award nominations in the 70s. There were only three musicals nominated for Best Picture in the 1970s, and none of them won the top Oscar. Two of them, directed by dynamic choreographer-director-screenwriter Bob Fosse, received high praise for their cinematic innovation, bold approach and dramatic quality:
director Norman Jewison's Fiddler on the Roof (1971), with eight nominations and three wins (Best Cinematography, Best Score and Best Sound), was adapted from the 1964 stage production
the award-winning, striking, stylish Cabaret (1972) set in pre-Nazi Germany, from director Bob Fosse, with Liza Minnelli (in a tragic-comic role as sexually-ambiguous night-club singer Sally Bowles) and Joel Grey. Cabaret was originally a 1966 Broadway musical; with ten nominations and eight Academy Awards; Fosse won the Best Director Oscar over Francis Ford Coppola (nominated for the Best Picture winner The Godfather (1972))
and Fosse's experimental, semi-autobiographical All That Jazz (1979) featured Roy Scheider in the lead role as gifted but driven, hard-drinking and self-indulgent New York choreographer Joe Gideon ("It's show time, folks"); it ended with an exhausted Fosse's open heart surgery staged as a musical, reminiscent of the extravagant numbers during Busby Berkeley's era; the highly-praised film garnered nine nominations and four Oscars - it was one of the few Oscar-nominated musicals that originated on the screen rather than on Broadway. [It would be another 22 years for the next live-action musical to be nominated for Best Picture: Baz Luhrmann's Moulin Rouge (2001)]
Rock 'N' Roll Films:
Inventive rock 'n' roll films and rock musicals were becoming a popular musical sub-genre. The original musical film was becoming an endangered species, pushed out by rock 'n' roll songwriters and new tastes among the record-purchasing public. The first mainstream feature film to use rock music (Bill Haley's Rock Around the Clock) - during the opening credits - was in Richard Brooks' Blackboard Jungle (1955). Soon after, Rock Around the Clock (1956) featured disc jockey Alan Freed and the group Bill Haley and His Comets (singing the title song) and many others (such as the Platters, and Freddy Bell and The Bell Boys) - it was the first film entirely dedicated to rock 'n' roll. It was quickly followed by two more similar films featuring Alan Freed (as Himself) -- Don't Knock the Rock (1956) and Rock, Rock, Rock (1956). Both films argued that rock-and-roll was a new, fun, and wholesome type of music.
The rock and roll music of the 50s was on display, along with big-bosomed star Jayne Mansfield as a talentless, dumb blonde sexpot in writer/director Frank Tashlin's satirical comedy The Girl Can't Help It (1956). It was the first rock and roll film to be taken seriously, with 17 songs in its short 99 minutes framework. Great rock and roll performers included Ray Anthony, Fats Domino, The Platters, Little Richard and his Band (featured in the title song), Gene Vincent and His Bluecaps, Eddie Cochran (with his screen debut) and others. American youth wanted to hear their popular groups in the films of their choice.
Elvis 'The Pelvis' Presley: The King of Rock 'N Roll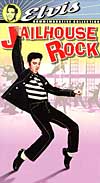 The hip-swiveling king of rock 'n' roll, singer Elvis Presley broke into films, making a total of thirty-one feature films in his career from the mid-50's to 1970. Although most of them were forgettable, formulaic, low-budget, sappy 'boy-meets-girl' pictures sprinkled with hit songs, his third film Jailhouse Rock (1957) captured the real magnetism of the music star. He was also featured as an actor in many money-making films after signing his first film deal in 1956. His screen debut was in Fox's Civil War drama Love Me Tender (1956) (originally titled The Reno Brothers), with a #1 single hit song ballad. His second film was in Paramount's Loving You (1957) (noted for his first screen kiss, his first Technicolor film). Next came Jailhouse Rock (1957) - generally acknowledged as his most famous and popular film. Afterwards came director Michael Curtiz' King Creole (1958) in a role as a New Orleans teen rebel (acclaimed as one of his best acting roles) before the decade ended. His induction into the Army in 1958 was a well-publicized event. After his Army stint, he also starred in G.I. Blues (1960), in Don Siegel's western Flaming Star (1960) (with only two songs) as a half-breed youth, in the southern melodrama Wild in the Country (1961), and in other formulaic 60's films (i.e., Blue Hawaii (1961), Kid Galahad (1962), and his biggest box-office hit Viva Las Vegas (1964)). By the 70s, his film roles had deteriorated, and although he returned to stage performances and revived his singing career, he was physically on the decline until his death in August, 1977 of heart disease and drug abuse.
The Beatles:
The Beatles' improvisational and imaginative first film was producer Richard Lester's A Hard Day's Night (1964), made at the peak of "Beatlemania" popularity. It captured a surrealistic day and a half in the lives of the "Fab Four" Beatles from Liverpool, and heralded a new kind of musical. Their music was also featured in Yellow Submarine (1968), an animated musical feast. Two great rock documentaries focused on the life of singer/writer Bob Dylan: D.A. Pennebaker's Don't Look Back (1967) followed his 1965 tour of England, including appearances by Joan Baez and Donovan, and Martin Scorsese's No Direction Home (2005) focused on the first six years of Dylan's career.
Jim Henson's The Muppets:
Puppetmaster Jim Henson's loveable creatures, the Muppets (from Sesame Street and The Muppet Show (1976-1981)), including Kermit the Frog, Miss Piggy, and a host of others, crossed over to family-oriented feature films in the late 70s. Inevitably, these profitable films in the original trilogy included energetic and silly musical numbers:
director James Frawley's The Muppet Movie (1979), with the Oscar-nominated "Rainbow Connection" song
The Great Muppet Caper (1981), Henson's feature film directorial debut film
director Frank Oz's The Muppets Take Manhattan (1984)