Val Lewton and Horror: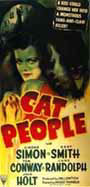 Beginning in 1942 for RKO, producer Val Lewton (the head of RKO's 1940s 'horror unit') breathed new life into the horror genre by initiating a series of literate, intelligent, low-budget, understated, moody B-movie films that suggested more than showed the horror. His collection of films were more noirish and subtle than true horror films. Director Jacques Tourneur's The Cat People (1942) was the first of Lewton's produced films - a low-key, shadowy horror film about a frigid Serbian girl who could be transformed into a threatening, man-eating panther when aroused. Examples of its atmospheric horror included two jolting scenes: one in Central Park in which feline fright was actually the sound of a bus braking, and the second one, a scary swim in an indoor pool with eerie reflections and sounds.
Further horror masterpieces pairing the talents of Tourneur and Lewton included one of their earliest productions - the modestly-budgeted, artistic horror thriller I Walked With a Zombie (1943). It was set on the voodoo-infested island of Haiti and derived from the classic Jane Eyre tale. The last film in Tourneur's trio of films with Lewton was the truly terrifying The Leopard Man (1943) with a frightening off-screen 'leopard' attack on a young girl. Lewton also went on to produce The Seventh Victim (1943) (directed by Mark Robson) and the sequel The Curse of the Cat People (1944) (directed by Gunther Von Fristch and Robert Wise).
Universal's Horror Films and More:
The frightening horror film Frankenstein Meets the Wolf Man (1942) featured two of Universal Studios' classic monsters, portrayed respectively by a miscast Bela Lugosi and Lon Chaney, Jr.. Universal's House of Dracula (1945), the sequel to House of Frankenstein (1944), starred Lon Chaney, Jr. as the Wolf Man (again), and John Carradine as the vampire. There were four sequels to the original 1932 Mummy film (starring Boris Karloff as Kharis) between 1940 and 1944, with Lon Chaney, Jr. in three of the four films: The Mummy's Hand (1940), The Mummy's Tomb (1942), The Mummy's Ghost (1944), and The Mummy's Curse (1944).
One of the scariest films of the 40s was the haunted house classic The Uninvited (1944), starring Ray Milland and Ruth Hussey as a brother and sister who move into a mysterious house on the Cornish coast and soon detect cold spots and the smell of mimosa.
The First Appearance of Major Cartoon Characters:
Animated films' cartoon characters Bugs Bunny, Tom and Jerry, Woody Woodpecker, Mighty Mouse, and Casper (among many others) made their film debuts in the 40s decade. The short film A Wild Hare (1940) introduced the wise-cracking, carrot-chomping Bugs Bunny, soon to be one of Warner Bros' biggest stars. Tom & Jerry, created by Hanna & Barbera, were debuted by MGM in Puss Gets the Boot (1940). (Tom was called Jasper and Jerry didn't have a name yet.) Woody Woodpecker first appeared in the cartoon Knock, Knock (1940) distributed by Universal Studios, in which he bedeviled another Lantz character Andy Panda. The next year, the popular Woody became a starring character in The Cracked Nut (1941), and began to replace the waning Oswald the Rabbit. A caped super-rodent named Mighty Mouse was introduced in the Terrytoons short The Mouse of Tomorrow (1942), noted for saying: "Here I come to save the day!" Paramount's theatrical cartoon The Friendly Ghost (1945), debuted the character of Casper. The characters of the RoadRunner ("Accelerati Incredibulis") and the Coyote ("Carnivorous Vulgaris") were debuted in the short animated film Fast and Furry-ous (1949).
The Golden Age of Disney Feature Film Animation: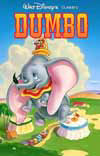 Technical achievements were many. Disney released more animated feature films in the 40s, including some of its most timeless classics. The golden decade of Disney animation was heralded by Pinocchio (1940) (with a puppet-boy who had a penchant for lying, and a cricket-narrator who sings "When You Wish Upon a Star"), and the wildly-experimental film Fantasia (1940) that blended classical music (from Leopold Stokowski's Philadelphia Orchestra) with animated sequences (including The Sorcerer's Apprentice with Mickey Mouse). It was the first film with stereophonic sound ("Fantasound"). Other Disney feature-length animations included Dumbo (1941) - about a flying, big-eared baby elephant delivered by a stork and tutored by a mouse named Timothy, and Bambi (1942) - an adaptation of Felix Salten's story about a young, beloved deer in the deep forest with friends Thumper (rabbit) and Flower (skunk), with its indelible shocking scene of the off-screen shooting of Bambi's mother.
Disney's charming live-action feature film (with animated sequences) Song of the South (1946), was based on the Uncle Remus' tall-tale stories of Brer Rabbit by Joel Chandler Harris. Although it was a commercial success, the film was criticized by the NAACP in 1946 for "the impression it gives of an idyllic master-slave relationship", but was still nominated for Best Scoring of a Musical Picture, and received an Oscar for Best Song ("Zip-a-Dee-Doo-Dah") - and an honorary Oscar to African-American James Baskett for his portrayal of Uncle Remus.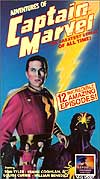 Following an animator-artist's strike in 1941, a group of Disney animators with new individualized styles - who wanted to make a radical departure from the classic style of Disney animation - broke away and formed the UPA (United Productions of America) in 1943, under the direction of Stephen Bosustow. Among their creations were the series that featured Mr. Magoo and Gerald McBoing Boing.
Captain Marvel:
Also appearing in 1941 was the first film appearance of a comic strip and comic book hero - Captain Marvel (Tom Tyler), in an episodic serial entitled The Adventures of Captain Marvel (1941). It was one of the finest comic-to-film adaptations ever made.
Preston Sturges' Social-Comedy Satires:

Writer/director Preston Sturges (1898-1959) was the first Hollywood scriptwriter to direct his own work. Earlier in the 30s, he had gained notoriety with his screenplays for William Wyler's The Good Fairy (1935) with Margaret Sullavan, and for Mitchell Leisen's Easy Living (1937) with Jean Arthur and Edward Arnold. He directed his own screenplay for the first time (and won the Academy Award for his original screenplay) in The Great McGinty (1940) and was able to retain greater control over and exercise greater protection of his own creations. He signaled the days when a writer could also be the director and/or producer.
Sturges made a string of brilliant screwball comedies and witty satires including eight signature films (seven were comedies) between 1940 and 1944, his peak period of production:
The Great McGinty (1940), a political satire with Brian Donlevy; noted for its Oscar-winning Best Original Screenplay [it was the first time a film in Hollywood opened with the credit: "Written and Directed By"]
Christmas in July (1940), a screwball comedy of errors tale with Dick Powell and Ellen Drew, skewering advertising and consumerism
The Lady Eve (1941), Sturges' great masterpiece - a tale of sexual politics, starring worldly, gold-digging con artist Jean (Barbara Stanwyck) and her masculine prey - a naive millionaire explorer named Charles Pike (Henry Fonda); sometimes considered the last classic screwball romantic comedy of Hollywood's Golden Age
Sullivan's Travels (1941), Sturges' most ambitious and best film, a reflexive critique of Hollywood film-making in its story of a big-time director (Joel McCrea) of comedies who took a road-trip as a tramp with a wise-cracking peekaboo blonde (Veronica Lake) to experience life among the downtrodden poor; in a chain gang, he experiences an epiphany while watching a cartoon, and returns to Hollywood to realize his comedic calling
The Palm Beach Story (1942), a sophisticated story about an independent, luxury-loving wife (Claudette Colbert) who left her struggling, poor inventor-husband (Joel McCrea) for a trip to Palm Beach to enjoy the good life with a millionaire (crooner Rudy Vallee)
The Miracle of Morgan's Creek (1944), an irreverent and iconoclastic film (during the heyday of the Hays Code!) about an unwed pregnancy; it riskily told the scandalous story of Trudy Kockenlocker (Betty Hutton), a small-town party girl impregnated after an drunken encounter with a soldier, who can't remember the soldier's name beyond the recollection of Ratsky-Watsky; her meek boyfriend Norval's (Eddie Bracken) attempts to save her reputation put him in jail; the film ended with Trudy giving birth to sextuplets on Christmas Eve - a great media event; this was the first film advertised on TV in a 30-minute promotion in 1944; comedian Jerry Lewis remade the film as Rock-a-bye Baby (1958)
Hail the Conquering Hero (1944), the first of Sturges' two most authentic portraits of war-time America (both with Oscar-nominated screenplays), a satirical comedy of heroism and patriotism -and Sturges' own personal favorite film; about a rejected Marine recruit (Eddie Bracken) and war hero who is erroneously welcomed home and can't admit the truth
The Great Moment (1944), an out-of-character, serious historical biopic with Betty Field and Joel McCrea as the dentist who pioneered anesthesia - the off-beat film was shot two years earlier and then drastically re-edited by Paramount, leading to a dispute and falling-out between the film-maker and the studio
After Sturges left Paramount in 1944 to find independence, he became embroiled with financial difficulties and suffered creative exhaustion. He only completed four more pictures (until his death in 1959). He also directed/wrote the box-office flop The Sin of Harold Diddlebock (1947) (aka Mad Wednesday), co-produced with Howard Hughes (and the first and only film by California Pictures), starring silent film star Harold Lloyd (after almost a ten-year hiatus and in his final film) in the lead role portraying an unemployed, inhibited clerk who was enlivened and redeemed by a special alcoholic drink termed the Diddlebock. One of Sturges' final films was the successful comedy Unfaithfully Yours (1948), about a symphony conductor (Rex Harrison) who fantasized about killing his allegedly unfaithful wife (Linda Darnell). Sturges' last American/Hollywood film was the western comedy The Beautiful Blonde From Bashful Bend (1949) with Betty Grable, and he directed his final film in Europe, The French, They Are a Funny Race (1956).
1940s Westerns: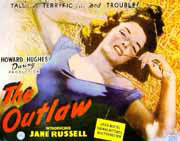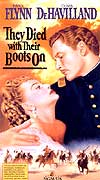 Errol Flynn played the role of General George Armstrong Custer, uncharacteristically sympathetic to native Americans (including Anthony Quinn as Chief Crazy Horse) in Warners' largely fictitious bio They Died With Their Boots On (1942), directed by Raoul Walsh. It popularized the theme song march "Gary Owen." Gary Cooper starred as the title character Cole Hardin in William Wyler's The Westerner (1940), opposite Walter Brennan as Judge Roy Bean.
Howard Hughes' notorious and independently-produced adult-western The Outlaw (1943) faced close scrutiny by the Hays Office (and Joseph Breen), due to its exploitation of star Jane Russell's prominently-uncovered 36D" chest in her debut film by Hollywood huckster Russell Birdwell. Salacious advertising with lines such as: "What are the two great reasons for Jane Russell's rise to stardom?" added to the lurid sensationalism and kept the film from being widely circulated. In addition, pin-up shots of big-busted Russell rolling around in the hay had the desired effect at the box office (especially among WWII GIs). One of the film's most vulgar stunts, also orchestrated by Birdwell, was to have skywriting planes fly over San Francisco where they spelled the film's title followed by two giant circles -- each dotted in the center. Hughes defied the Hayes Production Code (reportedly this was the first US film to do so), and sued the MPAA organization, but eventually backed down. Hughes postponed its opening until 1943 when it was given a limited release (one-week run), then withdrew it, and re-released it three years later in 1946 in a cut version, and then again in 1947. The eventual release of the mediocre, fictional film ended up as an example of triumphant ballyhooing and film marketing.
A Cecil B. DeMille Western-style "Gone With The Wind" epic with Gregory Peck and Jennifer Jones as libidinous rivals/lovers, Duel in the Sun (1946), nicknamed "Lust in the Dust," was released by David O. Selznick. At seven million dollars, it was the costliest film to date. A Western-style "Mutiny on the Bounty," Howard Hawks' Red River (1948), often considered one of the greatest westerns ever made, was a straight-forward, visually-striking tale of a cattle boss father/adopted son controversy (John Wayne vs. Montgomery Clift) during the first cattle drive up the newly-opened Chisholm Trail. Another of the best westerns ever made was William Wellman's The Ox-Bow Incident (1943) about two drifters (Henry Fonda and Henry Morgan) who witness the vigilante lynching of three innocent men.
John Ford's Westerns:
During the 1940s, director John Ford embarked on his most prolific era with an expanded string of classic Westerns to chronicle America's pioneer past. His award-winning (and most-nominated) films were his three social dramas in the 40s, not his westerns:
The Long Voyage Home (1940)
an adaptation of John Steinbeck's novel about a Depression-era migrant family The Grapes of Wrath (1940) (with Ford winning the Best Director Oscar)
the Best Picture-winning, Welsh mining, family-based drama How Green Was My Valley (1941) with Roddy McDowall as a young Huw in a hard-working South Wales family
Ford then filmed a classic western about Wyatt Earp (Henry Fonda) and the OK Corral titled My Darling Clementine (1946) featuring Victor Mature as Doc Holliday. His three entries at the end of the decade, in a celebrated "Cavalry Trilogy" each with his favorite male lead (John Wayne) were:
Fort Apache (1948)
She Wore a Yellow Ribbon (1949), with a sole nomination and win for its cinematography (Winton Hoch)
Rio Grande (1950)

Film History of the 1940s
Part 1, Part 2, Part 3, Part 4, Part 5, Part 6
---



---