The Birth of Film Noir: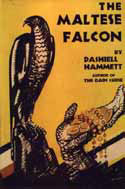 By World War II's end, the genre most characteristic of the era and most associated with 1940s Hollywood was film noir. The film noir 'genre' reflected the way Hollywood felt as it faced its greatest challenges during the war and post-war periods - darker and more cynical. The somber, pessimistic 'genre', literally meaning "black film," was already germinating and evolving from 30s gangster films - with dark plots, untrustworthy femme fatales, and tough, but cynical, fatalistic heroes.
The first, clearly definitive example was one of the best hard-boiled detective pictures ever made - director John Huston's remarkable debut film The Maltese Falcon (1941). [This was the third version of the film mystery.] The film about a treasure search for a black bird, adapted from Dashiell Hammett's novel, marked a turning point for actor Humphrey Bogart - it made him a star as private eye gumshoe Sam Spade. The chiaroscuro lighting of Welles' Citizen Kane (1941) by cinematographer Gregg Toland, and the Neo-realism of European film-makers also had an influence on the burgeoning stylistic art form. Film noir became prominent in the post-war era, and lasted in a classic "Golden Age" period until about 1960 - marked by Orson Welles' Touch of Evil (1958).
The Most Notable Film Noirs in the 'Classic' Period of the 40s:

There were many excellent film noirs in the 40s, including the following:
Frank Tuttle's This Gun For Hire (1942), a dark revenge film that made Alan Ladd a star and spotlighted his 'peek-a-boo' blonde co-star Veronica Lake
Billy Wilder's classic thriller/film noir Double Indemnity (1944), from crime novelist Raymond Chandler's adaptation of James M. Cain's novella about insurance fraud, corruption and adulterous murder, with Barbara Stanwyck as a deadly blonde, Fred MacMurray as the agent, and Edward G. Robinson as a dogged insurance investigator
Laura (1944) with its haunting theme song and alluring Gene Tierney
Edward Dmytryk's Murder, My Sweet (1944), with musical song/dance actor Dick Powell playing against type as world-weary private detective Philip Marlowe
Edgar G. Ulmer's "Poverty Row" Detour (1945)
director Michael Curtiz' Mildred Pierce (1945) - this 'women's' noir gave Joan Crawford her first (and only) career Oscar as Best Actress for her role as a self-sacrificing mother, and a revitalized career
Gilda (1946) with Rita Hayworth's notorious black-glove strip-tease "Put the Blame on Mame"
Howard Hawks' plot-convoluted and impenetrable The Big Sleep (1946) with Humphrey Bogart as the hard-boiled detective hero Philip Marlowe (in his second film with off-screen young wife Lauren Bacall) in an adaptation of Raymond Chandler's first novel involving blackmail, murder, and more
director/star Robert Montgomery's Lady in the Lake (1946) - another tale about detective Philip Marlowe in a story adapted for the screen by Raymond Chandler
Tay Garnett's The Postman Always Rings Twice (1946) was an adaptation of James M. Cain's novel about a plot to murder the cafe-owner husband of Lana Turner by her lover John Garfield
Fritz Lang's Woman in the Window (1944) and Scarlet Street (1946)
Robert Siodmak's The Killers (1946) (with the screen debut of actor Burt Lancaster and a star-making role for actress Ava Gardner) and Cry of the City (1948)
Robert Rossen's boxing noir Body and Soul (1947) with John Garfield as a champion boxer forced to decide whether to throw a big fight
Edward Dmytryk's noirish political drama Crossfire (1947) told about the social issue of anti-semitism prejudice, in its flashback story regarding an investigation (by Robert Mitchum and Robert Young) into the mysterious murder of a Jew by a bigoted GI soldier (Robert Ryan)
Delmer Daves' Dark Passage (1947), with Bogart as the main character (again paired opposite Lauren Bacall) who has undergone plastic surgery - the film was noted for its 'subjective camera' (viewing through the 'eyes' of the bandaged patient) for the first half of the film
Henry Hathaway's crime-noir Kiss of Death (1947) - with the screen debut of Oscar-nominated Richard Widmark as a homicidal psychopath
Jacques Tourneur's intricate double-cross murder/romance - the penultimate noir thriller Out of the Past (1947) with femme fatale Jane Greer
Abraham Polonsky's Force of Evil (1948) with John Garfield
the classic boxing drama, Champion (1949) - a star-making film for Kirk Douglas
Raoul Walsh's film noirish gangster film White Heat (1949) with James Cagney as a mother-fixated, sadistic killer who blew himself up on an oil tank in the fiery climax, screaming: "Made it, Ma! Top of the world!"
Robert Wise's The Set-Up (1949), with Robert Ryan as an aging boxer, dealt with corruption in the sport of boxing
Nicholas Ray's They Live By Night (1949)
Gangster Films Revival: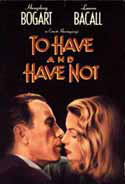 The gangster movie was revitalized with one of Warner Bros. finest examples of the genre - director Raoul Walsh's High Sierra (1941), starring Humphrey Bogart (in his first starring role) as an aging gangster with a heart of gold. [The "on-screen" "off-screen" romance between Lauren Bacall and Humphrey Bogart, during the filming of director Howard Hawks' To Have and Have Not (1944), Bacall's first film, culminated in their marriage in 1945. The romantic war-time drama was adapted from Ernest Hemingway's short story, and noted for Bacall's sizzling come-on: "You know how to whistle, don't you?...Just put your lips together and blow."]

Later in the decade, the gangster was not romanticized, but portrayed as a bullying psychopath (i.e., Edward G. Robinson in John Huston's Key Largo (1948), and James Cagney in White Heat (1949)). John Huston's mastery of film directorship as one of the most skilled adapters of classic material was revealed in more Humphrey Bogart collaborations in the decade. In a film starring his own father Walter, director Huston revealed the treacherous effects of greed for three prospectors (including Bogart as Fred C. Dobbs) in The Treasure of the Sierra Madre (1948) - famous for the oft-quoted (and usually misquoted) line: "Badges? We ain't got no badges! We don't need no badges. I don't have to show you any stinkin' badges!"
The "Road" Comedies:

The famous Paramount Studios' "Road" films (a total of seven films stretching out until 1962), starred a wise-cracking Bob Hope and his comedy partner Bing Crosby as two hapless musicians, and their colorful heroine Dorothy Lamour. The series began at the start of the decade:
Road to Singapore (1940)
Road to Zanzibar (1941)
Road to Morocco (1942) - the best of the series
Road to Utopia (1946)
Road to Rio (1947)
Road to Bali (1952)
The Road to Hong Kong (1962)
Comedy Films: Comedy Teams and Pairs
Ski-nosed Bob Hope also starred in some of his best comedies during the decade, including My Favorite Blonde (1942) with Madeleine Carroll, the spy spoof They Got Me Covered (1943), The Princess and the Pirate (1944) with Virginia Mayo, The Paleface (1949) (Hope's first color film) with Jane Russell as Calamity Jane, and its sequel The Son of Paleface (1952).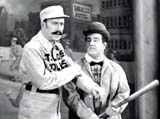 In 1941, comedians Abbott and Costello made their film debut in Buck Privates (1941), a comedy about their enlistment into World War II, and the pair would go on to make many more hit films for Universal Studios, following the decline of Deanna Durbin's popularity. Abbott and Costello's most famous classic routine "Who's On First?" was performed in their film The Naughty Nineties (1945). They also starred in the comedy horror film Abbott & Costello Meet Frankenstein (1948), scared by the Monster (Glenn Strange), Dracula (Bela Lugosi), and the Wolf Man (Lon Chaney, Jr.). The comedic team of Dean Martin and Jerry Lewis made their film debut, the first of their sixteen films together, in My Friend Irma (1949).
The famed comedy team, the Marx Brothers were to retire from the movies as a screen team in 1941 with their last film, MGM's The Big Store (1941). However, they later signed with United Artists to make the independent feature A Night in Casablanca (1946), and they also appeared in a 'comeback' film, their final film as a team - Love Happy (1949) with a little-known Marilyn Monroe. And bawdy screen siren Mae West made her last film (for over 25 years) with the satirical musical The Heat's On (1943). Laurel and Hardy's last Hollywood film was The Bullfighters (1945), capping a career stretching back to their first film, Slipping Wives (1926). Film comedy lost one of its classic masters with the death of W.C. Fields in 1946. His last scripted film and starring role in a feature-length film was in Never Give a Sucker an Even Break (1941), and he made his final film cameo appearance in the musical comedy Sensations of 1945 (1944) - also the final starring film role for dancer Eleanor Powell.
The romantic comedy Here Comes Mr. Jordan (1941) starred Claude Rains in the title role and Robert Montgomery as Joe Pendleton, a sax-playing prize fighter who was supposed to survive a plane crash, but was prematurely sent to Heaven - and needed to find a new body on Earth. Similarly, Ernst Lubitsch's Heaven Can Wait (1943) was the story of a 70 year-old playboy (Don Ameche) who would have to tell his life story to the devil, including his unfaithfulness to his forgiving wife (Gene Tierney).
Cary Grant played the 'son of a sea cook' with lethal Brewster family aunts Abby and Martha in Frank Capra's macabre comedy Arsenic and Old Lace (1944). One of Cary Grant's most under-rated film was Mr. Lucky (1943), as a gambling casino boat owner, who redeems himself by his love for a virtuous young woman (Laraine Day). He was also miscast as a playboy sentenced by judge Myrna Loy to date her sister - an infatuated teenaged Shirley Temple in the romantic comedy The Bachelor and the Bobby-Soxer (1947). In the next year, he played the role of a New York adman who moves to the Connecticut countryside to do some disastrous home improvement in Mr. Blandings Builds His Dream House (1948).
Cary Grant and Rosalind Russell co-starred and battled together in Howard Hawks' fast-talking romantic comedy His Girl Friday (1940) - one of the all-time great screwball comedies. [This was a wild and innovative retooling of director Lewis Milestone's The Front Page (1931).]
Hepburn and Tracy: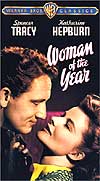 The first of nine films teaming Katharine Hepburn and Spencer Tracy together was George Stevens' Woman of the Year (1942). Other comedic pairings of the watchable duo in the decade included State of the Union (1948) and their sixth collaboration together - in George Cukor's marvelous Adam's Rib (1949).
Katharine Hepburn also played the role of socialite Tracy Lord opposite hand-picked Cary Grant as estranged husband C. K. Dexter Haven in the romantic comedy The Philadelphia Story (1940) - her comeback film (from being seen as 'box-office poison') that she had originally performed on the Broadway stage.
Escapist, Nostalgic Entertainment:
Other films either provided escapist entertainment or nostalgically seemed to look back to a lost era in America, such as the biographical story of the song-and-dance team of the Cohans, featuring Best Actor-winning James Cagney as legendary vaudevillian George M. Cohan in Yankee Doodle Dandy (1942). The musical comedy Holiday Inn (1942) featured Bing Crosby's first crooning of White Christmas, and Fred Astaire's and Bing Crosby's first screen appearance together. Director Vincente Minnelli's third film Meet Me in St. Louis (1944) was the first of three films he made to showcase Judy Garland. Bing Crosby reprised his earlier, Best Actor-winning Catholic priest role as Father Chuck O'Malley of Going My Way (1944) in the sequel The Bells of St. Mary's (1945), with Ingrid Bergman as Sister Benedict.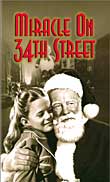 June Allyson (as Jo), Janet Leigh (as Meg) and Elizabeth Taylor (as Amy) played sisters in the remake adaptation of Louisa May Alcott's novel Little Women (1949), set in New England in the 1860s. Two films from MGM in 1940 portrayed the early youth and inventive genius of Thomas Edison: Young Tom Edison (1940) (with Mickey Rooney), and Edison, the Man (1940) (with Spencer Tracy). Fredric March portrayed the author of Tom Sawyer, Samuel Clemens, in The Adventures of Mark Twain (1944). Stars abounded in Boom Town (1940), an adventure story of wildcat drillers with Clark Gable, Spencer Tracy, Claudette Colbert, and Hedy Lamarr. Child stars Elizabeth Taylor and Mickey Rooney were also paired in the popular family classic film Lassie Come Home (1943). The Christmas favorite, Miracle on 34th Street (1947) starred a young Natalie Wood as skeptical Susan Walker, and Edmund Gwenn as the Santa character in the flagship Macy's department store in NYC.
British actor Charles Laughton starred as a haunting, restless ghost walled up in a castle in MGM's comedy The Canterville Ghost (1944), from an Oscar Wilde fantasy story. Life with Father (1947) followed the exploits of the Day family (headed by strict William Powell) in a turn-of-the-century household, and George Stevens directed the feel-good drama I Remember Mama (1948). Audiences thrilled to see Mighty Joe Young (1949) - a semi-remake of the classic gorilla movie King Kong (1933) with the same special-effects production team of the original (Merian C. Cooper and Ernest B. Schoedsack).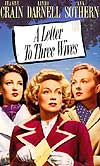 Joseph L. Mankiewicz wrote and/or directed a number of acidic comedy/dramas in the 1940s, such as the charming fantasy The Ghost and Mrs. Muir (1947) with Rex Harrison as ghostly Captain Gregg in a haunted seaside cottage who develops a relationship with a widow (Gene Tierney), and the amusingly-clever but neglected A Letter to Three Wives (1949) with Linda Darnell, Ann Sothern, and Jeanne Crain as recipients of a letter informing them that one of their husbands has skipped town with another woman. At the start of the next decade, he was responsible for the acclaimed, biting backstage drama All About Eve (1950). One of the most memorable romances and tearjerkers of the decade, Now, Voyager (1942), featured Bette Davis as a transformed ugly duckling spinster who was offered a lit cigarette [a metaphor for sex] by a suave Paul Henreid.
Frank Capra's "Capra-Corn" Films:

Frank Capra, who had won three Best Director Academy Awards in the 30s (1934, 1936, and 1938), idealized the "common man" in his first independent production titled Meet John Doe (1941) starring Gary Cooper and Barbara Stanwyck. His most "Capra-esque" film was his irresistible, sentimental, perennially-favorite Christmas holiday film, It's A Wonderful Life (1946) - but this sleeper film was surprisingly a major flop at the time of its original release. It only became popularized after repeated Christmas-time TV viewings. James Stewart (as George Bailey) contemplated suicide but after viewing the evil vision of Pottersville (and being aided by angel Clarence) decided to be reunited with his family in the sentimental ending.
Three Controversial Films:
The steamy box-office success of Forever Amber (1947), a colorful costume romance-drama with brunette star Linda Darnell as a bleached blonde 17th century English beauty (Amber St. Clair), was severely 'condemned' by the Legion of Decency for glorifying "immorality and licentiousness." And director Victor Fleming's final film - the Technicolored Joan of Arc (1948), noted as the most expensive film of the 40s decade at $8.7 million and also a major flop, was also controversial because its lead star (32 year-old Ingrid Bergman) - playing a teenaged peasant girl/saint - was revealed to be having an affair with Italian director Roberto Rossellini. She was blacklisted and driven from Hollywood to live abroad - until making her return to the screen in the mid-50s with Anastasia (1956).
Producer/promoter Kroger Babb's (self-dubbed as "America's Fearless Young Showman") low-budget, heavily-promoted Mom and Dad (1944) was one of the most successful exploitation films of all time. Besides being socially-significant as a sex-hygiene film about the dangers of venereal disease and the results of premarital sex, it was the 3rd highest grossing film during the 1940s, and easily recouped its $62,000 in expenses. About 300 prints of this feature drama were made and road-showed for more than two decades, with screenings divided by gender. Each print (with a tacked-on live-birth sequence) traveled with a lecturer named Elliot Forbes -- an "eminent sexual hygiene commentator" -- (and two assisting nurses) who promoted the film's "educational" value, lectured during intermission about the importance of contraception ("sensible sex"), and profitably sold sex manuals in the theaters. Time Magazine remarked that the ad campaign for Mom and Dad "left only the livestock unaware of the chance to learn the facts of life."

Film History of the 1940s
Part 1, Part 2, Part 3, Part 4, Part 5, Part 6
---



---