East and West Coast Film Studio Development: The Move to Los Angeles / Hollywood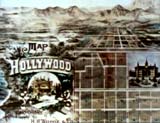 As a result of the MPPC's corporate efforts, independent film makers fought back. For example, Laemmle encouraged the US government to bring anti-trust action against the Patents Company, and also signed deals with the Lumieres in France to provide a supply of film stock. The independents had sought places free from oppressive, strong-armed interference by the powerful trust, from 1908-1912. That led them away from East Coast urban centers (New York and New Jersey) and lawsuits from the Edison Trust's lawyers to Southern California (near the Mexican border), where sunlight, cheap property, inexpensive non-union labor, cooperative business and real estate interests, and exotic varying locales (ocean, desert, and mountain landscapes) were plentiful.
In 1903, Hollywood was officially incorporated as a municipality. In 1910, the population of Hollywood was only 5,000. In about ten years, it would grow to 35,000. The rapid growth of film production in the Los Angeles/Hollywood area accounted for over 60% of all US film-making by 1915. Independent producers also formed their own production companies in Europe.
Budding filmmakers were lured to the West Coast by incentives from the Los Angeles Chamber of Commerce, with promises of sunshine - an essential before the dawn of indoor studios and artificial lighting, a potentially-cheap labor force, inexpensive land for studio construction, and varied landscapes for all the genres of films. Soon, West Coast production was challenging other studios in New York City and Ft. Lee, New Jersey.
The Selig Polyscope Company:
William Selig claimed that he was the first movie producer to permanently move his operations to the Los Angeles area. With the one-reel The Count of Monte Cristo (1908), the Selig Polyscope Company claimed it was the first studio to shoot a narrative film in the Los Angeles area, although Biograph was first. The short was also made partly in Chicago and other areas on the coast around LA. Selig was probably the first U.S. company to shoot a two-reel film, Damon and Pythias (1908). [Note: The first dramatic film made solely in LA was Selig's director Francis Boggs' In the Sultan's Power (1909).]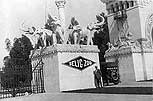 In 1909, the Selig Polyscope Company established the first permanent film studio in the Los Angeles area, at 1845 Allesandro Street (now Glendale Blvd.) in Edendale [present day Echo Park]. This is where Tom Mix and G.M. "Broncho Billy" Anderson gained fame in the earliest westerns before going on to other studios. The studio became famous for making the earliest (surviving) cinematic version of the Wizard of Oz known as The Wonderful Wizard of Oz (1910), the first true serial The Adventures of Kathlyn (1913-1914), the earliest comedies of Harold Lloyd and Fatty Arbuckle, and the very successful Alaska Gold Rush adventure film The Spoilers (1914).
In 1913, Selig purchased 32 acres of adjoining land, where he established the Selig Zoo at 3800 Mission Rd. in Eastlake Park. The company became well known for animal and jungle pictures, having at hand the resources of the zoo - the largest privately owned zoo in the country at the time. In 1916, Selig sold the Edendale property to William Fox who moved his studio onto the zoo property. Selig Polyscope closed down its operations in 1918 when it went bankrupt, and the Selig facilities then became Louis B. Mayer Pictures.
The Nestor Studio: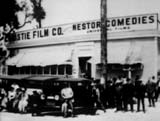 In 1911, New Jersey film producer David Horsley had established/opened Hollywood's first motion picture studio, the Christie-Nestor Studio, also called the Christie Film Company or Nestor Motion Picture Company, in an old roadhouse tavern at the corner of Sunset Blvd. and Gower Street (later an area dubbed "Poverty Row"). The area around the corner became known as "Gower Gulch." Nestor's first film at this Hollywood 'studio' was the western short The Law of the Range (1911) - with the tagline: "A Western from the West."
The city of Hollywood was rapidly developing a 'movie colony', a distinctive carefree lifestyle for its film-makers and actors, and it would soon become the film capital of the world. [Note: Many years later, the site of the Nestor Studio was occupied by the Los Angeles headquarters of CBS' radio and TV stations.] With few delays from bad weather, Nestor impressively and steadily churned out dozens and dozens of films (three complete moving pictures each week) - and soon, many other film companies were following suit and moving to "Hollywood" and the surrounding areas. In 1912, Nestor Studios merged with Carl Laemmle's Universal Film Company. Until the early 1930s, director Al Christie (originally with Nestor Studios, and then Universal until he formed his own Christie Film Company in 1916) continued to make films at the expanded studio under the banner "The Christie Comedies."
Kinemacolor: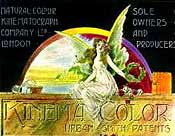 The primitive natural color film system dubbed Kinemacolor, commercially-developed around 1906 by expatriot American Charles Urban and his inventive British partner George Albert Smith, was one of the primary rivals to early Technicolor. Kinemacolor was a very early, simple two-color additive process (although not the first), which used only red and green. The 8-minute UK short film A Visit to the Seaside (aka A Visit to the Seaside at Brighton Beach, England), directed by Smith himself, was the first commercially-produced film in natural color - using the revolutionary process. It was first exhibited in 1908, then shown publically in 1909 in London, and later released in the US in late 1910.
In 1909, it established itself as the Kinemacolor Company of America, and built a film studio in Los Feliz (near Hollywood where Sunset and Hollywood Blvds. meet). It became most notable for its Hollywood studio being taken over by D. W. Griffith in 1913 and renamed Griffith Fine Arts Studio. Griffith also took over Kinemacolor's failed plans to film Thomas Dixon's The Clansman, which eventually became The Birth of a Nation (1915).
Although this two-color system was quite successful in Europe, and quite a few films were made using the process in the teens - including two of the world's very first color feature films: the documentary The Durbar at Delhi (1912), and the first feature-length color film The World, the Flesh, and the Devil (1914) that premiered in London, the onset of the Great War and damaging patent lawsuits brought about its demise.
Anti-Trust Action Against the Trust: Dissolved by 1918
By 1912, 15 film companies were operating in Hollywood, and large studios were becoming the norm. Nickelodeons were on the decline and were being replaced by larger movie palaces, and audiences demanded longer films beyond one or two reels. Movie production was becoming divided between the East and West Coast studios.
Eventually, a successful anti-trust suit, instigated by William Fox (founder of the Fox Film Corporation), was first heard by the US government in 1913 (on behalf of independent film companies including Paramount, Fox, and Universal) against the MPPC. In October, 1915, the MPPC and its General Film subsidiary were declared an illegal monopoly. The trust was ordered to pay over $20 million in damages. Following litigation for anti-trust activities and its 'restraint of trade,' the MPPC was finally ordered to disband by the US Supreme Court in 1917 and officially dissolved by 1918. But the independents had already outmaneuvered the ineffectual trust. The dominance of East Coast studios was over, as Hollywood became the center of film production, and many of the independents on the West Coast combined into bigger companies.
Early Film Stars and Firsts:
Carl Laemmle was responsible for creating the 'star system.' In the earliest productions, actors' identities were kept anonymous and unknown in order to give preference to the pictures themselves, to prevent performers from overvaluing themselves, and because the profession of movie acting was considered inferior to stage acting. The MMPC also was requiring that actors remained nameless to prevent them from demanding higher salaries and becoming more powerful. At first, the popularity of uncredited film stars was determined by the weight of their post-bags. The first US production company to start the 'star system' trend was Kalem, when it issued star portraits and posters in 1910.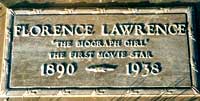 In 1909, Laemmle lured Florence Lawrence (the first "Biograph Girl," named after the company she worked for), a child star and one of the unknown 'players' at D. W. Griffith's Biograph studios, away from the rival studio to IMP - his own studio. He catapulted her to fame in 1910 by originating the 'publicity stunt.' He cultivated her stardom with a large personal, publicity campaign - Florence Lawrence was literally the very 'first American movie star.'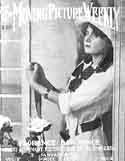 He generated a massive publicity campaign for Lawrence by reacting to a false story (created by "enemies of the IMP" - Biograph or the MPPC?) about how she had been killed in a NYC streetcar accident (the story was allegedly found in a St. Louis Post Dispatch newspaper, yet there was no evidence of its existence). When enough sympathy had been produced from the presumably self-fabricated story, he revealed the "cowardly…silly lie" in a promotional ad on March 12th, 1910 in Moving Picture World titled "We Nail A Lie," denouncing the original report of her death. The ad announced that Lawrence (known as "The Imp Girl") was never in a streetcar accident and was in "the best of health." This was the first major movie-industry publicity stunt to receive widespread press coverage. He combined this with Lawrence's reassuring in-person public appearance in St. Louis in April, 1910 at the train station and theatre with her leading man King Baggot at the St. Louis premiere of her next IMP film, director Harry Solter's The Broken Oath (1910) (aka The Broken Bath), released March 14th.
Laemmle increased "Flo Lo"'s salary to a phenomenal $1,000 a week and she became the first player to receive a screen credit and to have her name revealed in her first film for IMP, The Broken Oath (1910) (aka The Broken Bath). And she was interviewed in 1911 in Motion Picture Story - often considered the first movie star interview. Other studios followed suit and created their own stars, such as "the Vitagraph Girl," and film advertisements and lobby posters at theaters displayed photos of the star players for theatre audiences.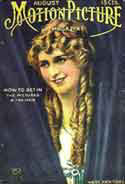 Another Biograph actress with long, cork-screw blonde curly locks, (nicknamed "Little Mary") Mary Pickford (soon to be known as "the Girl with the Golden Hair") also moved over to IMP from Biograph. She took over for the departed Florence Lawrence and became the first major star of movie-making. In 1912, she returned to Biograph for awhile, and then moved onto Adolph Zukor's Famous Players. She was soon dubbed "America's Sweetheart", became universally popular and commanded high salaries. She was paid $175/week at first and then $1,000/week for a five year period. Capitalizing on the intense bidding for actresses, Mary Pickford in 1916 she became an independent producer, and became the highest-paid star in the business after accepting a two-year, million-dollar contract (that included a percentage of the profits) with Adolph Zukor's Paramount Pictures. It was the first "million-dollar contract" in Hollywood.
Then in 1918, Pickford defected from Adolph Zukor's Famous Players and joined First National Pictures with a production deal worth millions of dollars. Around the same time in 1917, actor Charlie Chaplin signed up with First National in a nine-picture deal, becoming the first actor with a million-dollar deal. First National Pictures had already opened up a large studio facility in Burbank in 1917, and was fast becoming one of the largest film companies.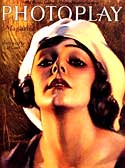 The most highly-paid performers at the end of the 1910s and in the early 20s were Roscoe "Fatty" Arbuckle (who was lured in 1918 by the first multi-year, multi-million dollar a year deal to make six-feature films within three years with Paramount), Mary Pickford, Charlie Chaplin, Alla Nazimova, and Tom Mix.
Fan Magazines:
The phenomenon of fan magazine publishing and movie trade papers was also created. The first US fan magazine Motion Picture Story Magazine debuted in February, 1911. The Moving Picture World and The Motion Picture News also offered interviews and gossipy columns about the personal lives and careers of the stars. Photoplay, the first true movie fan magazine, debuted in 1912, and gave rise to the whole idea of a celebrity culture.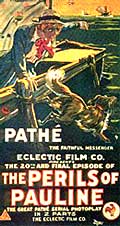 Serials (films released in episodic installments) became extremely popular in the short period before The Great War. They included death-defying stunts, speedy plots, sensationalism, and nice-girl female leads in distress. The first American serial was the Edison Company's What Happened to Mary? (1912) (12 episodes), starring actress Mary Fuller. "Cliffhangers" were added as a standard serial feature in Selig's first true serial, The Adventures of Kathlyn (1913-14) (13 episodes), with Kathlyn Williams.
And then Pearl White had her first starring role in another episodic serial (of 20 episodes), The Perils of Pauline (1914) for Pathe in 1914. White's success led to further serials: The Exploits of Elaine (1914) (14 episodes), The New Exploits of Elaine (1915) (10 episodes), and The Romance of Elaine (1915) (12 episodes). For more on the development of serial films from the pre-talkie era to the 1950s, see serial films.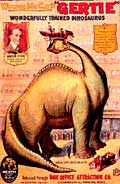 Beginning in 1914, the feature film, the cartoon (the first prominent animated cartoon character was Gertie, from Gertie the Dinosaur (1914) by Winsor McCay), the war film, the costume epic, the western, the slapstick comedy, and the adventure serial appeared in substantial form.

The first publicity-fabricated, studio-created character was also popularized on Hollywood movie screens as "the vamp." In 1915, the Fox Film Corporation (founded by early film producer William Fox who owned a number of movie houses on the East Coast and then moved westward to Hollywood) renamed one of its main box-office stars Theda Bara (her given name was Theodosia Goodman), and she quickly became Hollywood's first tempting 'sex symbol' and vamp archetype after an appearance in A Fool There Was (1916), Fox's first feature release. Publicists intrigued moviegoers by claiming that Theda Bara's name was an anagram of 'Arab Death' and that she shared an astrological sign with Cleopatra - in actuality, the actress was a Jewish girl from Cincinnati, Ohio.
Thomas Harper Ince: Early Film Innovator

One of the earliest trail-blazing industry's innovators was producer/director Thomas Harper Ince (1882-1924), whose major claims to fame were the making of crude westerns and the development of the "factory-studio system" to mass produce films. After a short stint at Biograph as an actor and director, he joined Carl Laemmle's Independent Moving Picture (IMP) Company in 1910, and moved west to California in 1911, when he left IMP and joined the New York Motion Picture Company (NYMP) in their Los Angeles studio, called Bison Pictures, located in Glendale. [Note: NYMP and the Selig Polyscope Film Company of Chicago had set up studios near Los Angeles in Edendale (present-day Echo Park), initiating the establishment of West Coast studio production.]
Ince supervised the New York Motion Picture Company-owned subsidiary Bison Company, or Bison Life Motion Pictures. In 1912, his Bison Company production studios purchased the Miller Brothers 101 Ranch and the Wild West Show to use their props and performers for his assembly-line, mass-produced films. The company was renamed Bison 101 Company. It became a studio/ranch that specialized in westerns. [Note: The Miller Brothers 101 Ranch owned the land (about 18,000 acres of seacoast land in Santa Ynez Canyon and the surrounding hills) where Universal was eventually established and it was the Millers who dubbed it "Inceville."] His studio reinvigorated the Western film genre. Ince's authentic-looking pictures were due to the fact that he used actual props and hired real-life cowboys and Indians from the Miller Brothers' 101 Ranch and Wild West Show as extras in his films. Carl Laemmle moved production units into Inceville and produced his own westerns, carrying the 101-Bison brand name.
Thomas Ince developed a system of advanced planning and budgeting, and shot his films from detailed "shooting scripts" (that broke down each scene into individual shots). It became a prototype for departmentalized and specialized Hollywood film studios of the future, with a studio head (or boss), directors, managers, production staff, and writers all working together under one organization (the unit system). This pattern or system was best typified by the organizations formed by David O. Selznick and Samuel Goldwyn. Ince's best known film production was the anti-war film Civilization (1916) with frequent director-collaborator Reginald Barker. In the early 1910s, famed director John Ford's older brother Francis was directing and starring in westerns in California for producer Ince, before joining Universal and Carl Laemmle in 1913.
Thomas Ince decentralized and economized the process of movie production by enabling more than one film to be made at a time (on a standardized assembly-line) to meet the increased demand from theaters, but his approach led to the studio's decline due to his formulaic, unfresh, mechanized, and systematized approach to production. [However, his methods continue into the present day within Hollywood's major studios.]
In 1914, he was responsible for launching the career of William S. Hart, an actor who starred in dozens of westerns until 1925. In 1915, he joined D. W. Griffith (of Griffith Fine Arts Studio) and Mack Sennett (of Keystone Pictures, see below) to co-found the Triangle Motion Picture Company (aka the Triangle Film Corporation) (with a studio on Sunset Boulevard). [Note: Earlier, this studio was the home of the Kinemacolor Company, located at the intersection of Sunset and Hollywood Boulevards.] During construction of a new Triangle studio in Culver City on Washington Boulevard [the present-day site of Sony Studios], directly next to Thomas Ince Pictures, Triangle moved onto the Griffith Fine Arts Studio lot.
After the Great War in 1918, Ince broke off from Triangle and joined competitor Adolph Zukor to form Paramount/Artcraft, and Ince also built another studio (his own production company named Thomas H. Ince Pictures) in Culver City. [Note: This studio eventually became the physical plant for MGM.] When his association with Zukor ended in 1919, he joined an independent film alliance or releasing company named Associated Producers, Inc., which later merged in 1922 with First National. Ince found that his productions were being surpassed by grander-scaled, star-studded film studios of early Hollywood. Filming ceased at the Inceville property around 1922 and the buildings burned to the ground in 1924.
Ince mysteriously died one night in November, 1924, aboard William Randolph Hearst's yacht in the harbor of San Pedro while celebrating his 42nd birthday. [Note: The murder was recreated in Peter Bogdanovich's The Cat's Meow (2002), which speculated that he was shot when a drunken Hearst caught his mistress, Marion Davies, in amorous circumstances with Charlie Chaplin and shot at him, accidentally hitting and fatally wounding Ince instead.]
Very few of Ince's films from his prolific days of film production survive to this day, with one notable exception being The Italian (1915), preserved by the National Film Registry.)
Keystone and Mack Sennett ("The King of Comedy"):
Besides westerns and melodramas, one-reel slapstick comedies were also very popular. One of the other most influential figures in film at this time, famous for a brand of physical comedy called slapstick, was Canadian vaudevillian Mack Sennett, originally a writer, director, and apprentice actor for D. W. Griffith at Biograph in New Jersey. The studio's early "slapstick" comedy, The Curtain Pole (1909), director D. W. Griffith's only 'slapstick' comedy, with Mack Sennett in the lead role, boosted the career of the aspiring comic showman.
After three years on the East Coast, Sennett left in 1912 with financial backing to co-found the New York Motion Picture Company-owned Keystone Film Company or Keystone Pictures Studio (with Cecil B. DeMille and D. W. Griffith) in Los Angeles (Glendale). Sennett became known as the self-dubbed 'King of Comedy' - well-known for his unsophisticated, humorous Keystone Comedies, first released in 1913 and assembly-line produced for many years - in a period dubbed the "Golden Age of Comedy." He was the film industry's first real producer. The first Mack Sennett Keystone production was Cohen Collects a Debt (1912). Sennett's first Keystone Kops short film was Hoffmeyer's Legacy (1912). The hapless characters in the Keystone Kop films were particularly hilarious, enduring automobile collisions, near-misses, mishaps, and other physical comedy.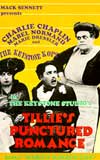 He made the first American feature-length comedy - Tillie's Punctured Romance (1914), was responsible for almost a thousand, mostly crude, low-budget films - usually one and two-reel comedies, and he popularized bathing beauties with skimpy outfits. Most of the earliest, action-based, zany films were filled with improvised action, manic slapstick, physical farce, stereotyped characters, exaggerated madcap chases, pie-throwing, pranks and romances.
Comedians such as Roscoe "Fatty" Arbuckle, Charlie Chaplin, Marie Dressler, Gloria Swanson, the Keystone Kops, Mabel Normand, cross-eyed Ben Turpin, Harry Langdon, Harold Lloyd, and Chester Conklin trace their roots to the Keystone Studio.
In 1915 Keystone was merged as an autonomous unit into the new Triangle Film Corporation, which united the talents of Sennett, D. W. Griffith, and American producer Thomas Ince. The Keystone Studio did not do well after the departure of Sennett in 1917, when he formed a new company, Mack Sennett Comedies, featuring his main stars Normand and Turpin.
Charles Chaplin and The Tramp: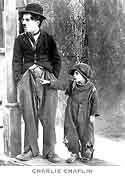 The first truly great film star was British vaudevillian actor Charlie Chaplin - he began working as an apprentice for Sennett in 1913, playing small parts as a Keystone Kop. In 1914, he debuted his trademark mustached, baggy-pants "Tramp" character (in Kid Auto Races At Venice (1914)) and appeared in his first Mack Sennett short comedy Making a Living. In the same year, Chaplin appeared in the six-reel Tillie's Punctured Romance (1914) , Sennett's first feature-length picture (and the first US multi-reel comedy feature). Charlie Chaplin also added his famous walk to his familiar tramp character in The Tramp (1915), created under the Essanay Company. He soon began directing, writing, producing, and starring in his own films.
Having perfected his Little Tramp character by mid-decade, Chaplin left Sennett in 1916 and began working for the Mutual Film Corporation for $10,000/week, making short films such as The Rink (1916), The Pawnshop (1916), The Immigrant (1917) and Easy Street (1917). He also built his own studio, Charlie Chaplin Studio, in Hollywood in 1917. Soon afterwards, Chaplin signed the first million-dollar film contract in 1918 with First National Pictures and made The Kid (1921).

Film History of the Pre-1920s
Part 1, Part 2, Part 3, Part 4, Part 5
---



---