The Motion Picture Patents Company (MPPC): The Edison 'Trust'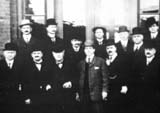 Thomas Edison made the legal argument that he owned several patents (from the 1890s) on most of the major elements of film production, including motion picture cameras and projectors. He devised a licensing arrangement (from 1907-1908) that threatened other film-making competitors with litigation if they infringed his patents, and allowed for licenses to be granted to those who paid a fee (Association of Edison Licensees). Edison demanded that other distributors and exhibitors use Edison machines and films exclusively, or face legal challenges ("patent wars") from his Edison Manufacturing Company.
As a result of the immense pressure brought to bear and Edison's growing fatigue with the burgeoning number of independent film-makers, in late 1908, a group of leading East Coast-centered companies (see list below), Edison's major competitors, entered into a partnership or consortium with Edison to become cooperative rather than competitive. The newly-formed Motion Picture Patents Company (MPPC) in 1908, known as "The Edison Trust" or "Patents Trust" included:
The newly-formed, very effective monopoly or cartel, the MPPC, was created to legally control distribution, production, and exhibition of films, with agents and detectives to enforce its rules. To limit competition from other independent companies and to protect and increase profits, it bought and pooled major patents (on movie machines such as cameras and projectors), and charged anyone (by issuing licenses) who wanted to use their equipment or hire their films. Its goals were to reduce foreign imports, fight movie piracy, protect film copyrights, reduce the power of other emerging distributors, and drive other rivals out of business. They also promoted the assembly-line production process to make films, leading to a large quantity of stale and unimaginative shorts.
From 1909 on, they pooled their resources, and legally monopolized the growing American film industry, specifically in New York and on the East Coast. Their main goal was to stifle up-and-coming independent film makers and put a stranglehold on the industry. They hired lawyers and strong men to enforce their restrictions. They raised admission prices, limited censorship by cooperating with regulatory bodies, and prevented film stock from getting into the hands of non-members.
The burgeoning monopolistic trust limited the length of films to one or two reels, charged royalties/fees on exhibitors using their movie equipment ($2/week), refused to give screen credits to players, and established a standard price of half a cent per foot for film prints that were to be rented (rather than sold) on a weekly basis. They threatened sanctions to prevent exhibitors from showing non-Trust films or from renting non-Trust projectors. The MPPC attempted to threaten and close down competing studios, distributors, and exhibitors, limited directorial artistic freedom, and required film-makers to purchase Trust-approved film stock. The company had signed a contract with George Eastman (of the major raw film supplier Eastman Kodak) for the exclusive rights to his supply of famed film stock. In 1910, the MPPC formed the General Film Company to further manage the distribution of its members' films, and stamp out non-licensed independents.
Vitagraph:
During the early 1900s, Vitagraph (founded in 1896 by two British vaudevillians) was a major competitor to Edison's Company until it joined the MPPC. It became known for its filming of historical events, including Teddy Roosevelt's charge up San Juan Hill in the Spanish-American War, the Boer War in S. Africa, the Galveston flood of 1900, President McKinley's assassination in 1901, Roosevelt's inauguration in 1904, and the aftermath of the San Francisco Earthquake in 1906.
In 1905, they built their first studio in the Flatbush area of Brooklyn, New York for their base, and expanded into California in 1910, where they opened a film-production studio in downtown Santa Monica on 2nd St., but were forced to move slightly eastward by 1915 due to Santa Monica's fog - not conducive to natural-light filming conditions. [Note: Vitagraph's West Coast studio lot in Hollywood is now the location of ABC Television Center Studios.] It was the first studio to become a film exhibitor. Some of its earliest stars were 'Broncho Billy' Anderson, Annette Kellerman, Florence E. Turner (the "Vitagraph Girl"), Norma Talmadge, Alice Calhoun, and Clara Kimball Young. Vitagraph was the only MPPC company that survived the break-up of the trust in 1917. It was eventually absorbed into Warner Bros. in 1925.
Unlicensed Independents Fought Against the MPPC:

From the very beginning, the monopolistic MPPC was fought by the unlicensed independents (dubbed "pirates" or "outlaws"), including the founders of the future studios of: Universal, Paramount, and 20th Century Fox:
Carl Laemmle, a Jewish immigrant from Germany, the founder of IMP (see below)
William Fox (founder of the Fox Film Corporation)
Adolph Zukor (Famous Players, the precursor to Paramount)
Harry E. Aitken (Majestic Films)
The flexible, stealthy, and adventurous independents avoided coercive MPPC restrictions (the requirement to use only Trust film stock and projectors, for example) by using unlicensed equipment, obtaining their own film materials, and making films on the sly. Soon, they moved to California and opened up a rival film-making industry, where they could be comparatively safe, and there was abundant sunshine for film-making with a diverse number of landscapes.
Independents were innovative in the making of longer, multi-reel feature films, as opposed to the standard-length one-reel films produced by the MPPC. And they realized that audiences desired to learn the names of uncredited film performers - hence, the development of the star system. The growth of Hollywood, the studio system, the take-over of cinema by businessmen and entrepreneurs, and the film star system were coming quickly. By 1911, dialogue titles (first used in 1910) came into popular use, and credits started to appear in films. (see more later)
IMP (the Independent Moving Pictures) Company - Precursor to Universal Films/Pictures:

By 1909, Carl Laemmle had become a feisty renegade and maverick movie mogul and film distributor. Involved in both movie distribution and film production, he founded his own company in New York in 1909 -- the Yankee Film Company, with Abe and Julius Stern. The studio was located at 11th Avenue and 53rd Street. Laemmle also started producing movies in Fort Lee, New Jersey in 1909. His first company was called the Independent Motion Pictures (IMP) Company, aka IMP Studios.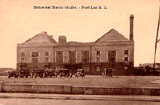 Initially, Laemmle did not set up shop on the West Coast, but was making movies at his IMP production studio facilities - known also as the Universal Movie Studio in New Jersey at Fort Lee - the biggest studio in the world - until Universal City was built (see below). IMP's first film was the one-reel Hiawatha (1909) based on a Longfellow poem - it was arguably the first 'independent' film. D.W. Griffith also filmed a Civil War short in Fort Lee titled The Battle (1911) - a prologue to his ambitious and divisive epic The Birth of a Nation (1915) (featuring the film debut of Lionel Barrymore!). IMP's final two pictures made in NYC were the one-reel The Nurse (1912), and the two-reel The Dawn of Netta (1912) (it was the first film released by the newly-formed Universal Film Manufacturing Company, see below).
Other early Laemmle films made at Fort Lee included:
the 30 minute Robin Hood (1912), the first American adaptation of the familiar tale, also distributed by the Universal Film Manuf. Co. (see further below)
a version of 20,000 Leagues Under the Sea (1916)
the westerns Wild and Woolly (1917) and The Man From Painted Post (1917), both starring Douglas Fairbanks
[Note: Soon however, Laemmle would be making plans to journey West where he would expand his film production. As a first step in 1911, IMP acquired one of the first West Coast studios at Gower St. and Sunset Blvd. in Hollywood, on the opposite corner from Christie-Nestor Studio (see more below).]
In 1910, Laemmle hired a former IMP actor named Thomas H. Ince to run and direct films in this new Hollywood studio, called the IMP (Independent Moving Pictures) Studio.
[Note: However, in 1911, Thomas Ince left and joined the New York Motion Picture Company (NYMP) for a short while before moving west again to the 'Echo Park' area of California. There, he produced detailed scripts with new situations and characters for a vast number of classic westerns for $150 per week at Bison Life Motion Pictures, a subsidiary of NYMP. In 1912, his Bison Company production studios (known as Inceville) purchased the Miller Brothers 101 Ranch (18,000 acres of land around Santa Monica and the Santa Ynez canyon) and the Wild West Show to use their props, sets, costumes, and performers (talented, authentic cowboys and Indians) for his assembly-line, mass-produced films.

The first western directed by Ince was War on the Plains (1912), followed by Ince's production of the successful Custer's Last Raid (1912). He was soon dubbed "Father of the Western" for his prolific making of one- and two-reel westerns. The last Bison 101 film from NYMP was The Colonel's Ward (1912), directed by Ince. (more later on Ince) ]
In June 1912, after being forced out of distribution by the Edison Trust, pioneering movie mogul Carl Laemmle co-founded the Universal Film Manufacturing Co., or Universal Film Company - the precursor to Universal Pictures in 1915. Laemmle consolidated IMP with a group of independent studios to create the new film company. Universal's offices were in New York, but its production hub was across the Hudson in Fort Lee, New Jersey.
It was formed from the merger of many independent companies, including:
IMP Studios (Carl Laemmle), Victor, and Animated Weekly (all in New York)
Crystal Studios (Bronx), American Eclair (Fort Lee, NJ)
New York Motion Picture Company (NYMP) (Charles Baumann and Adam Kessel), which controlled Bison 101
Powers Motion Picture Company (Pat Powers)
Rex Motion Picture Company (William Swanson)
Champion Film (or Motion Picture) Company (Mark Dintinfass)
Christie-Nestor Studio, or Nestor Film (or Motion Picture) Company (founded by David Horsley in 1910) - established the first real studio to open in Hollywood, California in 1911, and soon was producing three short one-two reel movies a week (one comedy, one drama, and one western); it merged with Universal in 1915
Minor production companies: Gold Seal, "Universal Ike," Joker, Sterling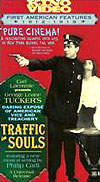 IMP's first feature-length film release - the first American feature-length sex film - was the six-reel melodrama Traffic in Souls (1913) (aka While New York Sleeps) - it was also shot in Fort Lee, New Jersey. It was a "photo-drama" expose of white slavery at the turn of the century in NYC, although the film exploitatively promised steamy sex in its advertisements. This was one of the first films to understand that 'sex sells,' although its producers worried that a 'feature-length' film on any subject wouldn't be successful. It was the most expensive feature film of its time at $57,000, although its record earnings were $450,000.
After Universal set up its Fort Lee facility, competition arrived, including these studios that also operated there:
Fox Film Corporation
Goldwyn Pictures
Biograph Studios
Metro Pictures
the Solax Co., co-founded by Alice Guy Blaché
Meanwhile, one of Universal's land acquisitions in Los Angeles in 1914 was the large 230-acre Nestor Ranch site bought for $165,000 - it soon became known as Universal City. Universal took the Bison 101 trademark as part of the legal split-up. Ince's California operation was diversified by NYMP into three new brands, Kay Bee, Broncho and Domino, which were distributed by newly-formed Mutual. The production trademark of Bison was changed to "Broncho," and Bison 101 films were then produced by a new unit at Universal. Universal's Special Features Branch began production of 4-6 reel features.
The first feature film made at Universal City and completed just before the official opening was the six-reel epic feature film Damon and Pythias (1914), starring William Worthington. One of the more interesting films made in the early days was Neptune's Daughter (1914) starring sexy Australian swimming sensation Annette Kellerman.
In early 1915, Laemmle officially set up and opened up Universal City as its own unincorporated town, located in the San Fernando Valley north of Hollywood. He built Universal Pictures studio there -- the world's first self-contained location dedicated to film-making. At first, the studio allowed visitors (who were charged admission) the chance to watch films being made there - the forerunner of Universal Studios tours today.
Universal Pictures was the first major, long-lasting studio, created as a break-free challenge to defy the Motion Picture Patents Company (MPPC). At the same time, Fort Lee's reign as a booming film town was doomed, and completely declined when silent movies expensively converted to talkies in the late 20s, and studios chose to move to California.
At first, the new company was successful with films that were adaptations of classic literature, such as one of the earliest versions of Dr. Jekyll and Mr. Hyde (1915) with King Baggot, or Lois Weber's moralistic message picture Where Are My Children? (1916) about birth control, and director Erich von Stroheim's first film Blind Husbands (1919). Their most successful silent film to date was The Hunchback of Notre Dame (1923) with Lon Chaney as Quasimodo. This led to their next major Chaney film, Rupert Julian's Phantom of the Opera (1925). Their first talkie was Melody of Love (1928) with Walter Pidgeon. Silent westerns, comedies, and action-adventure films would soon become Universal Studios' trademark productions, as well as horror films in the 1930s.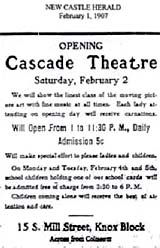 Early Warner Brothers History:
The Warner brothers (Harry, Albert, Sam, and Jack), originally soap salesmen in Youngstown, Ohio, visited nearby Pittsburgh, PA and realized the potential of nickelodeons. In 1904 (some sources claimed 1907), they founded the Pittsburgh-based Duquesne Amusement Supply Company - reportedly the first film exchange (or distribution company) in the US. They bought a used Edison Kinetoscope projector, and toured through W. Pennsylvania and Ohio to exhibit films (mostly The Great Train Robbery (1903)). They also opened their first silent film theatre, the 99-seat Cascade Theatre, in the mining town of New Castle, Pennsylvania in 1907, which they operated until 1911. In 1912, Sam Warner opened a film production office in Los Angeles, Warner Bros. Pictures, and formally incorporated in 1923.
Soon, successful exhibitors turned their profits back into their businesses and were able to provide additional amenities for their viewership, including comfortable seats, pre-show entertainment, peanuts/popcorn for sale, and accompanying pianists and orchestras for the silent films.
D. W. Griffith: Early Film Pioneer at Biograph

The greatest American pioneer/auteur in early film was Kentucky-born David Wark (D. W.) Griffith, "the master storyteller of film" or "the father of film." He was known as the first cinematic auteur or storyteller who gave future film-makers the complete 'grammar' of film-making. An unsuccessful young stage actor and writer, he had appeared in Edwin S. Porter's and Thomas Edison's Rescued From the Eagle's Nest (1907) (the earliest-known surviving work with Griffith as an actor in his first starring role) and other one-reelers, such as Her First Adventure (1908), Caught by Wireless (1908), and At the French Ball (1908).
Inspired by the experience of being an actor, Griffith joined The American Mutoscope and Biograph Company in New York City as a director in 1908, where he remained until 1913. He was expected to direct/produce two one-reel films each week - a prodigious rate. Griffith's first contracted film, released by Biograph, was the 12-minute The Adventures of Dollie (1908), adapted from Frank Norris' novel The Octopus and his story "A Deal in Wheat," followed by the one-reel The Red Man and the Child (1908), the first of his films to be reviewed by Variety. He went on to direct over 60 short films the following year, such as the 14-minute A Corner in Wheat (1909) - based on Frank Norris' 1903 novel The Pit. D.W. Griffith directed the first film made in the small village of Hollywood north of LA, In Old California (1910), a Biograph "Latino" melodrama.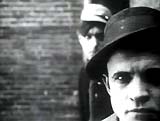 He made about 450 one- and two-reelers (15-30 minutes in length) over a period of four years for Biograph, including Fighting Blood (1911) and Under Burning Skies (1912), although his name never appeared in the credits. His early films were mostly westerns, urban life dramas, romances, comedies, 'ride-to-the-rescue' crime stories, Civil War era melodramas, historical epics, social commentaries and adventure tales. Two of his Biograph films included the 18-minute urban gangster film The Musketeers of Pig Alley (1912) (with notable menacing close-ups) and the early 29-minute western The Battle at Elderbush Gulch (1913).
In many of these short films, he realized the potential of the new film medium, with his cameraman Billy Bitzer. He experimented with early lighting and camera techniques (closeups for reaction shots, fade-outs, varied shot depths including establishing shots, far shots and medium shots, backlighting, naturalistic, low-key light sources, increased use of locations, etc.) and systematized their use - and would later bring them to artistic perfection in order to shape the film's narrative. In the one-reel chase film The Lonely Villa (1909) with Mary Pickford, Griffith employed his most sophisticated use to date of the cinematic technique of "cross-cutting" to build up tension within scenes. He also used the same technique with rapid editing in The Girl and Her Trust (1912) - another film with a suspenseful last-minute action sequence of a rescue (a Griffith trademark). The film also featured outdoor filming, and an early use of a tracking shot of a train.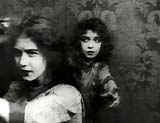 He also trained and created his own company or stock of 'players' - including such newcomers (and future stars) as Lillian and Dorothy Gish, Mary Pickford, Blanche Sweet, Mae Marsh, Harry Carey, Henry B. Walthall, Mack Sennett, Florence Turner, Constance Talmadge, Donald Crisp, and Lionel Barrymore. Biograph insisted that the actors' names remain uncredited. Griffith's 15-minute, one-reel thriller An Unseen Enemy (1912) introduced two young actresses: Dorothy and Lillian Gish to the screen, as they were menaced by a closeup of a gun pointed at them - and at the camera to scare the audience.
Contributing to the modern language of cinema, he used the camera and film in new, more functional, mobile ways with composed shots, traveling shots and camera movement, split-screens, flashbacks, cross-cutting (showing two simultaneous actions that built toward a tense climax), frequent closeups to observe details, fades, irises, intercutting, insert shots, parallel editing, dissolves, changing camera angles, soft-focus, lens filters, and experimental/artificial lighting and shading/tinting. Toward the end of his time at Biograph, his most artistic film was the two-reel, 23-minute The Mothering Heart (1913) with Lillian Gish in an early lead role.
The First Feature-Length Films - Inspired by Foreign Competition:

In the early years of cinema, film producers were worried that the American public could not last through a film that was an hour long, thereby delaying the advent of feature films (usually 60-90 minutes in length) in the US. It took quite awhile for films, at first viewed as technical curiosities, to transition from shorter novelty stories to longer, epic-length feature films with more complex narrative structures.
Although US production and exhibition of longer feature films started slowly, tremendous growth and development was encouraged when foreign competition (with often superior products) proved to be successful and popular. There were three feature-length films that convinced studios that features could be commercially viable:
The Crusaders (1911, It.) - a four-reeler, d. Enrico Guazzoni
Queen Elizabeth (1912, Fr.) (aka Les Amours de la Reine Élisabeth) - a four-reel silent costume drama (starring Sarah Bernhardt); it was the third film to be shown whole in its US premiere in July at the Lyceum Theatre in NYC
Quo Vadis? (1913, It.) - a nine-reeler, d. Enrico Guazzoni, with spectacular special effects and crowd scenes (with over 5,000 extras); it was the first film to run for 120 minutes!
According to most sources, the first continuous, full-length narrative feature film (defined as a commercially-made film at least an hour in length) was writer/director Charles Tait's five-reel biopic of a notorious outback folk hero and bushranger, The Story of the Kelly Gang (1906, Australia), with a running time of between 60-70 minutes. Only fragments of the film survive to this day. Australia was the only country set up to regularly produce feature-length films prior to 1911.
[Note: The film was remade many times, notably as director Tony Richardson's Ned Kelly (1970) with rock star Mick Jagger in the lead role, and as Ned Kelly (2003) with Heath Ledger, Orlando Bloom, Geoffrey Rush and Naomi Watts.]
The first US documentary re-creation, Sigmund Lubin's one-reel film The Unwritten Law (1907) (subtitled "A Thrilling Drama Based on the Thaw-White Case/Tragedy") dramatized the true-life murder -- on June 25, 1906 -- of prominent architect Stanford White by mentally unstable and jealous millionaire Harry Kendall Thaw over the affections of model/showgirl Evelyn Nesbit (who appeared as herself), Thaw's wife. The film was considered quite controversial for its sensational and scandalous story of murder and sex. [Note: Alluring chorine Nesbit would become a brief sensation, and the basis for Richard Fleischer's biopic film The Girl in the Red Velvet Swing (1955), portrayed by Joan Collins, and E.L. Doctorow's musical and film Ragtime (1981), portrayed by an Oscar-nominated Elizabeth McGovern.]
The first feature-length film made in Europe was from France - Michel Carre's L'Enfant Prodigue (1907, Fr.), an adaptation of a stage play, that premiered in Paris on June 20, 1907. The first feature-length film produced in the US was Vitagraph's Les Miserables (1909) (each reel of the four-reel production was released separately). A second feature film, Stuart Blackton's Vitagraph five-reel production titled The Life of Moses (1909) was also released in separate installments.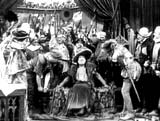 The first feature-length film to be released in its entirety in the US was the 69-minute epic Dante's Inferno (1911, It.) (aka L'Inferno), inspired by Dante's 14th century poem The Divine Comedy. It opened in New York on December 10, 1911 at Gane's Manhattan Theatre. It was made by three directors Francesco Bertolini, Giuseppe de Liguoro, and Adolfo Padovan, took two years to make, and cost over $180,000.
The first US feature film to be shown in its entirety was H. A. Spanuth's five-reel production of Oliver Twist (1912). The five-reel Richard III (1912) is thought to be the earliest surviving complete feature film made in the US.
Grand and Modern Picture Houses - "Movie Palaces":
An era of movie-palace building began in 1909 and continued until the introduction of sound in films. Motion pictures moved out of often ill-equipped nickelodeons and into real theaters - splendid pleasure domes built specifically for the purpose of showing movies. Vast urban populations were eager for a cheap form of entertainment.
By definition, a movie 'palace' held thousands of patrons. Grand, modern movie theaters or 'picture houses' (palaces) that charged from ten to fifteen cents admission began to appear (and replaced nickelodeons). The first movie palaces began to appear in 1909, starting with the City Theatre on 5th Street in NYC, followed by the Regent Theatre movie palace in Harlem in 1913 with a capacity of 1,800 (often considered America's first major motion picture palace).
The first 'real' and elaborate theater built for movies only and without a stage opened in 1914. It was the opulent 2,800 seat Mark Strand Theater in New York's Times Square. Later in 1919, the plush Capitol Theatre opened on Broadway. Eventually, luxurious movie palaces were built in all the major American cities and on the West Coast. The trend was toward larger, opulent 'picture palaces' to cater to increasing upper-class audiences.
The first US air-conditioned theatre was established in Chicago at Central Park Theatre in 1917 by chain operators Sam Katz and Barney and A. J. Balaban (known as "B & K"). [In 1925 B&K merged with Famous Players-Lasky Studio to become the foundation of the national Publix chain, that existed until the mid 1940s, at which time federal laws dismantled the film industry's vertical integration.]

Film History of the Pre-1920s
Part 1, Part 2, Part 3, Part 4, Part 5
---



---