Sam Peckinpah:

Targeted marketing strategies succeeded in highlighting certain special features or sub-genres of western films. In the 1960s, two very different filmmakers refashioned the western in new ways - Sam Peckinpah and Sergio Leone. In only his second feature film, director Sam Peckinpah brought together two aging and admired iconic western stars, Randolph Scott (in his last movie) and Joel McCrea as two ex-lawmen transporting a gold shipment in the simply-told classic Ride the High Country (1962), an evocative film about the passing of the old West and the difficulty of adapting to changing times at the turn of the century. The movie's most quoted line was paraphrased from the Book of Luke: "All I want is to enter my house justified." The friendship of the older heroes was sorely tested by a younger hotshot gunslinger Heck Longtree (Ron Starr) during their 4-day trip to a mining camp in the high Sierras. This was Peckinpah's transition film from TV to big screen westerns.
Peckinpah made his biggest impact on the evolution of the Western with his Hollywood production of The Wild Bunch (1969), one of the best Westerns ever made - and filmed during the height of the Vietnam War. It was an end-of-the-frontier western set in Mexico in 1913 that followed the exploits of a band of outlaws whose past way of life was slowly being overtaken by mechanization and urbanization (symbolized by the technological inventions flaunted by a brutal Mexican guerrilla leader). Peckinpah's masterpiece was marked with bloody, slow-motion, ultra-violent choreographed ballets of death in its opening and in its finale when the group decides to die. The revolutionary film was a precursor to urban crime thrillers and inner-city gunfighting of the 1970s and later, and was often interpreted as an allegory about the Vietnam War. [Since then, it has inspired dozens of film-makers, including Quentin Tarantino and John Woo.] Peckinpah's revisionist Pat Garrett and Billy the Kid (1973) starred James Coburn as sheriff Garrett who tracked down and killed ex-partner/outlaw Billy the Kid (Kris Kristofferson).
Sergio Leone's 'Spaghetti' Westerns:
Italian director Sergio Leone brought many profound changes with his trio of low-budget "spaghetti" western films made in Europe (Spain and Italy) in the mid-60s, but not released in the US until 1967. They were representative of a sub-genre of foreign-made films featuring American stars (i.e., Clint Eastwood, Henry Fonda). The changes included a new European, larger-than-life visual style, a harsher, more violent and rough depiction of frontier life, revenge-seeking bandits and bounty hunters, haunting and jarring music from Ennio Morricone, choreographed gunfights, and wide-screen closeups.
TV's Rawhide (Rowdy Yates) star Clint Eastwood was portrayed as the mysterious, detached, amoral, fearless and cynical gunfighter and bounty hunter (dusty, serape-clad, stubbly-faced, and cigar-chewing) -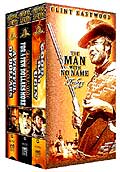 'The Man With No Name.' [There were resemblances between Eastwood's characterization and Alan Ladd's gunslinger in Shane (1953).]
The trio of films that demythologized the Old West actually resulted in a revival of the genre in the mid-to-late 1960s:
A Fistful of Dollars (1964), with a plot borrowed from Akira Kurosawa's samurai warrior classic Yojimbo (1961) and from Dashiell Hammett's crime novel Red Harvest; the film inspired Walter Hill's gangster film remake Last Man Standing (1996) starring Bruce Willis
For a Few Dollars More (1965)
The Good, the Bad, and the Ugly (1966) - the best and most ambitious film in the trilogy - the story of a quest for a cache of hidden Confederate gold by three uneasily allied, gritty characters: Clint Eastwood (the good), Lee Van Cleef (the bad), and Eli Wallach (the ugly)
The director's true western epic masterpiece was Once Upon a Time in the West (1968, It.), filmed in John Ford's favored location, Monument Valley. It starred American icon-actor Henry Fonda as its black, villainous murderer, and brought together all the themes, characterizations, and experimental visuals from his previous three films. [The only other film that featured Henry Fonda in a rare villainous role was in Vincent McEveety's Firecreek (1968).]
Clint Eastwood: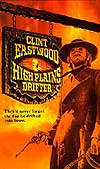 During John Wayne's closing years, his popularity in westerns was matched only by Clint Eastwood, who had graduated from CBS-TV's Rawhide (from 1959-1966 playing the character of Rowdy Yates) to Italian "spaghetti" westerns and was brought to Hollywood to star in American westerns, first as an actor and then as director (or actor/director). Eastwood developed and broadened his range by appearing in director Ted Post's violent revenge western Hang 'Em High (1968), Eastwood's first American film as the star - a film co-produced with his own production company Malpaso. Also, in the late 60's, he began his collaborative association with producer/director Don Siegel by appearing in the action cop film Coogan's Bluff (1968) - a foreshadowing of his performances as Dirty Harry.
High Plains Drifter (1973) was Eastwood's second film as a director (and his first western as director), where he reprised his "The Man with No Name" character from the "spaghetti" Western sub-genre. He also directed and starred in the excellent revisionistic western epic The Outlaw Josey Wales (1976), (Eastwood's fifth as a director and eighth true Western) - one of his best films in which he portrayed a vengeful hero in pursuit of a villainous Unionist Red Leg soldier. He went on to star as a Wild West Show impresario in Broncho Billy (1980) (often not counted as a western), and as a mysterious Preacher in Pale Rider (1985) - a film that was inspired by his earlier High Plains Drifter (1973).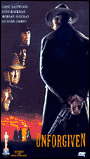 Although it was thought that Westerns were experiencing their swan song in the late 1970s and 1980s, Eastwood's award-winning and compelling film Unforgiven (1992) became the third western ever to win the Best Picture award. Starring in his 10th western (in addition to producing and directing), Eastwood played the part of William Munny - a retired, once-ruthless outlaw forced to return to harsh violence in a bounty hunt against corrupt sheriff Little Bill Daggett (Gene Hackman) in the town of Big Whiskey. The film de-mythologized elements in the Western genre.
Big Stars in Westerns: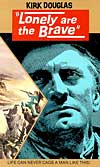 Title roles for big box-office stars in westerns that rewrote the genre were often among the greatest box-office successes. Kirk Douglas starred in the modern cult western Lonely Are The Brave (1962), as "Jack" Burns - a rugged, individualistic 'last cowboy' who rides through contemporary-day New Mexico, cuts down fences, and is later pursued on his horse Whiskey by police cars and helicopters led by conflicted lawman Walter Matthau. Its adapted screenplay by blacklisted award-winning Dalton Trumbo was taken from Edward Abbey's novel The Brave Cowboy: An Old Tale in a New Time. And aging actor Clark Gable and a burned-out Marilyn Monroe starred together in director John Huston's haunting, modern-day western The Misfits (1961) - the last film for the two stars.

Paul Newman starred in the anti-western Hud (1963) and Hombre (1967), and with Robert Redford in George Roy Hill's revisionistic and mildly entertaining Butch Cassidy and the Sundance Kid (1969) as two light-hearted, amiable bank robbers - glamorous members of the legendary 'Hole-in-the-Wall' Gang, who were sought by a relentless posse and fled to Bolivia with an adventurous schoolteacher to become 'Yanqui banditos.' The entertaining film was enhanced by Burt Bacharach's musical score. Like The Wild Bunch (1969), the two are threatened by encroaching civilization - here symbolized by a bicycle, and both meet their destined fate when massacred by a Bolivian army - in freeze-frame. From its seven nominations, the popular film won four Academy Awards and was the highest-grossing western in film history up to that time. Charlton Heston played the title role in director Tom Gries' Will Penny (1968) of a fading and aging Western saddle tramp - an exceptional film about the passing of the West.
One of the few attempts to portray Native-American life in a more sympathetic light was found in the realistic depiction of Sioux Indians in the Dakotas in A Man Called Horse (1970) with Richard Harris. The British-financed western Hannie Caulder (1971), starring Raquel Welch and Robert Culp, was both a rape-vengeance Western and a comedy. Sexual frankness and gritty authenticity brought audiences to Robert Altman's McCabe & Mrs. Miller (1971) with Warren Beatty and Julie Christie partnering as an entrepreneurial hustler and a opium-addicted brothel madam respectively. Altman also debunked western myths in his ironic and politically-subversive Buffalo Bill and The Indians (or Sitting Bull's History Lesson) (1976) released in the Bi-Centennial year, with Paul Newman as the deconstructed, star-worshipped, mythical figure of show-biz huckster and entrepreneur William F. Cody.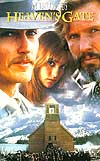 By the end of the 70s decade, John Wayne and many of the master Western film directors of all time had passed away, including John Ford, Howard Hawks, Henry Hathaway, Henry King, Raoul Walsh, and Delmer Daves.
The Decline of Westerns in the 80s:
In the early 1980s, westerns began to seriously decline and disappear from cinema screens with changes in public taste and as memories of the trail-blazing past receded. The tiring, familiar presence of westerns on television and the recognition that the way of life of native Americans was practically annihilated in our past caused the downturn. Oscar-winner Michael Cimino's multi-million dollar failure for United Artists, a detailed, over-long epic western Heaven's Gate (1980), contributed to the genre's weakening.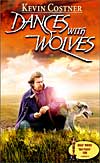 However, in the mid 1980s and into the 90s, western films experienced something of a comeback, due in part to the boost and the recognition received by two revisionistic, Best Picture westerns:
Dances with Wolves (1990), Kevin Costner's politically-correct three-hour epic with twelve nominations and seven awards
Unforgiven (1992) with nine nominations and four awards
Producer/actor Kevin Costner's box-office and critical success Dances with Wolves (1990), his directorial debut, was noted as one of the few westerns that cast Indians in acting roles, used Lakota Sioux sub-titles, and viewed Native Americans in a sympathetic way and not as blood-thirsty savages. Although the film was officially sanctioned by the Sioux, not all Native American groups were sympathetic to its portrayals.
Revisionist Westerns: Questioning and Rewriting the Western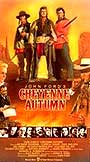 The genre had been reinvented, debunked, redefined and ridiculed, beginning in the late 60s and early 70s. So-called 'revisionist' Westerns questioned the themes and elements of traditional classics. Director Sam Fuller's revisionist, low-budget B-film Run of the Arrow (1957), often noted as similar to Costner's Dances With Wolves (1990) many years later, starred Rod Steiger as a disheartened ex-Confederate soldier who journeyed west, endured a torturous 'run of the arrow' challenge, joined a Sioux Indian tribe, and fell in love with an Indian maiden named Yellow Moccasin (Sarita Montiel, with her voice dubbed by Angie Dickinson). John Ford's redemptive last western, Cheyenne Autumn (1964) with Richard Widmark and Carroll Baker, dealt with the destruction of the Native-Americans, by portraying the forced, late 1880s westward exodus of Cheyenne Indians from Oklahoma to their tribal lands in Wyoming.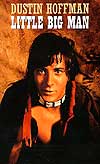 Dustin Hoffman portrayed Jack Crabb - the sole, white, 121 year-old survivor of Custer's Last Stand and the Battle of Little Big Horn in Arthur Penn's Little Big Man (1970), a fable about the expansion of the Old West from an adaptation of Thomas Berger's novel. [According to Guinness World Records, the greatest age span portrayed by a movie actor, from 17 to 121, was by 33-year old Hoffman for this role.] Paralleling the Vietnam tragedy, the film demythologized the past and revealed the genocidal atrocities visited upon ethnic Indians by US forces.
A variety of other westerns re-fashioned western themes with greater realism and less romantic and glamorous notions, such as:
The Culpepper Cattle Co. (1972)
two films about the James-Younger outlaw gang: Philip Kaufman's The Great Northfield, Minnesota Raid (1972) and maverick writer/director Walter Hill's The Long Riders (1980) with actual siblings acting as clan members
Robert Aldrich's Vietnam allegory Ulzana's Raid (1972), in which Burt Lancaster starred as crusty Indian scout McIntosh involved in a search for escaped Chiracahua Apache leader Ulzana (Joaquin Martinez) with a small band of braves from the San Carlos Reservation that were terrorizing white settlers
Lawrence Kasdan's big-budget Silverado (1985), featuring a future all-star cast of then-unlikely Western actors including Kevin Kline, Scott Glenn, Kevin Costner, Danny Glove, and John Cleese; a massive 1999 audience-participation Blockbuster Video poll named it "Most Deserving of a Sequel"
the contemporary western Young Guns (1988), with a modern version of the Brat Pack in the lead roles
Hill's Geronimo: An American Legend (1993), a new look at native American Apache leader Geronimo and his conflict with the US cavalry in the mid 1880s
Tombstone (1993) (with Kurt Russell as Wyatt Earp and Val Kilmer as the dying Doc Holliday)
Wyatt Earp (1994) (with Kevin Costner in the title role)
and Walter Hill's Wild Bill (1995) with Jeff Bridges as the legendary western frontier character, revealed in dreamy flashback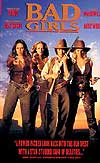 [The exploits of Earp had already appeared in many previous Hollywood films including Ford's My Darling Clementine (1946) (with Henry Fonda) and John Sturges' Gunfight at the OK Corral (1957) (with Burt Lancaster).]
Other post-classical, revisionist westerns in the mid-90s featured the West from a feminist or African-American perspective such as The Ballad of Little Jo (1993) about an ostracized Eastern woman (Suzy Amis) who moved west and disguised herself as a man, Bad Girls (1994) about four saloon prostitutes (Madeleine Stowe, Andie MacDowell, Mary Stuart Masterson, and Drew Barrymore), "a star-studded gang of beauties" who bonded together as gunslingers, and director Sam Raimi's 'spaghetti' western The Quick and the Dead (1995) that starred Sharon Stone as a vengeful lady gunslinger - a female Clint Eastwood. Mario Van Peebles' exploitative, exciting adventure-western Posse (1993) featured black cowboys and revisionist, politically-correct western history.
Western Spoofs and Comedies: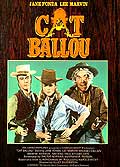 Western parodies and comedies that mocked the genre include director Elliot Silverstein's very successful spoof hit Cat Ballou (1965) (with Jane Fonda in the title role, and with Lee Marvin in a dual, Best Actor-winning role), and Mel Brooks' Blazing Saddles (1974). James Garner (of TV's Maverick fame of the late 1950s) starred in two western-spoofs in the period: director Burt Kennedy's Support Your Local Sheriff! (1969) (that paid homage to previous versions of Wyatt Earp's legendary 'Gunfight at the OK Corral' and My Darling Clementine) and its lesser parody sequel Support Your Local Gunfighter (1971). John Wayne appeared in the western comedy McLintock! (1963), featuring a battle-of-the-sexes "Taming of the Shrew" relationship between Wayne and Maureen O'Hara, and including a serious, often-mentioned scene of McLintock breaking up a Native-American lynching.
Another 'western' comedy - City Slickers (1991) followed a group of middle-aged buddies embarking on a two-week western cattle drive led by a tough trail cowpoke named Curly (Jack Palance won a Best Supporting Actor Oscar for the role). A big-screen, commercially-successful comedy-western, Maverick (1994), a spin-off from a late 50s and early 60s TV series, starred Mel Gibson in the title role as card sharp Bret Maverick, and the original Maverick character (James Garner) as Marshal Zane Cooper. Barry Sonnenfeld's The Wild Wild West (1999) was a spin-off from the popular mid-60's TV spy show with Men in Black's Will Smith as James T. West and Kevin Kline as Artemus Gordon. Tom Dey's old West spin-off Shanghai Noon (2000) featured kung-fu superstar Jackie Chan as Chon Wang - an obvious take-off on John Wayne.
Other Variations on Westerns: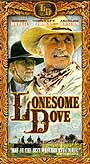 A superb television miniseries, adapted from Larry McMurtry's Pulitzer Prize-winning novel, was the classic western saga Lonesome Dove (1989). The eight-hour, four-part miniseries by director Simon Wincer starred Tommy Lee Jones and Robert Duvall as Gus McCrae and Woodrow Call, two aging, cussing ex-Texas Rangers who engage in an adventurous cattle drive over the 2,500 miles from Texas to Montana. [It produced further mini-series sequels, Return to Lonesome Dove, Streets of Laredo, and Dead Man's Walk.]
Westerns from a science-fiction point of view included a western-style Back to the Future, Part III (1990). The low-budget Grim Prairie Tales (1990) was a supernatural horror-western - an anthology of four scary, unbelievable tales told around an open prairie campfire. Jim Jarmusch's metaphoric, unique, mystical black and white western Dead Man (1996) starred Johnny Depp as an 1875 western wanderer (the ghost of poet William Blake?) pursued by bounty-hunters. Kathryn Bigelow's western-noir vampire-horror film Near Dark (1987) featured Bill Paxton and Lance Henricksen as members of a ghoulish motorcycle gang in America's Southwest.
The Coen Brothers put their own spin on the role made famous by Oscar-winning John Wayne's 'Rooster' Cogburn, in the PG-13 adventure remake True Grit (2010), starring Jeff Bridges. It soon became the director duo's biggest hit, and the highest-grossing western since Wild Wild West (1999).