Early Television Westerns Shows: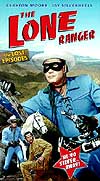 As B-westerns began to wane from theaters and reappear on television (in the 50s), the genre's development took a major turn.Television took its toll on western screen entertainment in the late 50s. The B-pictures transferred themselves to the small screen throughout much of the 50s and into the 60s. Westerns began dominating television during the 1950s and 60s when the most popular shows were "Bonanza," "Wagon Train," and "Rawhide." The Golden Age of the B Western, with low-budget, B-picture horse operas, was coming to an end.
Some of the early TV Westerns were derived from big-screen features. The TV Western shows resembled the second film features in theatre palaces in the 1930s and 1940s, such as:
The Cisco Kid (from 1950-1956), featuring Duncan Renaldo as the heroic Cisco, and Leo Carrillo as his sidekick Pancho; Diablo and Loco were their horses
The Lone Ranger (from 1949-1957), starring Clayton Moore as John Reid (the Lone Ranger) with his horse Silver, and Jay Silverheels as Tonto, his faithful, full-blooded Mohawk sidekick
The Roy Rogers Show (from 1951-1957), starring Roy Rogers (King of the Cowboys) with Trigger, Dale Evans (Queen of the West) with Buttermilk, Pat Brady as the sidekick and his jeep Nellybelle, and Roy's dog Bullet
Wild Bill Hickok (from 1951-1958), with Guy Madison (as "Wild Bill") and his horse Buckshot, and Andy Devine as Deputy Marshal Jingles P. Jones and his horse Joker
Hopalong Cassidy (from 1951-1952), with William Boyd as Bill "Hoppy" Cassidy, on his Bar 20 Ranch, with horse Topper and sidekick Red Connors (Edgar Buchanan)
Death Valley Days (from 1952-1975) with various co-hosts including Stanley Andrews, Ronald Reagan, Dale Robertson, and Robert Taylor
[Clayton Moore's first film with a mask - a full one - was in the film The Ghost of Zorro (1949), a feature version of the Republic Films serial. Moore's casting led to his subsequent participation in the long-running TV series.] The black-masked man, with a hearty "Hi-yo Silver" and silver bullets, appeared in almost 170 episodes of The Lone Ranger for television - and in two feature films. Because of the popularity of the TV show and its "return to the thrilling days of yesteryear," The Lone Ranger (1956), a full-length, color feature film was released by Warner Bros, with Moore and Silverheels reprising their TV roles. Their other feature film came out two years later, The Lone Ranger and the Lost City of Gold (1958). These popular TV programs were later joined by such long-lasting TV series as: Gunsmoke, Rawhide, Bonanza, Wagon Train, The Virginian, The Wild Wild West, Have Gun Will Travel, and Wyatt Earp. A short-lived ABC-TV series in the mid-60s, titled Shane with David Carradine as the frontier gunfighter, was based on the classic film Shane (1953).
More Classic Westerns in a Resurgence: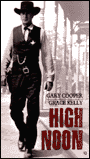 More excellent adult westerns of the late 1940s and 1950s with classic character studies include William Wellman's The Ox-Bow Incident (1943) with Henry Fonda, and John Huston's adventure tale of greed The Treasure of the Sierra Madre (1948). These two pictures were the only Western films to receive Academy Award nominations for Best Picture in the 1940s. Director Henry King's The Gunfighter (1950) told the story of a notorious, world-weary, quick-draw gunman named Jimmy Ringo (with a black mustache and black hat), played by Gregory Peck, often challenged, taunted and stalked by young men to gun-fight.
One of the best was the landmark classic, dramatic morality tale of an abandoned lawman, carefully filmed in "real-time." It was director Fred Zinnemann's only western, High Noon (1952). The minimalist script written by Carl Foreman (who was blacklisted during the 50s' anti-Communist hearings) was a political allegory of 50s McCarthyism. In an Academy Award-winning performance, Gary Cooper played the part of just-married (to Grace Kelly), aging small-town Marshal Kane who heroically stood up to four vengeful, gunslinging killers without assistance from the townsfolk that he had defended for his entire career. This paralleled the historical incident of the early 50s' House Committee on Un-American Activities' witch-hunt for Communists in Hollywood, and indicted those who deserted their friends.
Another 'guilt-by-suspicion' allegorical film masking as a criticism of the McCarthy era, Allan Dwan's psychological low-budget western Silver Lode (1954), was set during a July 4th celebration in a frontier town. It told about the tense hunt for the wrongly-accused town sheriff Dan Ballard (John Payne) on his wedding day to fiancee Rose Evans (Lizabeth Scott), by bad guy Ned McCarty (Dan Duryea) and his deputies -- a clear reference to Sen. Joseph McCarthy. The climactic confrontational scene in the church belltower ended with antagonist McCarty's death and the eventual clearing of Ballard's name.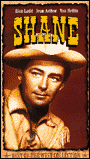 The traditional, quintessential story of good vs. bad (civilization vs. lawlessness) was also highlighted in George Stevens' gorgeously-filmed sole western, Shane (1953) with an extremely accurate portrayal of pioneer life. Actor Alan Ladd portrayed a mysterious, gunslinger/drifter, the archetypal Western hero, who joined the struggle of the civilizing community of homesteaders against the cattlemen. In the end, the title character - forever branded as a killer, rode off toward the mountains after accomplishing his task of bringing normalcy back to the area.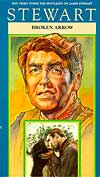 Hollywood would often mix fact with fiction and prejudicial bias in its westerns. Delmer Daves' revisionist western Broken Arrow (1950), however, was considered the first Hollywood picture to seriously take the side of the Indians (Native-Americans) and emphasize peaceful co-existence, with a sympathetic portrayal of Apache chief Cochise (by white actor Jeff Chandler with a Best Supporting Actor nomination - it was his first of three films as the Indian chief), and Debra Paget as Indian maiden Sonseeahray. This film also marked the beginning of James Stewart's post-war work as a western character. [Broken Arrow became a TV series in the mid-50s.] Pony Express (1953) was a quasi-historical account of the extension of the mail route with western legends Buffalo Bill Cody (Charlton Heston) and Wild Bill Hickok (Forrest Tucker). Another Charlton Heston western, titled Arrowhead (1953) expressed a biased view of Indians and starred Jack Palance as an Apache chief.
Robert Enrico's Oscar-winning, dialogue-less, 28-minute short La Riviere du Hibou (1962) was a French adaptation based on Ambrose Bierce's 1891 story 'An Occurrence at Owl Creek Bridge'. The Civil War western story with a twist-ending, about an innocent man who seemed to escape from death by a hangman's noose, became well-known when shown to a large American audience as an edited and narrated episode (the final episode!) of Rod Serling's The Twilight Zone television show in 1964.
Wide-Screen Westerns:
To combat the decline of the film western, wide-screen frontier epics in the 50s and early 60s appeared, emphasizing the western frontier and expansion. Representative films included:
Howard Hawks' second western The Big Sky (1952), a sprawling 1830s keelboat expedition adventure with Kentucky frontiersmen (Kirk Douglas and Dewey Martin) on the Missouri River
director John Farrow's stereoscopic, partially 3-D Hondo (1953) starring John Wayne and Geraldine Page (in her screen debut)
director Robert Aldrich's wide-screen Superscope Vera Cruz (1954) teaming Burt Lancaster and Gary Cooper during the Mexican Revolution of 1866
director Edward Dmytryk's Deluxcolor Broken Lance (1954), a western King Lear with Spencer Tracy, that won a Best Original Story Academy Award, and a Best Supporting Actress nomination for Katy Jurado
even a conventional drama such as John Sturges' Bad Day at Black Rock (1955) used a classic Western setting and plot-line and updated them to modern-day circumstances, bringing additional suspense to the story with the use of widescreen. Spencer Tracy as a one-armed, lone passenger dressed in black arrives in a deserted western town by train to learn about a town's dark secret
William Wyler's big-budget, star-studded and sprawling The Big Country (1958) with Gregory Peck as an Eastern sea captain caught in the midst of a Western ranching and water rights feud between his fiancee's father (Charles Bickford) and their neighbor (Burl Ives)
John Wayne as Davy Crockett in the lengthy action-epic The Alamo (1960), Wayne's directorial debut film (although some of it was directed by John Ford) - an effort that failed at the box-office although it was nominated for six Academy Awards (due to insistent and somewhat annoying Oscar campaigning); the film was remade over 40 years later as The Alamo (2004), with Billy Bob Thornton filling in for the Duke's musket-wielding Davy Crockett
the widescreen Cinerama film How The West Was Won (1963), a tremendous, star-studded three-generation story of pioneers
John Sturges' Two Western Blockbusters: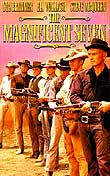 Sturges' Gunfight at the OK Corral (1957) told the story of Marshal Wyatt Earp (Burt Lancaster) in Tombstone, Arizona feuding with the Clantons and their hired guns -- with its inevitable showdown in 1888, aided by the gunfire of rum-soaked Dr. John 'Doc' Holliday (Kirk Douglas).
His next popular film, The Magnificent Seven (1960) rewrote a Japanese classic about Samurai warrior-swordsmen that defended a 14th century village (Akira Kurosawa's The Seven Samurai (1954, Jp.)). This updated 'remake,' featuring a memorable, Oscar-nominated score by Elmer Bernstein, starred these seven gun-slinging American outlaws who defended Mexican peasants against bandit leader Eli Wallach:
Yul Brynner
Steve McQueen
knife-thrower James Coburn
wood-cutter Charles Bronson
Robert Vaughn
Horst Bulchholz
Brad Dexter
[It was followed by three inferior sequels: Return of the Seven (1966), Guns of the Magnificent Seven (1969), and The Magnificent Seven Ride! (1972).] One of the most exciting action-adventure westerns of all time was writer/director Richard Brooks' big-budget ensemble western The Professionals (1966), with Lee Marvin as the leader of a group of mercenaries (including explosives expert Burt Lancaster, horsemen Robert Ryan, and tracker/longbow expert Woody Strode) into Mexico on a dangerous mission to rescue a wealthy industrialist's ransomed wife (Claudia Cardinale) from Mexican rebel kidnappers (headed by Jack Palance).
John Wayne: The Archetypal Western Hero (or Anti-Hero)

John Wayne, towering and dominant, remains the most popular and durable of the major western film stars of the modern era. [Other western stars also included Henry Fonda, Clint Eastwood, Randolph Scott, James Stewart, Joel McCrea, and Gary Cooper.] In Wayne's many films, he embodied the great American hero and forever closely identified with the genre. A short summary of his films shows how deeply ingrained he was within the western film.
Nine years after his first western The Big Trail (1930), Wayne further developed his western persona in Stagecoach (1939), and then performed in a series of action-packed WWII pictures in the early to mid-40s. He reappeared in Howard Hawks' epic of a mutinous cattle drive Red River (1948), and in John Ford's cavalry trilogy (see above). Wayne also starred in his best Western (anti-hero) role in probably the best Hollywood Western ever made - John Ford's The Searchers (1956), one of the few westerns which has consistently won praise as a work of art. [It has inspired other directors and their non-Western films, from Taxi Driver (1976) to Star Wars (1977).] The VistaVision film, shot in Monument Valley, portrayed Wayne as a racist, hate-driven, and lonely outsider relentlessly and obsessively searching over a period of years for his Comanche-kidnapped niece (played by a young Natalie Wood).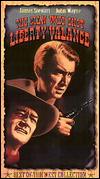 John Ford memorably united two major stars of the genre in his last great film, the excellent adult western The Man Who Shot Liberty Valance (1962), John Wayne and James Stewart -- and also Lee Marvin as 'Liberty Valance' (allegedly shot by Stewart). Its byword was "When the Legend Becomes Fact, Print the Legend." In the 60's, Wayne also acted in Andrew McLaglen's comedy western McLintock! (1963) (a battle-of-the-sexes film with Maureen O'Hara), Burt Kennedy's The War Wagon (1967) with Kirk Douglas, and Henry Hathaway's The Sons of Katie Elder (1965) with Wayne's second co-starring role with Dean Martin.
In later years, Wayne's character aged and matured in such "autumnal" films as Howard Hawks' El Dorado (1967) (a remake of Hawks' own Rio Bravo (1959) again with Wayne), Henry Hathaway's True Grit (1969) in which he finally won a Best Actor Oscar as Rooster Cogburn, a boozy marshal engaged in a track-down, and in its sequel, Rooster Cogburn (1975), with Wayne in an African Queen-like role opposite Katharine Hepburn. Two of Wayne's last-day films were Mark Rydell's The Cowboys (1972) and Don Siegel's elegiac The Shootist (1976), in which Wayne (in his final film) played a famous gunfighter seeking peace while dying of cancer.