John Ford's Westerns in the Late 30s and 40s: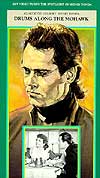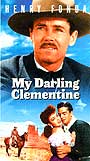 Ford also offered up other films in 1939 with emphasis on action and character: Young Mr. Lincoln (1939) with Henry Fonda in the title role, and Drums Along the Mohawk (1939), a film about upstate New York settlers (Henry Fonda and Claudette Colbert) facing the trials of living on the frontier during the Revolutionary War period.
After World War II, John Ford returned to the western icons of his beloved Monument Valley and filmed his dark version of the OK Corral shootout (between the Earps and Clantons) in the stunning legendary classic My Darling Clementine (1946) again with Henry Fonda (as Wyatt Earp) and with Victor Mature (as Doc Holliday). The film adaptation, written by Samuel G. Engel, Sam Hellman and Winston Miller, was based on the book Wyatt Earp, Frontier Marshal by Stuart N. Lake, and proved to be another western film milestone. (There were at least five other sound films with the same subject matter, Wyatt Earp in Tombstone, before Ford canonized the tale.)
Ford's Cavalry Films - Trilogy:
In the late 1940s, John Ford also explored other possibilities for westerns and created a famous 'so-called' trilogy of western 'cavalry' films, noted for their glorious landscapes of Arizona's Monument Valley and their affectionate and militaristic perspective on the winning of the West by overtaking the Indians:
Fort Apache (1948), with Henry Fonda as an arrogant, Indian-hating lieutenant
She Wore a Yellow Ribbon (1949), an autumnal western in which John Wayne played a retirement-age cavalry captain named Nathan Brittles, who prevents a large-scale Indian uprising following the Battle of the Little Big Horn; noted for Winton C. Hoch's beautiful Oscar-winning cinematography (the film's sole nomination and win); this was Ford's personal favorite of the trilogy
Rio Grande (1950), promoted, duty-devoted Lieutenant Colonel Kirby Yorke (John Wayne) was the commander at the remote outpost of Fort Starke in the summer of 1879; the area on the Texas frontier near the Mexican border (marked by the Rio Grande River) was threatened by renegade Apache Indians, who often would cross the river during guerrilla raids, and then retreat by recrossing the river to sovereign Mexican land, where the US Cavalry was disallowed from taking action
By the end of his career, John Ford had made fifteen sound Westerns, and numerous silent westerns. The prolific Henry Fonda would eventually star in 8 John Ford films, and 21 westerns in total.
Other Well-Received Westerns: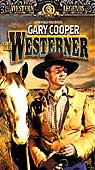 There were many other westerns in 1939 and the 40s, some of which were grade A-westerns with strong character emphasis and greater maturity, including:
Zanuck's fictionalized, glamourized, big budget film Jesse James (1939), directed by Henry King, with Henry Fonda as Frank James
William Wyler's entertaining saga The Westerner (1940) with Walter Brennan (who won a record-setting third Academy Award for his role) and Gary Cooper
the somber, thought-provoking indictment of mob rule in William A. Wellman's noirish The Ox-Bow Incident (1943) - starring Henry Fonda and Harry Morgan as drifters who attempted to prevent the lynching of three innocent men
Sex-Westerns: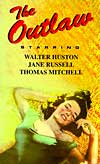 Two 40s westerns were infamous sex-westerns, both salaciously marketed to full effect. Obsessed millionaire director/producer Howard Hughes' B-grade, much-censored The Outlaw (1943) was notorious for leering camera views of Jane Russell's ample cleavage (in her breakthrough debut film). The storyline, the pursuit of Billy the Kid by Sheriff Pat Garrett (Thomas Mitchell), with Russell as Doc Holliday's (Walter Huston) sexy, half-breed mistress Rio (with an oft-unbuttoned, low-cut peasant blouse), was considered too racy for contemporary audiences in 1941 and postponed until 1943 for limited release. After a one-week run, Hughes shelved the film for three years after which it was finally placed in general release in 1946 (in a cut version), and again in 1947
And the ambitious scandalous production Duel in the Sun (1946) from producer and credited scriptwriter David O. Selznick was a "Gone With The Wind"- type western. This lurid Technicolor western, directed by King Vidor (who quit and was one of eight directors and cinematographers), was a sprawling melodramatic saga of sexual longing that was forced to cut nine minutes of its content before widespread release. It was critically renamed "Lust in the Dust" by its detractors. Jennifer Jones starred as 'half-breed' Pearl caught in a destructive love triangle between the two sons of a cattle baron family (Lionel Barrymore and Lillian Gish) - moderate Joseph Cotten and hot-tempered Gregory Peck. It still remains one of the top box-office westerns - in inflation-adjusted dollars.
John Wayne and Howard Hawks: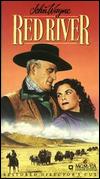 Director/producer Howard Hawks worked with John Wayne in four films, the best of which was the realistic cattle drive epic in the genre - the beautifully-photographed black and white Red River (1948). It dramatically told about an historic cattle drive on the Chisholm Trail (the film was the Western equivalent of Mutiny on the Bounty (1935)) from Texas to Abilene, in which Wayne played an obsessive, authoritarian, tough and irrational cattle baron battling his foster son Montgomery Clift. [This was Hawks' first Western, although he had earlier worked - uncredited - on Viva Villa! (1934) and The Outlaw (1943).] Red River had all the elements of classic westerns: Indian attacks, scenic grandeur, stampedes, romance, and a generational battle of wills between father and son with John Wayne in an unsympathetic role.
The other magnificent westerns Hawks and Wayne made together included the humorous, action-filled western Rio Bravo (1959) with John Wayne as a tough-guy sheriff (and deliberately filmed as a reaction to High Noon), El Dorado (1967), and Rio Lobo (1970). Rio Bravo (1959) teamed Wayne with a drunken sheriff (Dean Martin) and teenaged sharpshooter (Ricky Nelson - and was remade as John Carpenter's action-thriller Assault on Precinct 13 (1976).
Film-Noirish Westerns: Mann, Boetticher, and Daves
Through the lens of film noir and psychology, Westerns during the post-war period of the late 1940s and 1950s took on brooding, dark, and intense themes. Hollywood infused them with cynicism, character complexities, flawed outlaw heroes, and dark pessimism. Two genuine noir westerns, both starring noir actor Robert Mitchum, were:
Raoul Walsh's bleak, Freudian-tinged, stylish and intriguing western psychodrama Pursued (1947); it was similar in theme to Ford's The Searchers (1956), with superbly-brooding cinematography by James Wong Howe and from a script by novelist and screenwriter Niven Busch (known for writing Duel in the Sun in 1944 that was later made into a film by David O. Selznick as Duel in the Sun (1946), and married to the film's female lead Teresa Wright)
director Robert Wise's claustrophobic Blood on the Moon (1948)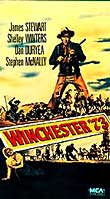 Anthony Mann
The most prominent examples of 50s noir Westerns were the series of five films that teamed actor James Stewart with director Anthony Mann in some of the darkest, adult "psychological westerns" ever made. [Note: In the late 1940s, Mann had two stunning noirish films: the pseudo-documentary T-Men (1947), and the crime drama Raw Deal (1948).] In Mann's films, the director focused on chilling tales of revenge, obsession, and the paranoia of a lone, confused, tortured, vengeful western figure played by a darker James Stewart:
Winchester '73 (1950), the first in the series of classic westerns in the 50s - a tale of the relentless pursuit of a one-of-a-kind Winchester '73 gun and revenge sought by Lin McAdam (Stewart) on thieving outlaw 'Dutch' Henry Brown (Stephen McNally); in the climactic shootout on a rocky cliffside, it was finally fully revealed that 'Dutch' - actually estranged brother Matthew McAdam - had murdered their father by shooting him in the back.
Bend of the River (1952), the stark and compelling story of the Oregon Trail journey across the country, with Stewart as an ex-outlaw going straight and having to confront his former partner on the opposite side of the law
the sophisticated and excellent The Naked Spur (1953), a study of compulsive greed for reward money by a self-loathing bounty hunter (Stewart) inspired by the goal of re-purchasing farm land lost during the Civil War, and up against Robert Ryan
The Far Country (1954), another story of deceit and revenge
The Man From Laramie (1955), with suspenseful, savage rough action in a murderous feud between two 'sons' of a patriarchal rancher named Alec Waggoman (Donald Crisp) - Dave (Alex Nicol) and ranch foreman Vic Hansbro (Arthur Kennedy), while Will Lockhart (Stewart) avenged his brother's death (caused by Dave illegally and secretly selling guns to Apaches)
[Footnote: Studio control of stars significantly eroded when James Stewart signed a precedent-setting independent (or free-lance) contract to share in the box-office profits of the Anthony Mann western Winchester '73 (1950), and for the comedy Harvey (1950). In fact, for all his Universal Studios films (including Bend of the River (1952), and The Far Country (1954)), Stewart took no salary in exchange for a large cut of the profits -- a very lucrative deal. As a result, he earned increasingly high salaries, became a pioneer of the percentage deal (a performer accepted a reduced salary in exchange for a percentage of the box office profits), and was the industry's top box-office star by mid-decade.]
Budd Boetticher
Budd Boetticher, an often-neglected director of westerns, is best known for his seven B-grade, low-budget westerns filmed between 1956 and 1960. Seven were made in collaboration with western actor Randolph Scott (screenwriter Burt Kennedy's scripts are marked with * below). These gritty, cult classic westerns with lean and simple plots and with small casts were mostly shot in the Sierra Nevada Mountains, and included:
the psychological western Seven Men From Now (1956)* with Randolph Scott as vengeful former sheriff Ben Stride tracking down the seven killers of his wife during a Wells Fargo holdup; also starred Lee Marvin as the central villain
Decision at Sundown (1957) with Randolph Scott as Texan Bart Allison, ending his three-year vengeful search for Tate Kimbrough (John Carroll) in the town of Sundown; Tate had seduced his wife and then caused her suicide in his hometown of Saving Pass
The Tall T (1957)*, the story of stagecoach passengers (including Scott and other captives) held by outlaws (led by Richard Boone) - a quintessential "battle of good and evil"
Buchanan Rides Alone (1958), with Scott as West Texan Tom Buchanan, involved with a feuding family in the California/Mexico border town of Agry
Westbound (1958), with Scott as Union Army Captain John Hayes; with the tagline: "Hellbound for Vengeance for the Flaming Redhead Who Betrayed Him!"
the excellent "B" western Ride Lonesome (1959)*, with Scott as lawman/bounty hunter Ben Brigade competing with others searching for an outlaw/killer; also featured James Coburn in his first film, and Lee Van Cleef
Comanche Station (1960)* - the last of seven films, with Scott as stoic Jefferson Cody - a lone cowboy whose wife was kidnapped by Indians; also with Claude Akins
Delmer Daves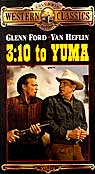 Director Delmer Daves directed the adult western drama 3:10 to Yuma (1957) from an early Elmore Leonard story - a variation of High Noon and Shane about a suspenseful wait for the arrival of a train bound for Yuma prison, by a poor rancher (Van Heflin) who holds a notorious gunman (Glenn Ford in a casting role-reversal).
The Comic Western:
James Stewart had appeared in only one other western before this time as Thomas Jefferson Destry, Jr., a peace-loving, milk-drinking sheriff in the town of Bottleneck battling crooked Last Chance Saloon owner Brian Donlevy - it was a light, appreciative, humorous spoof of B-grade westerns titled Destry Rides Again (1939). and featured a comeback role for the earthy Marlene Dietrich (in a marathon wrestling match against Una Merkel).
Cult Westerns:
Other directors incorporated noirish or cultish elements into their 1950s 'non-Western' westerns. German director Fritz Lang made three exceptional westerns from 1940-1952, all of which were in Technicolor. The first film, made in the early 40s, still suffered from the restrictions of the Hays Code requiring that a bad man couldn't be a hero, so Fonda's character was made to be more saintly and less brutal than the film required:
The Return of Frank James (1940), a superior sequel to Henry King's and Fox's popular Jesse James (1939), with Henry Fonda reprising his role as Jesse's brother Frank and featuring the film debut of Gene Tierney as a reporter; this was Lang's first color film, and his first Western
the big-budget feature for Fox, Western Union (1941), with Robert Young and Randolph Scott - Lang's second Technicolor film and second western, a fictional story against the backdrop of the achievement of installing WU telegraph wires between Omaha and Salt Lake City at the start of the Civil War
Rancho Notorious (1952), the last of Lang's three westerns, featuring Marlene Dietrich and Mel Ferrer in a quirky, dream-like revenge western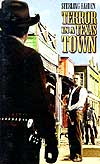 Nicholas Ray's astonishing one-of-a-kind camp cult classic Johnny Guitar (1954) starred Joan Crawford and Mercedes McCambridge who shoot it out in the film's bloody finale. Similarly, maverick director Samuel Fuller's female-centric cult-western Forty Guns (1957) (originally titled The Woman with the Whip) featured Barbara Stanwyck as the whip-wielding matriarch of Tombstone, sexual innuendo, and imaginative, visceral camerawork. And Joseph Lewis' final feature film, the off-beat, low-budget, black and white cult film Terror in a Texas Town (1958) starred the rugged Sterling Hayden as a Scandinavian whaler who was armed with a harpoon in a showdown against a black-clad gunman. And sci-fi writer/director Michael Crichton's Westworld (1973), his first theatrical feature (and a precursor to Spielberg's Jurassic Park), told a futuristic story of a remote 'Disneyland Western Theme Park for Adults' where the mechanical cyborgs (one of which was a gunslinging Yul Brynner) developed serious malfunctions. The film inspired the cheap sequel Futureworld (1976) with Peter Fonda and Blythe Danner, and a TV series Beyond Westworld.