More Early Westerns Stars:
Early westerns provided theater owners with second features and steady work for a countless stable of actors. During the earliest, pre-sound period of the westerns (the teens and the 20s) and into the 30s, the elderly William S. Hart was soon replaced by other more glamorous, swaggering, and action-oriented western stars of the primitive B-films:
Gilbert M. "Broncho Billy" Anderson (1881-1971) - the genre's first western film hero and star, who made about 400 "Broncho Billy" westerns, beginning with Broncho Billy and the Baby (1910); his last silent western role was in The Son of a Gun (1919)
Tom Mix (1880-1940) (a prototypical western action hero with a wholesome screen persona, fancy cowboy outfits, and his horse Tony the Wonder Horse, a prominent star for Fox films), he often produced and directed his own films. He was known as the first western superstar, and first appeared as Bronco Buster in Selig Polyscope's Ranch Life in the Great Southwest (1910), and then in many others (for Selig and later for Fox), including The Man From Texas (1915) and The Heart of Texas Ryan (1916), and later in such expensive features as Fox's Riders of the Purple Sage (1925) (from Zane Grey's 1912 melodrama of the same name) and The Great K & A Train Robbery (1926). Mix was an accomplished rodeo horseman/cowboy who performed most of his own stunts
Harry Carey, often featured as the frontiersman character Cheyenne Harry (Carey was the lead in twenty-four John Ford silents); toward the end of his film career, he played the lead in William Christy Cabanne's The Last Outlaw (1936), based on an original story by John Ford (who directed a silent version in 1919)
Hoot Gibson, who usually performed supporting roles in the Ford-Carey western films at Universal, and became a major star in the 1920s
Buck Jones ("The Red Rider")
Bob Steele ("Two Fisted Hero of the West")
Tim McCoy
Ken Maynard
Tim Holt
George O'Brien
Bill Elliott
Charles Starrett
Johnny Mack Brown
Westerns were among the slowest of the film genres to mature although with the coming of sound, they achieved fuller development. From the early 1920s, many westerns were unsophisticated, inexpensively-made, low quality, action-packed B-pictures from Poverty Row studios (predominantly Republic Studios), filled with familiar stock footage, often the bottom half of a double bill in feature-length and Saturday-matinee serial formats, although some of the early 40's westerns were A-budget films regarding social issues (e.g., The Ox-Bow Incident (1943)). The first feature-length color western was the Zane Grey horse opera from Famous Players-Lasky, Wanderer of the Wasteland (1924).
The Silent Western Epic:

Notably, the first big-scale epic film of the silent era was also a western, James Cruze's landmark and highly successful The Covered Wagon (1923), an expensive effort which cost $800,000 yet brought $4 million at the box-office. This feature-length western from Paramount was the historical drama of a wagon train in the mid-1800s moving westward, encountering harsh environmental and weather conditions (a river crossing and prairie fire), and of course, hostile Indians. Hollywood was encouraged to produce many more westerns in subsequent years.
Its success led to another silent western tale of the building of the American empire by the construction of the Union and Central Pacific RRs - famed western director John Ford's silent railroad classic epic The Iron Horse (1924) for Fox films - his 50th film. Many of the genre's greatest directors, such as John Ford, developed their craft and scored their first hits with Westerns. The Iron Horse was shot almost entirely on location in the Nevada desert, and used real-life, original props (such as Wild Bill Hickok's vest-pocket Colt Deringer revolver). One of Paramount's last silent westerns was director Victor Schertzinger's tale of culture clash titled Redskin (1929) - a good-intentioned follow-up to the earlier epic western, director George Seitz' Zane Grey tale The Vanishing American (1925). It was partially shot in two-strip Technicolor, with white actor Richard Dix again in the role of college-educated Navajo Indian Wing Foot. Although the casting was such, it was the last Hollywood feature for two decades to take a sympathetic look into Native American culture. After another of Ford's silent epics, Three Bad Men (1926), it would be another thirteen years before Ford's next western classic, Stagecoach (1939).
Accolades for Early Westerns: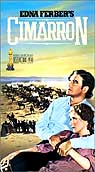 Warner Baxter won a Best Actor Academy Award as the Cisco Kid ("the Robin Hood of the Old West") in Fox-Movietone's In Old Arizona (1928/9), noted as the first sound Western produced by a major studio. [This was the film during which co-director Raoul Walsh lost an eye.] The Best Picture Academy Award winner in the 1930/31 ceremony was RKO's and Wesley Ruggles' Cimarron (1931), an epic tale based on Edna Ferber's tale of the Oklahoma Land Rush of 1889, with a young Irene Dunne and Richard Dix. The big-budget, somewhat dated film opened with a spectacular Oklahoma run sequence, requiring thousands of extras, herds of livestock, and dozens of cameramen for its success. [For many years, it was the only western ever to win the Best Picture honor - until two 90s winners: Dances with Wolves (1990) and Unforgiven (1992).]
B-Movie Westerns:
Beginning in the 1930s (and lasting until the late 1940s), inexpensive, formulaic B-westerns were churned out each year by the hundreds from the lesser studios (Columbia, Universal, and Republic) -- mostly for kiddie audiences at matinees. Some were multiple-chapter serials with cliffhangers or series Westerns (a succession of films with familiar characters). Others were "horse operas" - westerns with crooning added. They were mostly popularized by Gene Autry and Roy Rogers (with wife/heroine Dale Evans).
30's Low-Budget 'Singing' Cowboy Films with Gene Autry, Hopalong Cassidy, and More: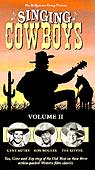 During this time period, shorter, light-hearted, low-budget, non-violent B-Westerns, called singing cowboy films, highlighted the musical and singing talents of its stars in addition to gunslinging. The first musical western that introduced the singing cowboy to the screen was Montana Moon (1930), with an early role for young starlet Joan Crawford.
"King of the Cowboys" Gene Autry soon became the top moneymaker of the singing cowboy stars of the mid-to-late 1930s and early 1940s, after pioneering the Singing Cowboy movie formula with the newly-formed Republic Pictures. His debut was in the popular film In Old Santa Fe (1934), and his first starring western was Tumbling Tumbleweeds (1935). Autry also headlined - in his first starring role - in Mascot's influential science fiction/western 12-episode serial The Phantom Empire (1935) (aka Radio Ranch).
Other singing stars, including Tex Ritter, Bob Baker, Dick Foran, Jimmy Wakely, "Smiley" Burnette, Eddie Dean, Rex Allen, black singing cowboy Herb Jeffries, and Bing Crosby, often played themselves and became cultural icons, in such forgettable films as:
Moonlight on the Prairie (1935) and Song of the Saddle (1936) with Dick Foran
Joseph Kane's Ride, Ranger, Ride (1936) with Gene Autry
Song of the Gringo (1936), featuring the screen debut of Tex Ritter
Rhythm of the Saddle (1938), another Gene Autry musical western
The country-western singing group Sons of the Pioneers would often perform within the many films, making their film debut in Norman Taurog's Rhythm on the Range (1936) (Bing Crosby's only Western!).
One of the most successful of all the singing cowboys was William 'Hopalong Cassidy' Boyd (who appeared in almost seventy films between 1935 and 1952) - he went on to a starring role in a long-running TV series. Hopalong ("Hoppy") Cassidy was always dressed in black (unlike most B-western heroes).
Gene Autry's Successor: Roy Rogers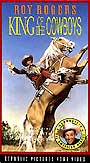 Roy Rogers, previously a member of the Sons of the Pioneers (when he was named Leonard Slye) became a movie-star in the late 30s for Republic Pictures after appearing in many bit roles. He made his starring film debut in the Republic Studios' B-western Under Western Stars (1938). Singing cowboy Roy's song in the film, Dust, was nominated as Best Original Song (written by Johnny Marvin), but the Academy Award went to Thanks for the Memory in the film The Big Broadcast of 1938). Rogers succeeded Gene Autry as 'The King of the Cowboys' during the 1940s (and was often seen with his horse Trigger, sidekick Gabby Hayes, and future wife Dale Evans), performing in King of the Cowboys (1943) and in director William Witney's Home in Oklahoma (1947), one of his best films. By the late 40s and early 50s, Autry, Rogers, and Boyd had all moved to the new entertainment medium - television.
1930s Westerns Talkies and Their Stars:
In 1930s and 40s westerns, many well-known acting stars got their start, and added another round of clean-cut, idolized Hollywood heroes to the mix. The frontier heroes usually represented the ideal masculine role model, never smoking, lying, drinking, swearing, having sex, or gambling. Gary Cooper starred in an early talkie - Paramount's first sound western by director Victor Fleming titled The Virginian (1929), known for its famous western phrase: "When you call me that, smile." John Wayne gained his acting experience during the 1930s in dozens of B westerns. "John Wayne" (born as Marion Robert and later given the nickname "Duke" after the family dog, and the full name of Marion Michael Morrison) was first discovered by director John Ford when he appeared as an extra in the silent war drama Four Sons (1928).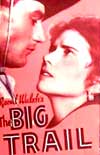 Ford recommended Wayne to Raoul Walsh, who cast the twenty-two year-old actor in his first starring role as a wagon train scout in the first sound-era epic western about an 1840s Missouri-to-Oregon wagon trail journey - The Big Trail (1930), but it was not a breakthrough film for Wayne (that wouldn't occur until his role in Ford's Stagecoach (1939) - see below). The $2 million production was filmed in both 35mm and in an early, revolutionary wide-screen 70 mm process called Grandeur, but proved to be a financial disaster at the box-office. It was a remake of the classic silent western The Covered Wagon (1923) mentioned earlier.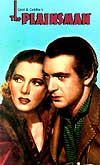 Other stars in westerns were Wallace Beery who memorably portrayed a Mexican revolutionary in Viva Villa! (1934), Barbara Stanwyck (in her first-ever western) as the famous markswoman in George Stevens' fictionalized Annie Oakley (1935) - the director's first western, and Randolph Scott in an early large-scale version of the French and Indian War (during America's colonial period) in the film adaptation of James Fenimore Cooper's The Last of the Mohicans (1936). Producer/director Cecil B. De Mille's stylish but historically imaginative The Plainsman (1937) starred Gary Cooper and Jean Arthur as Wild Bill Hickok and Calamity Jane respectively, attracting a wider audience. The film impressively recreated the Battle of the Little Big Horn, shot on location in Montana with thousands of Native-Americans as extras. Two years later, DeMille filmed a spectacular version of the building of the transcontinental railroad, Union Pacific (1939).
Republic's 'Three Mesquiteers' Series: 1936-1943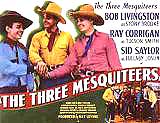 After obtaining the rights in 1936, Republic Studios delivered a series of Westerns adapted from William Colt MacDonald's "Three Mesquiteers" novels (specifically Law of the 45's (1935)), about a trio of wandering Western heroes. The successful series eventually lasted eight years and included 51 films. The original trio consisted of Tucson Smith (Ray 'Crash' Corrigan), Stony Brooke (Bob Livingston, later replaced for awhile by Ralph Byrd), and comic sidekick Lullaby Joslin (Sid Saylor, replaced by Max Terhune in the second film). Future western star John Wayne portrayed Stony Brooke in eight Mesquiteer features in 1938-1939. Some of the films' titles, most of which were 1-hour two-reelers, were:
The Three Mesquiteers (1936) - the first in the series
The Three Mesquiteers: Hit the Saddle (1937)
The Three Mesquiteers: Heroes of the Saddle (1940)
The Three Mesquiteers: Trail Blazers (1940)
Riders of the Rio Grande (1943) - the last in the series
A Classic Western: Stagecoach (1939)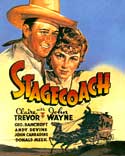 At the end of the 1930s, director John Ford's landmark classic Stagecoach (1939) about a stagecoach journey across Apache country marked a turning point. He had created a new kind of western film with standard B-picture action, epic scope, and the film had an intelligent emphasis on character and mood. This great mythic film transformed the western into A-film status. It was also Ford's first sound western. It was his first western since his silent western Three Bad Men (1926), since Ford had avoided the genre for over a decade. The film was written by Dudley Nichols, from the story The Stage to Lordsburg by Ernest Haycox.
With B-western stalwart John Wayne as Ringo Kid, a vengeful but noble gunslinger, Ford helped to make him a full-fledged charismatic, western star. John Wayne was the only truly iconic western figure to emerge from the simplistic western plots of the era. [Wayne also appeared in another historical western adventure in the same year called Allegheny Uprising (1939), and in a few Mesquiteer films (see above).]
Stagecoach had a formative and regenerative influence on all future westerns, raising the stature of 30's B-Westerns for years to come by concentrating on the film's characters. It was skillfully composed of traditional action/chase sequences, the introduction of the beautiful, sweeping expanses of Monument Valley, and polarized, intelligent dialogue among clashing characters and personalities (a Grand Hotel-like assemblage including a sheriff and cowardly driver, with their passengers: a drunken doctor (a Best Supporting Actor Oscar-winning role for Thomas Mitchell), a whiskey drummer, an unscrupulous bank executive, a prostitute with a heart of gold, a pregnant, Eastern-bred lady and a genteel gambler). Its-crisply edited Indian chase sequence across salt flats was thrillingly-made, and it had a decisive quote to end it: "Saved from the blessings of civilization". It was the first of seven films he made in the famed western Monument Valley.
Westerns in the Early 1940s: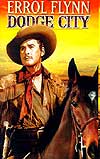 The 1940s and 50s were to soon become the heyday of the classic film western - and director John Ford was considered the major craftsman of the western genre during the sound era. However, there were others that also contributed to the genre's success. King Vidor's great historical-adventure saga of colonial America, Northwest Passage (1940) starred Spencer Tracy as the leader of Roger's Rangers, battling Indians for territory - an anti-Native American picture. The first Western shot in color in Monument Valley was David Miller's Billy the Kid (1941).
Swashbuckler star Errol Flynn starred in three Michael Curtiz-directed, big-scale adventure westerns of the late 30s and early 40s for Warner Bros., displaying his athleticism and romantic appeal as a post-Civil War Texas cattleman in Dodge City (1939) with one of the best bar-room brawls ever filmed, and as an ex-Union officer in Virginia City (1940). In his third western, Flynn starred as cavalry officer Jeb Stuart chasing abolitionist John Brown (Raymond Massey) in Santa Fe Trail (1940) (with Ronald Reagan as General George A. Custer), and then he portrayed the flamboyant General Custer in an historically inaccurate biography from director Raoul Walsh, the romanticized They Died With Their Boots On (1941). In three of these four western films, his romantic interest was played by Olivia de Havilland. Flynn's last on-screen teaming with De Havilland (of their eight films together) was in their 1941 film.