On Her Majesty's Secret Service (1969)
d. Peter Hunt, 140 minutes
Opening Credits, Title Sequence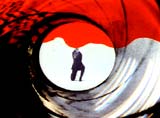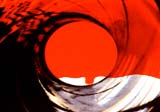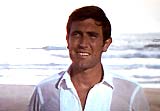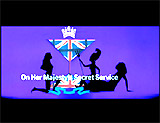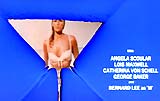 In the gun-barrel sequence, Lazenby (as Bond) was the only one to kneel when he fired. His image also disappeared as the blood washed over the barrel, leaving a red circle - the sole instance. At the end of the pre-title credits sequence, Bond joked to the camera: "This never happened to the other fellow." This was the first film since Dr. No (1962) featuring an instrumental track during the main title sequence. During the title credits, stills from previous Bond films were seen.
Gun-barrel Sequence: Designed by Maurice Binder
Main Title Sequence: Designed by Maurice Binder
Title Song: "On Her Majesty's Secret Service" (instrumental, John Barry)
Film Plot Summary
The pre-title credits sequence opened at Universal Exports (London), where "M" (Bernard Lee) was having difficulty locating Bond (George Lazenby). He was in Portugal, driving along the coast in his 1969 Aston Martin DBS (with telescopic rifle built into glove compartment), when passed by a speeding car (red Ford-Mercury Cougar convertible) driven by a beautiful woman. Shortly later, he came upon the same woman who had hurriedly parked her car. With the telescopic sight from the rifle, he spied on the woman on the beach, who was attempting to commit suicide in the ocean. As she walked fully dressed into the water after removing her shoes, he raced to her side and saved her from drowning. After carrying her back to the sand and reviving her, he introduced himself: "Good morning. My name's Bond, James Bond." But then the two were confronted by two men - at gun-point. Bond was ordered to lie down in a fishing boat, while the woman was dragged away at knife-point. To defend himself, Bond threw a grappling hook at the man and they engaged in a vicious fight both on the beach and in the water. The second man released the woman and joined in the fight against Bond. While Bond incapacitated them, the woman ran away, raced off in Bond's car to the road above the beach, and then transferred to her own car. Bond was left holding her discarded shoes as he joked with the audience (breaking the "fourth wall") when he said to the camera, smirking: "This never happened to the other fellow." To establish continuity with the previous Connery-Bond films, scenes from several previous installments were seen during the title sequence.
When Bond arrived at his hotel across the border in the South of France, he realized that the suicidal woman's red Ford Cougar was parked outside, and she was also a guest there. The hotel manager identified its owner as Contessa Teresa Di Vicenzo (Diana Rigg). When she appeared with a revealing low-cut dress at Bond's gambling table at the hotel's casino, and then lost a bet, he offered to pay her gambling debt. He followed her to the bar, where she asked: "Why do you persist in rescuing me, Mr. Bond?" He learned that she liked to be called Tracy. She threw her room key at him, and invited him to come later. When he entered her suite, he was assailed by a powerful black man whom he knocked out. When Bond returned to his own room, Tracy was there wearing his short hotel robe and lingerie underneath, holding his own gun on him and proposing: "Suppose I were to kill you for a thrill." He replied: "I can think of something more sociable to do." But then he knocked the gun away and ordered her to get dressed. Lying on his balcony's lounge-bed, she countered that she was there for "a business transaction" - to repay her debt of 20,000 Francs to him - she kissed Bond (# 1 tryst). After spending the night with Bond, he was awakened the next morning and discovered she had left (and checked out). In his bedside drawer, Bond's gun had been replaced by two 10,000 Franc gambling chips, he had been "paid in full."
On his way out of the hotel for a game of golf, Bond was confronted by the two men he had fought on the beach, and the black assailant. He was kidnapped and driven away to a demolition dock-yard for an appointment. After fighting off the three men, he entered the plush office of the head of Draco Construction (located in Portugal), Marc Ange Draco (Gabriele Ferzetti) - a European Mafia-like crime syndicate king-pin (of Corsican descent) of Union Corse. He identified himself as the father of wayward daughter Teresa, his only child whom he raised alone from age 12 after his wife died. While unsupervised and finishing her education in Switzerland, she joined the "fast international set, one scandal after another." His spoiled daughter had married an Italian Count who killed himself in a Maserati with one of his mistresses. Draco knew of Bond's dealings with his rambunctious daughter and was grateful to Bond for saving Tracy's life. He wanted Bond to further help her (Bond replied: "She needs a psychiatrist, not me"). Bond was offered $1 million pounds in gold (as a "personal dowry") if he would marry her to provide her fragile and troubled life with stability. Bond declined, arguing that he didn't need the money, and that a wife would be a liability for someone in his profession. Their conversation drifted to Draco's competition, SPECTRE villain Ernst Stavro Blofeld (Telly Savalas). Draco temptingly noted that he wouldn't tell "Her Majesty's Secret Service" the whereabouts of Blofeld, but he might tell his future son-in-law. Bond agreed to attend the next weeks' birthday celebration for Draco - an event Tracy was guaranteed to attend (Bond: "Let's say I'll sleep on the idea"), where Bond could become better acquainted.
Bond returned to London, England for a briefing with "M" - where he was told that he had been released from "Operation Bedlam" - the code name for the search for Blofeld. "M" was frustrated that Bond's two-year search for the criminal was not going well. In anger, Bond promptly threatened to resign with a dictated note to "M's" secretary Miss Moneypenny (Lois Maxwell), and as he packed up his office, he was reminded of previous missions - Honey Ryder's knife from Dr. No (1962), and Red Grant's garrotte-wrist-watch from From Russia With Love (1963). Miss Moneypenny acted as a go-between to resolve differences between Bond and his superior, and Bond's "request" was granted. Moneypenny had resolved the crisis by altering Bond's request, changing it to "two weeks leave," during which time Bond would still have the opportunity to pursue Blofeld. As he left the office, he kissed the surprised secretary on the lips.
Acting haughty and headstrong, Tracy was reacquainted with Bond at her father's birthday party at his ranch in Portugal, but she was suspicious of her father's "business arrangement" or deal with Bond - the swap of information for being with her. She demanded that Draco tell Bond what he wanted to know ("Tell him, Papa, or you'll never see me again"). Bond learned from Draco that Blofeld was linked to a Swiss lawyer named Gumbold (James Bree) with offices in Bern. Tracy then ran off, feeling used, but Bond pursued her and wiped away her tears, calling her a friend and a lover. In a montage of scenes, Tracy and Bond became romantically involved, to the tune of Louis Armstrong's "We Have All the Time in the World."
Bond traveled to Bern, Switzerland where he broke into Gumbold's high-rise law office during lunchtime. With assistance from a crane at the Draco Construction Company nearby, he had MI6 agent Campbell (Bernard Horsfall) hoist up to him a full-sized photocopier and a small safecracker device to break into the office's safe. While patiently waiting, Bond looked at the centerfold in a copy of the February 1969 Playboy Magazine (and later left with the issue). He photocopied correspondence, including a letter from genealogy expert Sir Hilary Bray of the Royal College of Arms in London. [Through Gumbold, client Blofeld had hired Bray to trace his family tree. Blofeld was attempting to be granted the right to the hereditary title of Count Balthazar de Bleuchamp.] Bond then returned to England and visited Quarterdeck, the home of "M," where his superior was engaged in his favorite hobby, lepidoptery (study of moths and butterflies). Bond requested and was given authorization to recommence his investigation of Blofeld, by impersonating Sir Hilary Bray. He had already contacted the College of Arms and received their consent for the deception, assured that it was a matter of "national importance." Bond would travel to Blofeld's massive mountain-top headquarters in the Swiss Alps, Piz Gloria, to verify the villain's claim to the title.
He was met at the Murren train station by Blofeld's personal secretary Irma Bunt (Ilse Steppat), and transported by a horse-drawn sleigh and then a helicopter to Blofeld's private hideaway. The bald Blofeld (identified at first by a Persian cat in his lap), referred to as "The Count" by Bunt, appeared to be the director of the non-profit allergy clinic, treating allergies, hayfever and reactions to oysters, among other things, with vaccines. At 7 pm dinner in the Alpine Room, Bond (wearing a Scottish kilt) was met by Bunt, and introduced to a bevy of about a dozen beautiful clinic "patients" from around the world. During dinner, one of the women, Ruby Bartlett (Angela Scoular) secretly wrote her room number (8) in lipstick on Bond's bare thigh under the table, after which he told Irma about his temporary discomfort: "Just a slight stiffness coming on - in the shoulder due to the altitude, no doubt." Bond was dismissed from the meal to see the Count, who described how he was undoubtedly of Bleuchamp ancestry, born without earlobes, although Bond (as Bray) insisted on further research and confirmation. Bond tried to convince Blofeld to leave his fortress and visit Augsburg (Germany) Cathedral where the Bleuchamp ancestral tombs were located (although Bond's error about the location of the tombs, actually located at St. Anna Kirche, eventually betrayed him).
That evening, Bond escaped his room's door with an improvised tool and visited Room # 8, Ruby's room, where he found her naked in bed, and soon seduced her (# 2 tryst). After love-making, as she was explaining her allergy to chickens, he witnessed her hypnotic cure - a kaleidoscopic set of pulsating lights above her bed accompanied by the soothing recorded voice of Blofeld telling her to love chickens. Upon his return to his room, Bond found a second patient, Nancy (Catherine Von Schell), who had escaped her room with a finger-nail file. As she collapsed in his arms on his bed, she said: "I'll tell you all about myself later, in the morning." (# 3 tryst).
The next day, MI6 agent Campbell shadowed Bond by impersonating a climber and attempting to gain access to Blofeld's institute, but he was captured on the rock cliff and charged with trespassing. That evening at 8 pm for his scheduled second nocturnal seduction of Ruby, the lascivious Bond found Irma Bunt hiding in Ruby's bed. He was knocked out by Blofeld's henchman Grunther (Yuri Borienko), and exposed as the libidinous 007 before Blofeld. The megalomaniac then described his plan for biochemical (or bacteriological) terror - he was going to ransom-blackmail the entire world through the United Nations, by threatening to distribute a deadly "Omega Virus" that would cause "total infertility" for all flora and fauna - the world's food supply. To dispense the killer virus around the world, he admitted training (or brain-washing/hypnotizing) his own "Angels of Death" - his female allergy patients, for that task. Blofeld claimed that his extortionist ransom would not be for millions of dollars. As Bond was led to a prison cell (the gear-works for the cable-car gondola), Blofeld exhibited Campbell's body hanging by his heels (# 1 death).
Blofeld's cured patients, Angels of Death, were gathered together to receive their going-away Yuletide gifts. Meanwhile, Bond escaped via the cable, snuck back into Piz Gloria, and overheard Blofeld delivering instructions to his girls, via hypnosis, about their gifts. Their main present was a make-up case: with a perfume atomizer containing the Virus Omega, and a hidden radio receiver with antenna installed in the compact mirror. As the girls were taken off the mountain via cable-car gondola, Bond knocked out one guard, stole some skis, and fled down the mountain - avoiding machine-gun fire. Guards in pursuit chased downhill after him, as he made his way into a small town of Murren in the valley. Two henchmen fell to their deaths from a steep precipice (# 2-3 deaths, # 1-2 Bond kills). In the village, Bond joined crowds celebrating the Grand Ice Carnival in order to be inconspicuous, but he found himself trapped by Bunt and her henchmen. Suddenly Tracy (who had followed him with a "new interest in life") pleasantly appeared in front of him on skates and helped him to escape by car in her red Cougar, leading to an exciting car chase from Murren. They soon merged onto the snowy race track of a stock-car race. After the demolition derby on the track, Bunt's car overturned and exploded, although everyone survived. Bond and Tracy continued on, encountered a blinding snowstorm, and sought refuge for the night in a barn. As they kissed and spoke intimately to each other, Bond considered finding another profession and confessed his love for Tracy - and then proposed marriage ("I know I'll never find another girl like you...Will you marry me?"). He called her "Mrs. James Bond" while kissing her, but then announced that they wouldn't make love: "The proper time for this is our wedding night, and that's my New Years' resolution." But then he collapsed her bed above him, so that she fell into his arms: "It's not New Year yet." (# 4 tryst).
The next morning, they skied downhill, away from Blofeld and his men who had traced them to the barn. One of Blofeld's men was chewed up in a snow-blowing grooming machine (# 4 death). Blofeld caused a man-made avalanche, which engulfed and killed three of Blofeld's own men (# 5-7 deaths), and Tracy was also partially buried. She was dug out of the snow and taken prisoner, while Bond escaped. Back in London, "M" informed Bond that Blofeld's two modest demands were going to be met: (1) a full pardon of his past criminal activity, and (2) legal recognition of his title as Count. Bond insisted on destroying Blofeld's Piz Gloria Institute and Blofeld himself (and his virus), but it was considered too risky ("Operation Bedlam is dead"). To rescue Tracy himself, Bond organized a dawn military raid ("a demolition deal") upon Piz Gloria with Draco's help via a fleet of helicopters (disguised as a "mercy" medical flight). Meanwhile, inside Blofeld's headquarters, Tracy fended off Blofeld's romantic advances, and courageously fought off Grunther with a champagne bottle. She killed him by thrusting his back into a set of ornamental spikes hanging on a wall (# 8 death). Many of Blofeld's men were killed during the assault (unknown number of deaths). Bond machine-gunned one of Blofeld's henchmen (# 9 death, # 3 Bond kill), then headed for the laboratory and killed a technician who hurled acid at him (# 10 death, # 4 Bond kill). Draco's men threw hand-grenades and set explosive charges throughout Piz Gloria, set to detonate in only a few minutes. In Blofeld's office, Bond took photographs (with a pocket-sized camera) of the Angels of Death and their worldwide locations. Resistant about leaving without Bond, Tracy was knocked out by her father and dragged to the safety of a departing helicopter.
The last two left inside the institute, Blofeld and Bond were forced to leap from the building as Piz Gloria blew up. Bond pursued Blofeld downhill on a racing bobsled, but Bond was blown off his bobsled by a thrown hand-grenade. They engaged in a brutal hand-to-hand fight when Bond jumped onto the back of Blofeld's bobsled - and the SPECTRE chief was severely injured when he became snared and entangled in the low-bough of a tree, breaking his neck in the V-shaped branch (Bond: "He's branched off").
Afterwards, Bond and Tracy were reunited and married at her father's ranch in Portugal. In the shocking and tearjerking ending of this film, the British Secret Service 007 agent senselessly lost his newly-wed wife Tracy Bond - the only Bond girl to every marry Bond - only moments after their Portugal wedding. As they left for their honeymoon in his flower-adorned Aston Martin DBS car, Tracy mentioned wanting a large family ("three girls, three boys"). He assured her: "But darling, now we have all the time in the world." When Bond parked the car on the side of the mountain road to remove some flowers to give her, she mentioned that the best wedding present she had already received was "a future." He kissed her with a flower between her lips. Suddenly without warning, MP-40 submachine gun fire from a passing silver Mercedes 600 sedan strafed their car in a drive-by shooting. Blofeld (with a neck brace) was driving the vehicle in the attempt on Bond's life -- his henchwoman Irma Bunt had fired the shots from the back seat of the sedan. Bond ducked and avoided being hit. He shouted twice: "It's Blofeld" as he jumped into his car, realizing then that Tracy had been hit in the forehead by a bullet through the windshield and was instantly killed (# 11 death). He cradled her in his arms, and at first denied her death to a police officer on a motorcycle: "It's alright. It's quite alright, really. She's having a rest. We'll be going on soon. There's no hurry, you see. We have all the time in the world." Bond's mournful words were underscored by another rendition of Louis Armstrong's beautiful and ironic rendition of "We Have All the Time in the World."
Film Notables (Awards, Facts, etc.)
The sixth film in the series. With a very long running time (2 hours, 20 minutes), the longest Bond film to date, bested by Casino Royale (2006) at 2 hours, 24 minutes.
The first (and last) film with Australian-born actor George Lazenby as Agent 007, the youngest (at age 29) of the actors to portray Bond at the time of filming. This was the only film in which Bond married one of his romantic conquests - although his bride was murdered in a drive-by shooting shortly afterwards on her wedding day by Blofeld's assistant Irma Bunt (Ilse Steppat).
This film marked the directorial debut of long-time Bond editor Peter Hunt. It was his sole Bond film.
This was the second of the so-called "Blofeld Trilogy" of films, beginning with You Only Live Twice (1967) (with Donald Pleasence as the villain), and Diamonds Are Forever (1971) (with Charles Gray as the villain).
With a production budget of $7 million, and gross revenue of $22 million (domestic) and $87 million (worldwide). The film performed weakly compared to the previous Bond films, but was still a box-office hit.
This Bond film was entirely set in Europe, and filmed there.
This film was one of the closest adaptations to the Ian Fleming novel, with a screenplay adapted by Richard Maibaum, and less emphasis on gadgetry, vehicles, and hardware.
Set-pieces: the pre-credits sequence on a Portugal beach, the multi-stage chases (ski and car) - especially the one onto a snowy stock-car race track, the avalanche, and the concluding fleet of helicopters' attack on Piz Gloria.
Bond Villains: Ernst Stavro Blofeld or "The Count" (Telly Savalas), Irma Bunt (Ilse Steppat), Grunther (Yuri Borienko)
Bond Girls: Countess Teresa ("Tracy") Di Vicenzo (Diana Rigg), Ruby Bartlett (Angela Scoular), Nancy (Catherine Von Schell)
Number of Love-Making Encounters: 4
Film Locales: London, England, coastline of Portugal, The South of France, Switzerland: Bern, the Swiss Alps (mountaintop Piz Gloria), Murren (train station and village near Interlaken) and surrounding areas
Gadgets: radioactive lint tracking device in plastic container, Aston-Martin glove compartment telescopic rifle, dagger thrown by Bond at Draco's calendar page, small safecracker device attached to full-sized photocopier, improvised door escape tool, Angel of Death make-up case: with a perfume atomizer containing the deadly Virus Omega, and a hidden radio receiver with antenna installed in the compact mirror, pocket-sized Minox B spy camera, and Tracy's wedding ring
Vehicles: 1969 dark-green Aston Martin DBS (with telescopic rifle built into glove compartment), Tracy's red Ford-Mercury Cougar (convertible), Draco's Rolls-Royce, Murren train, horse-drawn sleigh, Blofeld's Bell 206 JetRanger helicopter, a cable car gondola, stock cars in the stock car rally, two bobsleds, Blofeld's silver Mercedes-Benz 600 sedan
Number of Deaths (Bond Kills): 11 (4)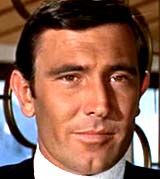 James Bond:
(George Lazenby)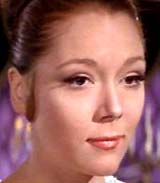 Bond Girl:
Contessa Teresa ("Tracy")
Di Vicenzo
(Diana Rigg)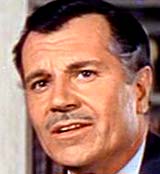 Bond Ally:
Marc Ange Draco
(Gabriele Ferzetti)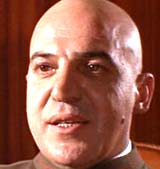 Bond Villain:
Ernst Stavro Blofeld
(Telly Savalas)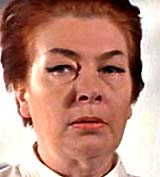 Bond Villain: Irma Bunt
(Ilse Steppat)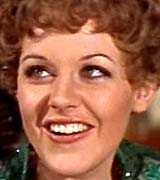 Bond Girl: Ruby Bartlett
(Angela Scoular)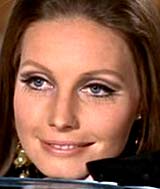 Bond Girl: Nancy
(Catherine Von Schell)