Quantum of Solace, 007 (2008)
(aka Bond 22)
d. Marc Forster, 106 minutes
Opening Credits, Title Sequence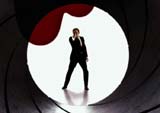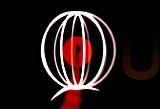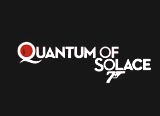 A color action sequence opened the film, a follow-up from the previous film's plot, before the title credits. There was no traditional gun-barrel sequence at the start, but it did appear redesigned at the end of the film before the closing end credits. In this closing gun-barrel sequence, Bond shot, was covered in blood, and then walked away (the first instance). The blood-drenched circular gun-barrel became the filled-in Q of the film's closing title.
Main Title Sequence: Designed by MK12 (graphic design company)
Gun-barrel Sequence: Designed by MK12 (graphic design company)
Title Song: "Another Way to Die" (sung by Jack White and Alicia Keys)
Film Plot Summary
This complex sequel continued the story of the previous film - Bond (Daniel Craig) was motivated throughout the film to seek revenge for the betrayal that led to Vesper Lynd's (Eva Green) death. During a high-speed car chase, presumably by villainous dealmaker Mr. White's (Jesper Christensen) bodyguards driving in two black Alfa Romeos, Bond was pursued in his gray high-speed Aston Martin DBS on a curvy and narrow mountainous road (with tunnels) near Siena, Italy.
Along the shore of Lake Garda, he eluded villains in the two vehicles behind him firing machine-guns. Bond swerved back into his lane to avoid an oncoming dump truck. One of their pursuing cars crashed head-first into a dump truck (# 1-2 deaths, # 1-2 Bond kills). He executed a 360 degree turn, and avoided collisions as he passed vehicles and trucks, and ended up hurtling through a twisting, hair-pin dirt road within a marble rock quarry. An Italian police van, which had joined in the chase, crashed and flipped off the side of the road when shot at by a gunman in the Alfa Romeo, barely missing Bond's vehicle further below as it rolled by (# 3-4 deaths). As the two remaining vehicles jockeyed for position and attempted to side-swipe each other, Bond swerved to avoid a front-loader, grabbed his gun and began shooting, and sent the second Alfa Romeo off the cliff (# 5-6 deaths, # 3-4 Bond kills).
Bond drove to an MI6 safe house in Siena, Italy, where he removed abducted and wounded Mr. White bound up in his trunk. After Bond ordered: "It's time to get out," the credits played. White was to be interrogated about the QUANTUM terrorist organization (a modern-day SPECTRE) behind Le Chiffre. Bond's superior, M (Judi Dench) was accompanied by her agent (of 8 years) and 5-year personal bodyguard Craig Mitchell (Glenn Foster), who went out to check the perimeter. [During this time, Mitchell killed another MI6 guard guarding the door in the garage, off-screen. (# 7 death) ] M informed Bond that the body of Vesper's former French Algerian boyfriend Yusef Kabira had supposedly washed up on a beach in Ibiza - but his face was unrecognizable. A DNA check of one of Kabira's hairs revealed: "It's not him." She told Bond, "I need to know that I can trust you."
During the questioning of White about the people he worked for (White: "You really don't know anything about us...The truth is, you don't even know we exist...The first thing you should know about us is that we have people everywhere"), Mitchell (as a double-agent) pulled a surprising double-cross and shot one of the MI6 agents (# 8 death) in the room, wildly shot again and wounded White, and escaped during the chaos. In a frantic chase scene, Bond pursued Mitchell through underground cisterns, and then into the midst of the Palio di Siena horse race occurring in town. Mitchell shot at Bond, missing and wounding a female spectator. The foot chase continued across red-tiled rooftops and balcony terraces (Bond jumped atop a bus in order to scramble to the adjacent building), and then into the belltower of an under-construction cathedral. The two fought and fell backwards into the cathedral's glass ceiling, and dangled from swinging ropes and scaffolding. They both strained to reach their guns, but Bond was first - and Mitchell was shot dead (# 9 death, # 5 Bond kill). When Bond returned to the interrogation site, White was missing.
In London, England, Bond met with M at Mitchell's apartment, where she expressed anger that Bond had killed Mitchell instead of taking him alive for questioning. At the high-tech MI6 headquarters (with touch-screens and computer viewscreens), tagged bills in Mitchell's possession (from Le Chiffre's money-laundering operation), part of one of his illegal payoffs, were traced to his Haitian contact, a geologist named Mr. Edmund Slate (Neil Jackson). The bills had just been deposited into Slate's bank account. Bond traveled to Port Au Prince, Haiti, and took a taxi to the dilapidated Hotel Dessalines where Slate was staying in Room # 325. After picking the door's lock and entering, Bond was surprise-attacked by a knife-wielding Slate. Stabbed in the neck and leg, Slate died (# 10 death, # 6 Bond kill). At the front desk where Bond impersonated Slate, he was given a metal briefcase that had been delivered earlier. As he walked outside, pretty Camille Montes (Olga Kurylenko) drove by in a metallic gold Ford Ka, and ordered Bond: "Get in."
She was there to pick up geologist Slate, and was not expecting someone like Bond. She evaded pursuit by an unidentified black man on a motorbike through the busy streets, and then asked Bond: "We didn't settle on a price." She asked if her ruthless boss Dominic Greene (Mathieu Amalric) gave him any trouble. In the briefcase were documents and a gun, revealing that Camille was being double-crossed and targeted for elimination. After grabbing the gun and firing it at Bond - and missing, Bond jumped from the car as she sped off. The black man arrived, insisting: "You were supposed to shoot her." Bond knocked the man out and stole his motorbike, and then trailed Camille to the docks at Kings Quay. [M's Chief of Staff Bill Tanner (Rory Kinnear) in London tracked Bond's progress by GPS on a portable computer, relaying the information to M. Bond told Tanner to deliver a message to M: "Slate was a dead end."]
Camille marched up to Dominic, her ruthless lover, and confronted him about the plot to kill her. She claimed she was only trying to help him: "I was trying to uncover a leak." Calming her down, he took her to dockside and showed her the drowned corpse of another geologist (unidentified) (# 11 death), who had claimed before his death that Camille had asked "to buy information." Camille explained that the dead man was actually betraying Dominic, and had offered to sell her information. He didn't believe her and suspected: "I always got the feeling that you were only sleeping with me to get to General Medrano." [In fact, Bolivian-Russian agent Camille was seeking vengeance against deposed Bolivian dictator General Medrano (Joaquin Cosio), Greene's associate. She later described how Medrano had killed her father when she was younger, and forced her to watch as her mother and sister were raped and then strangled. Medrano then set their house on fire, causing burn-marks on her back.] Bond watched from afar as the film's main protagonists plotted together on the dock. He saw Dominic speak to Camille, and then General Medrano arrived by speedboat from his yacht. [Meanwhile, Bond used his cellphone, a Sony Eriksson device with GPS tracking, to locate and identify the caller (at Greene Planet). Moments earlier, he had presented his Universal Exports business card to one of Greene's associates - the man then immediately dialed Bond's number.]
Greene discussed how his goal was to cause a regime change in the Bolivian government by paying off the right officials and creating a coup d'etat and take-over (in a covert alliance with exiled Medrano). In exchange, Greene wished to acquire a barren piece of worthless Bolivian desert land (not for oil or for building a pipeline, but for water - the film's major reveal!). Medrano recalled how he had viciously murdered Bolivian military leader Ernesto Montes and his beautiful Russian wife/dancer, the parents of Camille when she was younger. To "sweeten the deal" with Medrano, Greene 'gave' ex-employee/lover Camille to the General after they were introduced, and she was seized and brought onboard Medrano's speedboat (Greene: "Be careful what you wish for, my dear") - to be sexually assaulted and then murdered and dumped overboard.
At the start of an exciting, thrilling boat chase in the Port au Prince harbor, Bond jumped his motorbike onto other vessels and eventually stole an open motor-powered boat that he rammed into Medrano's speedboat. After the collision, he snatched a reluctant Camille (he unknowingly interrupted her from her own plan to seek revenge against Medrano), took off, and then rammed and crashed into the many motor-powered poontoon boats in pursuit, filled with Medrano's men firing machine-guns. He eventually outwitted and evaded the attackers, and found safety at another port, where he deposited an unconscious Camille into the arms of a dockhand ("She's seasick"). Bond stole a maroon-colored Ford Bronco II, and as he drove, he contacted MI6 headquarters in London, asking for information on Dominic Greene. The plot was further explained with the debriefing. Dominic Greene was a wealthy, environmentally-friendly CEO of an ecological reforestation organization (a utility company) called Greene Planet, whose "Tierra Project" was buying up pipelines. He was supposedly doing philanthropic work by "buying up large tracts of land for ecological preserves." During a high-priority call, M contacted the CIA and was told by devious CIA agent Gregg Beam (David Harbour) that they had no interest in Mr. Greene, although M believed they were tracking him from South America nonetheless.
Bond followed Greene to an airport, where he learned Greene's destination in a private Ocean Sky jet by identifying the flight plan from the plane's call letters - to Bregenz, Austria. Greene flew in the jet with CIA operative Beam and CIA agent Felix Leiter (Jeffrey Wright), Bond's ally from the previous film. [A private jet charter was arranged for Bond to pursue them.] During the flight, Beam cut a deal with shifty Greene for the oil resources the eco-entrepreneur villain was expected to unearth in Bolivia, in exchange for doing nothing to stop the coup in Bolivia. Greene mentioned he had a "pest" that was interfering, identified by Beam as James Bond, British Secret Service. At their destination in Europe, Beam coerced Leiter to promise to "get rid of" Bond and be part of the "team" - as an extension of the deal with Greene.
At a black-tie 3-act operatic performance of Tosca in Austria where Bond had infiltrated, he noticed how one suspicious-looking patron (Christian Heller) was given a gift bag. He followed the man to a W/C restroom, killed him (# 12 death, # 7 Bond kill), and stole his earpiece so he could listen in to Greene's plotting with fellow co-conspirators in the SPECTRE-like Quantum organization that were scattered about in the audience, including Mr. White. Bond interrupted the conversation and compromised their plans: "I really think you people should find a better place to meet." He snapped pictures with his cellphone and transmitted them to Tanner at MI6 - to identify the members (with a facial recognition program) who immediately had left their seats. During the tense scene, Bond was confronted by Greene and his henchmen and fired back (# 13-16 deaths, # 8-11 Bond kills, inconclusive?). Bond shot and then pushed one of the suspected henchmen from the roof onto the hood of Greene's car as he fled. The wounded and stunned man, not recognized by Greene, was ordered to be shot dead by one of Greene's bodyguards (# 17 death). The man was identified as the Special Branch bodyguard of Quantum member Guy Haines (Paul Ritter), special envoy to the British Prime Minister.
An angered M revoked Bond's travel passport to restrict his movements, canceled his credit cards and ordered him back to London. When he realized that his credit was revoked, Bond threw off leads by faking a trip to Cairo. Instead, Bond sought refuge and met in Talamone, Italy on the Mediterranean coast with old friend/ally Renee Mathis (Giancarlo Giannini). [Note: The retired Mathis had been cleared of suspected treason after the end of the previous film, Casino Royale (2006), and was given an Italian villa as compensation, where he lived with Italian wife Gemma (Lucrezia Lante della Rovere).] Mathis was convinced to provide Bond with a passport and matching credit cards, and to accompany Bond to La Paz, Bolivia, to continue trailing Greene.
Bond was met at the La Paz, Bolivia airport by tall, red-haired MI6 Agent Miss (Strawberry) Fields (Gemma Arterton), wearing boots and a drab tan raincoat - she was an office employee of the British consulate there. She informed him that she had been ordered by the highest authorities to turn him around onto the next plane flight to London. When she said the next flight was the following morning, he replied: "Well then, we have all night." He refused to stay at the cheap hotel, the Boliviar, that she had arranged (she claimed it fit her cover as a teacher on sabbatical) and ordered their taxi to take them to the fancy Andean Grand Hotel. He registered them at the front desk, speaking Spanish and claiming they had just won the lottery. To lure her to his bedroom, he claimed he couldn't locate the stationary. She scoffed at him. Mathis and Bond received an invitation to attend Greene Planet's Eco-Park charity fund-raiser and cocktail party that evening, although Mathis would first have a drink with an old friend, a Bolivian Colonel. While Bond was in bed with Miss Fields, she mentioned her anger at being deceived: "Do you know how angry I am at myself?" Bond kissed her naked back as he replied: "I can't imagine. You must be furious." She claimed she couldn't attend the party: "But I have nothing to wear." Bond tossed her back on the bed, and quipped: "We'll fix that," before they made love. (# 1 tryst)
Bond and Miss Fields arrived in a Range Rover Sport at the Eco-Party fund-raiser, where Greene sought investors for his project and delivered an impassioned speech to the crowd from a balcony. He explained his Tierra Project, described as "one small part of a global network of Eco-Parks that Greene Planet has created to rejuvenate a world on the verge of collapse." After the speech, Mathis introduced Carlos, the local Police Chief Colonel (Fernando Guillen Cuervo) to Miss Fields and Bond. Camille also attended the party and confronted Greene by criticizing his hypocritical statements in front of his potential contributors. She bargained with Greene: "Tell me where Medrano is and maybe you won't lose any more investors." As he was about to push her from the balcony and make it look like an accident, Bond appeared and saved her. Greene snidely remarked: "She won't go to bed with you unless you give her something she really wants. It's a shame because she's really quite stunning once you get her on her back." She snapped back: "I wish I could say the feeling was mutual." Bond pulled her away and insisted she show him Dominic Greene's Tierra Project.
As they drove away, they were followed by two Bolivian police motorcyclists and stopped. After asking to search the Range Rover's trunk, Bond opened it to discover Mathis' wounded body. The two officers attempted to arrest Bond and opened fire, and the abducted Mathis was lethally wounded. One of the two officers was shot, and the second was knocked unconscious and also shot (# 18-19 deaths, # 12-13 Bond kills). As he died in Bond's arms, Mathis pleaded with Bond to forgive Vesper, and to forgive himself. (# 20 death). Bond left the body in a dumpster. Reports afterwards claimed that Bond killed Mathis and the two police officers during a routine stop.
Bond drove Camille into the desert to an airstrip, where Bond left the Range Rover as collateral in exchange for a DC-3 plane, to fly over the worthless land intending to be obtained by Greene. Camille admitted she was in the Bolivian Secret Service, and had infiltrated Greene's organization by having sex with him. Suddenly, their plane was shot at by a jet fighter and Bell helicopter, and they lost one of their engines. Bond steered his plane close to the fighter, causing it to crash into the mountains (# 21 death, # 14 Bond kill). As they lost altitude and were about to crash, they safely escaped by parachuting together with only one parachute, and landed in a subterranean sinkhole cave. They both realized that they were using Greene to get to somebody else -- seeking revenge for deaths that took their loved ones. After emerging from the sinkhole, they discovered Greene's plan to dam up the country's water supply for electrical power. Greene had secretly been diverting underground water sources, giving Quantum and himself control of over 60% of Bolivia's drinking water, that he would sell through his Tierra Project utilities company back to the populace at a huge profit, double the normal rate (Bond: "Greene isn't after the oil. He wants the water...It's one dam. He's creating a drought. He'll have built others").
Bond and Camille walked to a poor village (the locals were struggling with a water shortage) where they took a local bus back to La Paz. At the Andean Grand Hotel, Bond was handed a message from Miss Fields, written earlier that morning. It was a warning note: "RUN." A confrontative M, already facing pressure from higher-ups in the British government, accused her agent of "running wild," "motivated by revenge," and "blinded by inconsolable rage." Innocent office clerk Miss Fields had been drowned in crude oil by Greene and her blackened body was stretched out over Bond's hotel bed for display. (# 22 death) M told a shocked Bond: "You might like to tell her your theory about there being no oil. Her lungs are full of it" - but Bond knew otherwise. He claimed it was Greene's attempt at "misdirection" - the villain's main objective in the film was water, not oil. [The death of Miss Fields paid homage to the iconic and memorable death scene in the earlier Bond film Goldfinger (1964) of villain Goldfinger's escort Jill Masterson (Shirley Eaton) painted entirely with gold paint and lying on a bed - dead due to skin suffocation.] Bond was "removed from duty and suspended" although he defied M, escaped from custody (he knocked out three agents holding him), and continued his pursuit of Greene on his own, although there was a "capture or kill order" on him.
Outside the hotel, Camille again picked up Bond, driving a beat-up VW Beetle. He met CIA agent Felix Leiter at a local bar and learned that Greene was going to be supplying money to Medrano (to pay off the Army and Police Chief) as the final step in the country's take-over. This would occur at the luxury hotel La Perla de las Dunas in the Bolivian desert. After evading American special forces sent to kill him at the bar, Bond traveled to the eco-hotel in Bolivia with Camille in a hydrogen-powered Ford (hidden from view). Medrano and other Bolivian officials were paid off in Euros in exchange for the large plot of desert land. Greene demanded that Medrano also use Tierra as the country's utility provider at exorbitant rates, double the normal rate. He coerced the balking Medrano into signing with the monopolized utility provider, after threatening: "If you decide not to sign, you will wake up with your balls in your mouth and your willing replacement standing over you."
In the hotel's parking area, Bond shot and killed the corrupt Bolivian Police Chief for betraying Mathis (# 23 death, # 15 Bond kill, number of other deaths inconclusive, although probaby two more # 24-25 deaths, # 16-17 Bond kills), as the depraved Medrano returned to his room and viciously raped the hotel's receptionist (Oona Chaplin). Camille sought after Medrano, killing two of the General's guards (# 26-27 deaths) outside of the room before entering. Fiery explosions were set off in the hotel from exploding hydrogen fuel cells (killing Greene's bodyguard Elvis (Anatole Taubman) (# 28 death)), as Camille fought against Medrano in hand-to-hand combat (at the same time as Bond was facing the maniacal Greene wielding an axe in one of the corridors). Camille grabbed a sharp piece of glass and sliced across Medrano's legs, then stabbed him in the back, grabbed him in the crotch, kicked him backwards, and shot him dead (# 29 death). She taunted in Spanish: "This time you will burn" -- remembering Bond's earlier advice: "You only need one shot. Make it count." Afterwards, she was rescued from the inferno by Bond when he shot a hydrogen fuel cell and blasted an escape hole for them in the hotel's wall. Bond captured a fleeing Greene, forced him to answer all of his questions about Quantum, and drove him to the middle of the desert, where Bond left him to die there with one can of motor oil ("Goodbye, Mr. Greene").
Bond kissed Camille as she left from a local train station and departed from him - she told him: "I wish I could set you free. But your prison is in there" - lovingly touching his head and face.
In the film's short conclusion set in Kazan, Russia, Bond (using Greene's information) confronted Vesper's former French Algerian boyfriend Yusef Kabira (Simon Kassianides) and resolved "unfinished business" with him regarding how he had lured Vesper to her death in Venice by pretending to be abducted in Morocco. He was presently going to be using the same ploy (of being kidnapped and ransomed in exchange for her knowledge, and the gift of a necklace) with his newest lover/associate Canadian security intelligence (CSIS) agent Corrine Veneau (Stana Katic). She was to be lured into Quantum's schemes to acquire sensitive information from her. Corrine was excused from the room, after which Yusef begged: "Please, make it quick."
But Bond surprisingly turned Yusef over alive to M's custody and subsequent questioning. At the site, M told Bond that Greene was found dead in the Bolivian desert with two bullets in the back of his skull (# 30 death) - presumably killed by Quantum - and with motor oil in his stomach. Bond disavowed any knowledge. Felix Leiter was promoted and replaced Beam in the CIA. She also said as he walked away: "Bond, I need you back" to which he replied: "I never left" as he dropped Vesper's necklace into the snow.
Film Notables (Awards, Facts, etc.)
The 22nd film in the series. It was a direct sequel to Casino Royale (2006), and the second film with Daniel Craig as Bond.
To date, this was the shortest James Bond movie, at 106 minutes, in the EON Productions Official Series.
The film was criticized as being a step backward, imitating the successful franchise of Bourne films with numerous hyperkinetic, quick-cutting action sequences.
This film marked the first time the lair or hide-out of the Bond villain was set in a desert (filmed in Chile's Atacama Desert).
This Bond movie paid homage to Goldfinger (1964) and the death of Jill Masterson, with the sight of the body of crude-oil-coated Strawberry Fields (Gemma Arterton) on a bed.
With a production budget of $200 million, and gross revenue of $168.3 million (domestic) and $586 million (worldwide).
In this Bond film, the two traditional lines of dialogue: "Bond, James Bond" and "Vodka Martini, shaken, not stirred" were not heard.
Set-pieces: the opening car chase on Italian road along shore of Lake Garda ending at a marble quarry, the interrogation scene of Mr. White, Bond's fight to the death with Mitchell through underground cisterns, across red-tiled rooftops in Siena, and into the glass ceiling of a cathedral - in the midst of the Palio di Siena horse race in town, the boat chase through the busy harbor of Port au Prince, Haiti, the Tosca operatic performance scene and shoot-out in Austria, the escape from a bullet-ridden DC-3 plane, the concluding fiery fight in the luxury eco-hotel, Perla de Las Dunas, in the Bolivian desert.
Bond Villains: Mr. White (Jesper Christensen), Craig Mitchell (Glenn Foster), Mr. Edmund Slate (Neil Jackson), Dominic Greene (Mathieu Amalric), General Medrano (Joaquin Cosio), Elvis (Anatole Taubman)
Bond Girls: Camille Montes Rivero (Olga Kurylenko), Miss (Strawberry) Fields (Gemma Arterton)
Number of Love-Making Encounters: 1
Film Locales: Siena, Italy, London, England, Port au Prince, Haiti, Bregenz, Austria, Talamone (Tuscany), Italy, La Paz, Bolivia and Bolivian desert, Kazan, Russia (Republic of Tartarstan)
Gadgets: there was no gadgets-master Q in this film, nor any major gadgets to speak of, except for Bond's Sony Ericsson cellphone with GPS tracking ability, and with a camera-transmitter to a facial-recognition program. MI6's high-tech offices in London contained vast numbers of computer monitors, touch-screens, and view-screens. MI6 agents also could track Bond's whereabouts with a portable Sony VAIO computer GPS device.
Vehicles: Alfa Romeos, Bond's Aston Martin DBS V12, Camille's metallic gold Ford Ka, motorbike, Sunseeker powerboats and motor-yachts, maroon Ford Bronco II, Greene's private Ocean Sky executive jet, Range Rover Sport, Douglas DC3 plane, Aermacchi SF 260 jet fighter and a Bell UH-1 Iroquois helicopter, VW beetle, hydrogen-powered Ford
Number of Deaths (Bond Kills): 30 (17)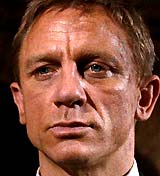 James Bond:
(Daniel Craig)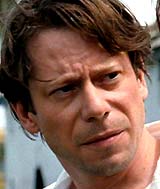 Bond Villain:
Dominic Greene
(Mathieu Amalric)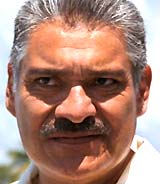 Bond Villain:
General Medrano
(Joaquin Cosio)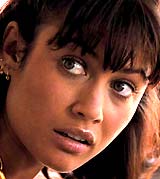 Bond Girl:
Camille Montes
(Olga Kurylenko)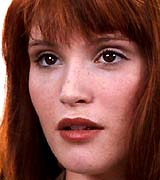 Bond Girl:
Miss
(Strawberry) Fields
(Gemma Arterton)