The Spy Who Loved Me (1977)
d. Lewis Gilbert, 125 minutes
Opening Credits, Title Sequence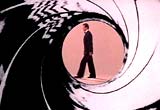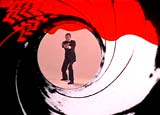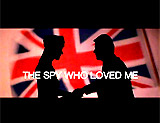 This film debuted a more modern version of the gun-barrel sequence. It was shot against a colored background, and Bond (Moore) was in a closer view. This film marked the first Bond in the gun-barrel wearing a tuxedo.
Gun-barrel Sequence: Designed by Maurice Binder
Main Title Sequence: Designed by Maurice Binder
Title Song: "Nobody Does It Better" (sung by Carly Simon)
For only the second time in the series, John Barry did not provide the music score. Marvin Hamlisch composed the Oscar-nominated score.
Film Plot Summary
In the pre-title credits sequence, a British Royal Navy nuclear submarine (HMS Ranger) with 16 Polaris missiles aboard, captained by Commander Talbot (Bryan Marshall) in the North Norwegian Sea, and a Soviet nuclear missile submarine (Potemkin) mysteriously vanished without a trace (and with no distress signals) - both were swallowed up. Russian and British Secret Service agents were assigned to investigate the case.
The Soviet's "best" KGB Agent - "Triple XXX," a pretty female named Anya Amasova (Barbara Bach), was on weekend leave with lover/fellow agent Sergei Borzov (Michael Billington) - making love to him at the People's Rest & Recuperation Center somewhere in the Soviet Union. She was summoned to report to headquarters by her transmitter-beeper, disguised as a music box playing Lara's Theme.
Through Miss Moneypenny (Lois Maxwell), "M" (Bernard Lee) also notified British agent 007 Bond (Roger Moore), on a mission in Austria, to "pull out, immediately." He was making love in a cabin in the snowy Alps to a white fur-draped, blonde female known as Log Cabin Girl (Sue Vanner) in front of a roaring fire. His Seiko watch (with ticker-tape message device) sent a message: "007 to report HQ. Immediate. M" (Bond: "Sorry darling, something came up." Girl: "But James, I need you." Bond: "So does England!"). The KGB death squad double agent betrayed Bond when she radioed her four colleagues on a ski slope to tip them off after he departed. Bond attempted to evade the Russian gunmen on skis in a frenetic downhill chase sequence (reprising a similar chase sequence in On Her Majesty's Secret Service). His converted ski-pole gun-rifle killed one of the assailants, leader Borzov (#1 death, # 1 Bond kill). Bond was saved when he skied off a steep cliff edge and went free-falling after releasing his skis - until a Union Flag parachute opened above him.
When Agent Amasova appeared before Russian KGB General Anatol Gogol (Water Gotell), he told her that there was a single lead to follow in Cairo, Egypt. She was offered condolences about the tragic death of fellow agent/lover Borzov on his mission in Austria involving the British Secret Service. Commander Bond took a Royal Navy helicopter to the Faslane Submarine Base in Scotland for a briefing with "Q" (Desmond Llewelyn), the British Minister of Defence Frederick Gray (Geoffrey Keen), Admiral Hargreaves (Robert Brown) and other naval officers regarding the disappearance of the HMS Ranger. They viewed the tracing of a submarine's top secret route, suggesting that the Russians could track (by heat signature recognition) British submarines underwater and sink them.
A third party (other than Allied and Soviet intelligence agencies) had developed a way to locate a submerged nuclear submarine by its wake - this posed a serious threat to Western defense strategy. That somebody was offering to sell the highly-classified microfilmed plans of the tracking system on the black market to the highest bidder. A diplomatic bag in Cairo contained proof (tracings of sub patrol paths) that the plans were genuine. Bond was instructed to leave that evening to meet his contact in Egypt (later revealed to be rival Amasova).
One of the three entities that wanted the plans to the system, besides the British Secret Service and the Soviets, made an appearance in the next scene. A madman villain named Karl Stromberg (Curt Jurgens) (possessing a webbed hand and a preference for fish food) was also a capitalist shipping magnate billionaire who maintained an underwater marine research laboratory at "Atlantis," off the coast of Sardinia. In the reclusive megalomaniac's base headquarters, he congratulated two scientists, Dr. Bechmann (Cyril Shaps) and Professor Markovitz (Milo Sperber) on developing the submarine tracking system. He promised that they would be paid $10 million each into their Swiss bank accounts. But then he mentioned a "dangerous development" -- someone was trying to sell copies of the plans to competing world powers. With the push of a button from a control panel, he sent his traitorous female assistant (Marilyn Galsworthy) (after she was dismissed and had entered an elevator) plunging down a trap-door into a shark tank where she was devoured (# 2 death).
After his marine laboratory rose up out of the water on four giant legs, Stromberg called upon his two strong henchmen: hulking, bald-headed henchman Sandor (Milton Reid), and a super-strong, metal-toothed, mute seven-foot giant named Jaws (Richard Kiel) to recover the microfilmed plans of the tracking system - and to eliminate anyone who had come into contact with them. As the helicopter carrying the two scientists lifted off from the launch pad of "Atlantis," Stromberg pushed another button and ruthlessly blew it up (# 3-4 deaths) - and then ordered: "Cancel transfer of $20 million. Inform next of kin that a tragic accident has resulted in the death of Professor Markovitz and Dr. Bechmann. The funeral was at sea."
James Bond traveled to Cairo, Egypt on camelback across the desert, detouring via a Bedouin encampment, where he entered a large tent and saw four Arab Beauties (in skimpy attire) lounging at the feet of Sheikh Hosein (Edward De Souza), a Cambridge-educated Arab and 007's old friend. Bond sought information about the whereabouts of the tracking system, and was told about contacting club owner Max Kalba (who represented the mysterious seller) through wheeler-dealer middleman Aziz Fekkesh (Nadim Sawalha). Bond's hospitable host easily persuaded him to spend the night, with one of the harem girls, before continuing onto Cairo (Bond: "When one is in Egypt, one should delve deeply into its treasures!") (# 1 tryst).
The next morning, Bond was met in Fekkesh's apartment by a beautiful woman named Felicca (Olga Bisera), who was there to entertain him while waiting for the detained Fekkesh. Bond was offered anything he wanted and he quipped: "I had lunch but I seem to have missed dessert." As she distracted him with a passionate kiss, but before she could provide information about the submarine tracking system, she was accidentally shot in the back by Sandor and killed (# 5 death) when she cried out: "No" and turned, warning and shielding Bond from the bullet. Bond gave chase and struggled with the hitman on the roof, dangled him off the edge as he held onto Bond's tie, forced him to divulge the location of Fekkesh at the Pyramids, and then pushed him off to his death (# 6 death).
That evening, Bond ventured to the Pyramid Light Show at Giza, where he saw Fekkesh seated amongst tourists in the audience negotiating with Anya Amasova next to him. Fekkesh appeared nervous (after catching a glimpse of Jaws lurking in the shadows), and he left his seat. He panicked and ran (pursued by both Bond and Jaws), as 007 watched in amazement as the metal-toothed Jaws bit through a thick chain-lock on a gate to a tomb, and then murdered Fekkesh inside (# 7 death) with a crushing blow and neck-bite. Bond confronted Jaws at gunpoint, but the giant fled in the darkness. He searched Fekkesh's pockets and found an appointment book about an upcoming meeting with Kalba at the Mujaba Club on Wednesday evening. Amasova appeared as Bond left the tomb and asked about Fekkesh - Bond replied: "With the pharaohs." A pair of strong-arm KGB thugs (Ivan and Boris) accompanying Amasova jumped Bond, but he easily knocked them unconscious and then wished her goodnight: "Hope you enjoyed the show." Bond decided to meet Max Kalba at his Egyptian night-club at the appointed time.
That evening at the Mujaba Club, Bond again met buxom Major Amasova (wearing a low-cut, navy-blue evening gown), knowing her identity as Triple XXX. She likewise impressed him - she knew Bond's favorite drink when ordering: "Vodka martini, shaken not stirred." She also knew his background, including that he was a British Secret Service agent "licensed to kill" and had "many lady friends, but married only once. Wife killed..." Both Bond and Anya approached Kalba to make a bid for the microfilm plans, and he instigated a bidding war (Kalba: "It seems you have competition, Mr. Bond. And from where I sit, I fancy you will find the lady's figure hard to match!"). When Kalba was lured away for an urgent phone call, he was killed in a telephone booth by Jaws (# 8 death) administering another lethal neck-bite, while posing as a telephone repairman - the microfilm plans were stolen. Bond found the limp corpse, placed an "OUT OF ORDER" sign on it, and then jumped from an open window to the street. He (and Amasova) both lept into the back of Jaws' fleeing gray telephone service van (Bond: "We've really got to stop meeting like this"). He told her about Kalba's fateful phone call: "He was cut off, permanently." [They were unaware that Jaws was listening to their conversation from the driver's seat.]
They were driven into the desert as dawn arrived, and arrived inside the ruins of a remote ancient temple. After the two agents stalked after Jaws and momentarily lost sight of him, Bond was surprise-attacked. Holding a gun on Jaws, Anya forced the henchman to throw her the microfilm. When she knelt down to pick it up in the sand, Jaws kicked the gun from her hand. A stray swing at Bond brought down an entire masonry scaffolding upon Jaws (Bond: "Egyptian builders"). Anya raced to the van with the microfilm, but couldn't drive away - Bond had taken the keys. Together, they escaped, but Jaws miraculously reappeared and systematically pulled the van to pieces - he peeled the top off, and part of the side panel, and then punched a hole in its side. The giant was rammed into the wall of the ruins when she reversed the van, but the determined henchman survived. The two agents became stranded in the desert when the wrecked van overheated. To the tune of the Lawrence of Arabia overture theme song, they were forced to walk. They came upon the Nile and requested a ride on an Arab dhow to return to Cairo, as the sun was setting. On the way, Bond examined the microfilm, and took pictures of its contents with a hand-held microfilm viewer-reader/camera. As they lounged on the deck and talked about survival strategies, Bond agreed with her when she suggested: "When necessary, shared bodily warmth." After passionately kissing and asking if Bond was taking advantage of her, Anya gassed Bond with a fake cigarette containing knock-out or sleep-inducing gas, and escaped with the microfilm. When Bond awoke, Anya had disappeared from the docked dhow.
Bond descended into another set of ruins, where a long corridor led to MI6's secret base - inside were Miss Moneypenny, Russian General Gogol, "M" and Major Amasova! "M" informed Bond that there had been a change in plans - the Anglo-Soviet governments had decided to cooperate and pool their resources to find out what had happened to their submarines. As an indication of good faith, the Russians turned over the microfilm, but Bond deflated their conciliatory gesture by stating that the vital information had been deleted from the photographed plans. In an underground Egyptian workshop, "Q" demonstrated more impractical gadgets for Bond's use (i.e., a decapitating tea tray: "I want that ready for Akmed's tea party," a spring-mounted seat cushion, a hookah-machine gun, a wet cement sprayer, and a camel saddle that concealed a large spike). "Q" then delivered a presentation on the microfilm, during which Anya noticed a fish symbol of the Stromberg Fishing Line, run by Karl Stromberg - "one of the principle capitalist exploiters of the West." The two agents were dispatched by train to Stromberg's marine laboratory near Sardinia. On their way, the two shared adjoining bedrooms in a sleeper cabin - and Bond invited her to his area for "company" and a champagne nightcap, but she graciously declined. He helped defend her against a brutal attack by Jaws, who was hiding in her closet. To defeat the giant, he electrocuted Jaws (through his teeth) with the exposed filaments from a broken lamp and crashed him through their train window with a strong kick. A slightly-wounded Bond reminded her about "shared bodily warmth" and for saving her life, she rewarded him with intimacy, affectionately suggesting: "Why don't you lie down and let me look at it?" (# 2 tryst)
In Sardinia, the couple were met by "Q" driving Bond's new white Lotus Esprit S1-Turbo hatchback sportscar off a ferry. Bond drove to their luxury resort hotel, booking themselves in a room ("over-efficient" Miss Moneypenny had reserved two bedrooms in a suite for them) as Mr. and Mrs. Sterling, a marine biologist and his assistant/wife. A message awaited them from Stromberg (they had been "granted an audience"), and they were picked up in a powerboat at the quay by his stunning, bikini-wearing assistant Naomi (Caroline Munro) (Bond: "What a handsome craft! Such lovely lines"). While Bond met with Stromberg (who would not shake hands) in his control room surrounded by fish tanks, Naomi showed Bond's "wife" around the facility. The villain revealed himself as a reclusive underwater dweller who preferred "the world beneath the sea." Bond was tested on his knowledge of one of the fish - a deadly, venomous spine fish. Stromberg mentioned his "only hope for the future of mankind" - an underwater city, soon to be a reality. His super-tanker, The Liparus, was first launched nine months earlier (Bond noted something strange about the bows of the ship when he was shown a miniature model).
After Bond left his presence, Stromberg's henchman Jaws entered to confirm and identify the couple as the two agents on the train. He was then ordered to let them get ashore - and then kill them. As the two agents drove along a mountain road, they were followed by a motorcyclist driving a black-yellow striped Kawasaki Motorcycle with a detachable Side-car. The rocket-powered pod with high explosives was fired at them, and with Bond's evasive and skillful driving, he was able to cut in front of a truck carrying feather mattresses. The explosive side-car struck the back of the truck, showering the road with thousands of feathers, plunging the motorcyclist off the cliff-side to his death (# 9 death, # 2 Bond kill) (Bond: "All those feathers and he still can't fly"). Another car carrying henchmen (including an armed Jaws) joined the pursuit from a side road. Bond deployed cannons hidden behind the license plate to spray wet cement onto their windshield, causing the car to crash off the road. It sailed head-first into the roof of a cottage, where Jaws emerged from the hut, dusting himself off. Stromberg's Jet Ranger Bell Helicopter, piloted by Naomi, fired powerful front-mounted machine-guns at their vehicle in the next phase of the dramatic chase. Eventually, she forced the Lotus Esprit into the ocean when he drove off a pier, and as Naomi smirked with delight, she was unaware that Bond had activated a surface-to-air missile from his now-amphibious vehicle (with radar-guided surface-to-air missiles) navigating underwater. The helicopter was blown out of the sky (# 10 death, # 3 Bond kill).
As they investigated "Atlantis" in their submersible vehicle, they saw a gigantic map of the world through one of its portholes, when they were again attacked by two propelled, underwater scuba-divers armed with harpoons. Bond retaliated with a front-mounted underwater rocket, killing one diver, and then deliberately collided with another (# 11-12 deaths, # 4-5 Bond kills). More divers in an armed underwater two-seater, sharkhunting mini-submarine (with missiles) emerged, although Bond reacted by deploying a smoke screen (of black oil), and then sent them to the bottom of the ocean after deploying a limpet mine (# 13-14 deaths, # 6-7 Bond kills). Their craft developed a few leaks, and they were forced to beach the car. As they drove on the sand through a crowd of holiday beach-going onlookers, Bond rolled down his window and threw out a fish. Back at their hotel room, the two agents discussed the super-tanker The Liparus, which hadn't put into port since its launch nine months earlier. Anya also learned that Bond was responsible for the death of her lover at Berngarten in Austria three weeks earlier: "It was either him or me," Bond claimed. She vowed revenge: "Then, when this mission is over, I will kill you."
The two were lowered from a Royal Navy helicopter onto the USS Wayne nuclear submarine to meet with Captain Carter (Shane Rimmer), who immediately offered Major Amasova the use of his personal shower for bathing. As the vessel readied to send a boarding party onto the gigantic cargo ship The Liparus, a power failure occurred and the sub was forced to surface. It was tracked - and then it was swallowed up through the front of the supertanker's huge, opening bow doors. The Wayne was docked inside the massive tanker between the two other hijacked nuclear subs -- the HMS Ranger and the Soviet's Potemkin. Stromberg oversaw the docking, and threatened the captured crew with only two choices: surrender in two minutes or extermination by cyanide gas. As the crew evacuated their sub, they watched as nuclear missiles were loaded aboard the three hijacked submarines.
When they resisted their captors and were identified by video monitors, prisoners Bond and Anya were taken before Stromberg. He launched his plan to fire missiles from each of their stolen subs and destroy the superpowers' cities of New York and Moscow by nuclear annihilation. "Global destruction will follow" with the precipitation of a global and nuclear WWIII, and a "new era" would commence afterwards - Stromberg vowed: "I intend to change the face of history...by creating a world. A new and beautiful world beneath the sea." He justified mass murder, arguing that he was only accelerating the process of decadence and decay that he already saw in the world. He called the two renegade subs "instruments of Armaggedon." Bond was to be imprisoned with the rest of the naval personnel, while Anya was personally taken away by Stromberg to "Atlantis" via his hovercar (a monorail type vehicle) - it was jettisoned through a large porthole in the outer hull of The Liparus, then shed its outer shell and became a high-powered speedboat.
As Bond was taken away, he assaulted his two guards - killing both of them with one shot from a harpoon gun (# 15-16 deaths, # 8-9 Bond kills). He then evaded machine-gun fire, hijacked a mono-rail car, and entered the brig where the other crew members were held. He shot and killed the two guards there (# 17-18 deaths, # 10-11 Bond kills), released the British, Soviet and American crews, and ordered them to the armory to seize firearms and grenades. A large gun-battle ensured in the interior of The Liparus (number of deaths unknown). At Atlantis, Stromberg was assured that the rebellious break-out of the crew had been contained, and everything was proceeding according to plan. Bond constructed a bomb from a detonator taken from a nuclear missile, combined with plastic explosives and a 20-second timer. He then hitched a ride atop one of the CC-TV camera globes and attached the detonator to the armor-plated blast doors of the sealed operations control room, in order to gain entry. Once inside after a massive blast (number of deaths unknown), Bond was told by the dying Liparus Captain (Sydney Tafler) that he was too late - the subs were already in position and ready to fire their missiles in only a few minutes. Bond reprogrammed and altered the coordinate tracking paths of the missiles so that they targeted and destroyed each other.
As The Liparus suffered internal explosions and was beginning to sink, British, Soviet, and American crews escaped in the last remaining American submarine (the USS Wayne) by blasting through the massive bow doors with a torpedo. Refusing to let Amasova die at "Atlantis" when the Pentagon ordered its destruction, Bond was given one hour to rescue her. He rode to Stromberg's "Atlantis" headquarters on "Q's" newest vehicular-gadget: a jetski (or wetbike), where he confronted the madman in his stateroom. The 007 agent avoided being hit by an explosive harpoon (shot from under the dining table) (Bond: "You've shot your bolt, Stromberg. Now, it's my turn"), and shot Stromberg dead with four bullets (#19 death, # 12 Bond kill). Bond faced Jaws one more time - in the chamber holding the shark tank, Bond used a strong electro-magnet to pick up his opponent by his teeth ("How does that grab you?") and drop him into a large shark pool - but the giant was able to bite into the predator and kill it - and then swim away to safety. Bond and Amasova escaped in Stromberg's jettisoned escape pod as the "Atlantis" base was hit with a torpedo shot from the Navy's sub USS Wayne, and began to flood and sink.
After their successful mission was completed, Bond saw a bottle of champagne in the pod and quipped: "Maybe I misjudged Stromberg. Any man who drinks Dom Perignon '52 can't be all bad." Anya threatened to shoot Bond dead: "The mission is over, Commander." Bond asked, as a condemned man, for "a final request" -- "Let's get out of these wet things." She decided to forgive Bond and romance him instead of killing him - she embraced and kissed him. Naked and cuddling in bed together under silk sheets, Anya asked: "What would our superiors say?" He was confident: "They're never gonna know." He was wrong - their escape pod was brought inside the rescue vessel, the Royal Navy's HMS Fearless, as Bond was engaged in love-making (# 3 tryst). They were viewed through the pod's glass porthole. Bond explained what he was doing to the outraged Minister of Defence Sir Frederick Gray (Geoffrey Keen): "Keeping the British end up, Sir" - and then lowered the privacy curtain.
Film Notables (Awards, Facts, etc.)
The 10th film in the series, and the third film with Roger Moore as James Bond (and arguably his best performance).
The first film in the Bond series to have an entirely original screenplay - author Ian Fleming had only given permission to use the title from his 10th Bond novel published in 1962. It was also the first film without the pairing of producers Albert Broccoli and Harry Saltzman - it was solely produced this time by Broccoli.
This was the first Bond movie filmed in Dolby Surround Stereo.
The end credits promised: "James Bond Will Return In: For Your Eyes Only," but the next film was the out-of-order Moonraker (1979), a space-themed secret agent film (to compete with the popularity of Star Wars (1977)).
The Bond film with the most Oscar nominations to date: nominated for three Academy Awards (with no wins): Best Art Direction-Set Decoration, Best Score, and Best Song (Carly Simon's "Nobody Does It Better"). The theme song was the first, since Dr. No (1962), that was not titled after the movie.
This was the most extravagant Bond epic yet produced. It also introduced two new memorable components, the amphibious Lotus Esprit (with accessories-gadgets), and the villainous razor-toothed assassin Jaws.
With a production budget of $14 million, and gross revenue of $47 million (domestic) and $185 million (worldwide). This was more than twice the domestic gross of the film's predecessor The Man With the Golden Gun (1974).
Set-pieces: the spectacular stunt in the pre-title credits sequence - Bond's downhill ski chase and jump off a cliff with a Union Jack parachute, the rooftop fight in Cairo between Bond and Sandor, the showdown in ancient Egyptian ruins between Jaws, Bond and Amasova, the motorcycle-car-helicopter mountain road chase in Sardinia that led to an underwater fight when Bond's highly-armed Lotus Esprit turned amphibious as a car-submarine, and the battle inside the gigantic supertanker The Liparus in the conclusion.
Bond Villains: Sergi Borzov (Michael Billington), Karl Stromberg (Curt Jurgens), Jaws (Richard Kiel), Sandor (Milton Reid), Aziz Fekkesh (Nadim Sawalha) and Max Kalba (Vernon Dobtcheff), Naomi (Caroline Munro), Liparus Captain (Sydney Tafler)
Bond Girls: Major Anya Amasova (Barbara Bach), Log Cabin Girl (Sue Vanner), Felicca (Olga Bisera)
Number of Love-Making Encounters: 3
Film Locales: North Norwegian Sea, London, England, Moscow, Russia, People's Rest & Recuperation Center in Soviet Union, Berngarten in the Austrian Alps (the cliff-skiing parachute jump in the pre-title credits sequence), Faslane Naval Base, Scotland, Stromberg's underwater base - "Atlantis" (positioned somewhere off Sardinia, Italy), Egypt (Cairo, the Pyramids at Giza, various ancient ruins, on the Nile), Sardinia, Italy
Gadgets: KGB transmitter-beeper - disguised as music box radio (playing Lara's Theme from Doctor Zhivago (1965)), Seiko watch (with ticker-tape message device), Ski-Pole Gun-Rifle, hand-held microfilm viewer-reader/camera (disguised as a cigarette case and lighter), Anya's fake cigarettes (with knock-out or sleep-inducing gas), Gadgets in Q's workshop (a decapitating tea tray with a razor brim, a spring-mounted seat cushion, a hookah-machine gun, a paint sprayer, and a camel saddle that concealed a large spike), explosive harpoon-gun
Vehicles: nuclear submarines (HMS Ranger, USS Wayne, and Soviet Potemkin), Jaws' gray Sherpa Van (Telephone Service), supertanker The Liparus, a new "Bondmobile" - the white Lotus Esprit S1-Turbo hatchback sportscar (known as "Wet Nellie" - a submersible with fins, back-mounted underwater propellers, navigational periscope. Weapons: radar-guided surface-to-air missiles, front-mounted underwater rockets, underwater smoke screen (of black oil), and limpet mine (depth charges) dispenser. For land use: cannons hidden behind the license plate to spray wet cement), Stromberg's black-yellow striped Kawasaki Motorcycle with detachable Side-car (a rocket-powered pod with high explosives), Stromberg's black-yellow striped Jet Ranger Bell Helicopter (with front-mounted machine guns), Stromberg's two-seater Sharkhunter Mini-Submarine (with missiles), Stromberg's Hovercar (mag-lev monorail train inside The Liparus) and converted Speedboat, Hydrofoil Water Motorcycle (Jet Ski) or Wetbike, Stromberg's Escape Pod
Number of Deaths (Bond Kills): 19 (12)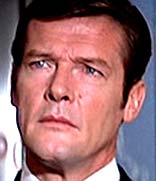 James Bond:
(Roger Moore)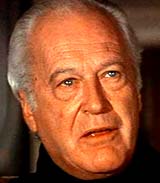 Bond Villain: Karl Stromberg
(Curt Jurgens)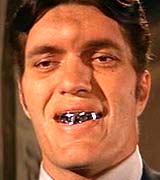 Bond Villain: Jaws
(Richard Kiel)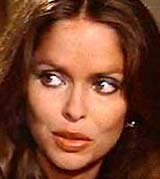 Bond Girl: Major Anya Amasova/Agent Triple X
(Barbara Bach)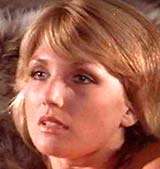 Bond Girl/Villain:
Log Cabin Girl
(Sue Vanner)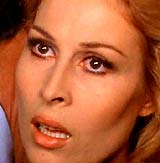 Bond Girl: Felicca
(Olga Bisera)