John Belushi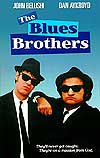 Another member of NBC's SNL cast (originally a member of the Second City comedy troupe in Chicago) was John Belushi. Often considered the most famous and popular of the group, he was best noted for two films both directed by John Landis: National Lampoon's Animal House (1978), a classic college frat-based comedy of 'misfit slobs vs. elite snobs'; and The Blues Brothers (1980) in which he acted as vocalist Jake Blues opposite Dan Aykroyd as harpist Elwood Blues (characters derived from skits and appearances on SNL). In between those films, he also starred in Steven Spielberg's strange action comedy 1941 (1979), a satirical disaster film that bombed. On March 5, 1982, Belushi died in Hollywood of an accidental drug overdose, ironically repeated in 1997 by Chris Farley, another overweight SNL cast member who idolized Belushi. [Farley also went on to films from SNL, and starred with fellow former cast member David Spade in slapstick low-brow comedies such as Tommy Boy (1995) and Black Sheep (1996).]
In the early 80s, John's younger brother Jim built a comedic career of his own by appearing in bit and supporting roles in various films and on SNL. By the mid-to-late 80s, Jim had established himself in comedies, serious dramatic roles (e.g., Salvador (1986) and Red Heat (1988)), and comedic dramas (e.g., About Last Night... (1986)). Later, he would appear in the comedic ABC-TV family sitcom, According to Jim.
Steve Martin
Steve Martin (from The Smothers Brothers variety show, and from Saturday Night Live as a guest host and one of the 'Wild and Crazy Guys') often collaborated with director Carl Reiner (from 1979-1984), and appeared in other varied films including:
director Carl Reiner's farcical The Jerk (1979) - Martin's debut film
Dead Men Don't Wear Plaid (1982) about a detective facing suspicious characters-stars from old film noir clips
The Man With Two Brains (1983), a mad scientist spoof
All of Me (1984), about a lawyer with two genders battling each other
Little Shop of Horrors (1986), with Martin as leather-jacketed, Elvis-like sadistic dentist Orin Scrivello DDS
John Landis' Three Amigos! (1986), with the threesome of Martin, Martin Short and Chevy Chase as silent film movie-star cowboys
Roxanne (1987), an updating of Edmond Rostand's play about large-nosed suitor Cyrano de Bergerac, played by Martin as C.D. Bates, smitten by Roxanne (Daryl Hannah)
John Hughes' Planes, Trains and Automobiles (1987) including Martin's hilarious, disastrous cross-country trip as a tired businessman trying to get home accompanied by boorish companion John Candy
Frank Oz' Dirty Rotten Scoundrels (1988), a remake of Bedtime Story (1964) starring David Niven and Marlon Brando, co-starred Michael Caine and Martin as international con artists on the Riviera
director Ron Howard's drama/comedy about Parenthood (1989)
My Blue Heaven (1990) (with a script by Nora Ephron), with Martin as an Italian mobster in a witness protection program, living in a small town in California
Father of the Bride (1991), a remake of the Spencer Tracy/Elizabeth Taylor classic by director Vincente Minnelli - Father of the Bride (1950); a sequel followed in 1995
L. A. Story (1991), an insightful tale of life in La-La Land
Bowfinger (1999), with screenwriter Martin as the title character, a wanna-be film director, and Eddie Murphy as his action star
Bringing Down the House (2003), a farce about a newly-divorced attorney and single father who helped escaped convict Charlene (Queen Latifah)
Chevy Chase
Chevy Chase, another slapstick performer on SNL in the mid-70s noted for his numerous pratfalls (and he pioneered the "Weekend Update" segment), starred in many of the National Lampoon Vacation films (see above) as bumbling Clark Griswold, as well as in the comedy classics: Caddyshack (1980), and as the arrogant title character Irwin M. Fletcher - an undercover newspaper reporter in Fletch (1985) (sequeled as Fletch Lives (1989)). One of his earliest films was the offensive, anti-establishment sketch comedy film The Groove Tube (1972) composed of a series of satirical skits. He also co-starred with other funnymen Steve Martin and Martin Short in John Landis' comedy farce Three Amigos (1986).
Bill Murray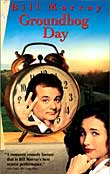 Both a writer and dry-witted cast member on SNL in the mid-70s, Bill Murray further established himself with numerous TV and film appearances afterwards in both slapstick comedies and serious adult dramas, including: Meatballs (1979) as head camp counselor Tripper, Caddyshack (1980) as lunatic golf course gardener Carl Spackler, Stripes (1981) as reluctant Army trainee John Winger, Tootsie (1982) in an unbilled role as Dustin Hoffman's partner Jeff, Ghostbusters (1984) as parapsychologist Dr. Peter Venkman, Little Shop of Horrors (1986) in a cameo appearance as masochistic patient Arthur Denton, Scrooged (1988) as a cold-hearted Scrooge-like television executive Frank Cross, What About Bob? (1991) as neurotic psychiatric patient Bob Wiley, the comedic and existentialist Groundhog Day (1993) as Phil Conners - an obnoxious and bored TV weatherman destined to torturously repeat his life daily in a time loop, Ed Wood (1994) as the title character's trans-sexual cohort Bunny Breckinridge, Rushmore (1996) as eccentric rich industrialist Herman Blume, Wild Things (1998) as sleazy lawyer Ken Bowden, and in the Farrelly Brothers' gross-out live-action and animated comedy Osmosis Jones (2001) as zookeeper Frank. He received critical acclaim for his serious, Oscar-nominated role as lonely and bored American actor Bob Harris in director Sophia Coppola's Lost in Translation (2003).
Gilda Radner
Another of the original SNL cast members, comic genius Gilda Radner (who married actor Gene Wilder in 1984) brought a madcap, zany persona to characters on the show such as loud-mouthed Roseanne Roseanna-danna ("Just goes to show ya — it's always somethin'! If it's not one thing, it's something else!"), nerdy Lisa Lupner ("That was so funny I almost forgot to Laff!"), talk-show host Baba WaWa, and Emily Litella ("Never mind"). She and Wilder starred in Hanky Panky (1982) and the Wilder-directed sex comedy The Woman in Red (1984) and Haunted Honeymoon (1986), before her career was cut short by ovarian cancer and death in 1989.
Lily Tomlin
The offbeat comedienne first gained popularity as a regular on Rowan & Martin's Laugh-In in the late 60s and early 70s, and was best known for her indelible collection of wacky characters, including:
obnoxious, goofy telephone operator Ernestine ("One ringy-dingy. Two ringy-dingys." and "Go look it up yourself, I've got better things to do!")
5-year old rambling, precocious, and philosophizing toddler Edith Ann, in a huge rocking chair
the shopping bag lady Trudy ("Goin' crazy was the best thing ever happened to me. I don't say it's for everybody; some people couldn't cope.")
school-spirited, virginal college student Suzie Sorority
average middle-class housewife and consumer advisor Mrs. Beasley
Crystal, the hang-gliding quadriplegic
Agnes Angst, a fifteen-year-old punk performance artist
evangelist Sister Boogie Woman
lounge lizard Tommy Velour
She also appeared in a number of dramatic films, including Altman's Nashville (1975) as troubled gospel singer Linnea Reese (a Best Supporting Actress nominated role) who was womanized by Keith Carradine, The Late Show (1977), and in writer/director Jane Wagner's romantic flop Moment by Moment (1978) opposite John Travolta, as well as comedies, including 9 to 5 (1980) alongside Dolly Parton and Jane Fonda, The Incredible Shrinking Woman (1981), All of Me (1984) with co-star Steve Martin, and opposite Bette Midler in Big Business (1988). On the Broadway stage, she also had two successful one-person shows: Appearing Nitely (1976) and the Tony-winning The Search for Signs of Intelligent Life in the Universe (1986, 1991-film).
Albert Brooks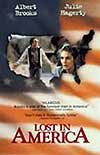 Albert Brooks, a regular on The Dean Martin Show in the early 70s and a bit actor in many films (such as Taxi Driver (1976), Private Benjamin (1980) and Unfaithfully Yours (1984)), made his feature film debut as writer, director, and star in the satirical mockumentary Real Life (1979). He followed up with the romantic comedy Modern Romance (1981) starring as the self-loating neurotic film editor Robert Cole opposite Kathryn Harrold (as patient love interest Mary Harvard) in a relationship alternating between unfulfillment, boredom, jealousy, mistrust and insecurity. His next film was the road comedy Lost in America (1985) about a yuppie and his wife (Julie Hagerty) who forsake their materialistic possessions and jobs and drive cross-country in a Winnebago (a modern-day take-off of Easy Rider) to Las Vegas. [Paul Mazursky's R-rated Down and Out in Beverly Hills (1986) similarly examined the lives of a nouveau riche BH couple (Richard Dreyfuss and Bette Midler) after taking in a homeless tramp (Nick Nolte).] Albert Brooks also appeared as a reporter (providing his sole Oscar nomination) in James Brooks' expose of TV journalism, Broadcast News (1987), with William Hurt as a shallow but good-looking anchorman and Holly Hunter as the network news producer. Brooks also wrote, directed, and co-starred with Meryl Streep in Defending Your Life (1991) about the afterlife, and in Mother (1996) featuring Debbie Reynolds. He provided the voice of Nemo's Clown Fish father in the popular animated adventure comedy Finding Nemo (2003).
Eddie Murphy
John Landis directed SNL's Eddie Murphy as a con-artist hustler reversing roles and exchanging jobs with a wealthy Wall Street stockbroker (SNL's Dan Aykroyd) in the test of Social Darwinism in Trading Places (1983), with Jamie Lee Curtis in a memorable and sexy role as a prostitute. John Landis' hit Coming to America (1988) was an enormous success for both director and actor Murphy (and co-star Arsenio Hall), who portrayed a pampered African price who journeyed to America to find a new bride. Murphy's career was uneven at best -- at the Golden Raspberry (Razzie) Awards in 2007, Eddie Murphy received a single-year record five nominations for one film: Norbit (2007): three acting nominations (one for each character he played: Norbit, Mr. Wong, and Rasputia), one for Worst Couple (for his multiple characters again) and one for Worst Screenplay. He won three Razzies - for his acting roles (Worst Actor, Worst Supporting Actor, Worst Supporting Actress).
Billy Crystal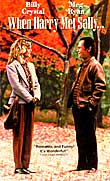 Versatile stand-up performer and comedic actor began his career as gay character Jodie Dallas (the first openly gay character in TV history) on the TV drama Soap, and soon after starred in his debut film - Joan Rivers' directed film Rabbit Test (1978) as the world's first pregnant man. He made several TV movies and had a number of guest appearances, and soon became a regular on SNL by the mid 80s, with a few signature characters: Buddy Young, Jr., Sammy Davis, Jr., Willie the Masochist ("I hate it when that happens"), and the suave Fernando Lamas (with his catchphrase "You look maaaahvelous"). His next starring roles were in Rob Reiner's rock-group mockumentary This Is Spinal Tap (1984) and in the romantic fantasy adventure The Princess Bride (1987) as a wizened dwarf reanimator named Miracle Max, in addition to appearances in the cop buddy film Running Scared (1986) with Gregory Hines, and in Danny DeVito's dark Hitchcock spoof Throw Momma From the Train (1987).
His first major role was in the modern-day romantic comedy When Harry Met Sally...(1989) opposite Meg Ryan as a clever but uncommitted guy, followed by the dude ranch comedy City Slickers (1991) with Best Supporting Actor Oscar-winner Jack Palance as hard-bitten cattle-drive master Curly (with its sequel City Slickers II: The Legend of Curly's Gold (1994)). His first-directed film was Mr. Saturday Night (1992) - a fictional biography of his own self-destructive Buddy Young, Jr. character. Further films included the romantic comedy (and box-office flop) Forget Paris (1995), Woody Allen's dark comedy Deconstructing Harry (1997), the buddy comedy My Giant (1998), director Harold Ramis' popular comedy Analyze This (1999) (and its sequel Analyze That (2002)) with Crystal as the therapist of mobster Robert De Niro, and then he served as the voice for one-eyed round-shaped Mike Wazowski in Pixar's animated comedy Monsters, Inc. (2001).
Jim Carrey
TV's manic, hyper-nutty and energetic, rubbery In Living Color star Jim Carrey appeared in three back-to-back hits to jump-start his emergence as a comedy star:
Ace Ventura: Pet Detective (1994), his first hit as a silly, hammy pet gumshoe (and its sequel: Ace Ventura: When Nature Calls (1995))
the comic-book, supernatural action film The Mask (1994) with great special effects
the gross-out Dumb and Dumber (1994)
Then he appeared as a compulsive lawyer-liar compelled to tell the truth in Liar Liar (1996). He also portrayed the Riddler in Batman Forever (1995), and a malevolent repairman in director Ben Stiller's dark and negatively-received The Cable Guy (1996) (he became the first actor to be paid $20 million to star in this film!) He won back-to-back Golden Globe awards for Best Actor in a Drama and Comedy/Musical for Peter Weir's The Truman Show (1998), and for Milos Forman's Man on the Moon (1999) - in the role of uniquely complex comedian Andy Kaufman. [Oscar nominations for both roles were denied to Carrey.] Carrey also portrayed the mean and green lead character in director Ron Howard's Dr. Seuss' How the Grinch Stole Christmas (2000), the top-grossing film of its year. His career continued to flourish with appearances in major comedy films, including Me, Myself & Irene (2000), Bruce Almighty (2003), Lemony Snicket's A Series of Unfortunate Events (2004), Fun with Dick and Jane (2005), and Yes Man (2008).
John Hughes - Teen Film Director of "Coming of Age" Films: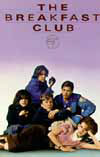 There were also a number of comedic, "teen"-oriented coming-of-age or 'rites of passage' films directed toward a youth audience, frequently emphasizing the tensions of the adolescent and post-adolescent years, the problems of growing up, the high school years, aspects of peer pressure, teen parties, money, rebellion, friendship, romantic relationships among teens, and family strains. Rock 'n roll musical scores accompany many of them. Sixteen Candles (1984) told the tale of a sixteen year old girl (Molly Ringwald) suffering romantic angst while geeky freshman Ted the "Geek" (Anthony Michael Hall) vainly tried to romance her. Teenpix film director/writer John Hughes' The Breakfast Club (1985) was about a group of high school students during a weekend detention and struggling with issues of conformity and parental values; Emilio Estevez was the jock, Ally Sheedy the weirdo, Judd Nelson the delinquent, Anthony Michael Hall the brainy nerd, and Molly Ringwald the socialite.
Hughes also scripted Pretty in Pink (1986) - a comedy/drama involving the angst romance of a poor, outcast girl (Molly Ringwald) falling for an elitist rich boy (Andrew McCarthy). In the following year, Hughes directed a reversed-role 'sequel' titled Some Kind of Wonderful (1987), about a teenaged boy's (Eric Stoltz) romantic attraction to teen queen co-star Lea Thompson while ignoring his faithful, long-suffering, tom-boy companion and true friend Mary Stuart Masterson. One of Hughes' best teenage comedy films was Ferris Bueller's Day Off (1986), the story of a malingering, high school risk-taking, spirited prankster and malingerer Ferris (Matthew Broderick) taking another day off (from school and Principal Rooney) for misadventures in Chicago with his friend (Mia Sara); the film was filled with tips on how to fake a high fever, break into a computer system, and crash a parade.
Other "Coming of Age" Films and Teen Comedies: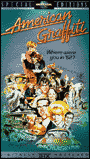 George Lucas' much-loved and imitated, light-hearted 'coming of age' film, American Graffiti (1973), was about a group of N. California high school graduates. It brought new, previously-taboo topics to the screen, helped create the TV series Happy Days and launched the careers of Richard Dreyfuss, Ron Howard, Cindy Williams, Harrison Ford, and other future stars. Another was the 'sleeper hit' Breaking Away (1979) - the story of four Indiana youths, one a passionate bicycle racer, who were trying to decide what to do with their lives. On the other hand, Risky Business (1983) was about an ordinarily well-behaved high school boy (Tom Cruise) whose first sexual experience transformed his life and profitably mixed sex and capitalism - while his parents were away for a trip.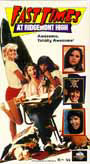 National Lampoon's Animal House (1978), Porky's (1981) and Police Academy (1984) set the tone for teen gross-out comedies of the late 1970s and 1980s. Female director Amy Heckerling's Fast Times at Ridgemont High (1982) provided a view of life in a Southern California high school (composed of many teenage future stars including Nicolas Cage, Eric Stoltz, and Forest Whitaker). Writer/director Barry Levinson's bittersweet autobiographical Diner (1982), his debut film (with screen debuts for Paul Reiser and Ellen Barkin), followed a group of twenty-something guys (including a breakthrough role for Kevin Bacon) who met regularly in an all-night Baltimore diner in the late 50s for talk about women and life. (With the addition of Tin Men (1987) and Avalon (1990), Levinson created a so-called trilogy of films.) The nostalgic coming-of-age comedy Heaven Help Us (1985), set in Brooklyn NY's St. Basil's Catholic Boys' Prep School in the mid-1960s, followed the progress of transfer student Michael Dunn (Andrew McCarthy) who pursued a shy romance with troubled young tomboy Danni (Mary Stuart Masterson), a soda-fountain clerk, while rebelliously clashing with the repressive and sadistic Catholic faculty.
Two coming-of-age films competed for attention in 1980: The Blue Lagoon (1980) with Pacific Island-shipwrecked Brooke Shields growing into sexual maturity with male counterpart Christopher Atkins. And in the exploitative, dramatic coming-of-age , Little Darlings (1980), two 15 year-olds girls Tatum O'Neal and Kristy McNichol, contrasting a spoiled rich girl with a street-smart poor girl, raced to see who could lose her virginity first during summer camp.
The startling dark comedy Heathers (1989) tackled such controversial issues as teenage cliques and teen suicide. The seriously dramatic Dead Poets Society (1989) with comedian Robin Williams portrayed an unorthodox but inspiring English/poetry teacher at a New England prep school known for teaching his students to "Seize the Day" (Carpe Diem) and rip out the introduction to their poetry textbooks. The witty, funny Clueless (1995) (again directed by Amy Heckerling) starred Alicia Silverstone as Cher - a spoiled, rich, shallow but beautiful student in a W. Beverly Hills high school who helped a fellow student get into the 'in' crowd.
Dazed and Confused (1993) was set on the last academic day (and night) of a Texas high school in the Bicentennial year of 1976 as seen through the eyes of graduating seniors and a new crop of entering freshmen students, while Grosse Pointe Blank (1997) (with John Cusack as a professional hitman attending a reunion dance in his Michigan hometown) and Romy & Michele's High School Reunion (1997) (with Mira Sorvino and Lisa Kudrow as dim-witted but scheming reunion-goers) both retroactively looked back to the 1980s as seen during a 10th HS reunion.
Low-Brow, Raunchy, Gross-Out Comedies at the Turn of the Century and into the 21st Century:
Teen comedies - designed for both teens and adults - took a turn towards humiliation, bodily functions, and toilet humor with the sophomoric There's Something About Mary (1998), starring Cameron Diaz, Matt Dillon, and Ben Stiller. Likewise, the gross, disgusting teenflick farce American Pie (1999) poked fun at the rite of passage of losing one's virginity. Other films notable as low-brow comedies included the films of Adam Sandler (i.e., Billy Madison (1995), The Waterboy (1998), I Now Pronounce You Chuck and Larry (2007), and You Don't Mess With the Zohan (2008)) and the Austin Powers films with Mike Myers (i.e., Austin Powers: International Man of Mystery (1997), Austin Powers: The Spy Who Shagged Me (1999) and Austin Powers in Goldmember (2002)).
Chris Kattan and Will Ferrel starred as two obnoxious lounge lizard brothers in A Night at the Roxbury (1998), and Rob Schneider starred in a number of Adam Sandler-produced films (via Happy Madison Productions) including Deuce Bigalow: Male Gigolo (1999), The Hot Chick (2002), and Deuce Bigalow: European Gigolo (2005).
Although PG and PG-13-rated films were generally proven to be the biggest moneymakers, the new 2000s decade was destined to show that semi-offensive R-rated comedies, including retooled romantic comedies and 'bromances' (guy-meets-guy romances) containing generous portions of profanity, sex and nudity, and debauchery, could also be popular - and appealing to male audiences. But sometimes success bred repetitiveness and exploitation. Although there were some bright spots, it was a decade of many prurient films with abundant and gratuitous T&A nudity, in-the-toilet gross-out humor and jokes about oral sex, farts and excrement, homosexuality, penis size, and incest - and more.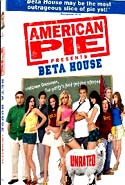 As if the original box-office teen comedy hit American Pie (1999) and its first two sequels (American Pie 2 (2001) and American Wedding (2003)) weren't enough - the oft-told tale of high school (and college) boys searching for sex - four more direct-to-video (DVD) spinoffs were also generated. One of the significant commercial trends in the film industry, exemplified by these films, was to release 'unrated' versions of R-rated (and PG 13-rated) films on DVD and videocassette, often with additional racy content that would have undoubtedly changed their original MPAA ratings.
The four American Pie Presents: sequels were released in both R-rated and Unrated versions (including the scenes that were removed in order to receive an R-rating):
American Pie Presents: Band Camp (2005)
American Pie Presents: The Naked Mile (2006)
American Pie Presents: Beta House (2007)
American Pie Presents: The Book of Love (2009)
Three more R-rated, un-PC gross-out comedy films (for strong sexual content, gross humor, language and some drug content) followed the same pattern of rowdy hijinks, topless nudity, and raunch. They were the tired and contrived sex-and-school romp National Lampoon's Van Wilder (2002) about a seventh year undergraduate student (Ryan Reynolds) at Coolidge College who, among other things, hired well-endowed young women to be "topless tutors." It was followed by an unconnected sequel Van Wilder 2: The Rise of Taj (2006), and a prequel Van Wilder: Freshman Year (2009).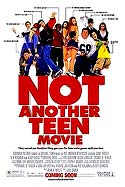 The R-rated Not Another Teen Movie (2001) was also released to serve as a tasteless parody of Hollywood teen (high school) flicks from the last few decades. It used cliched lines of dialogue and most of its unoriginal characters were stereotypical teen portrayals (for example, the Pretty Ugly Girl, the Popular Jock, the Bitchy Cheerleader, the Token Black Guy, the Dream Girl, the Naked Foreign Exchange Student).
Two strangely-popular mockumentary comedies were released by marquee comedian Sacha Baron Cohen: the satirical Borat: Cultural Learnings of America for Make Benefit Glorious Nation of Kazakhstan (2006) - about a fictitious, anti-Semitic, sexist and racist Kazakhstani journalist who traveled through the US and interacted in unscripted situations. His follow-up film Bruno (2009) - was about a flamboyantly gay Austrian fashion journalist. The two films were among the most popular (and controversial) comedies of the decade.
Two other hit comedies in 2005 proved that pushing the boundaries of good taste were profitable:
Judd Apatow's directorial debut breakthrough film The 40-Year-Old Virgin (2005), a hilarious sex comedy that signaled the return of raunchy R-rated fare, about a middle-aged male virgin (Steve Carell) seeking a sex partner and finding love with an appealing, intelligent newly-single mother (Catherine Keener)
Wedding Crashers (2005) - surpassed There's Something About Mary (1998) as the top R-rated comedy in two decades (although it was soon surpassed by The Hangover (2009))
Apatow also directed Knocked Up (2007) and Funny People (2009) and served as producer for the successful Anchorman (2004), Talladega Nights: The Ballad of Ricky Bobby (2006) with Will Ferrell, the genitalia-obsessed Superbad (2007), Forgetting Sarah Marshall (2008) and the slapstick buddy-comedy Step Brothers (2008). The low-budget comedy Superbad (2007) went on to become the highest grossing (domestic) high school teen comedy of all time.
Apatow helped to foster the burgeoning careers of Steve Carell, Paul Rudd and Seth Rogen. A new generation of comic male actors, dubbed the 'Frat Pack' or 'Slacker Pack' (Jack Black, Will Ferrell, Ben Stiller, Vince Vaughn, and Owen and Luke Wilson) had emerged in the 2000s, and appeared together in many films, including Old School (2003), actor/director/producer Stiller's own Zoolander (2001), Dodgeball (2004) and Tropic Thunder (2008). However, at the Golden Raspberry (Razzie) Awards for 2004, actor Ben Stiller was nominated for Worst Actor for a record five titles in one year - for Along Came Polly (2004), Anchorman: The Legend of Ron Burgundy (2004), Dodgeball: A True Underdog Story (2004), Envy (2004) and Starsky & Hutch (2004).