Woody Allen, Mel Brooks, and Others in the 70s: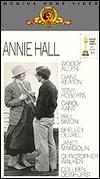 In the 1970s and 80s, self-effacing, satirical humor, usually in a New York upper middle-class setting, was showcased in the films and acting of stand-up comic turned director Woody Allen, including his early film Play It Again, Sam (1972) and then in two of his most influential films: his classic, semi-autobiographical, bittersweet romantic comedy and Best Picture winner Annie Hall (1977) with Allen as a Jewish stand-up comedian and Oscar-winning Diane Keaton as his WASP girlfriend, and the black and white success of his ode to his hometown, Manhattan (1979).
The comic madness of Mel Brooks' films was evident in the cult farce classic The Producers (1968) with Zero Mostel and Gene Wilder as show producers and would-be con artists deliberately attempting to produce a bomb - Springtime for Hitler. It was Brooks' directorial debut film and one of his best, and the basis for one of Broadway's biggest hits. Later, he spoofed different types of genres in parodies: westerns in the anarchic Blazing Saddles (1974), horror films in Young Frankenstein (1974), and Hitchcock in High Anxiety (1977).
Art Carney from The Honeymooners won a Best Actor Oscar for his role as a cross-country traveling retired teacher with his beloved cat Tonto in Paul Mazursky's Harry and Tonto (1974). 29 year old Richard Dreyfuss won a Best Actor Oscar as a struggling actor sharing a Manhattan apartment with divorced single mom Marsha Mason and her precocious daughter in Herbert Ross' bittersweet romantic comedy The Goodbye Girl (1977), adapted from a Neil Simon script.
Burt Reynolds and Kris Kristofferson played the role of professional football players who both loved the same woman (Jill Clayburgh), the rich daughter of the team's owner, in Michael Ritchie's sports comedy Semi-Tough (1977). The film also featured Bert Convy as a EST, Werner Erhard look-alike self-improvement guru. Competitive bicycling was part of the storyline in Peter Yates' charming coming-of-age sports drama/comedy Breaking Away (1979) about four local teens (Dennis Christopher, Dennis Quaid, Daniel Stern, and Jackie Earle Haley) from blue-collar families, derogatorily nicknamed Cutters, who grew up in a college town in mid-western Indiana (Bloomington, the location of Indiana U).
The National Lampoon Films:
In 1978, the popular humor magazine National Lampoon (founded in 1969 - a spinoff of the college magazine Harvard Lampoon and a competitor to Mad Magazine) released their first film, National Lampoon's Animal House (1978), a wildly-successful film about an anarchic party-animal frat house (Delta House) at fictitious Faber College, that was co-scripted by National Lampoon founder and humorist Douglas Kenney (who appeared in the film as the nerdy frat brother Stork). The gross-out comedy with unrefined humor was the first $100 million hit comedy. The series would continue with uneven results over many years, often with comedian Chevy Chase in the lead role as dumb-witted Clark Griswold for four Vacation films (and in a minor role in the 2015 remake):
Film Title (Year)
Director
Major Star(s)
National Lampoon's Animal House (1978)
John Landis with co-screenwriters John Hughes and Harold Ramis
John Belushi
National Lampoon Goes to the Movies (1981) (aka National Lampoon's Movie Madness)
Bob Giraldi, Henry Jaglom
Diane Lane, Candy Clark
National Lampoon's Class Reunion (1982)
Michael Miller with John Hughes as producer/screenwriter
National Lampoon's Vacation (1983)
Harold Ramis with John Hughes as producer/screenwriter
Chevy Chase, Beverly D'Angelo, Randy Quaid; followed with three Chevy Chase sequels
National Lampoon's The Joy of Sex (1984)
Martha Coolidge
National Lampoon's European Vacation (1985)
Amy Heckerling
Chevy Chase, Beverly D'Angelo
National Lampoon's Christmas Vacation (1989)
Jeremiah S. Chechik with John Hughes as producer/screenwriter
Chevy Chase, Beverly D'Angelo, Randy Quaid
National Lampoon's Loaded Weapon 1 (1993)
Gene Quintano
Emilio Estevez, Samuel L. Jackson
National Lampoon's Last Resort (1994) (aka National Lampoon's Scuba School)
Rafal Zielinski
Corey Haim, Corey Feldman
National Lampoon's Senior Trip (1995)
Kelly Makin
Vegas Vacation (1997)
Stephen Kessler
Chevy Chase, Beverly D'Angelo, Randy Quaid
National Lampoon's Van Wilder (2002)
Walter Becker
Tara Reid
National Lampoon's Christmas Vacation 2: Cousin Eddie's Island Adventure (2003)
(direct to video/TV release)
Nick Marck
Randy Quaid
Vacation (2015)
(remake)
John Francis Daley, Jonathan Goldstein
Ed Helms, Christina Applegate, Chevy Chase, Beverly D'Angelo
The Monty Python Films:
Monty Python's Flying Circus, the famed British comedy troupe (composed of Graham Chapman, John Cleese, Terry Gilliam, Eric Idle, Terry Jones, and Michael Palin), a group similar to the Marx Brothers, starred in a series of BBC-TV comedy shows from 1969-1974 that pushed the comedy envelope. From there, they went on to star in four big-screen films beginning in the early 70s:
And Now For Something Completely Different (1971, UK)
Monty Python and the Holy Grail (1975, UK)
Monty Python's Life of Brian (1979, UK)
Monty Python's The Meaning of Life (1983, UK)
Each member of the group would go on to star in his own film and television projects after the breakup of the group. They would often appear in films together as well, such as in Time Bandits (1981, UK), Yellowbeard (1983), A Fish Called Wanda (1988), and Fierce Creatures (1997).
The 80s and 90s: Widely Divergent Comedies
The writer/director team of David and Jerry Zucker and Jim Abrahams (known as ZAZ), first gaining notoriety with The Kentucky Fried Movie (1977), created Airplane! (1980) - a fast-paced lampooning of all the Airport-like disaster films of the 70s, with non-stop visual gags, pratfalls and parodies of common film cliches. Members of the same team that created Airplane! went on to make Top Secret! (1984), The Naked Gun (1988) films, spoofs of Police Squad-type TV cop shows, Ruthless People (1986) - starring Bette Midler and Danny DeVito, Hot Shots! (1991) (a spoof of Top Gun (1986)) and the sequel Hot Shots! Part Deux (1993) - a parody of Stallone's Rambo films.
In Walter Hill's 48 Hours (1982) (aka 48 Hrs.) (better than the sequel eight years later in 1990), Nick Nolte and Eddie Murphy (21 years old and in his feature film screen debut while still a cast member in Saturday Night Live) were paired as bickering, 'odd-couple' buddy-cops: temperamental detective Jack Cates and smooth-talking Reggie Hammond who disliked each other immensely ("We ain't partners, we ain't brothers, and we ain't friends"). The title referred to the amount of time that Reggie had been released from prison in Jack's custody to track down a cop killer. Another long-running series of films started with Disney's adventure/fantasy comedy Honey, I Shrunk the Kids (1989) with Rick Moranis as an experimental shrinking machine inventor whose kids unwittingly turned a ray-gun upon themselves. And the mid-life crisis of three urban dwellers (Billy Crystal, Bruno Kirby, and Daniel Stern) was resolved by sturdy cowpoke Curly (Jack Palance) during a 'vacation' cattle drive in the western comedy spoof City Slickers (1991). In the 'fish-out-of-water' comedy of manners My Cousin Vinny (1992), scene-stealing, Oscar-winning Marisa Tomei played the role of whiny, leather-clad, brassy girlfriend Mona Lisa Vito to inexperienced, loud-mouthed Brooklynite defense lawyer Joe Pesci in the deep South of Alabama.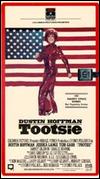 Private Benjamin (1980) found Goldie Hawn as a whining, spoiled, and pouty US Army enlistee, experiencing a rude training regimen from tough, butch drill sergeant Eileen Brennan. Director Colin Higgins' Nine to Five (1980) brought together Lily Tomlin, Dolly Parton, and Jane Fonda as sexually-harassed secretaries by chauvinistic office boss Dabney Coleman. In former actor/director Richard Benjamin's My Favorite Year (1982), Peter O'Toole starred as a hard-drinking, badly-behaved, legendary but burned-out swashbuckler movie star (based upon Errol Flynn) in a film that also paid tribute to Sid Caesar's Your Show of Shows.
Actor/director Sydney Pollack's Tootsie (1982) was in the tradition of Billy Wilder's classic gender-makeover comedy Some Like It Hot (1959). It starred Dustin Hoffman as an unemployed actor named Michael Dorsey who resorted to cross-dressing to become dowdy Dorothy Michaels - a soap opera star for the show Southwest General. The film was an effective satire on gender roles and learning how the 'other half' lived. Another gender-bending, sexual confusion, and cross-dressing film, Blake Edwards' Victor/Victoria (1982), was set in 1930s Paris with Julie Andrews in a dual role as Victor and Victoria - as a woman impersonating a man posing as a woman.
Director Ron Howard's romantic comedy fantasy Splash (1984) featured Daryl Hannah as a mermaid rescued by successful workaholic Tom Hanks (an unknown TV actor at the time) in a fairy tale brought to life. Hanks also starred in director Penny Marshall's Big (1988) as a 12 year old boy in the body of an adult, with additional insightful commentary on friendships, business, sex, and growing up.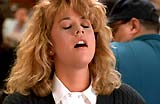 Romantic Comedies in the 80s and Early 90s:
The romantic comedy was making a strong comeback in the late 80s and early 90s, with films like the following:
director Donald Pietrie's Mystic Pizza (1988) featured three teenaged girls who came of age while working in a seaport pizza parlor (with the slogan "A Slice of Heaven") in Mystic, Connecticut -- all three stars (Annabeth Gish as Kat, Julia Roberts as Daisy, and Lili Taylor as JoJo) had star-making roles in the film
director Rob Reiner's When Harry Met Sally... (1989) was about a long-term platonic friendship and relationship threatened by sex
Peter Weir's Green Card (1990), told about French composer and petty thief Georges' (Gérard Depardieu in his American film debut) convenience marriage to an American woman named Bronte (Andie MacDowell) to escape from Paris and remain in America, and to help her rent a Manhattan apartment
Garry Marshall's opposites-attract Cinderella story - the blockbuster Pretty Woman (1990), was about a prostitute named Vivian Ward (Julia Roberts) 'dating' a corporate businessman named Edward Lewis (Richard Gere) for a week in Beverly Hills
the existential comedy-fantasy Groundhog Day (1993) starred Bill Murray as a time-trapped local TV weatherman stuck in Punxsutawney Pennsylvania with his producer/love interest Rita (Andie MacDowell)
writer/director Nora Ephron's Sleepless in Seattle (1993) - a charming film with romantic match-making via radio between Tom Hanks and Meg Ryan, reprised by You've Got Mail (1998), an updated remake of Ernst Lubitsch's classic The Shop Around the Corner (1940) - with the couple communicating by e-mail (with monikers NY152 and Shopgirl)
Writer Cameron Crowe made his directorial debut with the successful teen romance Say Anything... (1989) about two mis-matched lovers. The gifted and original Coen Brothers' Raising Arizona (1987) was a dark farce about the kidnapping of a baby by an infertile couple (Nicolas Cage and Holly Hunter) . James L. Brooks' romantic comedy As Good As It Gets (1997), about a crusty romance novelist (Jack Nicholson) and single mother/waitress (Helen Hunt) in Manhattan, won Oscars for its two main leads. Runaway Bride (1999), Notting Hill (1999), and What Women Want (2000) were the most popular and successful romantic comedies to close out the decade.
Mike Newell's British comedy above love and weddings, Four Weddings and a Funeral (1993) starred Hugh Grant as a young, uncommitted bachelor, a "serial monogamist" who falls in love with Carrie (Andie MacDowell), an unattainable, attractive American woman. Another fabulously successful and witty film by director Peter Cattaneo, The Full Monty (1997), illustrated how underclass British steelworkers could find lucrative work - as male strippers. The Australian family comedy Babe (1995) cleverly portrayed an orphaned talking piglet with the skills of a sheepdog.
Director John Madden's US/UK production of the Best Picture-winning dramatic comedy Shakespeare in Love (1998) speculated on the love life of England's famous bard with Viola (Gwyneth Paltrow) - a prototype for a character in Romeo and Juliet. One of the most successful independent films of all times was the warmhearted marital comedy My Big Fat Greek Wedding (2002), about the culture clash resulting from the engagement of a thirtyish single Greek-American woman (Nia Vardalos) to a non-Greek school teacher.
TV to Film Cross-Over Stars:
The counter-cultural, shocking-for-its-time TV show Saturday Night (introduced as "Live from New York, it's Saturday Night") first appeared in the mid-70s and featured some of the best, up-and-coming comics (Dan Aykroyd, John Belushi, Bill Murray, Gilda Radner, Eddie Murphy and more) known as the Not Ready for PrimeTime Players, and hip guest hosts. [George Carlin was the first guest host of Saturday Night and the first musical guest was Janis Ian.] From television shows such as SNL, a new breed of talented comedians, all cross-over stars, emerged in the 80s and 90s. For example, Barry Levinson directed Good Morning, Vietnam (1987) with stand-up comedian Robin Williams as Adrian Cronauer, the manic, anti-authoritarian DJ voice of Armed Forces Radio in Vietnam.
The most popular Saturday Night Live film was the wildly popular Wayne's World (1992) with Mike Myers and Dana Carvey in spin-offs from their Saturday Night Live sketches as self-mocking Wayne and Garth, two stoned, high-school public access cable-TV show hosts. The sequel that was poorly received was Wayne's World 2 (1993). Myers also starred in a series of James Bond spy-spoof films: Austin Powers: International Man of Mystery (1997), Austin Powers: The Spy Who Shagged Me (1999), and Austin Powers in Goldmember (2002).
After many years in two TV sitcoms in the 80s and 90s, It Takes Two and Mad About You, Helen Hunt was able to cross-over into a variety of screen roles, such as Twister (1996) and As Good As It Gets (1997) - with an Oscar-winning performance.
Dan Aykroyd
Saturday Night Live's Dan Aykroyd starred in some of the best comedies every made: his road film The Blues Brothers (1980) was filled with guest-starring appearances and cameos (Aretha Franklin, James Brown, Cab Calloway, Ray Charles, John Lee Hooker) - and featured a spin-off of characters portrayed by Aykroyd and Belushi on SNL. The duo portrayed black-suited rock/blues singers/brothers Jake and Elwood Blues who were on a "mission from God." He also played a prominent role in Trading Places (1983) with Eddie Murphy. Director Ivan Reitman's blockbuster fantasy comedy Ghostbusters (1984) featured additional SNL stars in a tale about paranormal exterminators in NYC. Lesser Aykroyd hits included John Landis' Spies Like Us (1985) (with Chevy Chase), Dragnet (1987) with Aykroyd as detective Jack Webb, Aykroyd's sole Oscar-nominated supporting role in Driving Miss Daisy (1989), and the belabored flop Coneheads (1993) about alien coneheads Beldar (Aykroyd) and Prymatt (Jane Curtin) - by then, his career had begun to falter.