Women in Prison Films of the 70s and 80s: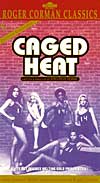 And director Jonathan Demme's first feature Caged Heat (1974), made for Roger Corman's New World Pictures, was a low-budget, B-grade campy sexploitation classic - with empowered tough women, designed for the drive-in crowd. It is now considered one of the best of its type - an "innocent females in prison" film, advertised as "White Hot Desires Melting Cold Prison Steel!," with frequent shower sequences showing off a nude "Rainbeaux" Smith and Erica Gavin. The Exorcist's Linda Blair and Sybil Danning were others who appeared in women-behind-bars (or in reform schools) trash films, with healthy amounts of gratuitous nudity, as in the made-for-TV Born Innocent (1974), Chained Heat (1983), and Reform School Girls (1986).
More Adult-Oriented Films in the Late 60s and 70s:
Adult-themed, prestigious, sexually-mature and powerful films in the late 1960s and early 1970s also caused a stir, and were among the earliest films given a new X rating by the MPAA Rating Code. The only Best Picture (and Best Director) winner that was rated X (later changed to R) was John Schlesinger's Midnight Cowboy (1969). It was about the seedy life and camaraderie of two desperate souls (one a would-be gigolo street hustler portrayed by Jon Voight) in a seedy section of New York City.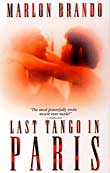 Bernardo Bertolucci's landmark, controversial erotic film about a destructive relationship, Last Tango in Paris (1972), an Italian-French co-production financed by United Artists, featured an aging, grieving widower and American expatriate Paul (Marlon Brando) and a much younger 20 year-old Parisienne ingenue Jeanne (Maria Schneider) who relieved emotional pain through anonymous but passionate sex. The film received an X-rating for its explicit and uninhibited sex scenes, and was nominated for Best Director and Best Actor Oscars. In 1974, it became the first film to be prosecuted under Britain's Obscene Publications Act.
Stanley Kubrick's X-rated masterpiece A Clockwork Orange (1971) was a dark satire regarding violence, sex (previously unseen on the big screen), rape, and the freedom-denying effects of aversion therapy. Kubrick was personally responsible for withdrawing the film from distribution in the UK (for almost 30 years) when it was linked to copy-cat crimes by youth gangs. David Lean's Ryan's Daughter (1970) brought conflict over its rating due to Sarah Miles' nude scene with Christopher Jones. Nicolas Roeg's debut film Walkabout (1971) was also questioned regarding Jenny Agutter's nude swimming scenes in the Australian outback.
And during the horrors of war in Korea in a surgical hospital in Robert Altman's irreverent film M*A*S*H (1970), the surgeons played practical jokes, including the broadcast of a Sally Kellerman's hot request of Robert Duvall: "Oh Frank, my lips are hot...Kiss my hot lips."
Peter Bogdanovich's The Last Picture Show (1971), a slice of life R-rated film about life and loss of innocence in a small Texas town, provided brief glimpses of a nude, young Cybill Shepherd skinny-dipping at an indoor pool party with other naked teens (in full-frontal views), and then experiencing a failed, awkward deflowering with Jeff Bridges in a motel room (but she tells her girlfriend-classmates "I just can't describe it in words"). Other controversial scenes included a high school student's (Timothy Bottoms) affair with his school coach's wife (Cloris Leachman), and the deflowering of the town's mentally-retarded boy with a prostitute.
Director Mike Nichols' Carnal Knowledge (1971) (mixed with Jules Feiffer's cynical script) surveyed three decades (late 1940s-60s) in the contrasting sex lives of two college roommates: studly, chauvinistic Jack Nicholson (and eventual wife Ann-Margret) and shy, bumbling Art Garfunkel. The film was argued as being obscene for its explicit dialogue, borderline nudity, and suggestive final scene of oral sex.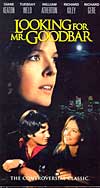 In Sam Peckinpah's Straw Dogs (1971), after slutty Amy (Susan George), the young wife of mild-mannered mathematician Dustin Hoffman, was raped by her ex-boyfriend (Del Henney) - and seemed to enjoy it (lending to the film's controversy), she was also sexually brutalized by one of the ruffian's friends. Sadistic revenge and violence erupted as a result - It was one of the most controversial rape sequences ever filmed, and the alarming film was accused of glorifying and inspiring men to assault women with sexual violence. Homosexual rape was portrayed in an infamous and shocking scene in director John Boorman's Deliverance (1972). Bobby, aka Chubby (Ned Beatty) was sodomized by a Mountain Man, who first makes him squeal like a pig ("Wheeeee! . . . Wheeeee! . . . Wheeeee!").
Michael York played the part of a bisexual in Bob Fosse's musical Cabaret (1972), and Al Pacino robbed a bank in Sidney Lumet's Dog Day Afternoon (1975) in order to finance his homosexual lover's sex-change operation. Looking for Mr. Goodbar (1977), a sexually frank adaptation of Judith Rossner's best-seller, descended into the carnal depths of New York singles bars during the sexual revolution, and ended with the predictable, chilling fate of one promiscuous Catholic school teacher and female cruiser (Diane Keaton, an Oscar-winner in the same year for Annie Hall) searching for the perfect one-night-stand.
The scandalous, ostracized, imported Japanese film In the Realm of the Senses (1976) explored the sensually explicit, erotic world of two lovers - re-made in the US as The Sailor Who Fell From Grace With The Sea (1976) with graphic scenes between Kris Kristofferson and Sarah Miles. Writer/director Paul Schrader's film Hardcore (1979) told about the one-man crusade of conservative businessman and religious Michigan Calvinist Jake Van Dorn (George C. Scott), a single parent. His obsessed objective was to find his misguided daughter Kristen (Ilah Davis), who had run away from Grand Rapids, Michigan to California to join the world of the underground porn film industry. The ending's reunion was predictable, but heart-breaking and revealing, when the desperate Jake, after searching in Los Angeles and San Diego, finally located Kristen in San Francisco. Van Dorn let Kristen decide whether to come home or not (although he begged her to return). At first, she rejected him in anger for not loving her, but then relented and changed her mind.
Sex in Mainstream Hollywood Films Overwhelms Soft-Core Sexploitation Pictures: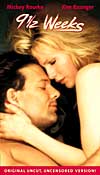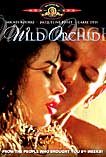 MTV-style director Adrian Lyne's glossy 9 1/2 Weeks (1986), with a screenplay by soft-core erotica veteran Zalman King, was released in a more explicit, unrated video version than the R-rated theatrical release. It displayed generous samplings of kinky and raunchy sex, and the endlessly creative, obsessive and experimental ways two erotic adventurers/lovers Mickey Rourke and Kim Basinger aroused themselves during a two-month affair. The film contained one of the best erotic food seductions ever filmed, involving blindfolds, ice cubes, chocolate syrup, and other ingredients.
[Zalman King would go on to direct three equally erotic, soft-porn films with strong sexual content: Two Moon Junction (1988) with Sherilyn Fenn, Wild Orchid (1989) - again with 9 1/2 Weeks' Mickey Rourke and Carre Otis (in her film debut) and featuring a very believable/simulated sex scene, and the made-for-TV Red Shoe Diaries (1992) with X-Files TV star David Duchovny.]
The face of Hollywood lesbianism was tamely reflected in the glossed-over, scaled-down stories of The Color Purple (1985) and Fried Green Tomatoes (1991).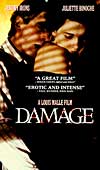 Outside of the Hollywood system, Steven Soderbergh's independent film sex, lies and videotape (1989) followed the videotaping of the complex sex lives of the protagonists with sexually-suggestive and provocative content, but without overt scenes of sex or nudity. Foreign films with frank sexual content were usually re-shot or released with modified content in the US, e.g., Louis Malle's intimate exploration of obsessive and damaging passion in Damage (1992) with Jeremy Irons and Juliette Binoche, or Jean-Jacques Annaud's The Lover (1992). Other erotic foreign films included Betty Blue (1986. Fr.) with the ripe and beautiful Beatrice Dalle destroyed by amour fou, and French director Jacques Rivette's very-lengthy (almost four hour) drama La Belle Noiseuse (1991, Fr.) with Emmanuelle Beart as an newly-inspired painter's starkly nude model for the majority of the film.
The NC-17 Rating: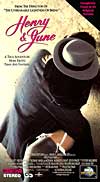 Non-pornographic depictions of serious adult themes and lesbian sex led the MPAA to give up the X rating and create the NC-17 category. The first film to receive the MPAA's new NC-17 rating was director Philip Kaufman's Henry & June (1990), about the erotic lives in a lover's triangle in 1930s Bohemian Paris between writer Anais Nin (Maria DeMedeiros), American Henry Miller (Fred Ward), and his wife June (Uma Thurman). It was advertised as "a true adventure more erotic than any fantasy." [Kaufman's equally erotic previous film was The Unbearable Lightness of Being (1988) with open adult sexuality displayed by Daniel Day-Lewis, Juliette Binoche, and Lena Olin.]
The NC-17 rating was originally designed to distinguish films with serious sexual content from regular, X-rated pornographic fare. Its rating restricted anyone under the age of 17 from attending a film. Nowadays, an NC-17 rating is the box-office kiss of death because many movie theatres won't book films with that rating, and major national video chains (e.g., Blockbuster) refuse to carry NC-17 or X-rated movies. So most major studios avoid having films released with more than an R rating, by cutting footage that would produce a NC-17 rating. Now, the NC-17 rating dictates film content and acts as a voluntary system of censorship within Hollywood.
Oftentimes after 1990, filmmakers would make token cuts of a few minutes (or seconds) of footage of objectionable sex scenes in their films to obtain an R rating for their opening theatrical release, and then add the footage back into videotape-released, 'unrated' versions (or special 'director's cuts'). The buzz generated from headlines about the sexual content of a film actually benefited many pictures and was sought after as free publicity.
The next permissive film to cause headlines over its steamy content, depiction of lesbian characters, violent ice-pick murders, "date rape" scene with Jeanne Tripplehorn, sexy interrogation scene with panty-less Sharon Stone crossing her legs, and a threatened NC-17 rating was director Paul Verhoeven's sex thriller Basic Instinct (1992). The rating would cost the expensive film about 50-75% of its potential bookings. So the film was cut to receive an R rating for its theatrical release, although it was also released with a more explicit 'Director's Cut' version for the video market.
The Video Revolution in the 80s:
The advent of home video (the proliferation of cable TV, consumer camcorders, and VCRs) in the early 80s had a tremendous impact on the production and proliferation of X-rated films, and on the entire film industry. Now films could be made more cheaply, and there was a trend toward increasing independent production. Consumers could view the increased number of products in the privacy of their own homes rather than in theatres. And much more explicit films could be manufactured.
Memorable Sexual Films and Scenes:
Most films in modern cinema, especially with mainstream actors and actresses, were not full-blown, sex-titillating works designed to contain wall-to-wall eroticism. Many contained only a few sequences or dissected moments of sexuality (sometimes gratuitously added), that weren't necessarily seamlessly integrated into the plot.
These are some examples of sexy/erotic moments in films from the late 50s through the 70s:
Sophia Loren as Phaedra, an earthy Greek sponge diver in a skin-tight, tucked-in dress in Boy on a Dolphin (1957)
the much-imitated, extended bawdy, food-related sex scene, with meat and fruit providing the aphrodisiac in the lusty Tom Jones (1963)
the many sexy beauties in the James Bond films including Ursula Andress, Honor Blackman, Jane Seymour, Maud Adams, Britt Ekland, Carole Bouquet, Diana Rigg, Tanya Roberts, Maryam D'Abo, Talisa Soto, Sophie Marceau and many more
the chilly British film Alfie (1966), with Michael Caine's first starring role as a charming but contemptuous playboyish rogue and lothario - with an early, candid view of sexual promiscuity, abortion, and pregnancy - [the film was remade by director Charles Shyer as Alfie (2004) - the story was transplanted to New York City with Jude Law in the title role as a desirable limo driver]
the unlikely sights of Raquel Welch as a cavewoman in a two-piece furry bikini in One Million Years B.C. (1966) and leopard-skin, bikini-clad prehistoric women in When Dinosaurs Ruled the Earth (1970)
the sensual, but bored housewife Catherine Deneuve and her bordello fantasies in Bunuel's Belle De Jour (1967)
the languid honeymoon nude scene between young actors Leonard Whiting and Olivia Hussey in Romeo and Juliet (1968) with her split-second toplessness as she rolls out of their bed at dawn
the doomed, steamy affair and bathtub washing scene (and the notorious butter scene!) between Marlon Brando and French girl Maria Schneider in Bernardo Bertolucci's groundbreaking Last Tango in Paris (1972) - about a man's struggle to forget his wife's death
the notorious, convincing love-making scene between Donald Sutherland and Julie Christie in Don't Look Now (1973)
Radley Metzger's X-rated Naked Came the Stranger (1975)
the bondage/S & M scenes in The Story of O (1975)
the classic love-making scene between paraplegic Jon Voight and Jane Fonda in Coming Home (1978)
child actress Brooke Shields as Violet - a pre-teenage virginal child about to be auctioned off and deflowered on her 12th birthday, and her prostitute mother Susan Sarandon wiping away white powder from her breast with a wet finger during a photography portrait session in a turn-of-the-century New Orleans bordello in Louis Malle's semi-scandalous Pretty Baby (1978)
the perfect '10' Bo Derek with corn-rows in her hair as a fantasy dream woman running in slow-motion in the voyeuristic beach scene (for Dudley Moore), and the notorious bedroom scene with love-making accompanied by repeated playings of Ravel's Bolero (after Derek's question: "Did you ever do it to Ravel's Bolero?") in 10 (1979)