"Grindhouse" Sexploitation Films From the Late 20s Onward: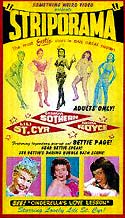 Outside of the Hollywood system, most of the earliest sexploitation films appeared in four distinct formats. These 'forbidden' films, increasing the levels of sex and violence in films, usually were screened in theatres that came to be known as 'grindhouses' - since they often served as burlesque strip joints. There were fewer instances in which these films had to justify or claim that they had 'redeeming social value':
Feature-length Burlesque Documentaries (a Bettie Page "burlesque trilogy" of vintage erotica):

- Striporama (1953), starring Lili St. Cyr and pin-up girl and cult icon bondage model Bettie Page (in a small cameo)
- Varietease (1954), again with Bettie Page and Lily St. Cyr; produced and directed by girly-pix impresario Irving Klaw
- Teaserama (1955) - with statuesque stripper Tempest Storm, and Bettie Page as emcee and as performer of two stylized dance numbers; also produced and directed by glamour-girl and fetish photographer Irving Klaw

- also, Striptease Girl (1952), another filmed burlesque show documentary with stripper Tempest Storm


"Educational" Films about Venereal Disease or Childbirth:
- See earlier discussion


Jungle-quest or Native 'Documentaries':

- Ingagi (1931)
- Forbidden Adventures (1937), aka Love Life of a Gorilla, with naked native peoples
- Pagan Island (1960), an example of exploitational cinema - a B-grade tale about marooned sailor William (Edward Dew) on an island populated only by beautiful but man-hating semi-naked women (topless except for flower leis, although with very little explicit nudity)
- Mondo Cane (1962) - a globe-trotting shockumentary filled with glimpses of dark-skinned, bare 'savages' engaged in grotesque rituals and scenes of human perversity


Naturist and Nudist-colony films of the 50s and early 60s, with various plots set in nudist camps, or preachy 'socially-redeeming' films about a clean, clothing-optional, and exotically-joyful way of life - these films were generally propagandistic, without any explicit shots of pubic hair or genitalia:

- Garden of Eden (1954)
- Nudist Paradise (1959, UK)
- The Nudist Story (1959)
- Naked...As Nature Intended (1961), d. George Harrison-Marks
- Diary of a Nudist (1961), d. Doris Wishman
- Blaze Starr Goes Nudist (1962), d. Doris Wishman
- Gentlemen Prefer Nature Girls (1962), d. Doris Wishman
- World Without Shame (1962), d. Donovan Winter
- Behind the Nudist Curtain (1964), d. Doris Wishman

Nudie-Cuties From 1959 to 1963 -- Russ Meyer's Breakthrough Sex Flick: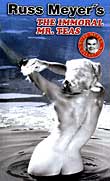 Before sleazy sexploitation films became more common place, the early days of sexual cinema consisted mostly of crude, sexually-explicit 'stag' films, since they were normally low-grade film reels shown at 'mens-only' stag parties or in private clubs. And then director Russ Meyer (soon dubbed "King of the Nudies" and "King Leer") released The Immoral Mr. Teas (1959). This hour-long film ushered in the age of 'nudie-cutie' films. Nudie-cuties always contained the same type of content: bawdy comedy, voyeurism, and soft core sexuality. This cheap film, made on a budget of $24,000 in four days, was the first soft-core (or 'skin-flick') sex film to make a profit - it was a tale about a bachelor with inexplicable X-ray vision who had the power to view women without their clothes.
Another breakthrough, sexploitation film was also released soon thereafter - a 'Mr. Teas' imitation: Not Tonight, Henry (1960) - by producer Edward E. "Ted" Paramore III, about a man (Hank Henry) with a frigid wife who turned to the great historical seductresses in his daydreaming fantasies: Delilah, Cleopatra, Pocahontas, and Lucrezia Borgia; it was advertised as "Frolic for Broad-minded Adults," with "15 No Cover Girls," and "NOT Recommended if You Blush Easily". Herschell Gordon Lewis also directed the first full-color "nudie-cutie" titled The Adventures of Lucky Pierre (1961). It was filmed in CUTIE COLOR and SKINAMASCOPE by producer/screenwriter David Friedman, and advertised as "A Pinch of Pepper...A Nip of Ginger...A Dash of Mustard...in as Spicy a Dish of Adult Cinemafare as You'll Ever Taste."
Russ Meyer went on to make four more "nudie-cutie" films during its prominent era, from 1959 to 1963:
Eve and the Handyman (1961)
Erotica (1961)
Wild Gals of the Naked West (1962)
Heavenly Bodies! (1963)
The Onrush of Soft-Core, Exploitative Sex Films and "Rough Sex" Pictures:
Within a short period of time, many more 'nudie cutie' films were released, such as Peter Perry's Kiss Me Quick! (1964), a science-fiction horror film from sleaze producer Harry Novak. It was a zany, monster comedy with exceptional cinematography by Laszlo Kovacs, with an incredulous plot about effeminate Sterilox (Frank Coe) from the Buttless Galaxy and the all-male planet Droopeter (an example of the lame double-entendres) who came to Earth and demented Dr. Breedlove's (Max Gardens) castle (similar to the Frankenstein films) to find the perfect female specimen for a race of servants - where he was introduced to a trio of gyrating buxom strippers in the laboratory.
These were accompanied by an onslaught of darker, more violent and rougher films. Splatter films emerged, such as the blood-dripping, splatter film offerings of the "Godfather of Gore" Herschell Gordon Lewis (the first 'gore' film Blood Feast (1963) and 2000 Maniacs (1964)).
More Russ Meyer Films in the 60s and 70s: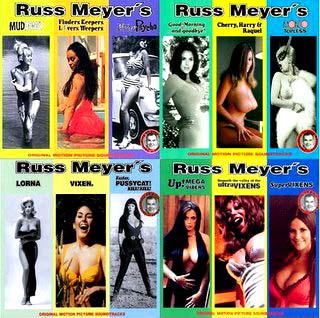 Russ Meyer's exploitative, campy, and often humorous low-budget 'skin-flicks' in the 60s and 70s (23 in total) were filled with sex, nudity and then with 'rough' violence. They seemed to focus almost entirely on well-endowed, curvaceous, take-charge Amazonian women with large breasts (and slim waists) in accidentally-funny, trashy, tasteless and often violent films.
The cheesecake films with descriptive titles were populated by attractive, semi-porn stars such as Haji, Francesca "Kitten" Natividad, and Erica Gavin.
Lorna (1964) - a controversial, black-and-white rape-revenge film with full-bosomed Lorna Maitland as an unsatisfied married woman who was raped by an escaped convict in the woods - and had her sexuality awakened, although her unfaithfulness led to her murder
Fanny Hill: Memoirs of a Woman of Pleasure (1964)
Mudhoney (1965)
Faster, Pussycat! Kill! Kill! (1965) - generally considered as the best of the lot, and Meyer's most popular film; starring Tura Satana in a tale about three buxom go-go dancers by night who went on a murderous desert rampage by day on motorcycles
Motor Psycho (1965)
Mondo Topless (1966), an exploitative documentary (or mockumentary) film
Common Law Cabin (1967)
Good Morning...and Goodbye! (1967) - the first of Meyer's films to be reviewed by The New York Times
Finder Keepers, Lovers Weepers! (1968)
VIXEN! (1968), about the sexual escapades of Vixen Palmer (Erica Gavin); the first X-rated soft-core, blockbuster hit that was shown in mainstream theatres and apparently appealed to women as well as men
Cherry, Harry & Raquel! (1969)
Beyond the Valley of the Dolls (1970), the first of Meyer's studio pictures (for 20th century Fox), with a screenplay by film critic/reviewer Roger Ebert, and highly profitable
SuperVIXENS (1975) - Meyer's low-budget comeback film, extremely violent with outrageously-endowed female stars; a major success that grossed $17 million worldwide
Up! (1976) - with co-writing credits given to Roger Ebert (pseudonymed as Reinhold Timme); it featured a prosthetic prop penis, buxom bimbos, a cartoonish rape scene, a water fight between Raven De La Croix and Janet Wood, a plot about an Adolf Hitler-look-alike in a castle, and Kitten Natividad as a one-person Greek chorus
Beneath the Valley of the Ultra-VIXENS (1979) - a spoof of his own films (also co-written by Ebert) - Meyer's final film starring Kitten Natividad
The coming of hard-core "Porn Chic" in the early 70s spelled the end for Meyer's approach.
Ed Wood and Low-Budget Porn:
Infamous 'bad' cult-film director/screenwriter Ed Wood, known for one of the worst films ever - Plan 9 From Outer Space (1956), was less known for his dabbling in porn films. In the decade of the 60s (until his death in 1978 at age 54) when he lost investment backing for his projects, Wood turned to writing sexy pulp novels, and to filming short porno 'loops' for coin-operated booths in sex shops. Wood's final film (with the pseudonym Don Miller in the credits) was the low-budget, occult porn (or 'smut') film Necromania (1971), subtitled A Tale of Weird Love, that was shot in less than a week, and made in two versions (soft-core and hard-core). It told the story of Danny and Shirley, a young couple who visited a mysterious necromancer named Madame Heles (in her sex clinic and funeral parlor) to solve the couple's sexual problems. The hands-on lessons they were taught in the simplistic, weird film involved a coven of witches, simulated sex with painted skulls, topless chanting and spells, and an extended sex scene in a coffin.
Lesbianism, Homosexuality, and Trans-sexuality:
Before the 1960s, there were few Hollywood films about lesbians, and the ones that existed were stereotyped, suggestive or cliché-ridden, without any complex character development. Images of lesbians on screen included 'dyke' or mannish stereotypes, such as sadistic prison matron Evelyn Harper in Caged! (1950). Female homosexuality re-emerged in a few films in the 60s, although it was again hampered by censorship. Films with female gays mostly told about their adverse struggles, hardships, and the prejudiced homophobic attitudes that they faced - and their own self-punishment.
For example, William Wyler's version of Lillian Hellman's play of the same name, The Children's Hour (1961) was considered the first explicit lesbian film in the US, although it literally avoided the word 'lesbian' - it was more explicit about the sexual theme in its plot than in Wyler's earlier retitled version These Three (1936), when the rumor and accusation of a lesbian relationship between two teachers was changed to an illicit, though heterosexual, love affair between one of the teachers and her colleague's fiancé. The 1961 film still ambiguously only hinted at the forbidden, objectionable theme of lesbianism. As in many lesbian tales, in its finale, the self-loathing Shirley MacLaine character broke down and confessed how 'guilty' and 'sick and dirty' she felt about her feelings toward another teacher (Audrey Hepburn), and she committed suicide by hanging herself when she realized that the lesbian rumors were true.
Capucine starred as a prostitute in lesbian madame Barbara Stanwyck's Depression-era New Orleans bordello named the Doll's House, in Walk on the Wild Side (1962)
Sidney Lumet's The Group (1966) was an early film to explore female sexuality, adultery and lesbianism among a group of classmates from a single-sex liberal arts college, with Candice Bergen (in an early role) and Elizabeth Hartman
director Mark Rydell's tame R-rated adaptation of D. H. Lawrence's novella The Fox (1967), an examination of the lives of two female lovers (Anne Heywood and Sandy Dennis) on an isolated farm in Canada included scenes of masturbation and lesbian love; a strong lesbian relationship was melodramatically destroyed by an intruding male (or "fox"), harkening back to the Hays Code tenet that homosexuals must pay for their sins
Robert Aldrich's landmark film The Killing of Sister George (1968), with Susannah York as a stereotypical, middle-aged lesbian, soap-opera actress; it was X-rated (and then unrated) for its graphic depiction of a prolonged lesbian love scene between York and Coral Browne; it was noted as the first X-rated film for a work by a respected director and actors, and the first mainstream feature film to depict a lesbian love scene; although it contained stereotypical butch/femme posturings, it didn't condemn its characters for their sexual preference
Estelle Parsons' impulsive kiss of Joanne Woodward in director Paul Newman's Rachel, Rachel (1968)
Radley Metzger's soft-core, German language tale of self-discovery, Therese and Isabelle (1968), featuring two French schoolgirl classmates (Essy Persson and Anna Gael) in love in a boarding school; based on the memoirs of author Violette Leduc
The first gay-friendly independent film with homoerotic content, the gay frontier romance Song of the Loon (1970), was released with the tagline: "Curious? Have you ever wondered about a love story between two men?" It was based on Richard Amory's 1966 pulp novel of the same title about a homosexual relationship in 1870's California, and provided audiences with one of its first serious representations of homosexuality, although the film was campy and amateurish.
Veteran Hollywood director Irving Rapper's campy biopic The Christine Jorgensen Story (1970), released by United Artists, was adapted for the screen from a best-selling, late 60s autobiographical account; it was Hollywood's first attempt at exploring transgender issues. It told about an ex-GI who became a blonde beauty and was transformed in the early 1950s in a Denmark clinic from George Jorgensen Jr. into Christine Jorgensen (John Hansen) -- one of the earliest surgically-altered transsexuals. Although it was respectful, it had howlingly bad acting, dialogue, and writing. The poster proclaimed - "I couldn't live in a man's body!" and "Did the surgeon's knife make me a woman or a freak?"
Changes in the Ratings System: The Abolition of the Hays Code
By the late 1940s, the organization known as the MPPDA (Motion Picture Producers and Distributors of America) to administer the Production Code then became known as the Motion Picture Association of America (MPAA). Due to pressures emerging against the archaic censorship body, its president Jack Valenti (appointed in 1966) abolished the Hays Code in 1967. A new voluntary (or advisory) ratings system was established in 1968, initially with four uniform ratings categories to be enforced by distributors and exhibitors (including movie theaters):
G (General Audiences, including children)
M (Mature Audiences)
R (Restricted, Children under 16 not admitted without parent or 'guardian')
X (no one under 16 admitted)
Soon afterwards in 1969, the M rating was changed to GP (General Patronage) and then to PG (meaning 'Parental Guidance Suggested') in 1970, and the age restriction was raised from 16 to 17. Most mainstream filmmakers would subsequently try to avoid a G-rating (other than Disney's animations and true family fare) in order to raise their ratings to PG - and thereby increase their desirability by adult audiences. Many foreign film-makers chose to not submit their films to the ratings board, since their films didn't have widespread appeal anyway and would only play in arthouse venues. From the late 60s on, filmmakers could expect an R-rating for most examples of female nudity and breast-fondling, but X-ratings for oral sex and other explicit sex acts or depictions.
When films became more permissive in the late 60s and 70s, hard-core sexuality made inroads, and the soft-core series of Emmanuelle films from France (see below) had an impact. Women in prison films provided lots of gratuitous lesbianism, but nothing of a seriously dramatic nature. As a result of the newly-permissive environment, more soft-core adults-only sexploitation films (outside the Hollywood system) displayed frontal female nudity and simulated sex, such as the early 'women in prison' film Love Camp 7 (1969) about a Nazi torture concentration camp with a sadistic camp commandant who encouraged sexual depravity, and the sexploitation Western Ride a Wild Stud (1969).
Inroads with Pornographic (X-rated) Films: A Sexual Revolution in the 70s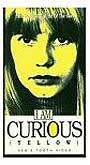 In the late 60s, Vilgot Sjoman's Swedish film I Am Curious (Yellow) (1967) provoked controversy with its mix of politico-revolutionary and never-before-seen explicit lovemaking scenes. This landmark, avante-garde, mock-documentary film (shot with mostly hand-held cameras) allegedly included 'offensive' sexual scenes that were claimed to be pornographic at the time - scenes of full frontal nudity of both sexes (at 38 minutes into the film), simulated intercourse, and the kissing of the male's flaccid penis (over a full hour into the film). As expected, the milestone, taboo-breaking film ran afoul of the US Customs Office and was the subject of a heated court battle. Its claim to fame was that it literally cleared the way for further, more explicit films. Unused footage and alternate takes from the film were culled for a concurrent, parallel film I Am Curious (Blue) (1968, Swe.) - the choice of colors represented the two colors of the Swedish flag.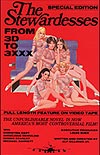 In the early 1970s, porn started to come out of hiding (as artful "porn chic") and was exhibited in feature film theatres rather than in adult bookstores or at private stag parties. Pioneer porn-maker Alex de Renzy directed the sexy travelogue Pornography in Denmark (1970), a film supposedly with "redeeming social value" that was a box-office success due to its semi-documentary interviews and glimpses of a country that had recently outlawed sex censorship and legalized pornography. Other pseudo-documentary films, such as Sexual Freedom in Denmark (1970), Sex USA (1970), The History of the Blue Movie (1970) - an evolutionary survey of pornography with rare vintage erotica, and Hollywood Blue (1971) circumvented strict obscenity laws.
More and more explicit films soon surfaced, however - they were first publically shown in San Francisco in the late 60s and by 1970 in Los Angeles and New York. The first theatrically-released, hard-core fictional feature was the sound-synchronized 16 mm. Mona: The Virgin Nymph (1970), and the first hard-core 3D feature was the X-rated sex comedy The Stewardesses (1969) - one of the most successful 3-D movies in terms of profitability (a budget of $100K brought in box-office of approx. $25 million).
Hard-Core "Porn Chic" for the Mainstream:

Hardcore sexuality made major cinematic inroads in the late sixties and seventies. Gerard Damiano's low-budget "porn chic" film Deep Throat (1972), the first successful hard-core pornographic film seen by mainstream America was the most profitable and widely-played hard-core sex film in history. Heavily prosecuted in the courts, its mildly-humorous tale was about an unsatisfied woman (Linda Lovelace, the first porn superstar) until the discovery that her clitoris was located deep in her throat. Its tagline asked: "How Far Does a Girl Have to Go to Untangle Her Tingle?"
Director Joseph Sarno's low-budget, R-rated sequel Deep Throat Part II (1974), was a blatant cash grab attempt. The US version was entirely bowdlerized and sex-free, while the Italian DVD release version exhibited the film's original soft-core sex scenes. It again featured Linda Lovelace (in her second feature film) as Nurse Lovelace, who worked for a goofy sex doctor named Dr. Jayson (Harry Reems). She was drafted by the American government (CIA) to help spy on the Soviets.
Other groundbreaking films at the time included the Mitchell Brothers' Behind the Green Door (1972) (starring fresh-faced 'Ivory Snow Girl' Marilyn Chambers), Gerard Damiano's sexually-explicit The Devil in Miss Jones (1974) (starring Georgina Spelvin), Radley Metzger's (Henry Paris) highly-regarded 'My Fair Lady' take-off - The Opening of Misty Beethoven (1975), female director Sharon McKnight's classic Autobiography of a Flea (1976), and Debbie Does Dallas (1978). All of these films were regarded as 'legitimate' with movie-goers. They broke box-office records, and scored a record number of lawsuits.

There was also a long series of relatively tasteful soft-core Emmanuelle (1974- ) films from France that made inroads - they were the first soft-core films to be phenomenally-successful at the box-office. They included uninhibited sexual adventures beautifully photographed in exotic locales (e.g., Bangkok, Hong Kong, and Bali). The best were the first two soft-core films with the young, sexually-audacious, red-headed Dutch model Sylvia Kristel:
Emmanuelle (1974) (also with respected French co-star Alain Cluny)
Emmanuelle: The Joys of a Woman (1975) (aka Emmanuelle 2)
In fact, respectability was attempted by having Oscar-nominated (for Truffaut's Oscar-winning Best Foreign Film Day for Night (1973)) screenwriter Jean-Louis Richard provide the first film's script. The original series was tremendously popular, and inspired many imitations.
Penthouse Magazine's publisher Bob Guccione co-produced and Gore Vidal co-wrote the hard-core and decadent X-rated Caligula (1979) about evil Roman Emperor Caligula Caesar, with such well-known, mainstream stars as Peter O'Toole, John Gielgud, Helen Mirren, and Malcolm McDowell. The poorly-received, infamous film (that was denounced by its own stars) provided sexually-explicit views of life in Rome with scenes of incest, rape, bestiality, necrophilia, and sado-masochism, and in spite of itself became the highest-grossing independent production in the US up to that time.