1982
The winner is listed first, in CAPITAL letters.
Actor:
BEN KINGSLEY in "Gandhi", Dustin Hoffman in "Tootsie", Jack Lemmon in "Missing", Paul Newman in "The Verdict", Peter O'Toole in "My Favorite Year"
Actress:
MERYL STREEP in "Sophie's Choice", Julie Andrews in Victor/Victoria", Jessica Lange in "Frances", Sissy Spacek in "Missing", Debra Winger in "An Officer and a Gentleman"
Supporting Actor:
LOUIS GOSSETT, JR. in "An Officer and a Gentleman", Charles Durning in "The Best Little Whorehouse in Texas", John Lithgow in "The World According to Garp", James Mason in "The Verdict", Robert Preston in "Victor/Victoria"
Supporting Actress:
JESSICA LANGE in "Tootsie", Glenn Close in "The World According to Garp", Teri Garr in "Tootsie", Kim Stanley in "Frances", Lesley Ann Warren in "Victor/Victoria"
Director:
RICHARD ATTENBOROUGH for "Gandhi", Sidney Lumet for "The Verdict", Wolfgang Petersen for "Das Boot", Sydney Pollack for "Tootsie", Steven Spielberg for "E.T. - The Extra-Terrestrial"
---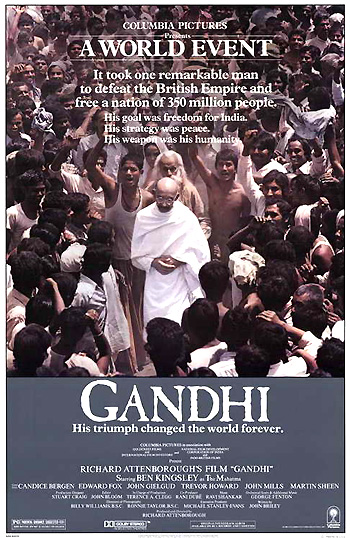 1982 became known as the year with many cross-dressing, gender-reversed, transvestite performances and roles with confused sexual identities: Dustin Hoffman in Tootsie, Julie Andrews and Robert Preston in Victor/Victoria, and John Lithgow in The World According to Garp. It must be noted that these four acting nominees all lost their bids. And it was known as the year that one of the most successful contenders, the box-office blockbuster E.T. - The Extra-Terrestrial, lost the top Oscar award.
Many of the major awards among 1982 films were swept by director Sir Richard Attenborough's earnest, conventional three-hour long, costume epic biography/story of the life of the great, noble and venerable Indian leader, the Mahatma Gandhi (with eleven nominations and eight wins). It won the largest number of awards for any British film up to that time - although the film was financed by Columbia Studios. (The year before, the British film Chariots of Fire was also honored with many accolades - seven nominations and four wins.)
The film's eight awards were for Best Actor (Ben Kingsley in a debut lead performance), Best Screenplay, Best Cinematography, Best Art/Set Direction, Best Film Editing, Best Costume Design - and director Attenborough won two Oscars - for Best Picture (as producer), and Best Director. Its tagline described Gandhi's achievements: "A WORLD EVENT - It took one remarkable man to defeat the British Empire and free a nation of 350 million people. His goal was freedom for India. His strategy was peace. His weapon was his humanity. His triumph changed the world forever."
Two of the Best Picture nominees might have won instead, since they were also very-accomplished films:
director Steven Spielberg's extremely-popular and entertaining, block-buster science-fiction film E.T. - The Extra-Terrestrial (with nine nominations and four wins for technical achievements, for Best Sound, Original Score for John Williams - his fourth Oscar, Visual Effects, and Sound Effects Editing)
Sydney Pollack's witty gender comedy Tootsie (with ten nominations and only one win, for Best Supporting Actress), the story of an out-of-work actor Michael Dorsey (Hoffman) whose female disguises help him get a job and become a female star on a daytime television soap opera. (Although the Academy awarded a Best Picture Oscar to Annie Hall (1977) five years earlier, a rare occurrence for a comedy, it was not likely to occur at such regular intervals.)
The other two Best Picture contenders were:
Greek director Constantin Costa-Gavras' first American film, the South American political thriller Missing (with four nominations and one win - Best Screenplay Adaptation) that suggested CIA involvement in the overthrow of Chile's dictator Salvador Allende
Sidney Lumet's dramatic courtroom drama The Verdict (with five nominations and no wins), about an alcoholic Boston lawyer named Frank Galvin (Paul Newman) and with a screenplay by David Mamet
The only Best Picture-nominated director who wasn't nominated for Best Director was Costa-Gavras. Instead, German director Wolfgang Petersen was nominated for Das Boot (The Boat) (with six nominations and no wins), a tense and claustrophobic tale of a 1941 Nazi U-boat during World War II. [The film was awarded more Oscar nominations than any previous foreign language films in history - until this record was tied in the next year by Fanny and Alexander (1983) (with six nominations and four wins). Both films would be surpassed by Crouching Tiger, Hidden Dragon (2000), which earned ten nominations and four wins including Best Foreign Language Film, including a rare Best Picture nomination.] The Verdict brought director Sidney Lumet his fourth -- and last unsuccessful Best Director Oscar nomination. (A fifth nomination was as co-writer of the Adapted Screenplay for Prince of the City (1981).)
Ben Kingsley deservedly won the Best Actor Oscar (with his first nomination and first Oscar) for his intelligent, sensitive, and realistic portrayal of Mohandas Gandhi's life and his doctrine of non-violent civil disobedience in Gandhi. With his half-Indian (birth name Krishna Bhanji) and half-English descent, Kingsley became the first South Asian performer to achieve such a feat.
All of newcomer Kingsley's Best Actor competitors were veteran actors - the two strongest were:
Dustin Hoffman (with his fifth nomination) as Michael Dorsey/'Dorothy' Michaels, who impersonated a feminist woman and fooled his/her co-actors in order to acquire a daytime soap-TV starring role, in Tootsie
Paul Newman (with his sixth unsuccessful career nomination) as alcoholic, ambulance-chasing, Boston trial lawyer Frank P. Galvin involved in a medical malpractice case in The Verdict
The other two Best Actor nominees were:
Jack Lemmon (with his eighth and last nomination, a two-time Oscar winner) as father Ed Horman searching for his missing writer/son Charles in violence-torn Central America in Missing
Peter O'Toole (with his seventh of eight career nominations, tying him with Richard Burton for the same number of losing nominations) as a former, alcoholic, Hollywood swashbuckler actor named Alan Swann in director Richard Benjamin's My Favorite Year (the film's sole nomination)
The Best Actress winner was Meryl Streep (with her fourth nomination and second Oscar win) as tormented Polish refugee Sophie Zawistowska in New York, the survivor of the Nazi concentration camps (following her fateful 'choice' between which of her two children would die), who has an unstable relationship with a driven Brooklynite (Kevin Kline) in director/screenwriter Alan J. Pakula's melodramatic film Sophie's Choice (the film's sole Oscar win out of five nominations).
[Streep's win prevented Jessica Lange from winning both the Best Actress and Best Supporting Actress Oscars this year. This was Streep's first Best Actress Oscar following her supporting win in 1979. She was nominated consecutively from 1981-1983 as Best Actress.]
The other Best Actress nominees included:
1964 Oscar-winner Julie Andrews (with her third nomination) in the title role of Victoria ("a woman impersonating a man impersonating a woman"), a British singer/transvestite in a drag bar, in Blake Edwards' Victor/Victoria
1980 Oscar-winner Sissy Spacek (with her third nomination) as Jack Lemmon's (as Ed Horman) daughter-in-law Beth Horman - a wife whose husband Charles Horman (John Shea) went 'missing and who seeks the truth in Chile in Missing
Debra Winger (with her first nomination) as Paula Pokrifki, a local millworker (who falls in love with officer candidate Richard Gere) in the Naval Aviation Officer Candidate School's town in director Taylor Hackford's An Officer and a Gentleman
Jessica Lange as tragic, ill-fated, self-destructive, mentally-ill starlet Frances Farmer in Frances
[Lange was also nominated - and won - in the Supporting Actress category for her bubbly role in Tootsie, mirroring the pattern of previous double-nominees. This was the first time, since 1942, and only the third time in all Oscar history, that an actress was nominated in both the lead and supporting categories. It also happened to Fay Bainter in 1938 and Teresa Wright in 1942. It was also only the fourth time in Academy history that a performer had competed in two acting categories in the same year. Lange was the first acting double-nominee since 1944 when Barry Fitzgerald was also nominated for both Best Actor and Best Supporting Actor awards for Going My Way (1944).]
Louis Gossett, Jr. (with his sole career nomination and win) was selected as the Best Supporting Actor for his role as the tough, principled drill sergeant Emil Foley who shapes recruit Richard Gere in An Officer and a Gentleman. [It was a memorable win for Gossett - he was the third African-American actor to win an acting Oscar, following Hattie McDaniel who won in 1939 for Gone With The Wind (1939), and Sidney Poitier who won the Best Actor award for Lilies of the Field (1963). Gossett was the first black actor to win an Academy Award since Poitier's earlier win, and he was the first African-American actor to win Best Supporting Actor.]
The remaining Best Supporting Actor nominees were:
Charles Durning (with his first nomination) as the governor in the mediocre film version of the Broadway play The Best Little Whorehouse in Texas (the film's only nomination) [Note: Durning also starred in an un-nominated role as Jessica Lange's widowed father Les who falls in love with Dorothy Michaels (Hoffman) in Tootsie.]
John Lithgow (with his first nomination) as trans-sexual (or trans-gender) ex-football player Roberta Muldoon, in director George Roy Hill's version of John Irving's best-seller The World According to Garp
James Mason (with his third and last unsuccessful nomination) as the scheming lawyer Ed Concannon in The Verdict
Robert Preston (with his sole career nomination) as Parisian homosexual nightclub drag performer Toddy, who persuaded Victoria (co-star Julie Andrews) to pass herself off as a man), in Victor/Victoria
[Note: Preston wasn't even nominated for his definitive and famous role as Dr. Henry Hill in The Music Man (1962).]
And finally, in the Best Supporting Actress category, Jessica Lange (who was also nominated and lost in the Best Actress category for her tortured portrayal of the lead character in Frances) was nominated and won for her role as Julie Nichols, 'Dorothy's' unknowing, submissive best girlfriend in Tootsie. One of Lange's co-stars, Teri Garr (with her only nomination) was also competing in the category for her performance as Sandy, Hoffman's unemployed and rejected girlfriend. And Kim Stanley (with her second and last unsuccessful nomination) was nominated for her role as Lange's mother in Frances.
The other Best Supporting Actress nominees were:
Lesley Ann Warren (with her only nomination) as a gangster's girlfriend named Norma in Victor/Victoria
Glenn Close (in her film debut and with her first of five unsuccessful nominations in the 80s) as Jenny Fields (T.S. Garp's - Robin William's - unmarried, eccentric and liberated mother) in The World According to Garp
The Best Original Song category had fierce competition, with "Up Where We Belong" (An Officer and a Gentleman) edging out strong nominees including: "It Might Be You" (Tootsie) and "Eye of the Tiger" (Rocky III).
This year, an Honorary Award was presented to Mickey Rooney, "in recognition of his 60 years of versatility in a variety of memorable film performances." Rooney had earlier won a Special Oscar in 1938 (co-awarded to "juvenile player" Deanna Durbin), and had acquired four nominations (with no wins) - two Best Actor nods for Babes in Arms (1939) and The Human Comedy (1943), and two Best Supporting Actor honors for The Bold and the Brave (1956), and The Black Stallion (1979).
Oscar Snubs and Omissions:
Except for its Best Original Screenplay nomination (for director/writer Barry Levinson's debut film), Diner was devoid of other nominations for its cast, such as Ellen Barkin for her role as Daniel Stern's neglected wife Beth. And Ridley Scott's Blade Runner was sorely under-appreciated (with only two nominations for Best Art Direction/Set Decoration and Best Visual Effects - and no wins), lacking Best Picture and Best Director nominations. In addition, Jordan S. Chronenweth's Cinematography, the Costume Design, and Vangelis' Original Score also suffered the Academy's lack of recognition.
Both director/co-writer Jerzy Skolimowski's political allegory and compelling drama Moonlighting and director/co-writer Wim Wenders' complex film about film-making, The State of Things, lacked nominations of any kind. George Miller's Australian film The Road Warrior with Mel Gibson was nomination-less, as was Paul Bartel's black comedy Eating Raoul, and director Fassbinder's West German film Lola.
Other acting nominations were denied Albert Finney and Diane Keaton as a broken-up married couple in Alan Parker's Shoot the Moon, and Jeremy Irons as Nowak - a Polish workers' foreman in Moonlighting. Director/writer Walter Hill's buddy cop/criminal film 48 HRS (with no nominations). was lacking in nominations for leads Nick Nolte and Eddie Murphy. And in an early role, Sean Penn was snubbed for his memorable portrayal of stoned surfer-dude Jeff Spicoli in Amy Heckerling's coming of age teen-comedy Fast Times at Ridgemont High.
Disney's TRON, with two nominations for Best Sound and Best Costume Design, was disqualified for a Best Visual Effects award because the Academy believed that it "cheated" by using a computer - the concept of using computers to craft environments, rather than drawing them by hand, was considered inauthentic. [Three years later, Young Sherlock Holmes (1985) received an Oscar nomination for Best Visual Effects, highlighted by Pixar's CGI "stained glass knight" effect using computer animation. An additional four years later, James Cameron's The Abyss (1989) was also honored with a Best Visual Effects Oscar (the film's only win) for using computer animation.]
Tobe Hooper's effective horror film (with producer/co-screenwriter Steven Spielberg), Poltergeist, received only three nominations (without wins): Best Original Score (Jerry Goldsmith), Best Sound Effects, and Best Visual Effects. There were no nods for the psychic Tangina (Zelda Rubinstein), young Carol Anne Freeling (Heather O'Rourke), the two main leads (JoBeth Williams and Craig T. Nelson), the screenplay, or the director.
Two films suffered, in particular, because there were only three nominees for Best Visual Effects. Star Trek II: The Wrath of Khan, a blockbuster film, was devoid of nominations - for Ricardo Montalban's performance as Khan Noonien Singh, for James Horner's musical score, or for the film's visual effects. Also amazing was that another film with fantastic visual effects, Jim Henson's Muppet-fantasy The Dark Crystal (with no nominations), was passed over in many categories (technical awards and score, to name a few).
Alan Parker's expressionistic rock musical Pink Floyd: The Wall was also overlooked, especially in the Best Original Song and Best Sound categories.