1983
The winner is listed first, in CAPITAL letters.
Actor:
ROBERT DUVALL in "Tender Mercies", Michael Caine in "Educating Rita", Tom Conti in "Reuben, Reuben", Tom Courtenay in "The Dresser", Albert Finney in "The Dresser"
Actress:
SHIRLEY MACLAINE in "Terms of Endearment", Jane Alexander in "Testament", Meryl Streep in "Silkwood", Julie Walters in "Educating Rita", Debra Winger in "Terms of Endearment"
Supporting Actor:
JACK NICHOLSON in "Terms of Endearment", Charles Durning in "To Be or Not to Be", John Lithgow in "Terms of Endearment", Sam Shepard in "The Right Stuff", Rip Torn in "Cross Creek"
Supporting Actress:
LINDA HUNT in "The Year of Living Dangerously", Cher in "Silkwood", Glenn Close in "The Big Chill", Amy Irving in "Yentl", Alfre Woodard in "Cross Creek"
Director:
JAMES L. BROOKS for "Terms of Endearment", Bruce Beresford for "Tender Mercies", Ingmar Bergman for "Fanny and Alexander", Mike Nichols for "Silkwood", Peter Yates for "The Dresser"
---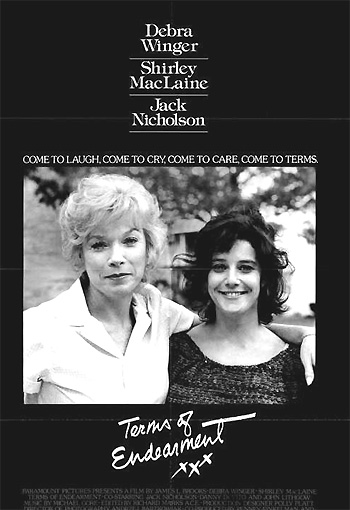 Paramount Pictures' Terms of Endearment (with eleven nominations and five wins) was the emotionally-manipulative film about a Houston woman's (MacLaine) affair with an ex-astronaut (Nicholson) and her stubborn and exasperated struggles with her contentious daughter (Winger) over many years. Adapted from Larry McMurtry's novel, and director Brooks' feature film debut, it was a classic film that blended comedy and 'tearjerker' melodrama, similar to the Best Picture-win experienced by the family drama three years earlier, Ordinary People (1980).
It won most of the big awards in major categories in 1983: Best Picture/Director/Screenplay Adaptation (three Oscars all won by James L. Brooks), Best Actress (Shirley MacLaine) and Best Supporting Actor (Jack Nicholson).
The other four nominees for Best Picture included:
writer/director Lawrence Kasdan's The Big Chill (with three nominations and no wins), a film noted for its ensemble acting about a group of radical 60's college friends re-united during a weekend
the British import film set in World War II and adapted from a successful play, The Dresser (with five nominations and no wins)
writer/director Philip Kaufman's Mercury astronaut story (adapted from Tom Wolfe's best-selling book) of the early days of the US space program, The Right Stuff (a box-office failure with eight nominations and only four wins - Sound, Original Score, Film Editing, and Sound Effects Editing)
Bruce Beresford's adaptation of Horton Foote's Tender Mercies (with five nominations and two wins), a character study of an alcoholic, ex-country-western singer in Texas
The Best Director winner was James L. Brooks for Terms of Endearment - his first Oscar win as Best Director. [It was an unprecedented win for Brooks - three Oscars for writing, producing, and directing the same film. A triple win had also occurred for Leo McCarey in 1944, Billy Wilder in 1960, Francis Ford Coppola in 1974, and would later occur for James Cameron in 1997. He also became the fourth director to win an Oscar for his first feature.]
Philip Kaufman (director of The Right Stuff) was omitted from the Best Picture-nominated directors competing for Best Director. So was Lawrence Kasdan as director for The Big Chill. In their places, Swedish director Ingmar Bergman was nominated as Best Director for Fanny and Alexander (with six nominations and four wins - Best Foreign Language Film, Best Cinematography, Best Art/Set Direction, and Best Costume Design), the lush, turn-of-the-century tale of two Swedish children. And Mike Nichols (for his first film since 1975) was nominated for Silkwood (with five nominations and no wins), the story of the title character Karen Silkwood - a nuclear fuel plant worker and union activist. Australian director Bruce Beresford (with his sole career nomination) was nominated for his first American film Tender Mercies and Peter Yates, better known for the action film Bullitt (1968) or The Deep (1977), was nominated for The Dresser.
Among the Best Actor nominees, there were three British actors, one Scot actor, and one American actor. [Similar circumstances occurred during the 1992 ceremonies.] All five of the Best Actor nominees also played roles of alcoholics (of varying degrees).
The American nominee and winner was Robert Duvall (with his fourth nomination and his first Oscar win - previous nominations were in 1972, 1979, and 1980) as the ex-drinking, ex-country/western music star Mac Sledge who settles down on a Texas farm with Tess Harper and her son in Tender Mercies.
The British (and Scottish) Best Actor nominees included:
Michael Caine (with his third unsuccessful Best Actor nomination) as Dr. Frank Bryant, a drunken English literature professor/tutor in Educating Rita (with three nominations and no wins)
Tom Courtenay (with his second nomination and first Best Actor nomination) as the loyal, abused, gay, alcoholic, backstage, dresser/valet for
co-star Albert Finney (with his third nomination) who was also nominated - for the same film - for his role as the senile, self-obsessed, alcoholic Shakespearean stage actor "Sir" in The Dresser
Scottish actor Tom Conti (with his first nomination) was nominated as a drunken, womanizing Scottish poet on a New England lecture tour in the American film Reuben, Reuben
Shirley MacLaine won the Best Actress award (with her fifth nomination and first Oscar win - previous nominations were in 1958, 1960, 1963, and 1977) for her role as 50 year-old, widowed mother/grandmother, and daughter-hating Aurora Greenwood in the soap-opera-ish Terms of Endearment. Her co-star Debra Winger (with her second nomination) was also nominated as her terminally-ill daughter Emma Horton. As in the film's competition within their relationship, MacLaine won over her 'daughter'.
Other Best Actress nominees included:
Jane Alexander (with her fourth unsuccessful nomination) as Carol Wetherly, a Northern California housewife with three children facing World War III nuclear holocaust in Testament (the film's sole nomination)
Meryl Streep (with her fifth nomination, and third consecutive nomination as Best Actress) as the title character - a union activist and worker at the Kerr-McGee nuclear materials plant who believes she has been contaminated and then dies in a suspicious car accident in Silkwood
British actress Julie Walters (in her screen debut) as sharp-witted, working-class Cockney hairdresser Rita who eagerly takes Open University classes in the romantic comedy Educating Rita
Jack Nicholson (with his seventh nomination, third Best Supporting Actor nomination, and second Oscar win) was awarded the Best Supporting Actor award for his comic role as ex-astronaut Garrett Breedlove, a virile bachelor who successfully courts Shirley MacLaine in Terms of Endearment. [Nicholson's win made him the first performer to win the Best Supporting Actor award following a Best Actor win in 1975. His win made him the third winner of both actor awards - the first two actors were Jack Lemmon (in 1955 and 1973) and Robert DeNiro (in 1974 and 1980). Both of them first won a Best Supporting Actor award and then a Best Actor award.] Nicholson had lost the Best Supporting Actor nomination two times before: two years previously for Reds (1981) and also 14 years previously for Easy Rider (1969).
Nicholson defeated the following Best Supporting Actor nominees:
his film's co-star John Lithgow (with his second consecutive award) as Debra Winger's lover Sam Burns
Charles Durning (with his second consecutive nomination) as Nazi Erhardt ("Concentration Camp") in Mel Brooks' re-make of the 1942 classic, To Be or Not to Be (the film's sole nomination)
Sam Shepard (with his sole nomination) as test pilot Chuck Yeager who broke the speed record in The Right Stuff
Rip Torn (with his sole nomination) as Florida backwoods redneck Marsh Turner in the life story of 1930s author Marjorie Kinnan Rawlings (author of The Yearling and Jacob's Ladder), Cross Creek
The winner in the Best Supporting Actress category was a female in a male role - the diminutive, 4 foot, 9-inch Linda Hunt (with her first and only nomination and win) as Billy Kwan - an idealistic Chinese-Australian (Eurasian) dwarf/photographer-guide for journalist Mel Gibson in 1960s Indonesia in director Peter Weir's Australian film, The Year of Living Dangerously. Hunt's character was not transgender, just male. [Note: Her Oscar win was the first instance that an actress won an Oscar for playing a gender-switched role - a character of the opposite sex.]
The other four Best Supporting Actress nominees were:
Cher (in her film debut) as Meryl Streep's lesbian, blue-collar roommate Dolly Pelliker in Silkwood
Glenn Close (with her second consecutive nomination) as physician Sarah (one of the former college student friends reunited together at a weekend retreat) in The Big Chill
Amy Irving (with her sole career nomination) as Hadass in producer/director Barbra Streisand's Yentl (with five nominations and only one win - Best Original Song Score and/or Its Adaptation Score)
Alfre Woodward as Geechee in Cross Creek
Oscar Snubs and Omissions:
Another collaboration between director Martin Scorsese and Robert De Niro (their fifth) - the satirical black comedy The King of Comedy about obsession and celebrity culture - was denied nominations in every category and was a tremendous box-office failure. Robert De Niro as aspiring, oddball, would-be comedian Rupert Pupkin, Jerry Lewis as kidnapped Johnny Carson-like talk-show host Jerry Langford, and Sandra Bernhard (in her film debut) as Masha were neglected in the nominations, as was Paul D. Zimmerman's screenplay. Another glaring omission was the complete lack of nominations for the sequel Psycho II, featuring an under-rated, return performance by Anthony Perkins.
Director Philip Kaufman wasn't even nominated for his visually-inspiring, dazzling Best-Picture nominee The Right Stuff, nor was Ed Harris for his performance as heroic American astronaut John Glenn. Bob Clark's popular holiday film, A Christmas Story, was completely ignored. Director/writer Bob Fosse's Star 80, his last film and the true story of the murder of Playboy Playmate Dorothy Stratten (Mariel Hemingway) by her estranged, obsessed husband Paul Snider (Eric Roberts), lacked any Academy Awards nominations, although Roberts was nominated for a Golden Globe, and the film was placed on film critic Gene Siskel's 10-Best list for the year.
And producer/star/director Barbra Streisand was snubbed for her directorial debut effort in the musical opus Yentl (with five nominations and one win - for Best Original Song Score), a film without Best Picture, Best Actress, and Best Director nominations. Charges of sexism were brought against the Academy and the Hollywood film factory. [Seven years later, Streisand's film The Prince of Tides (1991) likewise received seven nominations (with no wins) - and again bypassed Streisand for a Best Director nomination.]
David Cronenberg's horror-thriller The Dead Zone from a Stephen King story was notable for its un-nominated performance of Christopher Walken as psychic Johnny Smith, and for lacking a nomination for Michael Kamen's score. Bill Forsyth's whimsical British film Local Hero with Burt Lancaster as Texas oil industrialist Happer was another un-nominated film. Jeremy Irons wasn't nominated for his role as Jerry in Harold Pinter's nominated screenplay about a seven year adulterous affair (shown in flashback) titled Betrayal, nor was Anthony Perkins for his reprised role as a 'sane' Norman Bates in Psycho II, nor was Charles Martin Smith for his performance as lone, white wolf-studying Arctic Yukon biologist in Carroll Ballard's cinematographically-beautiful Never Cry Wolf, nor was director/producer/actor Clint Eastwood in his fourth Dirty Harry role in Sudden Impact (with no nominations) - famous for his line: "Go ahead, make my day."
Actresses who were nudged out of the acting nominations were Rosanna Arquette as a 60s New Jersey Jewish girl in writer/director John Sayles' Baby, It's You, Bonnie Bedalia as drag-racing champion Shirley Muldowney in Heart Like A Wheel, Barbara Hershey as the sexual victim of an unseen entity in director Sidney Furie's The Entity, and Barbra Streisand as the title character in Yentl - a Jewish girl masquerading as a boy. Michelle Pfeiffer was not nominated for her role as the trophy wife of drug lord Al Pacino in Scarface, and Louise Fletcher was ignored for her performance as a chain-smoking, work-addicted scientist in Brainstorm.
Famed cinematographer Gordon Willis finally received his first Best Cinematography nomination this year for Woody Allen's Zelig. [He was cinematographer for the first two Godfather films and Allen's Best Picture-winning Annie Hall (1977). Although nominated a second time for The Godfather, Part III (1990), he never won.]
Director Godfrey Reggio's debut film, the experimental, feature-length, ecology-minded visual documentary Koyaanisqatsi (with no nominations) - meaning "life out of balance," was overlooked for a Best Original Score nomination (for Philip Glass' musical score), and a Best Film Editing nomination for cinematographer Ron Fricke.