1981
The winner is listed first, in CAPITAL letters.
Actor:
HENRY FONDA in "On Golden Pond", Warren Beatty in "Reds", Burt Lancaster in "Atlantic City", Dudley Moore in "Arthur", Paul Newman in "Absence of Malice"
Actress:
KATHARINE HEPBURN in "On Golden Pond", Diane Keaton in "Reds", Marsha Mason in "Only When I Laugh", Susan Sarandon in "Atlantic City", Meryl Streep in "The French Lieutenant's Woman"
Supporting Actor:
JOHN GIELGUD in "Arthur", James Coco in "Only When I Laugh", Ian Holm in "Chariots of Fire", Jack Nicholson in "Reds", Howard E. Rollins, Jr. in "Ragtime"
Supporting Actress:
MAUREEN STAPLETON in "Reds", Melinda Dillon in "Absence of Malice", Jane Fonda in "On Golden Pond", Joan Hackett in "Only When I Laugh", Elizabeth McGovern in "Ragtime"
Director:
WARREN BEATTY for "Reds", Hugh Hudson for "Chariots of Fire", Louis Malle for "Atlantic City", Mark Rydell for "On Golden Pond", Steven Spielberg for "Raiders of the Lost Ark"
---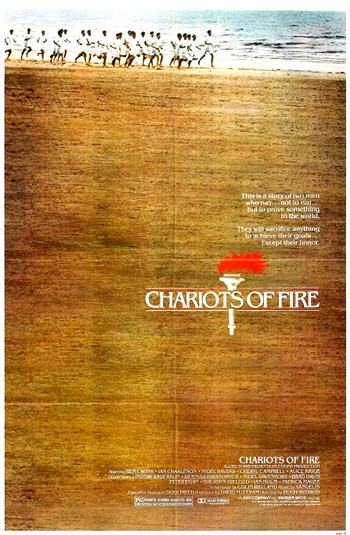 The Best Picture winner this year was a surprise and major upset win for British producer David Puttnam's low-budget Chariots of Fire, directed by Hugh Hudson, with seven nominations and four wins. It also took top honors for Best Screenplay (Colin Welland), Best Original Score (Vangelis' rich electronic, throbbing score, especially during the iconic opening credits sequence) and Best Costume Design.
The win signaled the start of another mini-British renaissance of film awards for this year and the next - with Gandhi (1982) soon breaking all British film Oscar records. (It had been 13 years since another British-made film had won Best Picture, Oliver! (1968)) Chariots of Fire was also the second sports film to win Best Picture (the first was Rocky (1976)). It also marked the first of four biopics to win the top award during the 80s, joining Gandhi (1982), Amadeus (1984), and The Last Emperor (1987).
Of the top five competitors for Best Picture, two were historical epics, two were about senior-citizens, and one was a throwback to the action/adventure films of the past:
Chariots of Fire was the inspirational story of the 1924 Olympics running event in Paris and the motivations of two of Britain's runners, Cambridge University students - English Jew Harold Abrahams (Ben Cross) and Scottish Christian missionary Eric Liddell (Ian Charleson). Its tagline was: " This is a story of two men who run...not to run...but to prove something to the world. They will sacrifice anything to achieve their goals...Except their honor." The film, which contained an anti-Semitism subplot, soon became the most-successful foreign film in US box-office history

Warren Beatty's $35 million, three-hour long American epic masterpiece and front-runner in the competition, Reds (with twelve nominations and three wins) including Best Director (Warren Beatty), Best Supporting Actress (Maureen Stapleton), and Best Cinematography (Vittorio Storaro, the winner of the same award for Apocalypse Now (1979).) Reds was the film biography of American communist and romantic figure John Reed, a left-wing radical journalist and author of Ten Days That Shook the World, who journeyed from Oregon to Greenwich Village and then to Russia to cover first-hand the 1917 Bolshevik Revolution on the streets of Petrograd
[Beatty received simultaneous nominations as producer, director, co-writer (with English dramatist Trevor Griffiths), and star actor for the film. Only one other director, Orson Welles, had accomplished such a feat (for Citizen Kane (1941)). Beatty was repeating his acquisition of quadruple nominations - his earlier film Heaven Can Wait (1978) had earned him the same distinction.]

director Mark Rydell's favored, all-star family drama On Golden Pond (with ten nominations and three wins), a screen adaptation of Ernest Thompson's play about the members of the Thayer family who conflict and reconcile with each other during one summer at a lakeside New England cabin
The other Best Picture nominees were:
director Louis Malle's long-shot Atlantic City (with five nominations and no wins), the dual stories of an aging, small-time hood and a struggling oyster-bar waitress in the casino town
director Steven Spielberg's (and George Lucas' written and produced) block-busting, entertaining genre film Raiders of the Lost Ark (with nine nominations and five wins, mostly technical awards), an old-style action/adventure film about the heroic exploits of archaeologist Indiana Jones searching for the Ark of the Covenant against the Nazis
All five of the directors of Best Picture nominees were likewise nominated in the Best Director category - the third instance in Oscar history. [It also happened in 1957 and 1964 and would not occur again for another 24 years, in 2005.] Warren Beatty won the award as Best Director for Reds. [He was one of the few actors/stars that was also an Oscar-winning director (but without winning an acting Oscar), along with Robert Redford for Ordinary People (1980) the previous year, Kevin Costner for Dances With Wolves (1990) and Clint Eastwood for Unforgiven (1992) and Million Dollar Baby (2004).]
Reds had nominations of its actors in all four categories, but only one of the four performers won - Best Supporting Actress. All four of the acting awards winners were elderly, aging actors - the oldest collection of acting winners ever assembled, averaging 70.75 years old:
76 year old Henry Fonda (Best Actor for On Golden Pond)
74 year old Katharine Hepburn (Best Actress for On Golden Pond)
77 year old Sir John Gielgud (Best Supporting Actor for Arthur)
56 year old Maureen Stapleton (Best Supporting Actress for Reds)
Other elderly nominees joined the acting winners:
68 year old Burt Lancaster (Best Actor nominee for Atlantic City)
57 year old Paul Newman (Best Actor nominee for Absence of Malice)
50 year old Ian Holm (Best Supporting Actor nominee for Chariots of Fire)
The sentimental favorites and actual winners for Best Actor and Best Actress were legendary actors, both co-starring in the same film, On Golden Pond. This was only the fifth film in Oscar history to have Oscars wins for Best Actor and Actress in the same film (it also occurred in 1934, 1975, 1976, and 1978). This was the only time that Henry Fonda was teamed with his real-life daughter Jane, and the only time he starred with veteran actress Katharine Hepburn:
Henry Fonda as the gutsy, nearly-80 year-old Norman Thayer, a former college professor who is facing senility, but enjoys sharing life on the lake with the young son of his daughter's boyfriend in On Golden Pond. Henry Fonda's Best Actor award for the film was his first Oscar. It was undoubtedly a 'career' Oscar win - a tribute to his long, distinguished career of film-making. [At 76 years of age, Fonda was the oldest nominee and winner in the Best Actor category in Academy history.] Fonda had been nominated for Best Actor only once before - forty one years earlier for The Grapes of Wrath (1940), but had lost the award. The gap of time between acting nominations was a record in itself. (Fonda's daughter and co-star Jane accepted her father's Oscar, because he was too ill to attend. He died about four months later. His win made it the first time that a father-daughter team were Oscar-winners: Henry Fonda (for On Golden Pond (1981)) and Jane Fonda (for Klute (1971) and Coming Home (1978)). The second father-daughter Oscar winners occurred in 1999 - for Jon Voight and Angelina Jolie.)
Katharine Hepburn as his wise and quietly-strong wife Ethel who urges her crusty husband to reconcile with his daughter (Jane Fonda) in On Golden Pond. The couple portrayed bickering but devoted protagonists. [At 74 years of age, Hepburn became the oldest Best Actress winner up to that time - she was surpassed 8 years later by 80 year old Jessica Tandy for Driving Miss Daisy (1989). Hepburn also set a record with her fourth (and final) Oscar - she became the first performer to win that many Best Actress awards with a record of twelve nominations.
The four remaining Best Actor nominees included the following:
Warren Beatty (with his third Best Actor nomination) for his role in Reds as radical American communist and journalist John Reed, who faced increasing resistance to the spread of Communism in isolationist 1920s US, witnessed the Russian Revolution and then wrote the book, Ten Days That Shook the World
Burt Lancaster (with his fourth and last career nomination) as small-time hood Lou in Atlantic City
Paul Newman (with his fifth career nomination) as Michael Gallagher, the innocent victim of an unscrupulous Miami newspaper columnist's report in Sydney Pollack's examination of the ethics of journalism, Absence of Malice (with three nominations and no wins)
Dudley Moore (with his sole Oscar nomination in his career) as the drunk, spoiled, amiable and millionaire-rich playboy and title character Arthur Bach in Arthur (with four nominations and two wins)
The four remaining Best Actress nominees included:
Diane Keaton (with her second of four Best Actress career nominations) as Louise Bryant, Reed's lover (and then wife) and fellow radical in Reds
Marsha Mason (with the last of her four unsuccessful nominations) as the brilliant, self-destructive, divorced alcoholic Broadway actress Georgia in Neil Simon's adaptation of his own play (The Gingerbread Lady) in the film Only When I Laugh (with three nominations and no wins)
Meryl Streep (with her third nomination and first Best Actress nomination, and her first of three consecutive nominations in the early 80s) as the enigmatic heroine Sarah Woodruff/Anna of the title in two parallel stories in the complex film adaptation of John Fowles' best-selling novel, director Karel Reisz' The French Lieutenant's Woman (with five nominations and no wins)
Susan Sarandon (with her first nomination) as aspiring casino croupier Sally who becomes involved in a drug deal and who sexily rubs lemon juice on her breasts to remove the smell of fish in Atlantic City
[Coincidentally, Streep lost the Best Actress bid to Hepburn when she won her final Oscar with her 12th nomination. Eighteen years later in 1999, Streep would tie Hepburn with her 12th nomination, and in 2002, Streep would surpass Hepburn with her 13th nomination, and then in 2006 garner her 14th nomination.]
Classical actor Sir John Gielgud won the Best Supporting Actor award for his role (not in Chariots of Fire as Master of Trinity) as drunken Arthur's kindly, no-nonsense, sarcastic, deadpan butler/valet Hobson in the comedy Arthur. [His only other Oscar nomination was in his role as King Louis VII in Becket (1964).] The four other Best Supporting Actor nominees included:
James Coco (with his first and only career nomination) as an unemployed gay actor in Only When I Laugh
Ian Holm (with his first and only career nomination) as Liddell's trainer Sam Mussabini in Chariots of Fire
Jack Nicholson (with his sixth career nomination and second Best Supporting Actor nomination) as Eugene O'Neill in Reds
Howard E. Rollins, Jr. (with his first and only career nomination) as the black ragtime piano player Coalhouse Walker, Jr. in Ragtime
Maureen Stapleton won the Best Supporting Actress award for her portrayal of earthy, disillusioned, and despairing revolutionary-anarchist Emma Goldman in Reds. This was her fourth and final career nomination and only successful one - she had been nominated three times previously for Best Supporting Actress in 1958 (for Lonelyhearts (1958)), 1970 (for Airport (1970)), and in 1978 (for Interiors (1978)). All of her nominations were for films with one word titles! The other Best Supporting Actress nominees included:
Melinda Dillon (with her second and last Best Supporting Actress nomination) as tragically-suicidal Teresa in Absence of Malice
Jane Fonda (with her sixth of seven career nominations, and her sole supporting nomination) as Henry Fonda's screen daughter Chelsea Thayer in On Golden Pond [the only time that Jane and Henry acted together]
Joan Hackett (with her first and only career nomination) as a socialite in Only When I Laugh
Elizabeth McGovern (with her first and only career nomination) as millionaire Harry K. Thaw's sexy showgirl wife (and Stanford White's mistress) Evelyn Nesbit in Ragtime
Four-time Best Actress Oscar-defeated Barbara Stanwyck (in 1937, 1941, 1944 and 1948) accepted an Honorary statuette from the Academy, "for superlative creativity and unique contribution to the art of screen acting."
Oscar Snubs and Omissions:
Director John Boorman's visionary version of the King Arthur tales - Excalibur, received only one unsuccessful nomination for Best Cinematography. The four nominations for The Rose, featuring Bette Midler's remarkable performance, went unhonored. The endlessly fascinating dinner conversation film, Louis Malle's My Dinner With Andre was completely omitted from honors. There were no special recognitions or nominations for the imaginative Visual Effects in the mythological fantasy Clash of the Titans, the last film from legendary stop-motion animator Ray Harryhausen. Ragtime was awarded eight nominations (with no wins) without a Best Picture nomination. And Gallipoli went completely unnominated, including omissions for Best Picture, Best Director (Peter Weir), Best Actor (Mel Gibson), and Best Supporting Actor (Bill Hunter). Director Blake Edwards' semi-autobiographical comedy S.O.B., a satire on the film industry which featured his squeaky-clean wife Julie Andrews exposing her breasts, was devoid of nominations, as was the crime drama True Confessions, starring Robert Duvall and Robert DeNiro as two brothers brought together as a result of a brutal murder in late 1940s Los Angeles.
Many acting nominations were denied to a number of proven actors and actresses in 1981:
the previous year's Oscar-winner Sissy Spacek was neglected for her performance as WWII Texas switchboard operator and divorced mother Nita Longley in Raggedy Man (with no nominations)
Faye Dunaway was bypassed for her role as abusive mother and actress Joan Crawford in Mommie Dearest (with no nominations)
Candice Bergen was denied a nomination for Rich and Famous (with no nominations)
Sally Field was ignored for her performance in Absence of Malice (with three unsuccessful nominations)
both Carol Burnett (in a serious role) and Bess Armstrong were un-nominated for their lead and supporting roles in director/actor/writer Alan Alda's marriage drama The Four Seasons (with no nominations)
Other un-nominated stars/directors included:
director/star/co-writer Albert Brooks for his role as love-torn Robert Cole in the realistic romantic comedy Modern Romance
Harrison Ford - for his defining performance as courageous, indomitable hero Indiana Jones, and Karen Allen - for her liberated role as sidekick Marion Ravenwood in Steven Spielberg's action/adventure tribute Raiders of the Lost Ark
John Heard for his anti-hero role as crippled, angry Vietnam veteran Alexander Cutter in Czech director Ivan Passer's ignored Cutter's Way (with no nominations)
Steve Martin (in his first dramatic role) as Arthur Parker - a Chicago Depression-era traveling sheet-music/song salesman, and Christopher Walken in a short role as slick pimp Tom who performed a seductive, almost-lewd striptease/tap-dance ("Let's Misbehave") on top of a bar in a sleazy joint to entice shy schoolteacher Eileen (Bernadette Peters), in director Herbert Ross' eccentric, downbeat musical Pennies From Heaven (with four unsuccessful nominations)
Donald Sutherland as a deadly Nazi agent in Eye of the Needle
Treat Williams as corrupt NY narcotics cop Daniel Ciello in director Sidney Lumet's Prince of the City
William Hurt (as lowlife lawyer Ned Racine) and Kathleen Turner in her film debut (as conniving and sexy femme fatale Matty Walker) in Lawrence Kasdan's modern-day noir Body Heat (with no nominations)
John Belushi (in his last film appearance) as a burly newspaperman who falls in love with mountain woman Blair Brown in Michael Apted's romantic comedy Continental Divide (with no nominations - and another un-nominated Kasdan screenplay)