1980
The winner is listed first, in CAPITAL letters.
Best Picture


ORDINARY PEOPLE (1980)


Coal Miner's Daughter (1980)


The Elephant Man (1980)


Raging Bull (1980)


Tess (1979, Fr./UK)
Actor:
ROBERT DE NIRO in "Raging Bull", Robert Duvall in "The Great Santini", John Hurt in "The Elephant Man", Jack Lemmon in "Tribute", Peter O'Toole in "The Stunt Man"
Actress:
SISSY SPACEK in "Coal Miner's Daughter", Ellen Burstyn in "Resurrection", Goldie Hawn in "Private Benjamin", Mary Tyler Moore in "Ordinary People", Gena Rowlands in "Gloria"
Supporting Actor:
TIMOTHY HUTTON in "Ordinary People", Judd Hirsch in "Ordinary People", Michael O'Keefe in "The Great Santini", Joe Pesci in "Raging Bull", Jason Robards in "Melvin and Howard"
Supporting Actress:
MARY STEENBURGEN in "Melvin and Howard", Eileen Brennan in "Private Benjamin", Eva Le Gallienne in "Resurrection", Cathy Moriarty in "Raging Bull", Diana Scarwid in "Inside Moves"
Director:
ROBERT REDFORD for "Ordinary People", David Lynch for "The Elephant Man", Roman Polanski for "Tess", Richard Rush for "The Stunt Man", Martin Scorsese for "Raging Bull"
---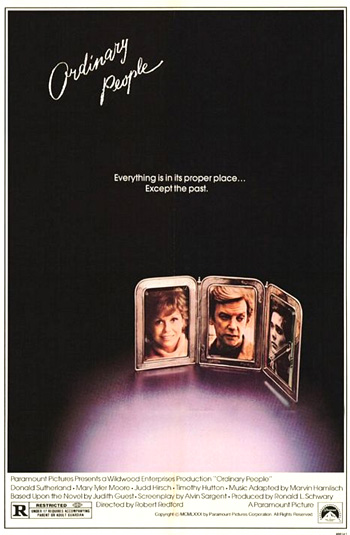 This was the year in which former actor and Screen Actors Guild president Ronald Reagan was elected President of the US. Coincidentally, the attempted assassination of President Reagan by John Hinckley, Jr. (obsessed by Martin Scorsese's film Taxi Driver (1976) and its young actress Jodie Foster) on March 30, 1981 led to the postponement of the awards show by one day. This was the third instance in Academy history that the ceremony was postponed (it was also delayed in 1938 and 1968).
Most of the Best Picture nominees in this year were not spectaculars or blockbusters, but unique films about struggling, ordinary, real-life people. The winner was the well-acted, low-budget human drama Ordinary People (with six nominations and four wins, including Best Picture, Best Director, Best Adapted Screenplay, and Best Supporting Actor), an emotional film - about fictional people - in a year filled with seven nominations for real individuals. The tagline was: "Everything is in its proper place...Except the past."
It showed the devastating results of the accidental drowning of the older son on the upper-middle class suburban Jarrett family (led by parents Mary Tyler Moore and Donald Sutherland), and in particular, the tragedy's effects on the remaining suicidal and tormented grief-stricken son (Timothy Hutton), even with the aid of a psychiatrist (Judd Hirsch). The film's unsentimental story was adapted from Judith Guest's highly-regarded 1976 novel by Alvin Sargent. It was the last Best Picture winner without a Film Editing nomination.
Popular acting star and sex symbol Robert Redford won two Oscar awards (his first wins) for Best Director and Best Picture for his directorial debut. Redford became the first major acting star to take a turn at directing in order to win the Oscar - for his first film. [Delbert Mann was the last director to win the Best Director award in his first attempt, for Marty (1955).] In the middle of his acting career, Redford had been nominated only once before, for The Sting (1973), but had appeared in the enormously-popular Butch Cassidy and the Sundance Kid (1969) and All The President's Men (1976). Redford also founded the independent-film organization, The Sundance Institute, in 1980.
[Note: This year marked the first (of many instances) in which nominated director Martin Scorsese lost his Best Director bid. This time, he lost for Raging Bull (1980)) to an actor making his directorial debut; the second occurrence of losing to another actor was ten years later (Dances With Wolves (1990), Kevin Costner).]
Three of the other Best Picture nominees were specifically based on authentic figures:
director Michael Apted's Coal Miner's Daughter (with seven nominations and only one win - Best Actress) was the believable film biography of country western singer Loretta Lynn, the "First Lady of Country Music" from her backwoods childhood to her later success
Martin Scorsese's black and white docu-style Raging Bull (with eight nominations and two wins - Best Actor and Best Film Editing) was based on the autobiography of the brutish "Bronx Bull", ex-middleweight champion boxer Jake La Motta
David Lynch's The Elephant Man (with eight nominations and no wins) was the heart-breaking, moving story of the hopelessly-deformed, sideshow oddity John Merrick - a kind and intelligent man in Victorian England's society, allegedly victimized by neurofibromatosis, but actually diagnosed as suffering from Proteus Syndrome. The film was financed by Paramount Studios, and produced by Mel Brooks. [Director Lynch received his first directorial nomination for the film.]
Roman Polanski's visually-beautiful, European-made Tess (1979) (with six nominations and three wins for its artistry - Best Cinematography, Costume Design, and Art/Set Direction), adapted from the Thomas Hardy late 19th-century novel Tess of the D'Urbervilles - the tragic story of a wronged peasant kinswoman (20 year-old Nastassja Kinski, a former Polanski lover) [Note: Polanski had already fled to Europe after being charged with statutory rape]
[The biggest box-office film of 1980 was producer George Lucas' The Empire Strikes Back (with only three nominations and one win - Best Sound, and an additional Special Award for Visual Effects), the second in the Star Wars (1977) trilogy.]
Michael Apted, the director of Best Picture-nominated Coal Miner's Daughter, was not nominated for Best Director. The fifth nominated director joining the other four Best Picture-nominated directors was Richard Rush for the well-crafted, puzzling and startling film The Stunt Man (with three nominations and no wins), about a power-crazed film director who convinces a fugitive to become a stunt man in his cinematic creations.
Seven of the 20 acting nominations were for portrayals of real-life personages:
*Sissy Spacek as country western singer Loretta Lynn in Coal Miner's Daughter
John Hurt as John Merrick in The Elephant Man
Jason Robards as Howard Hughes in Melvin and Howard
*Mary Steenburgen as Lynda Dummar, the first wife of would-be Howard Hughes heir Melvin Dummar in Melvin and Howard
*Robert DeNiro as boxer Jake LaMotta in Raging Bull
Joe Pesci as Joey in Raging Bull
Cathy Moriarty as Vicki in Raging Bull
Not surprisingly, three of the four acting awards (with asterisks) went to performers who had portrayed real people.
Robert De Niro (with his fourth nomination and second Oscar win) finally won his first Best Actor Oscar in his fourth film with director Martin Scorsese. The Oscar was for his brilliant, realistic performance as the raw and brutal, but washed-up boxer Jake La Motta who becomes overweight and forgotten in Raging Bull. The actor had gained 56 pounds in preparation for his role. [DeNiro won another Oscar as Best Supporting Actor for The Godfather, Part II (1974), six years earlier.]
The other four Best Actor nominees were nominated for equally dramatic, quality performances:
John Hurt (with his second unsuccessful nomination) as John Merrick, the inhuman-looking victim of a deforming neuromuscular disease in The Elephant Man
Jack Lemmon (with his seventh of eight career nominations) as Scottie Templeton - a terminally-ill Broadway press agent who makes peace with his estranged son in director Bob (Benjamin) Clark's Tribute (the film's sole nomination); Lemmon previously won a Best Supporting Actor Oscar for Mister Roberts (1955) and a Best Actor Oscar for Save the Tiger (1973)
Peter O'Toole (with his sixth of eight career nominations) as the manipulative, megalomaniac film director Eli Cross in The Stunt Man
Robert Duvall (with his third unsuccessful nomination to date) as Lt. Col. Bull Meechum - the macho Marine pilot and unpredictable patriarch who harshly abuses and disciplines his family in director Lewis John Carlino's The Great Santini (a film with two unsuccessful nominations)
In the same manner that De Niro was trained for his role by Jake La Motta, Sissy Spacek, the winner of the Best Actress award (with her second career nomination and first Oscar), was chosen by Loretta Lynn to play herself in the part of a poor Appalachian girl who becomes country-western superstar Loretta in the expert rags-to-riches bio film by British director Michael Apted's Coal Miner's Daughter - Spacek did her own singing in the film, as did Beverly D'Angelo in the part of Patsy Cline.
The other Best Actress nominees were:
former TV star Goldie Hawn (with her second career nomination and first Best Actress nomination, after winning Best Supporting Actress -- her first nomination -- for Cactus Flower (1969)) as pampered Jewish girl Judy Benjamin who enlists in the Army in director Howard Zieff's comedy Private Benjamin (with three nominations and no wins)
Ellen Burstyn (with her fifth career nomination) as Edna Mae McCauley - a faith-healer following a near-fatal car accident in director Daniel Petrie's Resurrection (with two nominations and no wins)
another former TV star Mary Tyler Moore (with her sole career nomination) in an against-type role as Beth Jarrett - the middle-class, unloving, aloof and undemonstrative, resentful and cold suburbanite parent after the death of one son and the attempted suicide of another younger severely-depressed son, in Ordinary People [Note: During the film's shooting, Moore lost her own troubled son Richie - officially ruled an 'accidental' self-shooting]
Gena Rowlands (with her second nomination) in the title role as streetwise, ex-mobster moll Gloria Swenson who protects an eight year-old boy (the son of a slain neighbor) from the Mafia's pursuit in her husband's film, director John Cassavetes' Gloria (the film's sole nomination)
Two of the supporting actors in Ordinary People were co-nominees in the Best Supporting Actor category:
newcomer actor Timothy Hutton (with his sole career nomination) won the Best Supporting Actor award for his role as guilt-ridden, teenaged Conrad Jarrett - the surviving troubled son who is depressed and blames himself for his brother's accidental death [At 20 years of age, Hutton - in his debut film, became the youngest winner of the Best Supporting Actor Oscar, although his winning role was really a leading part. Hutton's real-life father, actor Jim Hutton, died in mid-1979 of liver cancer - something that may have contributed to his realistic role.]
Judd Hirsch (with his sole nomination) was also nominated for his role as Conrad's Jewish psychiatrist Dr. Tyrone Berger
The other three Best Supporting Actor nominees were:
Jason Robards, Jr. (with his third nomination - the first one that didn't result in an Oscar win) as the hitchhiking tramp/billionaire Howard Hughes who allegedly meets milkman Melvin Dummar (Paul Le Mat) and wills him a $150 million fortune in the marvelous spoof directed by Jonathan Demme, Melvin and Howard (with three nominations and two wins)
Michael O'Keefe (with his sole nomination) as the sensitive, tortured son Ben Meechum (of bullying father Robert Duvall) in The Great Santini
Joe Pesci (with his first nomination) as Joey La Motta - Jake's fast-talking brother and manager in Raging Bull
The Best Supporting Actress award was a surprise victory for Mary Steenburgen (with her sole career nomination) for her role as Lynda Dummar - the wife of real-life fortune hunter and Utah gas-station owner Melvin Dummar, and also a go-go-dancer, in Melvin and Howard.
The other nominees were:
Eileen Brennan (with her sole nomination) as Goldie Hawn's tough and demanding CO Capt. Doreen Lewis in Private Benjamin
Cathy Moriarty (with her sole nomination) as Jake's blonde and abused wife Vickie La Motta in Raging Bull
Diana Scarwid (with her sole career nomination) as bar waitress Louise in director Richard Donner's Inside Moves (the film's sole nomination)
82 year-old (and 37 days) Eva Le Gallienne (with her sole nomination) as Grandma Pearl (Ellen Burstyn's grandmother) in Resurrection [La Gallienne was the oldest person to be nominated for an acting Oscar at this time, until 82 year-old (and 257 days) Jessica Tandy broke the record with her nomination for Fried Green Tomatoes (1991). Six years later, 87 year-old Gloria Stuart again broke the record with her nomination for Titanic (1997).]
Henry Fonda (1905-1982) received an Honorary Oscar (his first) -as "the consummate actor, in recognition of his brilliant accomplishments and enduring contribution to the art of motion pictures." He received only one Oscar nomination (Best Actor) in his illustrious career for The Grapes of Wrath (1940) - previous to this Honorary Oscar. He finally won a competitive Oscar -- the next year-- as Best Actor for his role in On Golden Pond (1981).
Oscar Snubs and Omissions:
The second film in the Star Wars sci-fi trilogy, The Empire Strikes Back by director Irvin Kershner, was overlooked as a Best Picture nominee. Out of its three minor nominations, the film only achieved one win - Best Sound!
Director/co-writer/producer Stanley Kubrick's horror film The Shining was entirely neglected without a single nomination, with its stark quintessential performances by Jack Nicholson as bedeviled hotel proprietor/caretaker Jack Torrance who saw ghostly reminders in the wintry Overlook Hotel, and Shelley Duvall as his terrorized wife Wendy who saw evidence of Jack's insanity in his writing ("All work and no play makes Jack a dull boy"). And its innovative Steadi-cam cinematography by John Alcott was also ignored.
And director Walter Hill's violent adult Western The Long Riders about the James-Younger gang was completely empty-handed in the nominations department, as was the definitive comedy spoof film Airplane! by the Zucker team and Jim Abrahams.
Other films without Best Picture nominations (and no nominations at all for most of them) included Melvin and Howard, My Brilliant Career (with only one nomination for Best Costume Design), Return of the Secaucus Seven, Brian De Palma's thriller Dressed to Kill (with Michael Caine and Angie Dickinson), and American Gigolo. Woody Allen's Stardust Memories was completely overlooked for Best Picture, Best Director (Allen), Best Actor (Allen as Sandy Bates), Best Supporting Actress (Charlotte Rampling and Jessica Harper), Original Screenplay (Allen) and arguably Gordon Willis' best cinematography, shot in black-and-white; part of the reason the film was overlooked was for its caustic, biting satire at Woody Allen fans and studios. Also, the film's release coincided with the shooting death (two months later) of Beatles band member John Lennon [the film featured a scene in which a gunman shot Sandy Bates (Allen) while saying, "I'm your biggest fan" -- the same thing Mark David Chapman said as he shot Lennon].
In a major snub, Donald Sutherland, who played chilly Mary Tyler Moore's straight-laced, WASP businessman-husband Calvin Jarrett in the Best Picture, Ordinary People, was unnominated - playing opposite other nominated (and winning) co-stars (Mary Tyler Moore, Timothy Hutton, and Judd Hirsch). In fact, he has never received a nomination in his entire career.
Although Moscow Does Not Believe in Tears won the Best Foreign Language Film award, it should have been won instead by either Akira Kurosawa's Kagemusha or Francois Truffaut's The Last Metro.
Judy Davis was un-nominated for her performance as headstrong heroine Sybylla Melvyn in Gillian Anderson's Australian film My Brilliant Career. And Pamela Reed was deserving of a nomination as Howard Hughes-befriending Melvin Dummar's second wife Bonnie in director Jonathan Demme's Melvin and Howard. Jodie Foster was un-nominated as modern-day teenager Jeanie in director Adrian Lyne's feature film debut Foxes, and Helen Mirren was denied a nomination for her role as co-star Bob Hoskin's crime boss wife Victoria in John Mackenzie's British modern crime classic The Long Good Friday. Although Dolly Parton received a Best Song nomination for music and lyrics for the title song in 9 to 5 (the film's sole nomination), she was un-nominated for her film debut role as married secretary Doralee Rhodes. Scott Glenn as the ex-con and mechanical bull rider who becomes attractive to Debra Winger, was un-nominated in Urban Cowboy. And Beverly D'Angelo (who performed her own songs) was neglected for her role as country music queen Patsy Cline in Coal Miner's Daughter.
Max von Sydow's work as Emperor Ming the Merciless in the campy Flash Gordon (with no nominations) was likewise bypassed. And Xanadu's two hit songs, "Suddenly" and "Magic" by Olivia Newton-John were not among the Best Song nominees.