2005
The winner is listed first, in CAPITAL letters.
Best Picture


CRASH (2005)


Brokeback Mountain (2005)


Capote (2005)


Good Night, and Good Luck. (2005)


Munich (2005)
Best Animated Feature Film


(WALLACE & GROMIT IN) THE CURSE OF THE WERE-RABBIT (2005, UK)


Howl's Moving Castle (2004, Jp.)


(Tim Burton's) Corpse Bride (2005)
Actor:
PHILIP SEYMOUR HOFFMAN in "Capote," Terrence Howard in "Hustle & Flow," Heath Ledger in "Brokeback Mountain," Joaquin Phoenix in "Walk the Line," David Strathairn in "Good Night, and Good Luck."
Actress:
REESE WITHERSPOON in "Walk the Line," Judi Dench in "Mrs. Henderson Presents," Felicity Huffman in "Transamerica," Keira Knightley in "Pride & Prejudice," Charlize Theron in "North Country"
Supporting Actor:
GEORGE CLOONEY in "Syriana," Matt Dillon in "Crash," Paul Giamatti in "Cinderella Man," Jake Gyllenhaal in "Brokeback Mountain," William Hurt in "A History of Violence"
Supporting Actress:
RACHEL WEISZ in "The Constant Gardener," Amy Adams in "Junebug," Catherine Keener in "Capote," Frances McDormand in "North Country," Michelle Williams in "Brokeback Mountain"
Director:
ANG LEE for "Brokeback Mountain," George Clooney for "Good Night, and Good Luck.," Paul Haggis for "Crash," Bennett Miller for "Capote," Steven Spielberg for "Munich"
---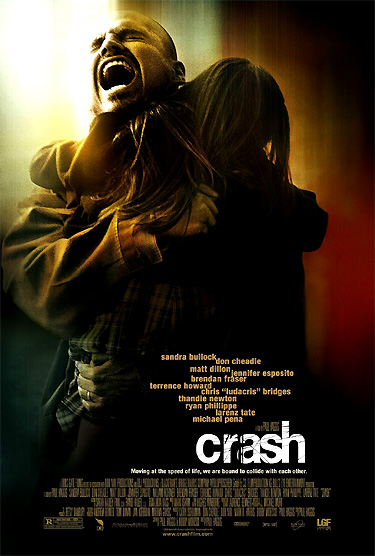 The Academy Award honorees for this year, for the most part, continued the trend away from big-budget, mega-blockbusters and aimed at smaller independent efforts. Four of the five Best Picture nominees were independently financed, including the winner Crash. In recent memory, the last time this happened was in 1996, when four of the five top nominees (The English Patient, Fargo, Secrets & Lies, Shine - and Jerry Maguire) were independent productions.
Many of the themes of the nominees were focused on sociopolitical issues (corporate corruption), provocative socially-relevant ideas (racial tension and terrorism), and intimate personal themes (gay and transgender). There was a perceived backlash against flashy, "popcorn" Best Picture nominees/winners, such as Gladiator (2000), Chicago (2002), and The Lord of the Rings: Return of the King (2003) in this decade. Mega-budget box-office blockbusters that received minimal nominations included:
Peter Jackson's remake of King Kong (with only 4 technical nominations, and three wins: Best Visual Effects, Best Sound Editing and Best Sound Mixing)
director Andrew Adamson's The Chronicles of Narnia: The Lion, the Witch, and the Wardrobe (with 3 technical nominations and one win for Best Makeup), an adaptation of C. S. Lewis' second book in Narnia series about good and evil in a magical land
Steven Spielberg's sci-fi thriller remake War of the Worlds (with 3 technical nominations)
the adaptation of best-seller J. K. Rowling's Harry Potter and the Goblet of Fire (with only 1 nomination, Best Art Direction) - the fourth Harry Potter film in five years
Christopher Nolan's comic-book superhero film Batman Begins (with 1 nomination, Best Cinematography)
George Lucas' Star Wars: Episode III - Revenge of the Sith (with 1 nomination, Best Makeup)
Tim Burton's Charlie and the Chocolate Factory (with 1 nomination, Best Costume Design)
The five low-budget Best Picture nominees fairly evenly split the major nominations - no film received more than 8 nominations. This was also the first time since 1947 that no picture won more than 3 Oscars. They were all modest in scope, and challenged political, sexual and intellectual mores. Two were biopics. Focus Features topped all other studios with 16 nominations, including its Best picture contender Brokeback Mountain (8), The Constant Gardener (4) and Pride & Prejudice (4). Of the five nominees, only one of them had a budget over $14 million (Spielberg's Munich at $70 million), and three of them were budgeted at about $7 million. The combined gross of all five nominees was a very low $187 million, and none of the films grossed more than $53 million at the box-office at the time of the nomination's announcements in late January.
When the final tally of Oscars was determined, the awards were sparsely divided among all the major film nominees. For the first time in 49 years (since 1956) and only the third time in Oscar's 78-year history (it also occurred in 1952), six different films split the top six Oscars (Best Picture, Director, Actor, Actress, Supporting Actor, and Supporting Actress).
The Best Picture winner was a major upset sleeper film - Crash (with 6 nominations and three wins, also for Best Film Editing and director Paul Haggis' Best Original Screenplay) - it was an ensemble film about racism involving whites, blacks, Latinos, Koreans, and Iranians that was centered around a killing in Los Angeles which might have been racially motivated. Its tagline was: "Moving at the speed of life, we are bound to collide with each other." For two consecutive years, therefore, the Best Picture winner was set in Los Angeles (the previous year's winner was Million Dollar Baby (2004)). [Note: Some noted its aggressive studio campaign that sent pre-release DVDs of the film to nearly every person involved in the motion picture industry -- possibly a new trend in future marketing campaigns. Reportedly, Lions Gate Films spent $4 million promoting a film that cost only about $6.5 million to make.]
Crash was an anomaly winner for many reasons:
it was originally released in 2004, but did not qualify for the 2004 Academy Awards because it did not play at least one week in L.A.; when it officially opened in L.A. in May of 2005, it then qualified for Oscars consideration
it marked the first time a film-festival acquisition (after its premiere at the September 2004 Toronto Film Festival) won Best Picture
at the time of this win, it was no longer playing in theaters (but was available on DVD); short-term memory (sometimes a factor) may have been the reason it was overlooked in the pre-Oscar awards season
it won the fewest Oscars for a Best Picture winner since Rocky (1976) (both won 3 Oscars)
it had only six nominations (the front-runner Brokeback Mountain had 8) - only four times in the past twenty-five years has the Best Picture winner not also been the film with the most nominations
it didn't win any acting awards
it didn't win Best Director also
it was an independent film made on a budget of $6.5 million; it was bankrolled by Bob Yari, another real estate developer turned film producer
it had the lowest Best Picture theatrical gross total ($53.4 million) since Best Picture-winning The Last Emperor (1987) (at $44 million), while favored nominee Brokeback Mountain had over twice the box-office results at $120 million worldwide (the highest grossing film of the five nominees)
it won the Screen Actors Guild (SAG) ensemble award, the Chicago Critics award (due to strong endorsements by Roger Ebert), and an Image Award - and not much else before the Oscars ceremony
it wasn't even nominated for Best Picture by the Golden Globes - (a nomination that has occurred in 18 of the previous 22 years for Best Picture winners); only once, in 1973, did a film that wasn't nominated for the Golden Globe's Best Picture go on to win the Academy Award (that movie was The Sting (1973), and it wasn't nominated because of a mix-up at the Golden Globes over category confusion (drama vs. comedy))
it was poorly received by most critics and ratings before the Oscars ceremony: its "metacritic" score (69) was the lowest among the Best Picture nominees: Capote (88), Brokeback Mountain (87), Good Night, and Good Luck (80), and Munich (74)
critical rankings for films of the year in both Premiere Magazine's and Entertainment Weekly's polling showed it to be way behind the front-runner, Brokeback Mountain
it told a personal story with an ensemble cast about a divisive social issue
it marked the first time that a film (Brokeback Mountain) that had won the Writer's Guild, Director's Guild, and Producer's Guild awards, did not go on to win the Academy Award for Best Picture - some argued that homophobia was mostly to blame
The other four nominees for Best Picture were:
Brokeback Mountain (with 8 nominations and three wins for Best Director, Best Adapted Screenplay and Best Original Score), a melodrama about two young cowboys who had an unexpected tryst while shepherding in 1963, and how it affected their married lives in the following three decades; the most honored movie in cinematic history (it had more Best Picture and Director wins than previous Oscar winners Schindler's List (1993) and Titanic (1997) combined), it was the critical darling of the media and the expected favorite to win [If it had won the top award, it would have been the first predominately gay-themed film to accomplish that feat]; the film was adapted from an eleven-page 1997 short story by E. Annie Proulx originally published in The New Yorker Magazine
Capote (with 6 nominations, and only one win for Best Actor), was a biopic about gay author Truman Capote's journalistic relationship with troubled serial killer Perry Smith while researching his 1966 'non-fiction' book In Cold Blood (later made into the noted film starring Robert Blake), and how the situation ruined his mental health, leading to an early death at the age of 59
Good Night, and Good Luck (with 6 nominations and no wins), was a B/W biopic about legendary radio and CBS television news reporter Edward R. Murrow, focusing on his challenging attack in the mid 50s on red-baiting Senator Joseph R. McCarthy and McCarthyism; historical politician McCarthy "played" himself in archival footage, rather than being portrayed by an actor; nominated director George Clooney was also nominated for his Best Original Screenplay; it was the first completely black-and-white film to be nominated for Best Picture since The Elephant Man (1980)
Munich (with 5 nominations and no wins), was Steven Spielberg's box-office failure - a political thriller/morality play 'inspired by real events' -- that followed the 1972 massacre of Israeli athletes at the Olympic Games in Munich, involving a secret Israeli squad assigned by prime minister Golda Meir to kill those who perpetrated the attack; this was the only film among the top nominees that was 100% underwritten by a major studio (Universal)
Other notable multiple award winners/nominees were:
Chicago (2002) director Rob Marshall's overblown and over-hyped Memoirs of a Geisha (with 6 (mostly technical) nominations including three wins for Best Cinematography, Best Costume Design and Best Art Direction/Set Decoration)
the conventional musical biopic Walk the Line (with 5 nominations and only one win for Best Actress) from director James Mangold based on Johnny Cash's own books Man in Black and Cash: The Autobiography
Traffic (2000) screenwriter Stephen Gaghan's similarly-convoluted Syriana (with a win for Best Supporting Actor for George Clooney and a nomination for Best Original Screenplay), which focused on oil companies' effects on geopolitics
All five of the Best Picture-nominated directors were nominated for Best Director - the first occurrence in 24 years! This was very rare and happened only three other times in Oscar history: 1957, 1964, and 1981. [Note: Of the five nominees, only Steven Spielberg has been a beneficiary both times - in 1981, Spielberg's Raiders of the Lost Ark (1981) was nominated in both categories.]
The Best Director winner was veteran director Ang Lee for Brokeback Mountain (he was previously nominated for directing and producing the foreign-language film Crouching Tiger, Hidden Dragon (2000) - the best Foreign Language Film winner!). He was notable for being the first Asian (or non-white) filmmaker to win the top film-making honor. The only other nominated veteran director was six-time Best Director-nominated and two-time Best Director winner Steven Spielberg, for Munich -- (previously winning three Oscars: Best Director for Best Picture-winning Schindler's List (1993) and Best Director for Saving Private Ryan (1998)). Spielberg was also nominated for producing Munich.
Two other Best Director nominees, both first-timers, also attained milestones in Oscar history:
actor/director George Clooney was nominated for Good Night, and Good Luck (his second feature film)
[Note: With two of his three nominations this year, the first nominations in his career, George Clooney was the first to receive directing and acting nominations for two different films in the same year. He didn't win any awards for Good Night, and Good Luck, however]
Canadian director/writer/producer Paul Haggis was nominated for his directorial debut film Crash (he received his 2nd-4th career nominations, for Best Original Screenplay, Best Picture (Producer), and Best Director for the film)
[Note: With his two Academy Awards Oscars, for Best Original Screenplay and Best Picture, he became the first person to have written two consecutive Best Pictures (he wrote the screenplay for last year's Million Dollar Baby (2004))]
The fifth Best Director nominee was Bennett Miller (with his first nomination) for his first narrative feature film Capote.
Special mention should be made of the fact that Woody Allen earned his 14th career writing nomination (all for Best Original Screenplay) for Match Point - it was his 21st career nomination. He has won the Best Original Screenplay Oscar twice, for Annie Hall (1977) and Hannah and Her Sisters (1986), the only Allen films nominated for Best Picture, and he won the Best Director Oscar for Annie Hall (1977). The next closest nominee remained Billy Wilder, with 12 career writing nominations and 3 career writing wins.
For the first time in the short history of the Best Animated Feature Film category, none of the three nominees were CGI films, although that could be accounted for since Pixar (winner of last year's award for The Incredibles (2004)) took the year off. All three were only moderately successful, scarcely making $100 million in total. The winner was: Aardman Animation's second feature-length 'claymation' and first feature-length Wallace and Gromit film from co-directors Nick Park and Steve Box (with this being his third Oscar win) - Wallace & Gromit in The Curse of the Were-Rabbit, about eccentric, cheese-loving inventor Wallace (voice of Peter Sallis) and his faithful mute dog assistant Gromit. This was the first stop-motion/'claymation' film to win the Best Animated Feature award.
[Nick Park's prior Wallace and Gromit short films, A Grand Day Out (1989), The Wrong Trousers (1993), and A Close Shave (1995) were all nominated for Best Animated Short Oscars, with the latter two winning, and the former losing to another of Park's nominated short films Creature Comforts (1989) - giving him his first Oscar. This Oscar, his fourth, maintained Park's streak of winning every category he'd been nominated for.]
The other nominees in the Best Animated Feature Film category were:
famed anime director Hayao Miyazaki's traditionally cel-animated Howl's Moving Castle (aka Hauru no ugoku shiro), about a young girl who was transformed by a jealous witch into an old woman, and fell in love with a brash young sorceror [Note: In the second year of this category, Miyazaki won the Best Animated Feature Film Academy Award in 2002 for his enchanting fantasy Spirited Away (2001, Jp.)]


producer/director Tim Burton's macabre stop-motion animated Tim Burton's Corpse Bride about a shy, bumbling groom-to-be Victor (voice of Johnny Depp) who accidentally married a recently dead, wedding dress-wearing woman (voice of Helena Bonham Carter) [Note: Unbelievably, this was the first Oscar nomination for the long-neglected producer/director Tim Burton, who was overlooked for Best Director for such films as Pee-Wee's Big Adventure (1985), Batman (1989), Edward Scissorhands (1990), Ed Wood (1994), Sleepy Hollow (1999) and Big Fish (2003)]
The Best Documentary Feature category featured among its five nominees three strong contenders, with the winner: Luc Jacquet's absorbing March of the Penguins - the highest-grossing nature documentary to date (at $77.4 million), about the mating rituals and breeding cycle of flightless Emperor penguins in Antarctica. March of the Penguins was the first nature documentary to win Best Documentary Feature since The Hellstrom Chronicle (1971). The other nominees included:
a polished, well-researched, and spellbinding Enron: The Smartest Guys in the Room about the rise and scandalous bankruptcy-fall of the 7th largest company in the US - Enron, a major energy company in Texas
the disturbing, cautionary nature film Darwin's Nightmare about a socio-economic disaster - how a single invasive species of alien fish (the Nile perch or Lates niloticus), introduced 40-50 years ago, has had a devastating ecological effect upon a thriving Tanzanian biosystem, Lake Victoria - coexisting with the people's famine and poverty
All four winners in the acting categories were first-time nominees - marking the first time this has happened since 1961 (Maximilian Schell, Sophia Loren, George Chakiris, Rita Moreno). In fact, 14 of the twenty nominees were first-timers, the highest number in nine years! (Four of the six remaining veterans had won one Oscar: William Hurt in 1985, Frances McDormand in 1996, Judi Dench in 1998, and Charlize Theron in 2003. Joaquin Phoenix and Catherine Keener had never won.) The average age of this year's nominees, at the time of the announcement of nominations, was 38, younger when compared to the average of 41 in 2004. Nine of the 20 acting nominees were aged 35 or under - four more than last year - while six of them were in their 20s. Four of the nominees: Matt Dillon, David Strathairn, Philip Seymour Hoffman, and George Clooney - finally received nominations after dozens of films and many years in the business.
Three of the five Best Actor nominations were characterizations of real-life persons, and four of the five nominations were also for first-time nominees.
The winner in the Best Actor category was 38 year-old Philip Seymour Hoffman (with his first nomination) as squeaky-voiced, effete, eccentric, mentally-deteriorating, pop icon/biographer Truman Capote in Capote [Hoffman had long been considered a perennial Oscar snub, for worthy unnominated roles in Boogie Nights (1997), Happiness (1998), Flawless (1999), Magnolia (1999), Almost Famous (2000), Punch-Drunk Love (2002), and Cold Mountain (2003).] His strongest competition came for another nominee portraying a gay/bisexual man: 26 year-old Heath Ledger (with his first nomination), as Wyoming ranch hand Ennis Del Mar who experienced an illicit affair with another cowboy in the ill-fated love story of Brokeback Mountain.
The remaining three Best Actor nominees included:
36 year-old Terrence Howard (with his first nomination, and the only nominee of color this year) for his breakout role as DJay, a menacing pimp-turned-rapper in Memphis, in the independently-produced Hustle & Flow (with 2 nominations, including a win for Best Song: "It's Hard Out Here For a Pimp") (Some argued that his performance should have been nominated in the supporting category)
57 year-old David Strathairn (with his first nomination) as crusading, unflappable television and radio reporter Edward R. Murrow in Good Night, and Good Luck [Strathairn had previously never been recognized - and overlooked for his roles in Matewan (1987), Eight Men Out (1988), City of Hope (1991) and L.A. Confidential (1997)]
31 year-old Joaquin Phoenix (with his second nomination, with a previous supporting role nomination for Gladiator (2000)) as black-clad, troubled country singer Johnny Cash in Walk the Line
Three of the five Best Actress nominations were for first-time nominees. The winner in the category was 29 year-old Reese Witherspoon (her first nomination) as June Carter, a country-western singer who toured with and eventually married fellow performer Johnny Cash in Walk the Line. [Note: This marked the fifth time that both Best Actor and Best Actress went to portrayals of real-life persons, and the first time since 1980 (when Robert De Niro won as Jake La Motta in Raging Bull (1980) and Sissy Spacek won for her role as Loretta Lynn in Coal Miner's Daughter (1980)).]
The other Best Actress nominees were:
71 year-old Judi Dench (with her fifth nomination), the most honored acting nominee, as the title character Laura Henderson, a war-time widow who transformed a run-down theater into a flashy nude burlesque revue of showgirls, and battled government censorship in WWII in director Stephen Frears' Mrs. Henderson Presents (with two nominations, including Best Costume Design) [Dench had two previous nominations for lead roles in Mrs. Brown (1997) and Iris (2001), and two nominations for supporting roles in Shakespeare in Love (1998) - for which she won - and Chocolat (2000)]
30 year-old Charlize Theron (with her second nomination, after her win for her leading role in Monster (2003)) as single mother miner Josey Aimes (loosely based on Lois Jenson) who successfully sued her mining company for sexual harassment in North Country (with 2 nominations and no wins)
43 year-old Desperate Housewives ABC-TV sitcom star Felicity Huffman (with her first nomination) in a gender-bending role as Bree, a pre-operative transgendered woman (or male-to-female transsexual) (with the given name of Stanley) who discovered (s)he had fathered a surly, drug-abusing 17-year-old gay hustler named Toby (Kevin Zegers) in the low-budget, independent road film Transamerica (with 2 nominations, including Best Song)
20 year-old Keira Knightley (with her first nomination) as eldest daughter Elizabeth Bennet who had an affair with the older, cynical Mr. Darcy (Matthew MacFadyen) in the classic Jane Austen tale of romantic comedy from director Joe Wright, Pride & Prejudice (with 4 nominations and no wins)
The winner in the Best Supporting Actor category was 44 year-0ld George Clooney as over-the-hill CIA agent Bob Barnes, who became a tortured hostage while investigating an oil company conspiracy in Syriana (Clooney also received a Best Director nomination and Best Screenwriting nomination for Good Night, and Good Luck). Clooney was joined by three other first-time nominees:
38 year-old Paul Giamatti, for his performance as underdog James J. Braddock's (Russell Crowe) Depression-era boxing trainer/corner man Joe Gould in Cinderella Man (with 3 nominations). [His nomination followed notable consecutive snubs for his roles in American Splendor (2003) and Sideways (2004) in the previous two years]
41 year-old Matt Dillon, as racist Officer Ryan, who sexually assaulted a black woman (Thandie Newton) in front of her husband (Terrence Howard) during a pat-down in Crash
25 year-old Jake Gyllenhaal, as bisexual, free-spirited married cowboy Jack Twist in Brokeback Mountain (a supporting nominee despite his lead role in the film, some argued)
The remaining Best Supporting Actor nominee was 55 year-old, four-time nominee William Hurt, in a powerfully unsettling, creepy 10-minute role as volatile mobster Richie Cusack in A History of Violence (with 2 nominations, including Best Screenplay Adaptation). [Hurt's prior three nominations were all for lead roles, including a win for Kiss of the Spider Woman (1985), and nominations for Children of a Lesser God (1986) and Broadcast News (1987).]
The winner in the Best Supporting Actress category was 34 year-old Rachel Weisz (with her first Oscar nomination and win) as Tessa, the murdered wife of foreign diplomat Justin Quayle (Ralph Fiennes), whose activism against a corrupt pharmaceutical company in a poor Third World African country contributed to her death, in Brazilian director Fernando Meirelles' drama The Constant Gardener (with 4 nominations). The other nominees in the Best Supporting Actress category were:
26 year-old Amy Adams (with her first nomination), as the free-spirited, pregnant North Carolinian high-schooler Ashley, who became dazzled by her sophisticated and worldly new sister-in-law, in director Phil Morrison's low-budget independent film Junebug (the film's sole nomination)
25 year-old Michelle Williams (with her first nomination) as Alma, an understanding young wife who becomes lost and lonely after learning of her Wyoming ranch hand/husband Ennis' (real-life boyfriend Heath Ledger) affair with another cowboy, in Brokeback Mountain
45 year-old Catherine Keener (with her second nomination, after her similar nod for Being John Malkovich (1999)) as To Kill a Mockingbird author Nelle Harper Lee, Truman Capote's childhood friend and confidant, in Capote
48 year-old Frances McDormand (with her fourth career nomination) as Glory - another sexually-harassed coal miner (stricken with Lou Gehrig's disease) in North Country [she was previously nominated twice in a supporting role for Mississippi Burning (1988) and Almost Famous (2000), and won her sole lead nomination for Fargo (1996)].
Robert Altman received a Lifetime Achievement Oscar for his contributions to motion picture history. His most obvious innovations including the use of multiple storylines and characters, overlapping dialogue, and improvised original performances from large ensemble casts. The iconoclastic 81 year-old writer/director/producer and seven-time Academy Award nominee never won a competitive Oscar. He received five directorial nominations for: the anarchic M*A*S*H (1970) (with five nominations and one win for Best Adapted Screenplay), Nashville (1975) (with five nominations and one win for Best Song), The Player (1992) (with three nominations and no wins), Short Cuts (1993) (with one nomination), and Gosford Park (2001) (with seven nominations and one win for Best Original Screenplay). He also directed such films as the acclaimed McCabe & Mrs. Miller (1971), The Long Goodbye (1973) with Elliott Gould as Philip Marlowe, California Split (1974), 3 Women (1977), Popeye (1980), Come Back to the Five and Dime, Jimmy Dean, Jimmy Dean (1982), Vincent & Theo (1990), Prêt-à-Porter/Ready to Wear (1994), Kansas City (1996), and Dr. T and the Women (2000). He passed away less than a year after receiving the Honorary Oscar, during the same year in which his final film was released, A Prairie Home Companion (2006).
This year, composer John Williams earned his incredible 44th and 45th Oscar nominations for Best Original Score for Memoirs of a Geisha and Munich. (He has a total of 40 nominations for Best Score, and five nominations for Best Original Song.) It was also the eighth time he'd been nominated twice in a single category (also in 1972, 1977, 1982, 1984, 1987, 1989, and 2001). He had "only" previously won four Best Original Score Oscars for Jaws (1975), Star Wars (1977), E.T.: The Extraterrestrial (1982), and Schindler's List (1993), and one Best Scoring: Adaptation and Original Song Score Oscar for Fiddler on the Roof (1971).
Gary Demos received the honorary Gordon E. Sawyer Award for his pioneering CGI work in such films as TRON (1982) and The Last Starfighter (1984). He had won three technical awards in 1984, 1994 and 1995 for his revolutionary work in film.
Oscar Snubs and Omissions:
Contrary to form, George Lucas' sixth and final installment of his galactic epics, that made more than $380 million at the box-office, Star Wars: Episode III - Revenge of the Sith (with only 1 nomination, Best Makeup) did not receive an Oscar nomination for Best Visual Effects. All five previous movies either were recognized in the category or received a Special Achievement Award for the work of his own high-tech company, Industrial Light & Magic (ILM).
The biggest omissions of the year overlooked two legendary auteurs:
Woody Allen had two 2005 releases that were almost completely overlooked, including two major Best Actress snubs:
(1) Melinda and Melinda (no nominations), featured Radha Mitchell's dual-role as Melinda in two parallel stories (one tragic, one comedic), as well as Will Ferrell's role in the comic story as Hobie, a married man obsessed with Melinda, and two actors in the tragic story: Chiwetel Ejiofor as Ellis Moonsong, a jazz musician who dumped Melinda for one of her best friends and Brooke Smith as Cassie, Melinda's straightforward, realistic friend.
(2) Match Point (1 nomination only, for Allen's screenplay), the December-released absorbing erotic thriller, with Scarlett Johansson snubbed as femme fatale American actress Nola Rice, as well as Jonathan Rhys-Meyers as Irish tennis pro Chris Wilson, involved in a destructive, tragic affair with Nola; also with Emily Mortimer's supporting role as Chris' naive upper-class wife Chloe Hewett
Ingmar Bergman's Saraband (no nominations), a sequel to his classic character study Scenes From a Marriage (1973) with Liv Ullman and Erland Josephson, with snubs for Best Picture, Best Director (Bergman), Best Original Screenplay (Bergman), and the returning leads from the first film portraying ex-spouses who met again after 30 years
Other films that failed to earn a Best Picture and/or a Best Director nomination included:
Rob Marshall's melodramatic Memoirs of a Geisha (with 6 nominations and three wins for Best Art Direction, Best Costume Design, and Best Cinematography), adapted from Arthur Golden's best-selling faux-autobiography
James Mangold's autobiographical musical drama Walk The Line (with 5 nominations including two major nominations for its lead performers, and only one win for Best Actress)
Joe Wright's polished adaptation of Jane Austen's Pride & Prejudice (with 4 nominations, including Best Actress, Best Original Score, Best Art Direction and Best Costume Design and no wins)
Peter Jackson's King Kong (with 4 technical nominations and three wins), a monumental remake of the original classic adventure film King Kong (1933)
Brazilian director Fernando Meirelles' political thriller The Constant Gardener (with 4 nominations, and one win for Best Supporting Actress)
Ron Howard's inspirational boxing story Cinderella Man (with 3 nominations and no wins)
Craig Brewer's Hustle & Flow (with 2 nominations and one win for Best Original Song)
David Cronenberg's incisive A History of Violence (with 2 nominations and no wins)
Terrence Malick's sprawling historical epic The New World (with only 1 nomination, for Best Cinematography)
Sam Mendes' even-handed Gulf War movie Jarhead (with no nominations), similar in structure to Stanley Kubrick's Full Metal Jacket (1987)
Danish director Lars von Trier's Manderlay, his follow-up film to his own Dogville (2003)
Ridley Scott's historical epic Kingdom of Heaven (with no nominations), set during the Crusades
David Dobkin's block-buster R-rated comedy Wedding Crashers (with no nominations)
Acting Omissions:
Russell Crowe lacked a Best Actor nomination for his role as lower-class, come-back heavyweight boxing champion James J. Braddock in Cinderella Man
Ralph Fiennes, likewise, was overlooked for his performance as soft-spoken British diplomat Justin Quayle, who investigated his wife's secret past in The Constant Gardener
Taraji P. Henson lacked a supporting nomination as one of DJay's prostitutes, Shug, in Hustle & Flow
Donald Sutherland has often been snubbed by Oscar - this time for his supporting role as family patriarch Mr. Bennett in Pride & Prejudice
Nicolas Cage was denied nominations for roles as self-doubting arms dealer Yuri Orlov in Lord of War (with no nominations), and as conflicted meteorologist David Spritz in Gore Verbinski's The Weather Man (with no nominations)
Catherine Keener, nominated for Capote, could also have been nominated for her supporting role as Trish, a mall shop owner and the love interest of the titular character in the gross-out comedy The 40 Year Old Virgin (with no nominations)
Brokeback Mountain's Heath Ledger could have been nominated for his supporting role as substance abusing, self-destructive skateboarder Skip Engblom in Lords of Dogtown (with no nominations), based on Stacy Peralta's autobiographical documentary Dogtown and Z-Boys (2001)), while co-star Jake Gyllenhaal could have been nominated for his lead role as Marine sniper Anthony Swofford in Jarhead
Anne Hathaway was overlooked as rodeo queen Lureen Newsome, wife of Jake Gyllenhaal's sexually-confused Jack, in Brokeback Mountain
George Clooney, nominated and winning for his supporting role in Syriana, should have been nominated for his role as Murrow's supportive producer Fred Friendly in Good Night, and Good Luck; and Frank Langella was neglected for his role as concerned CBS founder William Paley
Ed Harris went unnominated for his chilling, villainous role as mobster Carl Fogarty in A History of Violence, as was Maria Bello as lawyer wife Edie Stall
Other worthy performances included:
Johnny Depp as the famed, mischievous chocolatier Willy Wonka in Tim Burton's remake Charlie and the Chocolate Factory (with 1 nomination for Best Costume Design)
Orlando Bloom as Balian, a widower knight during the Crusades, in Kingdom of Heaven
Claire Danes as the titular character Mirabelle in Shopgirl (with no nominations)
Naomi Watts as "the Beauty" Ann Darrow in Peter Jackson's remake of King Kong
Tilda Swinton as the frosty villainess White Witch in The Chronicles of Narnia: The Lion, the Witch and the Wardrobe
Q'orianka Kilcher in her breakthrough debut film (15 years old) as the young teenaged Pocahontas in The New World
Cillian Murphy as two creepy villains: Dr. Jonathan Crane/The Scarecrow in Batman Begins (with 1 nomination for Best Cinematography), and as a devilish assassin, ominously named Jackson Rippner in Wes Craven's suspense thriller Red Eye (with no nominations); also Rachel McAdams as his seatmate victim Lisa Reisert
Presley Chweneyagae as the titular protagonist who takes care of the 3 month-old child of his carjacking victim in the widely acclaimed Best Foreign Language film winner from South Africa, Tsotsi
Chiwetel Ejiofor in a breakout role (Golden Globe Best Actor-nominated) as drag queen Lola in Kinky Boots
Un-nominated Documentary and Best Animated Feature Films:
the ribald, profanity-rich documentary The Aristocrats, featuring dozens of famous stand-up comedians refashioning the world's dirtiest joke about a family circus act (the similar punchline always being: "What do you call yourselves?" "The Aristocrats")
the first NC-17 rated studio release documentary Inside Deep Throat, about the making of the infamous hard-core adult film Deep Throat (1972), starring Linda Lovelace
Hoodwinked, a hip, manic and clever Rashomon (1950)-inspired (by Akira Kurosawa) CGI-animated satire of the fairy tale Little Red Riding Hood
other worthy CGI films included: PDI/DreamWorks' Madagascar, Blue Sky/20th Century Fox's Robots, and Disney's first in-house fully-CGI film Chicken Little