2006
The winner is listed first, in CAPITAL letters.
Best Picture


THE DEPARTED (2006)


Babel (2006, Fr./US/Mex.)


Letters From Iwo Jima (2006)


Little Miss Sunshine (2006)


The Queen (2006, UK/It./Fr.)
Best Animated Feature Film


HAPPY FEET (2006)


Cars (2006)


Monster House (2006)
Actor:
FOREST WHITAKER in "The Last King of Scotland," Leonardo DiCaprio in "Blood Diamond," Ryan Gosling in "Half Nelson," Peter O'Toole in "Venus," Will Smith in "The Pursuit of Happyness"
Actress:
HELEN MIRREN in "The Queen," Penelope Cruz in "Volver," Judi Dench in "Notes on a Scandal," Meryl Streep in "The Devil Wears Prada," Kate Winslet in "Little Children"
Supporting Actor:
ALAN ARKIN in "Little Miss Sunshine," Jackie Earle Haley in "Little Children," Djimon Honsou in "Blood Diamond," Eddie Murphy in "Dreamgirls," Mark Wahlberg in "The Departed"
Supporting Actress:
JENNIFER HUDSON in "Dreamgirls," Adriana Barraza in "Babel," Cate Blanchett in "Notes on a Scandal," Abigail Breslin in "Little Miss Sunshine," Rinko Kikuchi in "Babel"
Director:
MARTIN SCORSESE for "The Departed," Clint Eastwood for "Letters From Iwo Jima," Stephen Frears for "The Queen," Paul Greengrass for "United 93," Alejandro González Iñárritu for "Babel"
---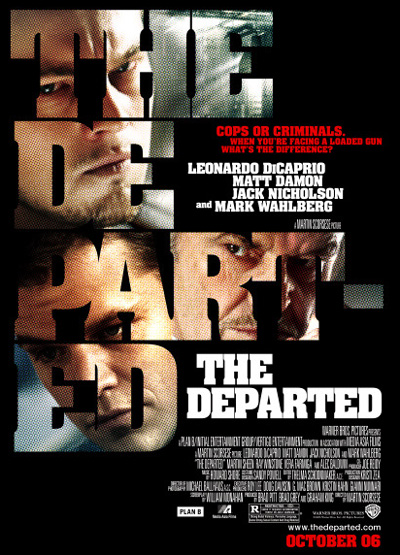 The 2006 nominees continued Hollywood's trend of nominating relatively low-to-modestly budgeted films with ensemble casts and personal subjects, again eschewing big budgeted Hollywood studio epics, though in this year, three of the Best Picture-nominated films were at least partially bankrolled by a major studio. Three of the five films were released by specialty divisions, while director Clint Eastwood's Letters From Iwo Jima was able to be made by a studio, using his reputation to get financing for its narrowly-appealing content.
It was one of the most diverse and international rosters of nominees and winners in recent Academy history. The five films that were nominated for Best Picture had a total of only 26 nominations -- the fewest since 1932/1933 (when 10 films were nominated for the top prize but there were fewer awards categories). No single film received nominations in more than six categories. And the Oscar wins were spread out over numerous films - many received either one or two awards.
As with last year, there was a perceived backlash against flashy, "popcorn" Best Picture nominees and winners. Mega-budget, special effects-heavy box-office blockbusters that received minimal nominations included:
Gore Verbinski's Pirates of the Caribbean: Dead Man's Chest (4 technical nominations, with a sole Oscar win for Best Visual Effects), one of the fastest grossing films in history, reaching $100M and $200M box office dollars in record time, and grossing over $1B worldwide, as the second part of a planned trilogy
Brett Ratner's X-Men: The Last Stand (no nominations), the third film in the series, grossing box-office of about $460 worldwide
Ron Howard's The Da Vinci Code (no nominations), which grossed over $750M worldwide despite savage reviews
Superman Returns (one nomination for Best Visual Effects), the fifth in the series, directed by former X-Men director Bryan Singer and a total worldwide box-office of almost $400M
Martin Campbell's Casino Royale (no nominations), the exciting 007 "reboot" starring Daniel Craig as the new James Bond, which grossed about $550M worldwide
J.J. Abrams' Mission Impossible III (no nominations), starring and produced by Tom Cruise, which earned nearly $400M worldwide despite negative reviews and bad word-of-mouth; Cruise would later be fired by Paramount due to diminishing box office returns and personal instability
Michael Mann's Miami Vice (no nominations), a resounding flop
Wolfgang Petersen's Poseidon (one nomination for Best Visual Effects), another major dud
The Best Picture category was an interesting mix of ethnically and linguistically diverse films -- in two of the films, English was a second language. [Note: The most-nominated film with 8 nominations, Dreamgirls, was not a Best Picture nominee. It was the first time ever in Academy history that the film with the most nominations failed to earn a Best Picture slot.] The Best Picture winner was:
The Departed (Warner Bros.) (with 5 nominations and four wins including Best Director, Best Screenplay Adaptation, and Best Film Editing), a gritty tense cop suspense-thriller and crime drama, and a loosely-based remake of the action film Infernal Affairs (2002, HK) (aka Mou Gaan Dou, or Wu Jian Dao) by director Martin Scorsese - it was the first - and only - remake of a foreign film to win Best Picture. It told about a pair of Irish Bostonians, one an undercover cop (Leonardo DiCaprio) spying on the local organized crime family, the other a police plant (Matt Damon) hired by the same family. Its tagline was: "COPS or CRIMINALS. When you're facing a loaded gun, what's the difference?" This was Scorsese's second film remake, the first being the twice Oscar-nominated Cape Fear (1991), and the highest budgeted of the five Best Picture nominees at $90M.
The other four Best Picture nominees were:
Babel (independent feature distributed in the USA by Paramount) (with 7 nominations and only one win, Best Original Score - for Gustavo Santaolalla, who received the same prize a year ago for Brokeback Mountain (2005)), director Alejandro Gonzalez Inarritu's sprawling, multi-threaded ensemble story similar in structure to Traffic (2000), Crash (2005) and Syriana (2005), centered around cascading tragedies stemming from the accidental shooting of an American wife (Cate Blanchett) by a Moroccan sheepherder; the film was a major box office flop and was received poorly by critics in general, but aggressive campaigning, similar to the previous year's Crash, earned the film numerous awards including the Best Dramatic Feature Golden Globe Award
The Queen (co-produced by Pathe Films and Miramax) (with 6 nominations and only one win, Best Actress), director Stephen Frears' riveting "inside story" monarchy chronicle told about the week the Royal Family became reviled by the British public due to their silence following the death of "the People's Princess" Lady Diana in 1997, and how newly-elected Prime Minister Tony Blair (Michael Sheen) cajoled Queen Elizabeth II (Helen Mirren) to acquiesce to the public's demands
Letters From Iwo Jima (DreamWorks/Warner Bros.) (with 4 nominations and only one win, Best Sound Editing), director Clint Eastwood's emotional American-produced foreign language film about the Japanese perspective during the bloody Battle of Iwo Jima in World War II [Note: If Letters From Iwo Jima had been named Best Picture, it would be the first foreign-language film to win in that category]
Little Miss Sunshine (independent feature globally distributed by 20th Century Fox) (with 4 nominations and only two wins, Best Supporting Actor and Best Original Screenplay), a quirky light comedy/road movie about the adventures of an oddball, dysfunctional New Mexico family driving cross-country in a broken-down Volkswagen van for their 7 year-old daughter Olive's Little Miss Sunshine beauty pageant in Redondo Beach, California [Trivia Note: If underdog Little Miss Sunshine had won Best Picture, it would have been only the fourth film - after Driving Miss Daisy (1989), Grand Hotel (1932) and Wings (1927/28) - in Oscar history to take the top prize without having its director nominated]
Time Warner Inc.'s studios (including New Line and Picturehouse), due in part to Pan's Labyrinth (6 nominations and 3 wins) and The Departed (5 nominations and 4 wins), received the most Oscar nominations with 31 (spread out over 11 films), and came away with the top two films with the most wins. Viacom Inc.'s Paramount units (including DreamWorks SKG) had 23 (for 5 nominated films) and Walt Disney Co. had 17. News Corp's Fox studios received 10 nominations, while General Electric Co's Universal Pictures had five for Children of Men and United 93.
There was one Best Picture nominee whose directors were not nominated for Best Director: husband and wife co-directors Jonathan Dayton and Valerie Faris for Little Miss Sunshine. Their replacement on the Best Director nominees roster was Paul Greengrass for United 93. If Jonathan Dayton and Valerie Faris had been nominated as Best Director for Little Miss Sunshine, it would have been only the third time in Oscar history that co-directors would have been nominated on a single film. [Other pairs included Oscar-winning Jerome Robbins and Robert E. Wise for West Side Story (1961) and the Oscar-nominated duo of Warren Beatty and Buck Henry for Heaven Can Wait (1978).]
Once again, the two favored Best Director nominees (Martin Scorsese and Clint Eastwood) from 2004 were rematched again this year in the category. The winner was sentimental favorite 64 year-old Martin Scorsese (his sixth Best Director nomination and his first Oscar win), for the bloody crime film The Departed. He had never won an Oscar despite receiving five previous directorial nominations for Raging Bull (1980), The Last Temptation of Christ (1988), GoodFellas (1990), Gangs of New York (2002), and The Aviator (2004), as well as two screenplay nominations for GoodFellas and The Age of Innocence (1993).
The remaining Best Director nominees included:
76 year-old Clint Eastwood (his fourth Best Director nomination), for the WWII war film Letters From Iwo Jima - he has already won two Best Director Oscars for: Unforgiven (1992) and Million Dollar Baby (2004). [Note: Eastwood went head-to-head in 2004 in the same category with the winning Million Dollar Baby against Scorsese's The Aviator]
Paul Greengrass (his first nomination) for United 93 (2 nominations including Best Film Editing, but not Best Picture!), the moving account of the real-life events about the doomed United Flight 93 jet airliner, which was hijacked by terrorists during the September 11th, 2001 attacks on New York City and Washington DC, who were overcome by passengers who self-sacrificially crashed the plane rather than allowing it to be used as a weapon
Mexican-born Alejandro Gonzalez Inarritu (his first nomination) for the four story-lines film Babel
Stephen Frears (his second nomination) for The Queen, a long time Oscar snub (he received only one directorial Oscar nomination for The Grifters (1990))
Three of the year's most-nominated films were the work of Mexican directors. The Mexican directing troika of Alejandro Gonzalez Inarritu, Guillermo del Toro and Alfonso Cuaron took a combined 16 nominations for their films Babel (with seven nominations), Pan's Labyrinth (with six nominations including Best Foreign-Language Film) and Children of Men (with three nominations), respectively. Alejandro Gonzalez Inarritu was the first Mexican director nominated for the top prize.
Animated films were returning to the box office dominance they enjoyed in the 1950's under Disney, with four of the top 10 grossing films of 2006 being animated films: Cars (#2 in box office), Ice Age: The Meldown (#6 B.O.) (no nominations), Happy Feet (#7 B.O.), and Over the Hedge (#10 B.O.) (no nominations). Weeks before the Academy Award nominations announcement, Luc Besson's strange CGI animated film Arthur and the Invisibles (featuring an eclectic English-language all-star voice cast of Madonna, Robert De Niro, Mia Farrow, Harvey Keitel, Chazz Palminteri, Emilio Estevez, and rapper Snoop Dogg) was declared ineligible (less than 75% of the film was animated), reducing the number of pool of eligible nominees from 16 to 15, which, in compliance with Academy rules, reduced the number of eligible nominees to 3. This effectively removed the chance of having 5 nominees in the Best Animated Feature Film category for the first (and only) time since 2002. All three nominees were CGI-animated films, reversing the previous year's inclusion of no CGI films at all.
Among the three remaining strong contenders, the Animated Feature Film Oscar was won by Warner Bros. and George Miller's rollicking and poignant penguin song-and-dance musical Happy Feet (its sole nomination). Miller earned his first Oscar win after three previous Oscar nominations: for Lorenzo's Oil (1992) (Best Original Screenplay) and twice for Babe (1995) (for Best Picture and Best Screenplay Adaptation). The other two nominees were:
Disney/Pixar's mediocre Cars (2 nominations including Best Song), about anthropomorphic cars in a rural Southwestern USA desert town (the plot was similar to Michael J. Fox's comedy Doc Hollywood (1991))
Sony Pictures and Steven Spielberg's Amblin Entertainment's witty suburban satire Monster House (its sole nomination)
With five African-Americans, two from Spanish-speaking countries and an Asian, it was the most ethnically-diverse lineup ever among the 20 acting nominees. (Also add the three British, one Canadian, and one Aussie performer to make it even more diverse!) Ten of the 20 acting nominees were first-timers. The other 10 nominees shared a total of 49 nominations and three (Streep, Dench and Blanchett) were previous Oscar winners. Of the ten Best Actor and Best Actress nominees, only Helen Mirren was in a Best Picture nominee [Trivia Note: the last time this happened was 75 years earlier in 1931/32, when Wallace Beery was nominated for The Champ (1931/32)]! This year marked only the third time in Oscar history that African-Americans won two of the four acting prizes (it also occurred in 2004 and 2001).
In the Best Actor category, four of the five nominees represented the sole nomination for that picture, and all of them had never won an Oscar. Two were long-time Oscar snubs. It was the third time in Oscar history that two black performers were among the five Best Actor nominees (this also occurred in 2001 and 2004). The winner was 45 year-old Forest Whitaker (with his first nomination and first win) for his hammy portrayal of brutal, infamous Ugandan dictator Idi Amin, who was responsible for the genocide of over 500,000 Ugandans in The Last King of Scotland (its sole nomination). He was the fourth African-American actor to win the Best Actor Oscar.
The remaining candidates for Best Actor included:
74 year-old Peter O'Toole (with his eighth Best Actor career nomination) for the role of Maurice, a dying, impotent, yet lecherous and lustful has-been actor who has a platonic March-December romance with his best friend's teenaged grand-niece (Jodie Whittaker) in Venus (its sole nomination). [O'Toole has already received seven unsuccessful Best Actor nominations for Lawrence of Arabia (1962), Becket (1964), The Lion in Winter (1968), Goodbye, Mr. Chips (1969), The Ruling Class (1972), The Stunt Man (1980), and My Favorite Year (1982), and received an Honorary Lifetime Achievement Oscar in 2003. O'Toole's loss put him in the record books as the actor with the most nominations without winning. O'Toole was tied with Richard Burton with seven losing nominations before his Venus nomination. If O'Toole had won the Oscar, he would have joined Henry Fonda and Paul Newman as actors who won their first competitive Oscars after receiving Honorary Awards. He nearly turned down the honorary Oscar three years ago because he hoped to earn one outright.]
32 year-old Leonardo DiCaprio (with his third nomination, previously earning a lead nomination for The Aviator (2004), and supporting nomination for What's Eating Gilbert Grape? (1993)) as white South African diamond smuggler/mercenary Danny Archer in Blood Diamond (5 nominations)
26 year-old Canadian Ryan Gosling (his first nomination) as crack-addicted inner city (NYC) junior high school teacher Dan Dunne in the independent film Half Nelson (its sole nomination)
38 year-old Will Smith (his second nomination, previously a lead nomination for Ali (2001)) as real-life single father and rags-to-riches success story Chris Gardner, an unpaid Dean Witter intern and homeless father who supported himself and 8 year-old son Christopher (Jaden Smith) while living off the streets before rising to corporate prominence in The Pursuit of Happyness (its sole nomination)
In the Best Actress category, three of the five nominees including the favorites - were over 50. The prohibitive favorite and winner for Best Actress was 61 year-old Helen Mirren's (with her third career nomination and first win) astonishing portrayal of current reigning British monarch Queen Elizabeth II in the sleeper hit The Queen, whose popularity hit a nadir during the week following the tragic 1997 death of Lady Diana, former Princess of Wales after a divorce from Prince Charles. This was her first lead nomination after two unsuccessful supporting nominations for The Madness of King George (1994) (as another real-life queen, Queen Charlotte) and Gosford Park (2001). [Ironically, Mirren won the Emmy in the same year for her portrayal of Queen Elizabeth I in the British television miniseries Elizabeth I (2005)!]
The four other Best Actress nominees were:
32 year-old Spanish actress Penelope Cruz (her first nomination) as tough, working-class single mother Raimunda, whose dead mother Irene (Carmen Maura) returned to fix unresolved family issues and grappled with ghosts in the tragi-dramedy Volver (its sole nomination), her third role for writer/director Almodovar - she became the first Spanish woman to be nominated for a best actress Academy Award for a non-English speaking role
72 year-old Judi Dench (her sixth nomination, all earned after the age of 60, following three previous lead nominations for Mrs. Brown (1997), Iris (2001), and Mrs. Henderson Presents (2005), and two supporting nominations for Shakespeare in Love (1998), for which she won her sole Oscar, and Chocolat (2000)), as lonely, disturbed, treacherous and blackmailing spinster-lesbian Islington district school teacher Barbara Covett in Notes on a Scandal (4 nominations, including Best Screenplay Adaptation and Best Score) [Trivia Note: Dench received an Oscar nomination for five of the last eight years!]
57 year-old Meryl Streep (her incredible fourteenth nomination, her first since Adaptation (2002), with two Oscar wins in 1979 and 1982) as ruthless and tyrannical style-magazine editor Miranda Priestly (a thinly veiled caricature of real-life Vogue editor-in-chief Anna Wintour) in The Devil Wears Prada (2 nominations including Best Costume Design) [Note: Two-time Oscar winner Streep's 14th nomination padded her record as the most-nominated actor ever, ahead of both Katharine Hepburn and Jack Nicholson with 12 nominations]
31 year-old Kate Winslet (her fifth nomination, including her two lead nominations for Titanic (1997) and Eternal Sunshine of the Spotless Mind (2004), and two supporting nominations for Sense & Sensibility (1995) and Iris (2001)) as bored suburban wife and mother Sarah Pierce who has an adulterous affair with her neighbor Brad Adamson (Patrick Wilson) in Little Children (3 nominations, including Best Screenplay Adaptation)
[Trivia Note: At 31 years of age, Kate Winslet became the youngest performer to receive five acting nominations. The previous record holder was Olivia de Havilland, who was 33 when she received her fifth nomination for The Heiress (1949). Earlier, 22 year-old Winslet became the youngest actress to have two nominations, and in 2004, she became the only actress to have scored four nominations before the age of 30.]
None of the performers in the tightly-contested Best Supporting Actor race had ever won an Oscar; they included a longtime Oscar snub, and another earning a nomination after several decades of work since his last recognition. The race was won by:
72 year-old Alan Arkin (his third nomination - and his first after 38 years, although not a record - he had been nominated for Best Actor twice, for The Russians are Coming! The Russians are Coming! (1966) and The Heart is a Lonely Hunter (1968)), as foul-mouthed, porno-reading, heroin-addicted and crotchety Grandpa in Little Miss Sunshine
The four other nominees were:
45 year-old former Bad News Bears child star Jackie Earle Haley (his first nomination) as convicted, and creepy yet sympathetic pedophile Ronald James McGorvey whose parole affects an entire suburban community in Little Children
43 year-old Beninese-American Djimon Hounsou (his second nomination, previously nominated in a supporting role for In America (2003)) as Sierra Leone fisherman-turned-diamond miner Solomon Vandy, who fights for his stolen son and becomes embroiled in a jewel theft to buy his family's freedom in Blood Diamond
45 year-old comedian Eddie Murphy as raucous, flamboyant, womanizing, drug-addicted "rock-and-soul" singer James (Jimmy) 'Thunder' Early in Dreamgirls [This was long-time Oscar snub Murphy's first nomination, having been overlooked by the Academy for such worthy roles as 48 HRs (1982), Trading Places (1983), Beverly Hills Cop (1984), Coming to America (1988), and The Nutty Professor (1996).]
35 year-old Mark Wahlberg (his first nomination) as self-righteous, wise-cracking Boston cop Sgt. Dignam in The Departed, the only acting nominee from the film
The Best Supporting Actress category was won by the heavily-favored 25 year-old American Idol star Jennifer Hudson in her powerful film debut as outspoken and brassy cast-away Dreams lead singer and single mother Effie Melody White (based on real-life singer Florence Ballard), in Dreamgirls. She became the third African-American actress to win a Best Supporting Actress Oscar. [Trivia Note: Three other singers received their first nomination for debut roles: Barbra Streisand as Best Actress (win) for Funny Girl (1968), Diana Ross as Best Actress (nom) for Lady Sings the Blues (1972), and Bette Midler as Best Actress (nom) for The Rose (1979). All three actresses portrayed real-life singers as well - Fanny Brice, Billie Holiday, and Mary Rose "The Rose" Foster, based on Janis Joplin.]
The other Best Supporting Actress nominees included two actresses from Babel, each earning a first Oscar career nomination:
Mexican-born Adriana Barraza as careless Mexican housekeeper Amelie in Babel - she is forced to bring her American employers' children to Mexico in order to attend her son's wedding, leading to a cascade of unfortunate tragedies
26 year-old Japanese actress Rinko Kikuchi as isolated, depressed and troubled 16 year-old deaf-mute Tokyo teenaged girl Chieko in Babel [Trivia note: If she had won, Kikuchi would have become the first Japanese performer in about 50 years to win an Oscar in an acting category since Miyoshi Umeki won the Best Supporting Actress award for her role in Sayonara (1957).]
37 year-old Aussie Cate Blanchett (her third nomination, having won an Oscar for her supporting role in The Aviator (2004), and nominated for her lead role in Elizabeth (1998)), in her lead role as art teacher and morally-challenged, bored wife and mother Bathsheba "Sheba" Hart, whose affair with a 15 year-old student leads to her blackmailing by an older, treacherous lesbian-spinster teacher (Dench) in Notes on a Scandal
10 year-old actress Abigail Breslin (her first nomination) as 7 year-old beauty pageant-addicted Olive in Little Miss Sunshine; at 10 years, 279 days, Breslin was the youngest actress to be nominated for Best Supporting Actress since Quinn Cummings (at 10 years and 192 days) was nominated for The Goodbye Girl (1977)
The Best Documentary Feature Film category was one of the most hotly contested in Academy Awards history. The nominees included a collection of controversial, politically-charged films and two films which took a hard look at organized religion. The winner experienced a surprising clean-sweep:
the heavily-favored An Inconvenient Truth (with 2 nominations and 2 wins, also Best Original Song) - a harrowing ecological disaster documentary film about the ravages of global warming lectured by former US Vice President Al Gore
The other four nominees were:
two Iraq-based documentaries critical of current US President George W. Bush administration's policies in the Middle East: (1) Iraq in Fragments and (2) My Country, My Country
Deliver Us From Evil, a searing, candid look at child molestation among Catholic priests, focusing on one of the convicted Catholic priests - pedophile ex-priest Oliver O'Grady, who served parishes in central California and was eventually convicted in 1993, served seven years in prison, and was then deported
Jesus Camp, an illuminating documentary about the charismatic Pentecostal movement, in particular, Pastor Becky Fischer's Evangelical summer camp ("Kids on Fire") in Devil's Lake, North Dakota that teaches children to "take America back for Christ"
The Best Foreign Language Film category included the following five nominees (the winner is listed first):
The Lives of Others (Germany) (aka Das Leben der Anderen), a powerful emotional character study set five years before the collapse of the Berlin Wall, with an incisive look at the surveillance network of the terrifying secret police (Stasi) in East Berlin, following the story of one of its disillusioned secret police survelliance agents named Hauptmann Gerd Wiesler (Ulrich Mühe) who was ordered to spy on a young couple: loyal Socialist playwright Georg Dreyman (Sebastian Koch) and his devoted actress/lover Christa-Maria Sieland (Martina Gedeck) - Note: This was the third Best Foreign Language Film Oscar for a German film - the other two were West Germany's The Tin Drum (1979) and Germany's Nowhere in Africa (2002)
After The Wedding (Denmark) (aka Efter Brylluppet), an emotional drama about shattered revelations regarding family relationships
Days of Glory (Algeria) (aka Indigenes), a WWII war film about Algerian soldiers in North Africa who enlist in the French army to fight against the Nazi oppression in Morocco
the heavily-favored Pan's Labyrinth (Mexico) (aka El Laberinto del Fauno), a magical and engrossing film set in 1944 rural Spain during Franco's regime, about young Ofelia's (Ivana Baquero) imaginary escapist world to seek refuge
Water (2005, Canada), director Deepa Mehta's compelling socio-political period drama about the unjust treatment of Hindu widows (some very young girls) in the late 1930s, with great un-nominated performances by female cast members (Seema Biswas, Lisa Ray, and Sarala)
Three of Dreamgirls' eight nominations were for Best Original Song - this tied the record that was set by Beauty and the Beast (1991) (with one win) and The Lion King (1994) (with one win) - however, its overwhelming odds to win in the category were upset by the documentary An Inconvenient Truth's Best Original Song Oscar win for "I Need to Wake Up".
The Honorary Lifetime Achievement Oscar went to 78 year-old famed Italian composer Ennio Morricone, best known for scoring Sergio Leone's films - in particular the spaghetti western "Man With No Name" trilogy including: A Fistful of Dollars (1964), For a Few Dollars More (1965), and The Good, the Bad, and the Ugly (1966). Other Leone films he scored included Once Upon a Time in the West (1968), A Fistful of Dynamite (1971), and Once Upon a Time in America (1984). He had five unsuccessful Academy Award nominations for Days of Heaven (1978), The Mission (1986), The Untouchables (1987), Bugsy (1991) and Malena (2000).
Oscar Snubs and Omissions:
Some of the most critically acclaimed films of the year and their directors went unhonored for Best Picture. The most shocking Best Picture omission was for Dreamgirls, which earned 8 Oscar nominations, considering its previous win as the Best Musical or Comedy for the Golden Globes awards. Un-nominated director Bill Condon's film was a lavish and vibrant screen adaptation of Michael Bennett's popular Broadway musical about a trio of soul singers The Dreams, in a thinly veiled roman a clef of the real Motown singing group The Supremes.
[Note: Dreamgirls received eight Oscar nominations, the most of any nominee, without a Best Picture nomination, and came away with only two wins: Best Supporting Actress, and Best Sound Mixing. Only They Shoot Horses, Don't They? (1969) had more Oscar nominations (9) without a Best Picture nomination, but it didn't have the most Oscar nominations in its year of competition. In the same year, Anne of a Thousand Days (1969) had more nominations (10), but it was nominated for Best Picture. Therefore, Dreamgirls with 8 nominations set a major record - it was the first-time ever in Academy history that the film with the most nominations failed to earn a Best Picture slot.] Pan's Labyrinth earned 6 nominations and 3 Oscars (Best Art Direction/Set Decoration, Best Cinematography, Best Makeup) and Blood Diamond earned 5 nominations (with no wins) - both without a Best Picture nomination.
Other major Best Director/Best Picture omissions included:
Guillermo del Toro for Pan's Labyrinth (with six nominations including Best Foreign Language Film and Best Original Screenplay, but not Best Visual Effects!), a wondrously imaginative World War II era fantasy film set in Spain
Richard Eyre for Notes on a Scandal (with four nominations including Best Actress and Best Supporting Actress, and no wins), a sexual thriller based in a London-area working-class high school some dubbed "Fatal Attraction for the art-house crowd"
Todd Field for Little Children (with three nominations and no wins, including Best Screenplay Adaptation and Best Actress), a drama about American suburbia
Mel Gibson for Apocalypto (with three technical nominations and no wins), an ultra-violent adventure film set in the last days of the Mayan Empire
the blockbuster action film Casino Royale (with no nominations) with Daniel Craig's scintillating performance as the newly-reinvented 007 James Bond
director Alfonso Cuaron's bleak, futuristic and dystopic drama Children of Men (with three nominations including Best Cinematography, Best Editing and Best Adapted Screenplay - and no wins) was set in the year 2027
Clint Eastwood for his other WWII film, Flag of Our Fathers (with two technical nominations and no wins) about the bloody Battle of Iwo Jima and three of the soldiers who hoisted the flag in the famous photograph - the first part of Eastwood's "Iwo Jima Diptych" [Trivia: Flags of Our Fathers and Letters From Iwo Jima competed against each other in one category: Best Sound Editing, which the latter film won]
Robert De Niro's second career directorial stint for The Good Shepherd (one nomination for Best Art Direction/Set Decoration), a methodical and somber, intriguing, almost three-hour character-based historical drama that examined the formation of the CIA (based in part on the real-life experiences of the organization's enigmatic founder James J. Angleton) through a look at the decades-long involvement of top CIA agent Edward Bell Wilson (Matt Damon)
Roger Michell for Venus (one nomination for Best Actor), a tearjerker/character study about a 72 year-old dying, has-been actor who fell in love with a 19 year-old aspiring model
David Lynch for Inland Empire (with no nominations), a mindbender about an actress for whom reality and fiction begin to blend while working on a new film
James McTeigue for V for Vendetta (with no nominations), a comic book fantasy about a masked vigilante's quest to topple a fascist British government
Other worthy Best Picture nominees included Borat: Cultural Learnings of America for Make Benefit Glorious Nation of Kazakhstan, Casino Royale, Overlord, Half Nelson, The Proposition, Infamous, Stranger Than Fiction, and The History Boys.
The biggest un-nominated acting roles included:
Sacha Baron Cohen's lead performance in the mockumentary Borat: Cultural Learnings of America for Make Benefit Glorious Nation of Kazakhstan (its sole nomination for Best Original Screenplay) as Kazakhstani television reporter Borat Sagdiyev
Gretchen Mol's uncanny portrayal of real-life S&M pinup queen Bettie Page, and Lili Taylor's supporting role as intelligent, sharp-witted photographer Paula Klaw in The Notorious Bettie Page (no nominations)
Ulrich Mühe as sympathetic "guardian angel" secret police Stasi survelliance agent Hauptmann Gerd Wiesler (aka HGW XX/7) in director Florian Henckel von Donnersmarck's debut feature The Lives of Others, the winner of the Oscar for Best Foreign Language film
Maggie Gyllenhaal as self-absorbed, recovering junkie/ex-con Sherry Swanson eager to establish a relationship with her young daughter in Sherrybaby
Naomi Watts as restless, upper-class British society girl Kitty, opposite producer/star Edward Norton as middle-class British bacteriologist Dr. Walter Fane -- a mis-matched couple in disease-plagued, mid-1920s China in The Painted Veil, a love story based on a novel by W. Somerset Maugham
Jack Nicholson for his supporting role as the quiet, intense villain Frank Costello, Leonardo DiCaprio as deep undercover cop Billy Costigan who infiltrated an Irish crime family, and Matt Damon's lead role as Mob police plant Colin Sullivan, in Martin Scorsese's The Departed
Ken Watanabe's brilliant performance in a lead role as General Tadamichi Kuribayashi, and Japanese pop-star Kazunari Ninomiya as common soldier Saigo, in Letters From Iwo Jima
Michael Sheen's portrayal of shrewd and charismatic British Prime Minister Tony Blair in The Queen
Jodie Whittaker as Jessie - the 19 year-old fresh-faced object of lust for Peter O'Toole's charming Maurice, Leslie Phillips as Maurice's crotchety best friend and Jessie's grand-uncle Ian, and Vanessa Redgrave as Maurice's bemused, observant estranged wife Valerie, in Venus
Toby Jones and Sandra Bullock for their portrayals of Truman Capote and Nelle Harper Lee in Infamous (no nominations), the roles for which Philip Seymour Hoffman and Catherine Keener both earned nominations the previous year for Capote (2005), with Hoffman victorious
Robert Downey, Jr.'s paranoid hipster Barris in the rotoscoped animated film A Scanner Darkly (no nominations)
Catherine O'Hara as Oscar-obsessed, desperate actress Marilyn Hack in Christopher Guest's mockumentary comedy For Your Consideration (no nominations)
Annette Bening as Augusten Burroughs' psychotic mother Deirdre in Running with Scissors
Jamie Foxx as conniving, Machiavellian manager Curtis Taylor, Jr. (based on real-life music producer Berry Gordy) of the Dreams, Beyonce Knowles as backup singer-turned-disco diva Deena Jones (based on real-life disco queen Diana Ross), and Anika Noni Rose as mousy, squeaky-voiced backup singer Lorrell (based on real-life singer Mary Wilson) in Dreamgirls
Richard Griffith's lead role as older, tenured teacher Hector in director Nicholas Hytner's adaptation of Alan Bennett's popular play The History Boys (no nominations)
Aaron Eckhart, snubbed years before for his role in In the Company of Men (1997), for his role as slimy Big Tobacco lobbyist Nick Naylor in debut director/scriptwriter Jason Reitman's Thank You For Smoking (no nominations)
Renee Zellweger as real-life off-beat modernist and The Tale of Peter Rabbit children's book English author Beatrix Potter in Miss Potter (no nominations)
Kevin Spacey's campy role as villain Lex Luthor in Superman Returns
Sylvester Stallone for his sixth portrayal of lower-class now-sexagenarian boxer Rocky Balboa in Rocky Balboa (no nominations)
Bill Nighy for two roles: (1) as the supernatural, octopus-headed Davy Jones in Pirates of the Caribbean: Dead Man's Chest, and (2) as older husband Richard Hart whose bohemian wife/art teacher Sheba Hart (Cate Blanchett) was engaged in an affair with a sexually-aggressive teenaged 'male Lolita' student (Andrew Simpson) in Notes on a Scandal
Keira Knightley's reprised role as a more sexually mature and aggressive Elizabeth Swann in Pirates of the Caribbean: Dead Man's Chest
Other notable acting snubs included:
Laura Dern as actress Nikki Grace whose life seemed to confusingly merge and intersect with her character in her starring role (as Susan Blue) in a new movie, in David Lynch's Hollywood satire Inland Empire
Emily Blunt and Stanley Tucci's supporting roles in The Devil Wears Prada
Will Farrell as hyper-neurotic IRS auditor Harold Crick - the lead fictional character of blocked author Kay Eiffel's (Emma Thompson) book in Stranger Than Fiction (no nominations) - the film was also overlooked for Zach Helm's clever original screenplay
12 year-old Ivana Baquero as Ofelia, a girl who escaped the aftermath of the Spanish Civil War in northern Spain by traveling into her own imaginary world in Pan's Labyrinth
Brad Pitt's lead as Richard - the husband of a random-shooting victim, and Gael Garcia Bernal's supporting role as Santiago in Babel
Ben Affleck as Superman star George Reeves in Hollywoodland
Shareeka Epps (in her feature debut) as inner-city 8th-grader Drey in Half Nelson
Toni Collette as the harried mother Sheryl and Steve Carell as suicidal uncle Frank in Little Miss Sunshine
Juliette Binoche as poor Bosnian seamstress refugee Amira, mother of a 15 year-old truant/thief in Anthony Minghella's Breaking and Entering
Adam Beach as alcoholic Marine serviceman Ira Hayes in Flags of Our Fathers
There were some major omissions among the Best Song nominations - - including Chris Cornell's hard-driven song "You Know My Name" from Casino Royale, and songs from two animated films: Prince's "Song of the Heart" in Happy Feet, and any of Ben Folds' original, insightful songs, including "Family of Me" and "Still" in Over the Hedge.
Documentary Film omissions included:
writer Dave Chappelle's and director Michel Gondry's Dave Chappelle's Block Party (2005) (released in March, 2006), a chronicling of a block party held in comedian Chappelle's Bedford-Stuyvesant hometown neighborhood in Brooklyn in September, 2004 - a warm, exuberant celebration of community for friends and fans during a musical concert
avant-garde film pioneer Pat O'Neill's experimental The Decay of Fiction (2002), a documentary about the famed Ambassador Hotel in Los Angeles (where Robert Kennedy was assassinated, the Academy Awards have been held, and numerous films have been made), using double exposure to overlay color shots within the hotel with B/W footage of actors enacting vignettes from 1940s films
The biggest Foreign Language Film omission was the domestic crisis drama Volver (Sp.) - it had been considered a possible front-runner for the Foreign Language Film prize. It was also not nominated for Best Director (Pedro Almodovar).

Other notable Foreign Language Film omissions included:
director/writer Michel Gondry's second film (after his Oscar-winning Eternal Sunshine of the Spotless Mind), the romantic fantasy The Science of Sleep (Sp.) (aka La Science des Rêves) with a combination of animation and live action - it delved into dreams, consciousness and imagination, and starred Gael García Bernal as an introverted eccentric artist/inventor
director/writer Yüksel Aksu's comedy Dondurmam Gaymak (Turkey) (aka Ice Cream, I Scream), about an obnoxious small-town ice cream vendor Ali (Turan Ozdemir) [Note: It would have been better if Turkey had instead selected writer/director Nuri Bilge Ceylan's domestic melodrama Climates (aka Iklimler), which told about the strained marriage between a self-absorbed university professor (director Ceylan) and his younger, infantile wife Bahar (real-life wife Ebru Ceylan)]
gay director João Pedro Rodrigues' overwrought, tearjerking romantic tragedy Odete (2005, Port.) (aka Two Drifters)
Carlos Reygadas' sexually explicit drama Battle in Heaven (2005, Mex.) (aka Batalla en El Cielo) - although it was ineligible for nomination, due to the Academy's rule of one-film-per-country (Pan's Labyrinth took the country's one spot)
The biggest Animated Feature Film snub of the year was DreamWorks/PDI's CGI-animated Over the Hedge, a clever adaptation of the newspaper comic strip about con-artist raccoon R. J. (voice of Bruce Willis) who tricks a group of forest animals led by cautious turtle Verne (voice of Garry Shandling) into stealing food from a suburb.
Other notable Animated Feature Film omissions included:
DreamWorks/Aardman Studio's first CGI-animated film Flushed Away, about the adventures of stuffy, upper-class pet rat Roddy (voice of Hugh Jackman) trapped in the London sewers
20th Century Fox's sequel Ice Age: The Meltdown, a downbeat parable for the modern danger of global warming
Richard Linklater's adaptation of Philip K. Dick's short story titled A Scanner Darkly, using the same rotoscoped computer animation used for Linklater's own Waking Life (2001)