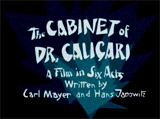 The Cabinet of Dr. Caligari (1919/1920, Germ.) (aka Das Kabinett Des Doktor Caligari), 71 minutes, D: Robert Wiene
One of the more memorable and influential of the early films was Germany's silent Expressionistic landmark classic about a ghost-like hypnotist-therapist in a fairground-carnival named Dr. Caligari (Werner Kraus). He hypnotized a pale-skinned, lanky, black leotard-wearing Cesare (Conrad Veidt, later known for his portrayal as Major Strasser in Casablanca (1942)), his performing somnambulist (and haunted murderer) to do his evil deeds. The shadowy, disturbing, distorted, and dream-nightmarish quality of the macabre and stylistic 'Caligari,' with twisted alleyways, lopsided doors, cramped rooms, crooked and overhanging buildings, and skewed cityscapes, was shot in a studio. It was brought to Hollywood in the 1920s, and later influenced the classic period of horror films in the 1930s - introducing many standard horror film conventions.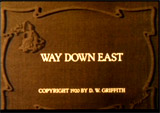 Way Down East (1920), 100-150 minutes, D: D.W. Griffith
A powerful melodrama starring silent film immortal Lillian Gish. The film was the story of an innocent New England country girl, Anna Moore (Lillian Gish) who was duped into a phony marriage, wronged (pregnant) and then abandoned. The baby died in her arms during its baptism. She went to live with a farm family, hoping that her past would not be revealed. But it was and she was cast out into a raging blizzard. The exciting conclusion found her wandering onto an icy river, stuck on a floating ice floe moving toward a waterfall. She was saved by the farmer's son David Bartlett (Richard Barthelmess), whose love she had previously rejected. They were married.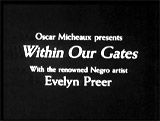 Within Our Gates (1920), 79 minutes, D: Oscar Micheaux
The earliest surviving directorial effort of Oscar Micheaux, and one of the earliest known (or surviving) films made by an African-American filmmaker with a primarily African-American cast. The themes of the landmark film were man's inhumanity to man (rape, lynching, murder) - mostly atrocious racist tendencies fostered by white-supremacist attitudes, and it was considered a rebuttal to D.W. Griffith's The Birth of a Nation (1915). Included in the plot (often censored and edited) was the rape of Sylvia Landry (Evelyn Preer), its African-American protagonist, by a white man (her father!) - and a long flashback sequence that detailed the lynching of Sylvia's family.