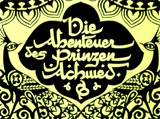 The Adventures of Prince Achmed (1926, Germ.) (aka Die Abenteuer des Prinzen Achmed), 65 minutes, D: Charlotte (Lotte) Reiniger
Often considered the first (or oldest surviving) animated feature film. The fantasy plot of the ground-breaking work was loosely based upon the Arabian folk tale "One Thousand and One Arabian Nights." Stop-motion animation techniques included paper or cardboard cut-outs, multiplane camera techniques and other experimental uses of film stock with wax and sand (before cel animation became popular). The images (in 300,000 camera shots) were mostly composed of crude yet complex silhouettes (or shadow puppets), with some monochromatic color variations beyond black and white. Sequences and characters included a prince, a wicked magician, a magical flying horse, the Isle of Wak-Wak, a bird princess (Pari Banu), demons, an ogress, and Aladdin and his magic lantern.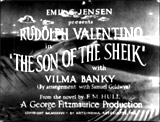 The Son of the Sheik (1926), 74 minutes, D: George Fitzmaurice
The sequel to the original The Sheik of 1921, and generally considered the better picture, with the same stars - Rudolph Valentino as Ahmed/The Sheik, and Vilmy Banky as Yasmin. It was one of Hollywood's first major sequels. When released, it coincided with the untimely death of Valentino (at the age of 31) from appendicitis. In this similar escapist adventure-drama, Ahmed, the son of an Arabian Sheik (also Valentino), fell in love with bejeweled dancer Yasmin (Banky) whose French father Andre (George Fawcett) and thuggish gang were thieves in the desert south of Algiers. He mistakenly blamed her and felt betrayed, thinking she seduced him as a ploy when he was kidnapped by another thief named Ghabah (Montagu Love) and tortured in exchange for ransom money. He managed to escape and kidnapped her in revenge. Action sequences included horse chases across the desert and sword-fighting.