Plot Synopsis (continued)
---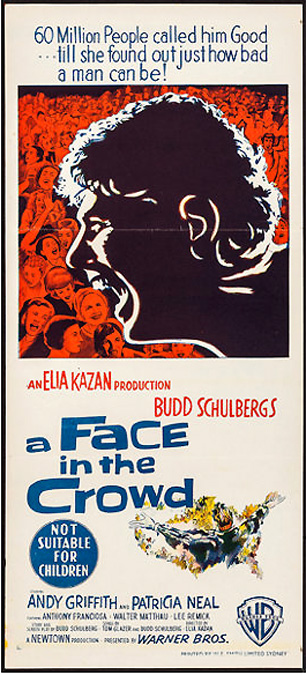 Lonesome's Fake Audience Reactor Machine:
In the penthouse, a four person male country singing group, the Barefoot Baritones, was rehearsing Lonesome's new theme song for his show - "Just Plain Folks":
Just Plain Folks
Friendly greetin', Sunday-go-to-meetin'
Bible-readin', pork-chop-feedin'
Just plain folks
Stew on the table Mule in the stable...

Beanie, Joey, Lonesome and General entered, to see Lonesome's newly-designed, "ingenious" reaction machine with dials and levers. Joey boasted about Rhodes' new invention that could simulate (or fake) audience reactions: "You just push these little levers here. It can laugh. Giggle. Ah!" Joey's intention was to market the device for a profit:
We're thinking of putting them on the market. The Lonesome Rhodes Automatic Reactor.
But Marcia criticized it as producing only "mechanical laughter, mechanical applause." Due to having been fooled by Lonesome with a bogus marriage proposal (due to his previous marriage), the miffed Marcia's soundly criticized his machine. Rhodes noticed that she was "wound tighter than a clock."
Rhodes' Excuses About His Marriage and Divorce:
To minimize and dismiss his ex-wife's demands, he downplayed her explanation that the divorce was illegal:
It ain't as bad as you think. See, I got a divorce couple of years ago in Mexico, but the judge got indicted for fraud. So my ex claimed that the divorce...
A report on Lonesome's latest ratings brought an exclamation of "Whoo! Hallelujah!" - ("Rhodes, 41.4. Opposition, 19.5. Boy, that other fella's gonna be jumpin' outta windows") interrupted his train of thought.
He then resumed his long-winded excuse for Marcia, and promised to work out a solution in Juarez, Mexico with his "good lawyer" after his next trip to Arkansas, although she didn't believe a word he said:
Rhodes: Oh, so like I say, the ex claimed the divorce was a fraud, too. I got a good lawyer working it out for me in Juarez. He said if I come down there, he'd get her off my back in 24 hours.
Marcia: Larry, don't play with me. I'm not one of your girls.
Rhodes: On a stack of Bibles, Marcia. Look, Saturday, I'm going to be down in Pickett judgin' the Arkansas Drum Majorette Contest. I'll go straight from there to Mexico. The next time you hear from me, it'll be from Juarez. Believe me.
Marcia's Friendship with TV Scriptwriter Mel in New York:
While Lonesome was away on a trip to Arkansas to judge a baton-twirling competition, Marcia became reacquainted with Mel, who had also moved to New York. She entered a crowded room of male TV scripters where she jokingly read the sign on the entry door:
Classics adapted while you wait. (We also take in laundry.)
Another sign prominently implored: PLEASE DON'T FEED OR ANNOY THE WRITERS. One member of the group was throwing darts at a picture of Lonesome Rhodes, labeled ESCAPE FROM FREEDOM. Mel greeted her in the all-male enclave where writers - who rarely received recognition for their skilled work, hung out: "Hey, welcome to the Black Hole of Calcutta.... Here you see the lepers of the great television industry. Men without faces. Why, they even slide our paychecks under the door so they can pretend we're not here." She replied - with an undertone of sarcasm and condescension toward Rhodes:
But think of the satisfaction of being even a small cog in the great wheel of humanity known as Lonesome Rhodes.
When Mel asked why she didn't quit her job, she was brutally honest: "Because I'm deeply involved with him." Mel spoke "vicious" words of introduction he had written for Lonesome's TV show 'A Face in the Crowd' - an episode shot during his trip back to Pickett for the local majorette twirling competition:
Mel: (reading from the script) The hometown boy, not only making good, but making everybody.
Marcia: For a mild man, you sound vicious.
Mel: Didn't you know? All mild men are vicious. They hate themselves for being mild, and hate the windy extroverts whose violence seems to have a strange attraction for nice girls - who should know better.
Mel continued to read from the script - an account of Lonesome's return to his Arkansas roots, where he was about to be greeted by fan clubs and mobbed by well-wishers at Pickett's football field:
(Mel's voice) Today, 'A Face in the Crowd' takes you on a sentimental journey, as Lonesome Rhodes, your old Arkansas traveler, goes home to the typical dirt-road, cotton-pickin' town of Pickett, Arkansas... -
Lonesome's Trip to Pickett - Judging a Baton-Twirling Competition:
(The TV announcer's voice reading Mel's script during the show) - where America's favorite country cousin first got his humble start. And where he now returns to the simple folks who saw and loved him first. To choose, on his latest 'Face in the Crowd', the lucky and talented girl whom he will select from hundreds of contestants as Miss Arkansas Drum Majorette of 1957.
Lonesome grabbed a microphone on an upper platform, as he viewed (from a high angle) a gigantic marching band, and dozens of nubile, teenaged high-school contestants marching on a football field and competing for his attention:
Look at 'em. Look at 'em! Ain't they the most? I mean the most! Corn-fed gals. Country people. The heart of America. The salt of the earth.
He watched as the marching band formed the letters "WE LOVE" and the female baton twirlers formed his initials: "LR." As he stepped forward, a mob of young girls swarmed to surround him and pawed at his clothes while screaming. As Mel and Marcia watched the TV feed of the event in a control booth in New York, they spoke of Lonesome's magnetic charisma and power, and the temptations he faced due to his growing power on the "little box" (TV):
Mel: It's dangerous.
Marcia: What, baton twirling?
Mel: No. Power. You gotta be a saint to stand off the power that little box can give you.
Although the buttons on his shirt had been ripped off, Lonesome was exuberant: "Ohh! Ohh, it's wonderful." As the twirlers performed an intricate cheer and formation for Lonesome, they sang his song: "Just Plain Folks." One twirler in particular caught Lonesome's eye, but he was cautioned by J.B. Jeffries, Marcia's uncle: "She's only 17." Lonesome replied with seriousness: "She looks like a very sweet child."
The ceremonial program began with Jeffries' short laudatory introduction, followed by Lonesome's speech to the masses (about "wholesome young American womanhood"), while he gazed out onto the football field grass, where the masses of young females sat at the 50 yard-line, with many more in the bleachers and stands:
Jeffries: Friends, my heart is too full to say anything more than welcome back to Pickett. A great artist, a great humanitarian, a great American. Our very own Lonesome Rhodes.
Lonesome: Friends, fellow Arkansasians, fellow Americans. I know I should start off with a funny story about them kinfolk of mine in Riddle, but I just feel too humble this afternoon as I look out upon this fine representative body of wholesome young American womanhood. You know, I've been a fan of baton twirling from way back. I think it's a honest-to-God American art form. Here's a little number I just wrote and recorded for the Gold Oak label. Thought you kids might enjoy twirling to it. Here she goes: "Mama Guitar."
One by one, baton-twirling contestants were called forward to compete individually with various skillful routines, while Lonesome's new recording of "Mama Guitar" played on a loudspeaker. During the competition, Joey noticed the 17 year-old contestant making eyes at Lonesome. When she was announced as the fifth contestant to perform - Miss Betty Lou Fleckum (Lee Remick), it was evident that the contest's winner ("by unanimous decision" by Lonesome himself) had already been determined.
As Betty Lou excitedly accepted her trophy for Miss Arkansas Drum Majorette of 1957, he shook her by the shoulders and she gushed at him:
Betty Lou: I'm so excited, I'm so, I'm sorry. You're my idol, honest. I pasted your picture on the ceiling over my bed so you're the first thing I see when I wake up in the morning.
Lonesome (smiling broadly): Well, bless your heart.
Famous Media Figures In a New York City Bar:
In a bar gathering place for New York's TV crowd, Mr. Macey entered. He greeted Mike Wallace (as Himself) at the door, Faye Emerson (as Herself) and Bennett Cerf (as Himself) at the bar, and Burl Ives (as Himself), Virginia Graham (as Herself), and Betty Furness (as Herself) seated at a table. Macey was congratulated by Betty for his recent show - a broadcast of the baton-twirling judging in Pickett. "Mace, that baton bit was the living end." He responded: "As Lonesome said, it's an American art form."
At the end of the bar where he sat down and ordered milk were Marcia and Mel. He was jubilant about the ratings for his recent show live from Pickett: "Should boost the rating." Marcia whispered to Mel about his obsession with ratings:
Marcia: Poor Macey.
Mel: He lives on a diet of nitroglycerin and Trendex ratings. Call it a Bible, but it's really a death warrant with decimal points.
A Western Union messenger (Nicholas Frangakis) brought Marcia a transmitted telegram from Lonesome, with news that he wouldn't be flying in that evening: "Hopping over to Juarez. See if you can get Arthur Godfrey to fill in for me. Tell him I'll do the same for him someday. Countin' on you to hold the fort." She complained: "Boy, this shoulder's getting a permanent callus from holding that fort." When Mel asked what Lonesome was doing in Juarez, she revealed that he was acquiring a 'quick divorce' and that she had plans to marry Lonesome once he returned. Mel noticed that she was blushing after he asked: "Then this is it?" He was slightly apprehensive for her, and disappointed that she had decided to hitch up with the troublesome Lonesome:
I suppose I should be a gentleman, wish you all the happiness. I think I'll just be a cad and hope he chokes on a Vitajex pill.
She kissed him on the cheek, looked away, and then warily looked back at him.
Lonesome's 'Rock-Star' Styled Arrival at the New York Airport - His New Bride:
As the Capital Airlines Viscount plane taxied toward the terminal crowded with people, Mel and Marcia, who was dressed up for the occasion, awaited Lonesome's arrival. From an open side-cockpit window, baton twirler Betty Lou waved to the onlookers. When the plane's door was opened, the crowd (mostly screaming female teenagers) broke loose through the police line and surged toward the plane. A few police men and airport employees vainly attempted to create a security line and restrain the adoring fans, waving autograph books. Joey was one of the first to deplane, beaming: "Listen carefully. This is great stuff."
At the plane door, Lonesome emerged with Betty Lou at his side - she was wearing a sombrero and carrying two Chihuahuas. Marcia attempted to break through: "Officer, I'm his fiancee." At the foot of the steps, Marcia looked upwards to see Betty Lou kissing Lonesome as he announced his elopement and marriage to everyone:
This little lady has just done me the honor of becoming Mrs. Lonesome Rhodes. We do'd it in Juarez!
Marcia was confused and stunned and tried to escape, but found herself blocked by the cheering, exuberant crowd. When she finally broke loose, she marched past Mel without a word and fled. At the plane, reporter Earl Wilson (as Himself) boldly asked the embarrassed and giggling Betty Lou: "What are your measurements?" as other reporters and photographers mobbed around her and pulled at her skirt to reveal her legs. She yelled out the two dogs' names: "Their names are Tico and Pico."
Betty Lou's Introduction on Lonesome's TV Show:
During Lonesome's next live TV show on stage before a mostly-young, frenzied female audience, he re-enacted their Mexican wedding ceremony. The newly-wed couple exited from a church door arch and walked down a gauntlet of young twirlers holding their batons to create an extended archway, followed by young cowboys holding Betty's train and young cowgirls serving as flower bearers with baskets. From the side of the stage, Joey watched with a smug expression. Lying on a sofa in the darkened penthouse, the crushed Marcia watched the extravagantly gaudy TV show, as Lonesome introduced Betty Lou, holding a flower bouquet:
Well, sir, here she is. That's my little Arkansas sweet potato, Betty Lou. (sreaming) I ain't been so happy since the day I fell into Grandpa's Baskim's hogshead of corn liquor and just guzzled my way down to dry land. I don't reckon I'll be a free man tomorrow morning. But if this ain't freedom, man, it's the next best thing.
Betty Lou lifted her long skirt, and hooked her white cowboy boot around Lonesome's upper thigh. Some of the girls in the audience rushed the stage and grabbed Lonesome's legs and embraced him before he broke away. He then described the two things (and more) that caught his eye when he first saw Betty Lou, as she removed her outer garments:
she cast off her cape to reveal her two-piece costume with a bare midriff
she tore off the ruffled, flowery cover of her skimpy top to reveal a spangled bikini bra
she ripped off her long skirt, revealing very tiny spangled shorts to match the bra top
He then prefaced his child bride's winning baton-twirling number:
I give you Mrs. Lonesome Rhodes doing her unbelievable double-fire baton-twirling dance to the scherzo from the Seventh Symphony by Ludwig van Beethoven.
Applause signs flashed as the 17 year-old drum majorette appeared on stage with a fiery baton spinning around on each hand.
Mr. Macey's Collapse:
Backstage during Betty Lou's show, Mr. Macey approached Lonesome (who was playing with the dogs Tico and Pico), with the inevitable news that General Haynesworth was withdrawing his support for him due to Joey's take-over of Lonesome's ad representation. The sweating, pleading Macey was being replaced as Vitajex's account representative by Joey:
I've been with Browning, Schlagel and McNally for 17 years, in full charge of the international drug account. And the General just told me that he's taking his business away. Your young Mr. DePalma has wormed his way...But you know this business. It's cutthroat....Well, if a rating nose-dives, or if you lose a client, even if it isn't your fault, the account executive is the goat. Mr. Rhodes, if I-I lose this account, I'll be fired. I've got a son at Princeton. Mr. Rhodes, you've seen my, you've seen my office. A corner office with four windows. You know how long it takes at Browning, Schlagel and McNally to get a corner...
Lonesome reacted with coldness and lack of empathy, as Macey fumbled reaching for his nitroglycerin pills before collapsing from a heart attack. (Mel's earlier warning about Macey's life dependent on nitroglycerin and ratings had been fulfilled)
Lonesome's Deal - a 50/50 Business Partnership with Marcia:
Lonesome, with his hat in his hand, bluntly told Marcia (wearing a dark satin bathrobe, now living in her own apartment) his fears about marrying her. He enumerated her criticisms of his crass commercialism - after he had transformed himself for TV and had become a caricature of himself:
Lonesome: I was afraid to marry you, and that's the truth. The dirt-root, cotton-pickin' truth.
Marcia: Last time, you said you were afraid not to.
Lonesome: Both were true. You sort of overawe me. You know more than I do. I can feel you being so gol-darned critical all the time. (She slammed her front door) You and that smart-alecky Mel. And you don't really approve of me. That's so, ain't it?
Marcia: You're gettin' to be all the things you used to harpoon.
Lonesome: See what I mean? The bigger I get, the smaller you make me feel. You take Betty Lou...
Marcia: Larry, don't try to explain. Betty Lou is your public, all wrapped up with yellow ribbons into one cute little package. She's the logical culmination of the great 20th-century love affair between Lonesome Rhodes and his mass audience.
Lonesome: (shrugging) Well, I wish you wasn't so bitter.
Marcia: I'm not bitter. If I sound stridently female about Miss Drum Majorette, I don't mean to be. I knew you married her just as a way of not marryin' me.
Lonesome: Look, Marcia, I'm not forgettin' what I owe ya. I'm gonna give ya a healthy slice of our whole operation. Say, ten percent of my end. And you won't have to lift your finger with what I'm givin' you.
Marcia: Givin' me? Givin' me? You're not givin' me anything. And you're not throwin' me off the train like poor Abe Steiner, either. A Face in the Crowd was my idea. The whole idea of Lonesome Rhodes belongs to me. I always should've been an equal partner. Well, now I'm gonna be an equal partner. I'm gonna get somethin' I deserve....AND I WANT IT ON PAPER!
Lonesome: Okay. All right. I'll tell Joey to draw up the papers. Look at yourself in the mirror, Marcia. You'll see a millionaire.
In response to his ultimate betrayal, she demanded and negotiated a fair, equal profit-sharing arrangement with Lonesome for her part and role in making him a famous personality and successful showman on TV - they were made equal partners in his successful business.
When he suggested that she marry Mel ("Vanderbilt '44"), Marcia informed him that the long-suffering Mel had waited for Marcia to come around, but finally gave up and returned to Memphis "to forget us both." After Lonesome departed, Marcia let out a faint sob.
Lonesome's Political Tutoring of Presidential Candidate Senator Fuller:
The next scene opened on reporter Walter Winchell (as Himself) explaining how he acquired news from his sources: "I usually get it from an awful lot of people who promised somebody else they'd keep it a secret." He mentioned that Lonesome was associated with General Haynesworth.
This short scene was followed by reporter Mike Wallace interviewing Senator Worthington Fuller (from California) who was considering a Presidential bid, with General Haynesworth's backing:
Senator, is it not a fact that you have a date tomorrow night for what is known as 'Madison Avenue coaching' from Lonesome Rhodes in General Haynesworth's private projection room?
In a smoky projection room at Haynesworth's estate, an assembled group of politicos watched conservative-minded (or right-wing), white-haired, stuffed-shirt, out-of-touch Senator Fuller on a short film clip. He appeared stuffy, non-charismatic, unappealing, uninteresting, and dull while delivering a speech. After the viewing, General Haynesworth described Senator Fuller's main problem with his candidacy - his dry, stiff, and formal style needed a personal transformation, in order to increase his ratings in the new age of television, especially after his appearance on "Face the People":
But your problem is getting the voters to listen to you, getting them to like you enough to listen to you. Senator, I've got to be blunt. Your TV appearances have been, well, catastrophes...We've got to face it. Politics have entered a new stage, a television stage. Instead of long-winded public debates, the people want capsule slogans. 'Time for a change.' 'The mess in Washington.' More bang for a buck. Punch lines and glamour.
Newspaper publisher Mr. Purvis claimed he had supported the Senator, but It was clear that the Presidential hopeful was "not a grandstander, a backslapper or a baby-kisser." Haynesworth snapped back that Fuller needed to become more friendly, approachable, and down-home, rather than just respected:
That's exactly what he's got to become. A majority in this country don't see eye-to-eye with him. We've got to find 35 million buyers for the product we call Worthington Fuller...
The influential Lonesome was disdainful of Senator Fuller's lack of ability to relate to the majority of the nation's voters. Due to his own success with garnering tremendous audience ratings on his TV show, Lonesome suggested how the Senator would benefit from his tutorial advice and political coaching, to humanize him and make him a popular celebrity and 'a man of the people.' He scoffed at the idea that 'respect' was the highest-priority for a Presidential candidate:
Respect? Did you ever hear of anyone buying any product - beer, hair rinse, tissue - because they respect it? You gotta be loved, man. Loved....Politics is people...Senator, I'm a professional. And I have to look at the image on that screen same as I'd look at a performer on my show. And I'll have to say he'll never get over to my audience. Not to the 65 million people who welcome me into their living rooms each week. And if I wouldn't buy him, do you realize what that means? If I wouldn't buy him, the people of this country aren't ready to buy him for that big job on Pennsylvania Avenue.
Using his low-life friend Beanie as a sample voter, he coaxed Beanie's true negative attitude about the Senator out of him: "Flatter than last night's beer." Then, Lonesome appealed directly to the Senator and proposed a novel way to boost his stale and flat image and persona:
You see your problem now, Senator? How you gonna get this man, this bush monkey, to vote for ya?...Do you know what you need to lift your rating from 4.2 to 51.7? You need - now, hold on to your hat, my friend. You need a whole new personality.
Lonesome suggested some pointers and new techniques to increase his popularity and rebrand him - he must become a dog lover, adopt a folksy nickname, improve his facial expressions while on-camera, and hire Lonesome as his political marketer and tutor:
"My public love dogs. One pitch with a hound is worth 10,000 words. That mutt didn't do Roosevelt any harm, did it? Dick Nixon, either."
"How about a nickname? Only dishonest thing about 'Curly' Fuller is the way he combs his hair."
"No hard feelings now, we're talkin' television. Don't press your lips together so much. Gives you kind of a sissy look. Keep your mouth relaxed, so you can say..."
"You just put yourself in my hands. I'll have 'em lovin' him. I mean lovin' him!"
General Haynesworth seconded Lonesome's ideas: "You know, that's just what he did for Vitajex." Joey's quick aside: "He ought to be in the Cabinet" revealed Lonesome's own hidden political aspirations and megalomania.
Later that night in the screening room after the meeting officially adjourned, while they drank whiskey together, General Haynesworth congratulated Lonesome for winning over the Senator, but then bluntly told him about his one significant worry - Lonesome's own growing narcissism and his "out-of-control" nature. Although he was a friendly relatable face on-screen, he was often prone to misanthropic outbursts, egocentricity, arrogance and contempt for the press and sometimes he could alienate his own source of power - his audience:
Listen to me, as your adopted father. You have only one flaw, the way you've begun to suddenly shoot out of control. Like this evening, almost walking out on the Senator. And you're beginning to antagonize the press. You'll grate.
Lonesome's New Show - The Cracker Barrel:
As a result of the meeting with the General that evening, Lonesome was inspired to create a whole new politically-oriented TV show, with the General's approval - it would be called The Cracker Barrel. The format of the show called for Lonesome to casually pontificate about recent news events and political issues with a group of good ol' country boys:
My new show. I want you to set it up right away. Get me a whole bunch of colorful country-looking characters all sittin' around, listenin' to Lonesome Rhodes sound off about everything from the price of popcorn to the hydrogen bomb.
When General Haynesworth expressed some hesitation and dismay at Lonesome's new programming idea and didn't immediately support him, Lonesome made a bold-faced statement about his power:
You don't like it? Well, just forget it. All I've gotta do is pick up the phone and I can get Tim Andrews of National Motors to back it for me in a minute. I'm not just an entertainer. I'm an influence, a wielder of opinion. A force - a force!
The General was forced to appease his star and finance the new show.
On one of the first Cracker Barrel shows, with three major sponsors: Shelton Cigarettes, Best Friend Dog Food, and Vitajex, Lonesome was introduced by the announcer as the host who would provide "grass-root wisdom" to the masses. As he sat on a rustic cracker barrel in the Manhattan television studio set, he "chewed the fat" and preached in a down-home way about his likes, dislikes, and preferences in political culture and current (and even global) events, while surrounded by a group of country boys who reinforced his every word:
You know, boys, what really bugs me about our Limey cousins is the way they keep on tryin' to act like a first-class outfit, when their store is havin' to close up its branches all over the world.
Senator Fuller's Appearance on The Cracker Barrel:
One of Lonesome's first guests on his show was Senator Fuller, whom he greeted with delight - calling him "Curly" and "my old bunkmate" - as he invited him onto the set:
Sit down here on the cracker barrel and get your feet up on the stove. That's a boy, now you look at home.
Fuller had been coached by this time to make improvements in his personal style and the way he conversed, to upgrade and enhance his appeal to the middle classes.
In a cutaway, the show that evening was being watched by Marcia - wearing a black dress and seated solo in the dark at her customary location at the New York bar having "a quiet drink...to unwind" when to her pleasant surprise, Mel entered and joined her. The two listened to and watched a TV screen above the bar during The Cracker Barrel show featuring Senator Fuller. Lonesome was overheard opining about the effect of "raw politics" on the brain:
You know, back in my little hometown of Riddle (indistinct) headache that you got from guzzling too much rye whiskey. We didn't know that swallowin' too much raw politics can put a crease in your head a whole lot deeper than that homemade Kickapoo joy juice that we used to concoct back in Arkansas.
The Presidential hopeful gave a campaign trail-styled answer ("the real cotton-pickin' truth") to Lonesome's question about Social Security - and he railed against government handouts ("coddling from the cradle to the grave") with a folksy reference to pioneer Daniel Boone:
I'm glad you asked me that question, Lonesome. I'd say that people today are obsessed - I mean, uh, real gone for security. They want protection, coddling from the cradle to the grave. I say that weakens the moral fiber. Why, Daniel Boone wasn't looking for unemployment insurance and old-age pension. All he needed was his axe and his gun and a chance to hew a living out of the forest with his own hands...We need men, big men, not big government.
Due to Rhodes' coaching, Senator Fuller had been transformed, and he was congratulated by Lonesome for his words: "That's tellin' 'em, Senator. You heard one that time. Ha ha ha! That's a boy." Fuller concluded: "That's the spirit that built this country." Mel gave Lonesome an underhanded comment:
I'll say one thing for him, he's got the courage of his ignorance.