Background
---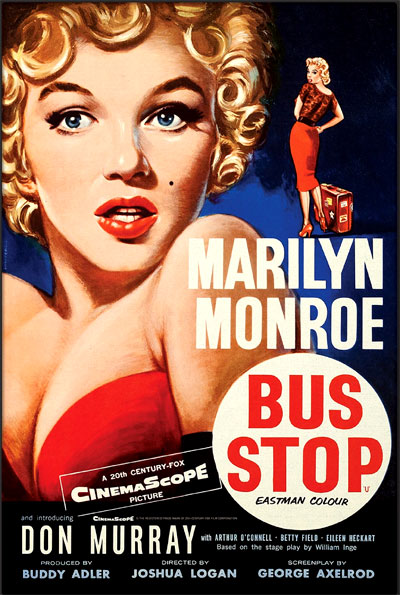 Bus Stop (1956) is director Joshua Logan's romantic comedy and road film, aka The Wrong Kind of Girl. It was adapted by George Axelrod (who also co-wrote The Seven Year Itch (1955) that also starred Marilyn Monroe) from the 1955 Broadway hit play by William Inge.
The Cinemascopic film's title was a bit of a misnomer, since the "Bus Stop" referred to only one film locale - a brief rest-meal stop known as Grace's Diner in Idaho on the way to and from Montana to Arizona. However, the "bus stop" in the Broadway play served a much more central and significant role as the plot's main focal point - a diner in rural Kansas about 25 miles west of Kansas City, Missouri where bus passengers were forced to seek shelter for about 4 hours in the early morning during a snowstorm.
The theme of the film was possibly less offensive to mid-1950s audiences than it would be for modern-day sensibilities, due to the domineering and misogynistic persistence of the male star in bothering, pursuing, kidnapping, trapping and sexually-harrassing his floozy female co-star to marry him. Its main underpinings were his comeuppance understanding that men had to be in tune with their sensitive side, while women were expected to settle down and marry.
The 20th Century Fox's major sexy blonde bombshell Marilyn Monroe was praised for the role: "BROADWAY'S BIGGEST Becomes MARILYN'S BEST!" The film's taglines were:
The coming of age of Bo Decker...and the girl who made him a man!
Give this cowboy enough rope and he'll land MARILYN MONROE in BUS STOP
There was only one Academy Award nomination for the film - Don Murray for Best Supporting Actor as an over-acting sexist hick, although he was tauted as hunky (irrespective of his depiction of an uncultured rube) on one of the film's posters: "Introducing Hollywood's newest hunk of man." He lost to Oscar-winning Anthony Quinn for Lust for Life (1956). Other competitors for the award included Anthony Perkins in Friendly Persuasion (1956), Robert Stack in Written on the Wind (1956) (the best of the choices), and Mickey Rooney in The Bold and the Brave (1956).
Marilyn Monroe had already starred in a number of great roles, sometimes opposite notable male leads:
as Rose Loomis opposite Joseph Cotten in Niagara (1953)
as Lorelei Lee with Jane Russell in Gentlemen Prefer Blondes (1953)
as Kay Weston opposite Robert Mitchum in River of No Return (1954)
as The Girl in The Seven Year Itch (1955)
Bus Stop was her first "serious" lead role, although her vulnerable performance as Cherie (a semi-dumb, sexually-exploited Ozark girl with hillbilly roots who was trying to make something of herself but only admired for her sensuality, mirroring Monroe's own life) went unrecognized for an Academy Award. It has been widely considered the best role of her career, mixing comedy with dark pathos, and clearly proved that she was a more-than-capable actress reflecting her skillful acting talent and some of her own personal insecurities. The previous year that Monroe had spent studying her craft with Lee Strasberg at the Actors Studio in New York City definitely paid off.
On a budget of $2.2 million, the domestic box-office revenue totaled $7.27 million. The film's success earned Monroe better roles opposite such stars as Laurence Olivier (as Elsie in The Prince and the Showgirl (1957)), Jack Lemmon and Tony Curtis (as Sugar Kane Kowalczyk in Some Like It Hot (1959)), and Clark Gable and Montgomery Clift (as Roslyn Taber in The Misfits (1961)), before her untimely death at the age of 36 in 1962.
The film opened in late August of 1956, just a few months after the Broadway play ended its run in April. None of the play's actors or actresses appeared in the screen version. It later inspired an ABC-TV series (from 1961-1962 with 26 episodes) of the same name, featuring Tuesday Weld and Gary Lockwood in the roles of "Cherie" and "Bo."
Plot Synopsis
---
Crude Montana Cowboy Beauregard 'Bo' Decker On His Way to an Arizona Rodeo:
During the opening title credits, the Four Lads sang "The Bus Stop Song" (aka Paper and Pins) written by Ken Darby:
I'll give to you a paper of pins And that's the way our love begins
If you will marry me, me, me If you will marry me
I'll give to you a feathery bed With downy pillows for your head
If you will marry me, me, me If you will marry me
But you don't want my paper of pins And you don't want my feathery bed
You want my house and money instead That is plain to see
Well here they are take everything My house, my money, my wedding ring
And in the bargain I'll throw in me If you will marry me
The melodramatic hillbilly love story opened on a ranch in Timber Hill, Montana, where naive and unsophisticated 21 year-old callow and rude cowboy Beauregard 'Bo' Decker (Don Murray in his film debut) and his protective father figure and ranch hand Virgil Blessing (Arthur O'Connell) were introduced. The orphaned Bo was counseled by Virgil to find a girl while attending a rodeo in Arizona:
"Bo, you're 21 years old and we're on our way to a big city, Phoenix, Arizona. It's time you met up with a gal....Oh, it ain't nothin' to be scared of. In a way, women and swimmin' is pretty much the same. You got good reflexes. Oh, you'll make out just fine."
It would be Bo's first time off the ranch. They boarded an Arrow-Flite Lines bus and were on their way to the Phoenix area for a weekend rodeo event, where he was going to compete in calf-roping and bull-riding events. He brought his saddle along with him into the bus and boasted how he would win every prize. During the long trip, Virgil strummed on a guitar as the opening song was reprised with additional verses.
Cowhand Bo also declared his idealistic intentions to not hook up with a gal from one of "those magazines," but would instead find a pure angel to marry:
"But if I do find me a gal, it ain't gonna be one of them gals from all those magazines. I already decided. I'm gonna get me a angel."
The level-headed Virgil suggested he set his sights lower: "You just figure on pickin' out some plain-lookin' little ol' gal, with a cooperatin' nature and a good personality. I mean, we gotta be realistic." But Bo was persistent and stubborn about what he wanted, even if his courting technique resembled throwing a steer to the ground or breaking in a wild horse:
"I'm gonna find me a real hootenanny of an angel! She gives me any trouble, she's gonna find herself with them little old wings just pinned right to the ground!"
During the long trip, Bo performed push-ups in the aisle (and woke people on the bus) to avoid getting "soft" like most "city folk." Virgil became exasperated with Bo's arrogant pushiness, and reminded him: "You're in civilization."
The driver made a brief, scheduled restaurant "Bus Stop" at Grace's Diner in Idaho, where the uncouth, troublemaking Bo ordered three raw hamburgers "with a big hunk of onion and some piccalilli, and a piece of pie," and drank an entire quart bottle of milk with one gulp. Carl (Robert Bray) the bus driver made some suggestive comments to the friendly owner Grace (Betty Field) at the other end of the counter: "l bet that apartment you got upstairs is real nice, too. l'd love to see it sometime. Have you got it fixed up at all?"
As they were leaving, Bo insulted the establishment: "We're never gonna make Phoenix sittin' around this broken-down, miserable restaurant." Outside, Virgil had to apologize to Grace for his "barbarian" companion: "You're only the 12th human bein' he's seen this year. It's just his way of talkin'." He also personally complimented Grace and gallantly kissed her hand: "And you certainly couldn't ask for a prettier or a more charmin' owner." He explained that his chivalrous gesture was something he had seen in the movies. Bo disagreed: "That ain't my idea on how to get a gal."
One of the diner waitresses, young blonde Elma Duckworth (Hope Lange in her screen debut, who eventually went on to marry co-star Don Murray), also joined them to board the bus, to travel to Phoenix to visit her sister and attend a concert. On the bus, although Virgil thought that Elma would be a suitable "angel" for Bo, he disagreed: "She may be an angel, Virge, but she ain't my angel."
Arrival in Phoenix at the Entrance to Rodeo:
Once they exited the bus, Bo blurted out a "Yee-haw" at the entrance to the Phoenix World Championship Rodeo (on March 15th) with a welcome sign: "Welcome COWBOYS - This Town Is Yours!" They bid goodbye to the driver, who knew he would be taking them back north the next evening: ("I'll be drivin' you back tomorrow night. That is, if you're still in one piece"). As they walked to their nearby hotel to register, Bo walked obliviously into ongoing traffic without paying attention to traffic signals, and also marveled at the pretty females on the sidewalk, comparing them to cattle: "Never seen so many gals. Must be a hundred head of 'em."
In their hotel room that evening, Bo sat in a bathtub as the shower water rained down on him while singing and scrubbing his back. Virgil observed how Bo over-reacted to the thrill of taking a bath and shower at the same time: "Bo, you have a terrible habit of overdoin' everything."
Virgil peered out their upper floor window to glance across the street. The first view of the film's star was in an open window at the run-down, honky-tonk, hillbilly bar-nightclub known as the Blue Dragon Cafe, where she was employed. Positioned at the Employees' Entrance, she was fanning herself to keep cool. He watched as a crowd of rowdy cowboys attempted to pull her back inside. Both Virgil and Bo would soon cross the street and spend the evening in the Cafe.