1987
The winner is listed first, in CAPITAL letters.
Best Picture


THE LAST EMPEROR (1987, UK/It./China/HK)


Broadcast News (1987)


Fatal Attraction (1987)


Hope and Glory (1987, UK)


Moonstruck (1987)
Actor:
MICHAEL DOUGLAS in "Wall Street", William Hurt in "Broadcast News", Marcello Mastroianni in "Dark Eyes", Jack Nicholson in "Ironweed", Robin Williams in "Good Morning, Vietnam"
Actress:
CHER in "Moonstruck", Glenn Close in "Fatal Attraction", Holly Hunter in "Broadcast News", Sally Kirkland in "Anna", Meryl Streep in "Ironweed"
Supporting Actor:
SEAN CONNERY in "The Untouchables", Albert Brooks in "Broadcast News", Morgan Freeman in "Street Smart", Vincent Gardenia in "Moonstruck", Denzel Washington in "Cry Freedom"
Supporting Actress:
OLYMPIA DUKAKIS in "Moonstruck", Norma Aleandro in "Gaby: a True Story", Anne Archer in "Fatal Attraction", Anne Ramsey in "Throw Momma From the Train", Ann Sothern in "The Whales of August"
Director:
BERNARDO BERTOLUCCI for "The Last Emperor", John Boorman for "Hope and Glory", Lasse Hallstrom for "My Life as a Dog", Norman Jewison for "Moonstruck", Adrian Lyne for "Fatal Attraction"
---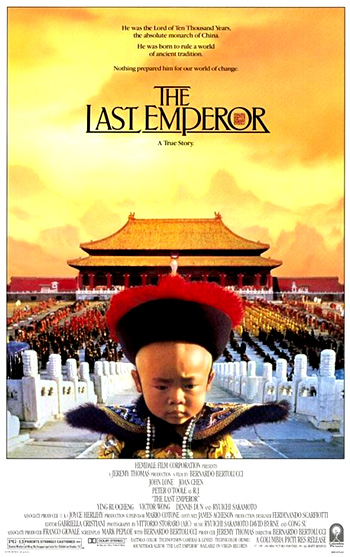 This was the 60th year of the Academy Awards.
The 1987 Best Picture winner was Italian director/co-screenwriter Bernardo Bertolucci's Oscar-sweeping, big-budget, technically-brilliant film The Last Emperor (with nine nominations and nine wins!), filmed both in Italy and China with a cast of thousands. The spectacular historical epic, shot in China's Forbidden City (the first ever), dramatized the life of Pu Yi (played as an adult by John Lone), China's last Manchu dynasty emperor (beginning at the age of three) who was deposed only three years later, and used by the Japanese to be the puppet ruler of Manchukuo. Its tagline was: "He was the Lord of Ten Thousand Years, the the absolute monarch of China. He was born to rule a world of ancient tradition. Nothing prepared him for our world of change."
The film featured 19,000 extras and 9,000 costumes. It was the only film produced outside of America or Britain to have received the ultimate award for Best Picture; it was not considered a foreign-language film, however, and therefore was not nominated for Best Foreign Language Film.
The visually-striking film's nine Oscar awards included: Best Picture, Best Director, Best Screenplay, Best Cinematography, Best Art/Set Direction, Best Sound, Best Original Score, Best Film Editing, and Best Costume Design - but the Best Picture film did not have a single nomination in any of the acting categories. Only one other Best Picture film, the musical Gigi (1958), also scored nine Oscars from nine nominations. The two films were tied as the third most honored film in the Academy's history. The film's nine Oscar wins was the largest victory since West Side Story (1961) - with ten wins, the second most-honored film, following after Ben-Hur (1959), with eleven wins. [This would change in future years.]
Bertolucci's win as Best Director (his first) was for his second nomination as Best Director (he was first nominated as Best Director for Last Tango in Paris (1972)). It was the first PG-13 rated film to win Best Picture, and the second of only three partly foreign language films (English/Mandarin) to win Best Picture (the other two were in 1974 and 2008).
The other four nominees in the Best Picture category were:
writer/director/producer James L. Brooks' indictment of contemporary television journalism in Broadcast News (with seven nominations and no wins)
director Adrian Lyne's controversial, shocking tale of the after-effects of a one-night stand, the high-grossing, sexy thriller Fatal Attraction (with six nominations and no wins)
writer/producer/director John Boorman's British film with boyhood reminiscences of the wartime London blitz in Hope and Glory (with five nominations and no wins)
director Norman Jewison's romantic comedy among Italian-Americans, Moonstruck (with six nominations and three wins - Best Actress, Best Supporting Actress, and Best Screenplay)
1987 was the first time that all five nominees for Best Director were not born in the United States:
Italy, Bernardo Bertolucci, The Last Emperor
Britain, John Boorman, Hope and Glory
Sweden, Lasse Hallstrom, My Life as a Dog
Canada, Norman Jewison, Moonstruck
Britain, Adrian Lyne, Fatal Attraction
With Bertolucci's win, he became the first and only Italian filmmaker to receive a competitive Oscar. James L. Brooks was the only director of a Best Picture nominee who wasn't nominated for Best Director. In his place, Swedish director Lasse Hallstrom was nominated for the engaging, off-beat film My Life as a Dog (with two nominations and no wins) about a young 1950s Swedish boy.
Michael Douglas, lead male star in Best Picture-nominated Fatal Attraction, won the Best Actor award (his sole acting Oscar to date) for his performance as the evil, big-time, hotshot, ruthless mid-80s capitalistic trader Gordon Gekko, known for the statement: "Greed is good," who uses underling Charlie Sheen as his insider-dealer in writer/director Oliver Stone's Wall Street (the film's sole nomination and win).
The other Best Actor nominees were:
William Hurt (with his third consecutive nomination) as handsome, dim-witted newscaster Tom Grunick in Broadcast News
Marcello Mastroianni (with his third nomination) as cruise-ship waiter Romano who remembers his younger days of womanizing in director Nikita Mikhalkov's Italian romantic comedy Dark Eyes (the film's sole nomination)
Jack Nicholson (with his ninth nomination, and sixth Best Actor nomination) as skid-row alcoholic, Depression-era, ex-baseball player Francis Phelan in director Hector Babenco's bleak, unsuccessful film Ironweed (with one of the film's two nominations) - this ninth nomination made Nicholson one of the most-nominated performers (and in a tie with Spencer Tracy)
Robin Williams (with his first nomination) as disc jockey Adrian Cronauer on mid 60s Saigon Armed Forces Radio in Barry Levinson's Vietnam-era film Good Morning, Vietnam (the film's sole nomination)
Cher (with her second nomination) won the Best Actress award and her first Oscar as 38 year-old widowed and dowdy bookkeeper Loretta Castorini who lives in a Brooklyn Italian-American family and finds love with the brother (Nicolas Cage) of her fiancee (Danny Aiello) in the appealing romantic comedy Moonstruck. [She was the first single-named star to win an Oscar in Academy history. She had also appeared in two other films in the same year - in The Witches of Eastwick (with two minor, unsuccessful nominations) and Suspect (with no nominations).]
Her competitors for Best Actress were:
Glenn Close (with her fourth unsuccessful nomination) as the madly-obsessed, sexy and scorned Alex Forrest in Fatal Attraction
Holly Hunter (with her first nomination) in a star-making role as the ambitious, network TV news producer Jane Craig in Broadcast News
Sally Kirkland (with her first nomination) as an ex-Czechoslovakian and struggling actress living in New York in Anna (the film's sole nomination)
Meryl Streep (with her seventh nomination, and fifth Best Actress nomination in the 80s) as Jack Nicholson's skid-row partner in Ironweed
Better known for his world-famous James Bond films, Sean Connery (with his first nomination and first Oscar) won the Best Supporting Actor award for his role as the wily, street-smart, honest, veteran 1930s Chicago beat cop, Irishman James Malone who teaches federal agent Eliot Ness (Kevin Costner) how to trap gangster Al Capone (Robert De Niro) in director Brian DePalma's re-working of the TV series in the film The Untouchables (with four nominations and one win).
The other four Best Supporting Actor nominees were:
Albert Brooks (with his first nomination) as veteran TV correspondent/reporter Aaron Altman in Broadcast News
Morgan Freeman (with his first nomination) in a breakthrough role as murder suspect and scary street pimp Fast Black in Street Smart (the film's sole nomination)
Vincent Gardenia (with his second nomination) as Cher's father - an Italian-American plumber named Cosmo Castorini in Moonstruck
Denzel Washington (with his first nomination) in a star-making role as non-violent black leader Steve Biko, a brutal murder victim in director Richard Attenborough's film about S. African apartheid, Cry Freedom
And Olympia Dukakis (with her first nomination) won the Best Supporting Actress Oscar for her performance as Cher's long-suffering, tolerant mother Rose Castorini who overlooks the affairs of her plumber husband (Vincent Gardenia) in Moonstruck.
Her Best Supporting Actress competitors were:
Argentinian actress Norma Aleandro (with the first South American actress nomination ever) as the devoted maid who cares for cerebral palsy-disabled Gaby in Gaby - a True Story
Anne Archer (with her first nomination) as Michael Douglas' warm and beautiful wife Beth Gallagher in Fatal Attraction
Anne Ramsey (with her first nomination) as star Danny DeVito's mean old, gravel-voiced Momma in DeVito's own black comedy (his directorial debut) Throw Momma From the Train (the film's sole nomination)
veteran actress Ann Sothern (with her sole Oscar nomination) as Tisha Doughty, the Maine island resident and lifelong friend of co-stars Lillian Gish and Bette Davis - two elderly sisters in the dramatic The Whales of August (the film's sole nomination)
Oscar Snubs and Omissions:
It appears unusually inappropriate that Fatal Attraction, a box-office hit and psychological thriller, was nominated for Best Picture, when other more deserving films were not nominated. Any one of the following films could have taken its place as a Best Picture nominee:
director Oliver Stone's drama about the stock market world of the early 80s Wall Street (with only one winning nomination for Best Actor)
Steven Spielberg's epic of a British boy's perception of WWII Empire of the Sun (with only six minor nominations and defeated in every category by multiple-Oscar winning The Last Emperor - and a film that was overshadowed by John Boorman's similar Hope and Glory)
director John Huston's The Dead (with only two nominations, Best Adapted Screenplay and Best Costume Design) - it was Huston's last film (and released posthumously)
the Oscar-winning Best Foreign Language Film from Denmark, Babette's Feast
Joel and Ethan Coen's stylish comedy Raising Arizona
Stanley Kubrick's widely-overlooked Full Metal Jacket (with only one unsuccessful nomination for Best Adapted Screenplay)
the un-nominated controversial and disturbing drama River's Edge
Louis Malle's French masterpiece and Foreign Language Film nominee Au Revoir, Les Enfants
Swedish director Lasse Hallstrom's My Life as a Dog
Barry Levinson's Good Morning, Vietnam (with only one unsuccessful nomination)
Woody Allen's Radio Days
director Richard Attenborough's Cry Freedom - a chronicle of apartheid opponent Steve Biko
writer/director David Mamet's complex debut film House of Games
Brian De Palma's The Untouchables
The classic children's fantasy The Princess Bride was almost completely ignored (with only one nomination for Best Song), and should have received consideration for Best Picture, Best Director (Rob Reiner), Best Screenplay Adaptation (William Goldman from his own novel), Best Actress (Robin Wright Penn as Buttercup, the titular Princess Bride), and Best Supporting Actor (Peter Falk as the Grandfather). Dire Straits band member Mark Knopfler, as he was four years earlier with Local Hero (1983), was again ignored for Best Original Score.
Neither Jean de Florette (1986, Fr.) nor its sequel Manon of the Spring (1986, Fr.) were nominated for Best Foreign Film (Note: both films were released to the U.S. together in 1987). Gerard Depardieu's role as hunchbacked farmer Jean Cadoret from the first film went un-nominated, as did Yves Montand's role as the scheming Cesar Soubeyran in both films.
And a number of star performances were neglected as nominees in some of these same films:
John Lone, Joan Chen, and Peter O'Toole were unnominated for Best Picture winner The Last Emperor
Danny DeVito as vengeful aluminum-siding salesman Ernest Tilley in writer/director Barry Levinson's comedy Tin Men
Joe Mantegna as street-wise con artist Mike and Lindsay Crouse as his psychologist Dr. Margaret Ford in House of Games
Nicolas Cage as H. I. McDonnough and Holly Hunter (in her first starring role) as Edwina ("Ed) - baby-kidnappers on the run in the Coen's Raising Arizona
Bruce Campbell as demon-possessed Ash Williams in the horror sequel Evil Dead II (aka Dead by Dawn) to the original 1981 film
Vincent D'Onofrio as troubled, overweight Marine boot-camp Private Leonard Lawrence (nicknamed "Gomer Pyle") - mistreated and driven suicidally crazy by Senior Drill Instructor Gunnery Sergeant Hartman (R. Lee Ermey) (also un-nominated), in Kubrick's Vietnam war film Full Metal Jacket
Anjelica Huston as Gretta Conroy in father/director John Huston's The Dead based on the last short story of James Joyce's The Dubliners; memorable for the scene of Gretta's remembrance to her husband Gabriel (Donal McCann) of long-deceased lover Michael Furey who possibly died on her behalf ("I think he died for me")
Joanne Woodward as fading Southern belle Amanda Wingfield in husband/director Paul Newman's adaptation of the Tennessee Williams play of the same name, The Glass Menagerie (with no nominations)
Lou Diamond Phillips as Mexican-American 50's rock 'n' roll singer Ritchie Valens in La Bamba (with no nominations)
Steve Martin as big nosed, unrequited lover Charlie C.D. Bales in the overlooked romantic comedy Roxanne - neglected like he was in 1984
Jack Nicholson as the seductive devil Daryl Van Horne in the black comedy The Witches of Eastwick (with only two nominations and no wins)
both Debra Winger as FBI agent Alexandra Barnes and Theresa Russell as the sexy seductress and suspected murderess Catharine in Bob Rafelson's Black Widow (with no nominations)
Vanessa Redgrave as 60s London literary critic Peg Ramsay in Prick Up Your Ears
Sheila McCarthy as self-effacing outcast and amateur artist Polly in I've Heard the Mermaids Singing