1986
The winner is listed first, in CAPITAL letters.
Best Picture


PLATOON (1986)


Children of a Lesser God (1986)


Hannah and Her Sisters (1986)


The Mission (1986, UK)


A Room With a View (1985, UK)
Actor:
PAUL NEWMAN in "The Color of Money", Dexter Gordon in "'Round Midnight", Bob Hoskins in "Mona Lisa", William Hurt in "Children of a Lesser God", James Woods in "Salvador"
Actress:
MARLEE MATLIN in "Children of a Lesser God", Jane Fonda in "The Morning After", Sissy Spacek in "Crimes of the Heart", Kathleen Turner in "Peggy Sue Got Married", Sigourney Weaver in "Aliens"
Supporting Actor:
MICHAEL CAINE in "Hannah and Her Sisters", Tom Berenger in "Platoon", Willem Dafoe in "Platoon", Denholm Elliott in "A Room with a View", Dennis Hopper in "Hoosiers"
Supporting Actress:
DIANNE WIEST in "Hannah and Her Sisters", Tess Harper in "Crimes of the Heart", Piper Laurie in "Children of a Lesser God", Mary Elizabeth Mastrantonio in "The Color of Money", Maggie Smith in "A Room with a View"
Director:
OLIVER STONE for "Platoon", Woody Allen for "Hannah and Her Sisters", James Ivory for "A Room with a View", Roland Joffe for "The Mission", David Lynch for "Blue Velvet"
---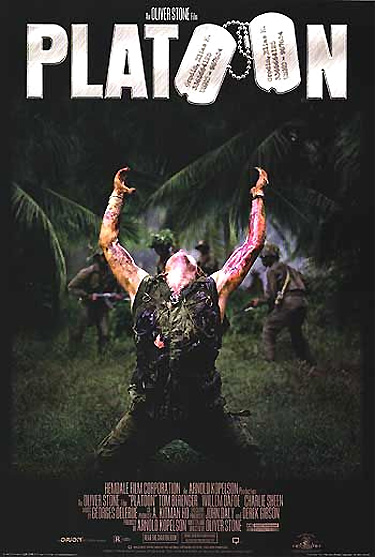 All five of the Best Picture nominees were made outside of the established Hollywood system - and all five of the nominees shared in the top prizes (12) this year.
The Best Picture winner in 1986 was controversial writer/director Oliver Stone's brutally-candid anti-war epic Platoon (with eight nominations and four wins - Best Picture, Best Director, Best Sound, and Best Film Editing), an authentic re-creation of the infantry foot-soldier Vietnam experience, and one of the best but grittiest films made on the subject. The film was backed by the independent Hemdale Film Corporation. [It was Stone's second career Oscar - he won earlier for his screenplay for Midnight Express (1978).]
The harrowing film, from a grunt's point-of-view, was based on director Stone's own tour of duty in Vietnam, and focused on the conflict and struggle between two major father figures: an 'evil' Sergeant (Berenger) and a 'good' Sergeant (Dafoe), over the soul of an innocent, young recruit (Sheen).
The other four Best Picture nominees provided strong competition:
director James Ivory's Merchant-Ivory production of the British film A Room with a View (with eight nominations and three wins - Best Screenplay, Best Art/Set Direction, and Best Costume Design), a romance set in 1908 Edwardian England that explores the consequences of a trip to Florence, Italy by a curious upper middle-class young British woman and her aunt - a spinster chaperone
writer/director Woody Allen's complex film of a two-year examination of a multi-charactered family told through three interlaced stories of three sisters in Hannah and Her Sisters (with seven nominations and three wins, including Best Supporting Actor, Best Supporting Actress, and Best Original Screenplay) - it was the highest-grossing Allen film to date
female director Randa Raines' Children of a Lesser God (with five nominations and one win - Best Actress) - the poignant film adaptation of Mark Medoff's Tony Award-winning play about a growing romance between a speech teacher (for the hearing impaired) and a young deaf woman - it was the first film directed by a woman to receive a Best Picture nomination
director Roland Joffe's British epic of the building of a 1750s South American mission in the action-thriller The Mission (with seven nominations and only one win - Best Cinematography)
Oliver Stone won the Best Director Oscar - it was his first Best Director Oscar. [He later won a second Best Director Oscar for his Born on the Fourth of July (1989).] Stone also had two Oscar nominations in the same category, Best Original Screenplay, for two different films: Platoon and Salvador. Both lost to Woody Allen's Hannah and Her Sisters.
As stated earlier, Children of a Lesser God was the first female-directed film ever to be nominated for Best Picture. However, the female director Randa Haines, with her feature film debut, was the only director of a Best Picture-nominated film who was not nominated for Best Director. [The fact that she was overlooked - and that only one woman up to that time had received a Best Director nomination - Lina Wertmuller for Seven Beauties (1976) - was interpreted as sexist.] Her place was taken by two-time director nominee David Lynch for Blue Velvet, the disturbing mystery about the seamy underside of small-town American life.
The Best Actor award was won by Paul Newman (with his seventh nomination and first win) in a reprise/remake of an earlier role from The Hustler (1961) as an older pool hustler 'Fast Eddie' Felson - now manager of his pool-heir apparent (Tom Cruise) in director Martin Scorsese's sequel The Color of Money (with four nominations and one win). The award was a dubious honor - it really represented praise for his entire career's work of great performances, mostly for his colorful non-conformist roles in numerous films.
[Paul Newman became the only actor, to date, to win an Oscar for reprising a role in a sequel. He remained home, claiming: "I've been there six times and lost. Maybe if I stay away, I'll win" - and he did! With his Oscar, Newman and wife Joanne Woodward became the second married couple to win acting Oscars - following in the footsteps of Laurence Olivier (who won in 1948) and Vivien Leigh (who won in 1951). Note: Peter O'Toole was nominated twice for playing the same character, Henry II, in Becket (1964) and The Lion in Winter (1968), but lost both times. And in a different order, Bing Crosby was nominated twice for playing the same character, Father Chuck O'Malley, in Going My Way (1944) (Best Actor win), and in The Bells of St. Mary's (1945) (Best Actor nomination).]
The other Best Actor nominees were:
non-actor and real-life jazz saxophonist Dexter Gordon (with his first nomination) as alcoholic Dale Turner in 1950s Paris - a self-destructive, black, tenor saxophonist and be-bop jazz musician in French director Bertrand Tavernier's 'Round Midnight (with two nominations and one win - Best Original Score for Herbie Hancock)
Bob Hoskins (with his first nomination - although he had won the Best Actor Golden Globe award for this performance) as naive but earnest London ex-mobster George who becomes a chauffeur for a pretty black prostitute into the underworld in Irish director Neil Jordan's offbeat crime-thriller Mona Lisa (the film's sole nomination)
William Hurt (with his second nomination after winning in the previous year for Kiss of the Spider Woman (1985)) as James Leeds, an instructor at a school for the hearing impaired in Children of a Lesser God
James Woods (with his first nomination) as American photojournalist/reporter Richard Boyle caught in El Salvador's 1980-81 civil war (the film was shot in Mexico), in director Oliver Stone's second film of the same year - the semi-autobiographical Salvador (with two nominations and no wins); the film was virtually unknown when originally released until it aired on LA's cable station Z Channel and became more widely acknowledged
With Marlee Matlin's dark-horse Best Actress Oscar win for Children of a Lesser God as deaf, feisty and surly Sarah Norman, an intelligent and independent-minded graduate of a hearing-impaired school who refuses to be anything but the school's janitor (and lover of co-star William Hurt), 21 year old hearing-impaired performer Matlin became the youngest winner of a Best Actress Oscar - and the film's sole Oscar winner in her feature film debut. She was the first deaf actress to be nominated for an Academy Award. [In her stereotype-breaking role in which she spoke in American Sign Language, Matlin, in her debut film, was the first actual 'handicapped' person to win an Oscar since Harold Russell won as a double amputee for The Best Years of Our Lives (1946). In the film, the meaning of her sign language was 'said' aloud by her co-star William Hurt when they conversed together. During the awards ceremony, she spoke her acceptance speech.]
The other nominees in the Best Actress category included:
Jane Fonda (with her seventh nomination - and the film's sole nomination) as the alcoholic heroine-victim Alex Sternbergen who wakes up next to a dead man in director Sidney Lumet's thriller The Morning After
Sissy Spacek (with her fifth nomination) as Babe Magrath, one of three eccentric sisters in Mississippi brought together in director Bruce Beresford's adaptation of Beth Henley's Pulitzer Prize-winning play Crimes of the Heart (with three nominations and no wins)
the favored nominee - Kathleen Turner (with her first nomination) as time-warped, 42-year old Peggy Sue who travels back to the high-school prom age of 17, in director Francis Ford Coppola's fantasy/comedy Peggy Sue Got Married (with three nominations and no wins; also nominated for Best Cinematography and Best Costume Design)
Sigourney Weaver as heroine Ripley in director James Cameron's exciting, action science-fiction film sequel Aliens (with seven nominations and two wins - Best Visual Effects and Best Sound Effects Editing)

[Weaver's nomination was memorable - it was the first nomination ever for a female in an all-action role!]
Both the Best Supporting Actor and Actress awards were won by performers in Woody Allen's Hannah and Her Sisters:
Michael Caine (with his fourth nomination and first win) as rock-star business manager Elliot, adulterous husband of 'perfect' sister Hannah (Mia Farrow) but obsessed with Hannah's sister (Barbara Hershey)
TRIVIA: Caine was unable to attend the Oscars ceremony (except by closed circuit TV), because he was in Nassau and contractually obligated while filming the very inferior 4th installment of the long-running film: Jaws: The Revenge (1987)
Dianne Wiest (with her first nomination and win) won the Best Supporting Actress Oscar as nerve-wracked, neurotic would-be actress Holly (also a caterer and former coke addict) - one of Hannah's two sisters who eventually married a hypochondriac (Woody Allen)
Co-stars from Platoon were first-time nominees in the Best Supporting Actor category, in roles as experienced sergeants who represent the forces of good and evil warring against each other:
Tom Berenger as remorseless war veteran Sgt. Barnes
Willem Dafoe as Sgt. Elias - a more humane and compassionate soldier
The remaining two Best Supporting Actor nominees were:
Denholm Elliott (with his first nomination) as the eccentric Mr. Emerson in A Room with a View
Dennis Hopper (with his second nomination) as Shooter, the alcoholic father of one of the basketball team's players (of a 1950s Indiana high school) in director David Anspaugh's Hoosiers
The other Best Supporting Actress nominees were:
Tess Harper (with her first nomination) as irritable next-door neighbor Chick Boyle in Crimes of the Heart
Piper Laurie (with her third unsuccessful nomination) as Marlee Matlin's mother Mrs. Norman in Children of a Lesser God
Mary Elizabeth Mastrantonio (with her first nomination) as Tom Cruise's girlfriend Carmen in The Color of Money
Maggie Smith (with her fifth nomination) as Charlotte Bartlett, Helena Bonham Carter's chaperone in A Room with a View
The Best Documentary Feature winner was Down and Out in America about America's homelessness problem in the mid-80s due to a recession, narrated and directed by four-time Best Supporting Actress nominee Lee Grant (who won once for Shampoo (1975)). [However, the Oscar award was given to producers Joseph Feury and Milton Justice.]
Chuck Workman's Precious Images won the Oscar for Best Live-Action Short Film, which was a focused montage of classic film moments from the early 1900s to the mid-80s - found in over 450 clip segments. This film would make him a perennial Academy Awards favorite as a contributor of movie montages.
Oscar Snubs and Omissions:
Eccentric David Lynch's director-nominated film Blue Velvet was only nominated once for Best Director - and Lynch lost. Although Dennis Hopper was nominated in the same year for his supporting role as Shooter - the father of a small-town basketball player in Hoosiers, his scary, moving performance as abusive and sadistic psycho Frank Booth in Lynch's film should have been nominated instead. Isabella Rosselini was also un-nominated for her fearless role as the victimized soulful lounge singer Dorothy Valens, masochistically-linked to the obscenity-spewing, velvet-fixated, nitrous-oxide inhaling Frank.
Oliver Stone's film about American involvement in Central America titled Salvador wasn't nominated in two major categories - Best Director and Best Picture. Rob Reiner's coming-of-age drama Stand By Me, based upon Stephen King's short story about four young males who adventurously sought a dead body in the woods over a two-day period, received only one nomination - for Best Adapted Screenplay - this obviously neglected the acting performance of River Phoenix as Chris Chambers.
Director Michael Mann's Manhunter went completely unnominated, for Best Director, Best Cinematography (Dante Spinotti), Best Actor (William L. Petersen as Will Graham), and three Best Supporting Actor nominations: Tom Noonan for his frightening role as Frances Dolarhyde (The Tooth Fairy), Brian Cox's brief role as a convincing Dr. Hannibal Lektor, and Stephen Lang as tabloid reporter Freddy Lounds.
A number of other acting roles were also denied nominations:
Jeff Goldblum as scientist Seth Brundle transformed into a grisly fly in director/co-writer David Cronenberg remake of The Fly (with only one nomination that won an award for Best Makeup)
Harrison Ford as persistent inventor Allie Fox who vainly built a utopian world in Honduras in Peter Weir's allegorical The Mosquito Coast (without any nominations)
Nicolas Cage as unhappily-married Peggy Sue's husband Charlie Bodell in Peggy Sue Got Married (the screenwriters and director Coppola were also overlooked)
Kurt Russell as tough-talking, swaggering, American trucker Jack Burton in Big Trouble in Little China
Gary Oldman as Sex Pistols bass player Sid Vicious and Chloe Webb as groupie Nancy Spungen in writer/director Alex Cox's Sid and Nancy (without any nominations) - a disturbing portrait of two suicidal punk rocker junkies
Max von Sydow as self-centered SoHo artist Frederick, Woody Allen as TV producer Mickey Sachs, and Barbara Hershey as one of Hannah's sisters - Lee, in Woody Allen's Hannah and Her Sisters
Melanie Griffith as Lulu/Audrey in Jonathan Demme's comedy-drama Something Wild (without any nominations)
Steve Martin as Dr. Orin Scrivello DDS, a sadistic, leather-jacketed dentist who looks like Elvis, in director Frank Oz's comedy-musical Little Shop of Horrors (with two nominations - for Best Song and Best Visual Effects - and no wins)
Bette Midler and Danny DeVito as an estranged married couple Barbara (and Sam) Stone in Zuckers/Abrahams' farcical, madcap comedy Ruthless People (with no nominations, including lack of recognition for its original screenplay)
Bette Midler as Beverly Hills socialite wife Barbara Whiteman in Paul Mazursky's Down and Out in Beverly Hills (with no nominations)
producer/director/writer Richard Pryor as Jo Jo Dancer in his own semi-autobiographical film Jo Jo Dancer, Your Life Is Calling
And Carly Simon's "Coming Around Again" was not amongst the nominees for Best Song, in Mike Nichols' box office failure Heartburn (with no nominations), starring Jack Nicholson and Meryl Streep. The category was won by Top Gun's "Take My Breath Away."