1988
The winner is listed first, in CAPITAL letters.
Best Picture


RAIN MAN (1988)


The Accidental Tourist (1988)


Dangerous Liaisons (1988)


Mississippi Burning (1988)


Working Girl (1988)
Actor:
DUSTIN HOFFMAN in "Rain Man", Gene Hackman in "Mississippi Burning", Tom Hanks in "Big", Edward James Olmos in "Stand and Deliver", Max von Sydow in "Pelle the Conqueror"
Actress:
JODIE FOSTER in "The Accused", Glenn Close in "Dangerous Liaisons", Melanie Griffith in "Working Girl", Meryl Streep in "A Cry in the Dark", Sigourney Weaver in "Gorillas in the Mist"
Supporting Actor:
KEVIN KLINE in "A Fish Called Wanda", Alec Guinness in "Little Dorritt", Martin Landau in "Tucker: the Man and His Dream", River Phoenix in "Running on Empty", Dean Stockwell in "Married to the Mob"
Supporting Actress:
GEENA DAVIS in "The Accidental Tourist", Joan Cusack in "Working Girl", Frances McDormand in "Mississippi Burning", Michelle Pfeiffer in "Dangerous Liaisons", Sigourney Weaver in "Working Girl"
Director:
BARRY LEVINSON for "Rain Man", Charles Crichton for "A Fish Called Wanda", Mike Nichols for "Working Girl", Alan Parker for "Mississippi Burning", Martin Scorsese for "The Last Temptation of Christ"
---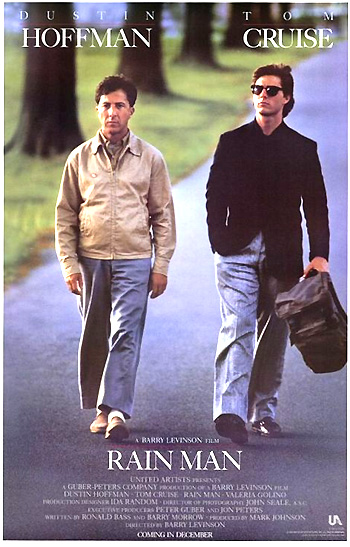 Beginning this year, the trademark phrase: "and the winner is..." was substituted with "and the Oscar goes to..."
Director Barry Levinson's critically and financially-successful Rain Man was the major Oscar winner in 1988. It was the buddy-road saga of the human relationship that gradually develops between two sibling brothers: the elder one a TV-obsessed, institutionalized adult autistic (Hoffman), the other an ambitious, hotshot money-maker/car salesman and hustler (Cruise). The autistic savant's kidnapping from an asylum by his fast-talking brother is with the intent to swindle him of his inheritance, but during a cross-country road trip, a loving relationship develops between the brothers with strong blood ties.
Rain Man had a total of eight nominations and four wins - for Best Picture, Best Actor, Best Director, and Best Original Screenplay (by Ronald Bass and Barry Morrow). It was the year's highest-grossing picture as well, taking in $173 million (domestic).
The other Best Picture nominees included the following:
director Lawrence Kasdan's adaptation of Anne Tyler's novel, the psychological drama The Accidental Tourist (with four nominations and one win - Best Supporting Actress), with two co-stars - Kathleen Turner and William Hurt - that Kasdan had teamed together in an earlier film - Body Heat (1981)
British director Steven Frears' first American feature film, the lush, pre-Revolutionary France costume drama of competitive sexual seduction Dangerous Liaisons (with seven nominations and three wins - Best Screenplay, Best Art/Set Direction, and Best Costume Design)
director Alan Parker's propagandist account of the investigation of the disappearance of three civil rights activists in 1964 in the social drama Mississippi Burning (with seven nominations and only one win - Best Cinematography)
director Mike Nichols' sophisticated romantic comedy about 80s corporate ladder-climbing and office politics in Working Girl (with six nominations and one win - Best Song by Carly Simon: "Let the River Run")
Two of the five directors of Best Picture nominees were not included in the list of Best Director nominees. The two directors were Steven Frears' Dangerous Liaisons, and Lawrence Kasdan's The Accidental Tourist. The two directors substituted for them were British director Charles Crichton for the Monty-Pythonesque, farcical caper comedy A Fish Called Wanda (with three nominations: Crichton's two nominations for Best Director and Best Original Screenplay - and one win for Best Supporting Actor), and Martin Scorsese for his controversial adaptation of Nikos Kazantzakis's novel The Last Temptation of Christ (the film's sole nomination!). [This was Crichton's sole directorial nomination in his over-four decades as director, and this was his last theatrical film directorial effort.]
It was highly improbable that either Crichton or Scorsese would win the Best Director award - as predicted, they didn't. [Only once in Academy history has a Best Director Oscar been awarded to a director whose film was not nominated for Best Picture - that happened to director Frank Lloyd for his film The Divine Lady (1928-9).]
Dustin Hoffman (with his sixth nomination) won his second Oscar for his role as the institutionalized, ultimately loveable, autistic idiot savant Raymond ('Ray(n)' 'Man(d)') Babbitt who is kidnapped by his ambitious brother Charlie Babbitt (Tom Cruise) and taken on a cross-country trip in Rain Man. In one memorable scene, Raymond nervously told his brother that he might miss his favorite TV program (The People's Court): "Uh, oh, 12 minutes to Wapner."
The other Best Actor nominees were:
Gene Hackman (with his fourth nomination) as in-your-face FBI investigating agent Rupert Anderson in Mississippi Burning
Tom Hanks (with his first nomination) as body-switched Josh Baskin, a thirteen year old in a 35 year old body in the charming, soul-transference fantasy comedy directed by Penny Marshall Big (with two nominations and no wins)
Mexican-American Edward James Olmos (with his first nomination) as inner-city high school math teacher Jaime Escalante in director Ramon Menendez' true-life story Stand and Deliver
distinguished actor Max von Sydow (with his first nomination) as a Swedish widower in director Bille August's Swedish drama Pelle the Conqueror
26 year old Jodie Foster (with her second nomination) won her first Oscar, the Best Actress award for her performance as blue-collar, fast-food waitress Sarah Tobias, who is a gang-rape victim (in a road-side bar) accused of prompting her brutal assault because of her provocative demeanor and dress in director Jonathan Kaplan's courtroom drama The Accused. [Note: The Accused received no other film nominations. Its sole nomination won Best Actress. The previous time this occurred was when Sophia Loren won Best Actress in 1961 for Two Women (1960, It.).]
The other Best Actress nominees were:
Glenn Close (with her fifth unsuccessful nomination) as wagering, pre-Revolutionary French aristocrat Marquise de Merteuil in a game of sexual seduction/conquest in Dangerous Liaisons
Melanie Griffith (with her first nomination) as a victimized Staten Island brokerage firm secretary Tess McGill in Working Girl
Meryl Streep (with her eighth nomination, and her sixth Best Actress nomination in the 80s) as Lindy Chamberlain, an unappealing, defiant Australian Seventh Day Adventist mother of a wild dog-kidnapped baby girl who is held responsible for the child's death in director Fred Schepisi's semi-true story, A Cry in the Dark (the film's sole nomination)
Sigourney Weaver as controversial hermit Dian Fossey - a crusading, heroic, mountain-gorilla, anthropology expert in the Rwandan rain forest in director Michael Apted's biopic Gorillas in the Mist (with five nominations and no wins)

[Double-nominee Weaver was nominated for two simultaneous awards in 1988 - her second and third career nominations. She became the first performer in Oscar history to receive simultaneous nominations in two acting categories and lose both awards. Her failing 'accomplishment' was repeated by actress Emma Thompson in 1993.]
Kevin Kline (with his first nomination), in the first surprise upset in the supporting categories, won the Best Supporting Actor Oscar for his performance as ex-CIA assassin and ne'er-do-well jewel thief Otto, the crazy boyfriend of seductress thief Wanda (Jamie Lee Curtis) who wants a repressed English lawyer (John Cleese) to offer bail to a fellow jewel thief in the unlikely comedy A Fish Called Wanda.
Other Best Supporting Actor nominees were:
Alec Guinness (with his fourth and last career nomination for acting) for his role as William Dorritt in director/screenwriter Christine Edzard's screen adaptation of Charles Dickens' little-read novel Little Dorritt - Guinness was a veteran Dickens actor who had performed in Great Expectations (1946), played the role of Fagin in David Lean's Oliver Twist (1948), and also acted in Scrooge (1970). Guinness had four acting nominations in his entire career: in 1952 (Best Actor for The Lavender Hill Mob (1952)), 1957 (Best Actor for The Bridge on the River Kwai (1957) - his only win), 1977 (Best Supporting Actor for Star Wars (1977)), and in this year. He was also nominated, his fifth, for Best Adapted Screenplay for The Horse's Mouth (1958).
favored nominee Martin Landau (with his first nomination) as Abe Karatz, the partner of inventive automaker Tucker in director Francis Ford Coppola's Tucker: the Man and His Dream (with three nominations and no wins)
young River Phoenix (with his first nomination) as Danny Pope, the son of fugitive parents in director Sidney Lumet's Running on Empty
Dean Stockwell (with his first nomination) as womanizing Mafia don Tony "The Tiger" Russo in director Jonathan Demme's comedy Married to the Mob (the film's sole nomination)
Geena Davis (with her first nomination), in a surprise upset, won the Best Supporting Actress award for her (lead!) role as eccentric and wacky divorcee (and Corgi dog-trainer) Muriel Pritchett who is interested in a married travel guide writer (William Hurt) with an estranged wife (Kathleen Turner) in The Accidental Tourist.
Two Best Supporting Actress nominees were co-stars from Working Girl:
Joan Cusack (with her first nomination) as Cyn
Sigourney Weaver (with her second/third nomination) as brokerage firm executive Katharine Parker
The remaining nominees were Frances McDormand (with her first nomination) as conflicted Ku Klux Klan member's wife Mrs. Pell, one of the townsfolk in Mississippi Burning, and Michelle Pfeiffer (with her first nomination) as the reserved, convent-bred Madame de Tourvel in Dangerous Liaisons.
This year had one of the most potent Best Foreign Language Film competitions in recent years. Bille August's Swedish film Pelle the Conqueror, starring Best Actor-nominated Sydow, defeated two other strong candidates among the field of four: Pedro Almodóvar's popular Women on the Verge of a Nervous Breakdown (its sole nomination) and Mira Nair's Indian expose Salaam Bombay! (its sole nomination).
Oscar Snubs and Omissions:
Although the technically-outstanding Who Framed Roger Rabbit (with six nominations) was missing from the Best Picture nominees, it tied Best Picture-winning Rain Man, if one counts a Special Achievement Award, with four Oscar wins: Best Film Editing, Best Sound Effects Editing, Best Visual Effects, and a special recognition for animator Richard Williams. Writer/director Hayao Miyazaki's acclaimed anime My Neighbor Totoro was conspicuously not nominated for anything.
Two directors who should have been nominated, but weren't, were Penny Marshall for Big, and Jonathan Demme for Married to the Mob. A World Apart, Chris Menges' feature film directorial debut about apartheid set in early 1960s South Africa (with Barbara Hershey as journalist Diana Roth) wasn't even nominated in 1988. Neither was Michael Apted nominated as Best Director for Gorillas in the Mist.
Other remarkable performances without nominations included the following:
Kevin Costner as veteran ball-player catcher "Crash" Davis and Susan Sarandon as sexy sports "Church of Baseball" groupie Southerner Annie Savoy in writer/director Ron Shelton's minor league baseball adult romantic comedy Bull Durham (with one unsuccessful nomination for Best Original Screenplay)
Harrison Ford's first light comedy lead role as the charming but wary businessman Jack Trainer in Working Girl
Michael Keaton as the ghostly Beetlejuice in Tim Burton's Beetlejuice
Michael Palin as stuttering mob hitman Ken in A Fish Called Wanda
Leslie Nielsen as the incredibly funny, bumbling Lt. Frank Drebin in David Zucker's The Naked Gun (1988) - a feature length version of the TV show Police Squad
black actor Forest Whitaker as legendary saxophonist Charlie "Bird" Parker in director Clint Eastwood's Bird
Tom Cruise as Dustin Hoffman's self-centered, fast-talking hustling brother Charlie Babbitt in Rain Man
Tom Hulce as brain-damaged Dominick/Nicky in Robert M. Young's touching film about fraternal twin brothers named Dominick and Eugene
Sally Field as housewife and aspiring comedienne Lilah Krytsick in Punchline
William Hurt as distant travel guide writer Macon Leary in The Accidental Tourist
John Malkovich as sexually-seductive Vicomte de Valmont in the acclaimed Dangerous Liaisons
Eric Bogosian as acidic radio host Barry Champlain, and his tortured ex-wife Ellen (Ellen Greene) in Oliver Stone's Talk Radio (unnominated in any category)
Drag queen Divine (Glenn Milstead) in a dual role (one male, one female) in John Waters' cult movie Hairspray as frumpy mother Edna Turnblad and racist sponsor Arvin Hodgepile
Alan Rickman as the terrorizing German villain Hans Gruber in the exciting action film Die Hard
Jack Palance as bandanna-wearing artist Rudi Cox, and the two female leads: Marianne Sagebrecht as desert-stranded Bavarian tourist Jasmin Munchgstettner and C.C.H. Pounder as abandoned wife Brenda in director Percy Adlon's first English language film - the offbeat comedy/drama Bagdad Cafe (with one unsuccessful nomination for Best Song, "Calling You")
Gena Rowlands as self-probing college professor Marion Post, and Sandy Dennis as her slighted friend in writer/director Woody Allen's Another Woman
Jeremy Irons in two roles as Beverly and Elliot Mantle - identical twin gynecologists in director/co-writer David Cronenberg's creepy and violent Dead Ringers