1985
The winner is listed first, in CAPITAL letters.
Best Picture


OUT OF AFRICA (1985)


The Color Purple (1985)


Kiss of the Spider Woman (1985, Braz./US/Arg.)


Prizzi's Honor (1985)


Witness (1985)
Actor:
WILLIAM HURT in "Kiss of the Spider Woman", Harrison Ford in "Witness", James Garner in "Murphy's Romance", Jack Nicholson in "Prizzi's Honor", Jon Voight in "Runaway Train"
Actress:
GERALDINE PAGE in "The Trip to Bountiful", Anne Bancroft in "Agnes of God", Whoopi Goldberg in "The Color Purple", Jessica Lange in "Sweet Dreams", Meryl Streep in "Out of Africa"
Supporting Actor:
DON AMECHE in "Cocoon", Klaus Maria Brandauer in "Out of Africa", William Hickey in "Prizzi's Honor", Robert Loggia in "Jagged Edge", Eric Roberts in "Runaway Train"
Supporting Actress:
ANJELICA HUSTON in "Prizzi's Honor", Margaret Avery in "The Color Purple", Amy Madigan in "Twice in a Lifetime", Meg Tilly in "Agnes of God", Oprah Winfrey in "The Color Purple"
Director:
SYDNEY POLLACK for "Out of Africa", Hecter Babenco for "Kiss of the Spider Woman", John Huston for "Prizzi's Honor", Akira Kurosawa for "Ran", Peter Weir for "Witness"
---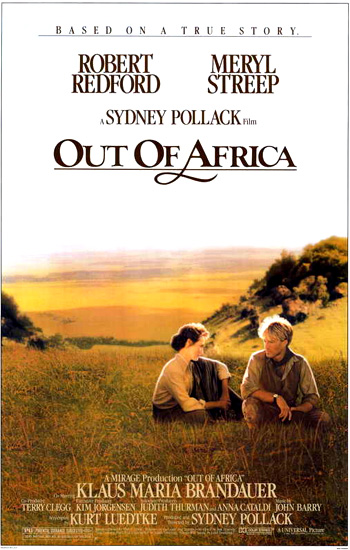 Sydney Pollack's grandly-spectacular, handsome romance spanning two decades, Out of Africa, was based by Kurt Luedtke on the life, works, and memoirs of Karen Blixen (a Danish writer who published under the name Isak Dinesen). The romantic biopic had eleven Oscar nominations and captured all the major awards, seven in all - except in the acting categories (Best Picture, Best Director (Sydney Pollack), Best Screenplay Adaptation (Kurt Luedtke), Best Cinematography (David Watkins), Best Art/Set Direction, Best Sound, and Best Original Score).
Another Best Picture nominee with eleven nominations was director Steven Spielberg's affecting drama, The Color Purple (Spielberg's first theatrical feature was the drama The Sugarland Express (1974) directed many years earlier) - the first PG-13 rated film to be nominated for Best Picture. With a largely black cast, it was an adaptation of Alice Walker's Pulitzer Prize-winning novel about a young black girl growing to maturity in rural 20th century Georgia. Five of Out of Africa's seven Oscars directly defeated The Color Purple's nominations. In fact, The Color Purple didn't win a single Oscar award. [This 'un-achievement' tied the shutout record with The Turning Point (1977) - both films had the most nominations (11) without a single win.]
The other three Best Picture nominees were:
Australian director Peter Weir's first Hollywood film - a thriller/romance among the Amish, Witness (with eight nominations and two wins - Best Original Screenplay and Best Film Editing)
Brazilian director Hector Babenco's first English-language film based upon Manuel Puig's novel - a tale of two prisoners confined together in a South American prison, the small-budget independent film Kiss of the Spider Woman (with four nominations and one win - for Best Actor)
79 year-old director John Huston's 40th film, the dark comedy about the Mafia, Prizzi's Honor (with eight nominations and one win - Best Supporting Actress).

[Huston became the oldest person ever nominated for a Best Director Oscar with this nomination. He had won many years earlier as Best Director for The Treasure of the Sierra Madre (1948).]
Steven Spielberg was the only director of a Best Picture nominee who was not nominated for Best Director. There was a tremendous lack of judgment in the Academy's humiliating treatment of Steven Spielberg as director. [It was the first time since 43 years earlier that Sam Wood, another director with a film with ten or more nominations - The Pride of the Yankees (1942) - didn't have a Best Director nomination.] Spielberg's Best Picture-nominated film had eleven nominations, but a nomination for Best Director was not one of them. [Spielberg had previously been nominated as Best Director in 1977, 1981, and 1982 - without a win - he wouldn't win until Schindler's List (1993).]
Spielberg's position in the nominees was taken by the great Japanese director Akira Kurosawa for Ran (with four nominations - Best Art Direction, Best Cinematography, Best Director, and its sole win for Best Costume Design), an adaptation of Shakespeare's King Lear, the historical epic of a tragic, 16th century Japanese warlord. [Kurosawa was later honored with a Special Oscar in 1989.]
All ten of the Best Actor/Actress nominees were American-born - the first time in Oscar history. In this year, it was also the second time in Academy history (the first was in 1972) that three of the Best Actor and Best Actress nominees in 1985 were black performers: Whoopi Goldberg as Best Actress for The Color Purple, and Margaret Avery and Oprah Winfrey as Best Supporting Actress for The Color Purple. But all of them lost in their categories.
The Best Actor honor was won by William Hurt (with his first of three consecutive nominations) for his role as the flamboyant, homosexual Luis Molina, a South American hairdresser/romantic who creates imaginary film dreams, and is planted by the authorities in a prison to learn revolutionary secrets from fellow prisoner (Raoul Julia) in Kiss of the Spider Woman. [Note: Kiss of the Spider Woman was the first independent film to be nominated for Best Picture. Hurt's win in the Best Actor category was the first time a performer won the award for playing a 'gay' person.]
The other Best Actor nominees were:
Harrison Ford (with his first nomination) as tough cop John Book taking refuge in an Amish community in the crime thriller Witness
James Garner (with his first and sole nomination) as an Arizonian, small-town pharmacist - a widower who falls in love with Sally Field in director Martin Ritt's Murphy's Romance
Jack Nicholson (with his eighth nomination) as thick-witted Mafia hit man Charley Partanna in Prizzi's Honor
Jon Voight (with his third nomination) as escaped prison inmate Manny in the nail-biting prison-action thriller by Russian director Andrei Konchalovsky, Runaway Train
In the Best Actress category, Geraldine Page (with her eighth nomination and first and sole win) won her long-awaited first Oscar for her role as elderly, hymn-singing widow/pensioner Mrs. Watts who leaves Houston and returns to her hometown of Bountiful for a last visit before her death in The Trip to Bountiful, a debut film for director Peter Masterson. [Since 1953, Page had already been nominated three times for Best Actress and four times for Best Supporting Actress, and lost for some more impressive performances. With her long losing streak, she was the first person to win an acting Oscar on her eighth attempt after seven previously unsuccessful nominations. Her seven failed tries tied similar efforts of both Peter O'Toole and Richard Burton. Most people interpreted her Oscar win as a 'tribute' to her entire career.]
The other four Best Actress nominees were:
Anne Bancroft (with her fifth nomination) as Sister Miriam Ruth - a Quebec convent's mother superior in director Norman Jewison's Agnes of God
Jessica Lange (with her fourth nomination) as country-western singer Patsy Cline in Sweet Dreams; Lange lip-synched Cline's recordings, unlike Beverly D'Angelo who played Cline five years earlier in Coal Miner's Daughter (1980)
Meryl Streep (with her sixth nomination, and fourth nomination in the 80s) as Danish baronness Karen Blixen/Isak Dinesen who marries and settles on an African coffee plantation in Out of Africa
Whoopi Goldberg (in her first film) as the oppressed Celie in The Color Purple
All of the nominees in the Best Supporting Actor and Actress categories were first-time nominees.
The Best Supporting Actor award was a sentimental honor won by 77 year-old veteran actor Don Ameche as Art Selwyn - a rejuvenated, break-dancing, retirement home resident who is given the chance of immortality in director Ron Howard's light, science-fiction comedy Cocoon. The other nominees in the Best Supporting Actor category were:
Klaus Maria Brandauer as Streep's disinterested philandering husband - the Danish Baron Bror Blixen-Finecke in Out of Africa
William Hickey as Don Corrado Prizzi in Prizzi's Honor
Robert Loggia as Sam Ransom in the mystery/thriller Jagged Edge (the film's sole nomination)
Eric Roberts as Jon Voight's vicious convict co-escapee Buck in Runaway Train
The Best Supporting Actress award was presented to Anjelica Huston in the role of a Mafia assassin's (Jack Nicholson) scorned, but cunning and long-suffering girlfriend Maerose Prizzi in Prizzi's Honor. [As the director's daughter, Anjelica was the first person to be directed to an Oscar by her own father. John Huston had also directed his own father Walter to an Oscar win in The Treasure of the Sierra Madre (1948). Anjelica was also the first Oscar winner whose father and grandfather (Walter Huston) were also Oscar winners. And this remarkable feat made the Hustons the first family with three generations of Oscar winners - Huston became the only director to have directed both his father and daughter to Oscar victories.]
Two of the other Best Supporting Actress nominees were African-American actresses and co-stars in their debut performances, in The Color Purple:
Margaret Avery as jazz singer Shug
Oprah Winfrey as Whoopi Goldberg's step-daughter Sofia
The remaining two Best Supporting Actress nominees were Amy Madigan as Gene Hackman's daughter caught by her father's mid-life crisis in Bud Yorkin's Twice in a Lifetime (the film's sole nomination), and Meg Tilly as the childlike, beatific Sister Agnes in Agnes of God.
The Honorary Oscar honoree was Paul Newman, "in recognition of his many and memorable compelling screen performances and for his personal integrity and dedication to his craft." From 1958 to 1982, he had been nominated six times for Best Actor - and failed each time. Newman's directorial effort for Rachel, Rachel (1968) also earned four nominations (including Best Picture). He would only have to wait one more year to win his first Best Actor Oscar for The Color of Money (1986).
Oscar Snubs and Omissions:
The unsafe, inventively-futuristic film from Terry Gilliam - Brazil (although nominated and unsuccessful for Best Original Screenplay and Best Art Direction/Set Decoration awards) was missing from the nominations for Best Director and Best Picture (although the Los Angeles Film Critics Society awarded it those two distinctions). And writer/director Lawrence Kasdan's unique western Silverado, Nicolas Roeg's Insignificance, and writer/director/star Albert Brooks' Lost in America were conspicuously absent from major nomination categories.
The Best Visual Effects Oscar award was won by Cocoon, but director Barry Levinson's nominated Young Sherlock Holmes should have won instead for its startling and superb CGI SFX - its sole nomination. The anthem Don't You (Forget About Me) by Simple Minds from The Breakfast Club was un-nominated for Best Original Song, as was writer/director John Hughes.
Akira Kurosawa's Ran (although it had four nominations and one win as noted above for Costume Design) was not nominated for Best Picture, Best Score, Best Film Editing, Best Adapted Screenplay, or Best Actor/Actress (for Tatsuya Nakadai as Lord Hidetora Ichimonji, or Mieko Harada as ruthless widowed warrior Lady Kaede).
The following were un-nominated roles:
Michael J. Fox as time-traveling Marty McFly in Robert Zemeckis' popular Back to the Future
Danny Glover as brutal sharecropper "Mr." Albert Johnson and Adolph Caesar as his father "Old Mr." in The Color Purple
Rosanna Arquette as bored housewife Roberta Glass trailing Madonna in Desperately Seeking Susan
Julie Hagerty as a spoiled, Irish-Jewish young woman unexpectedly ending up in an Israeli kibbutz in Goodbye, New York
Laura Dern as a coming-of-age woman/child in Smooth Talk
Miranda Richardson as executed murderer Ruth Ellis in Mike Newell's Dance With A Stranger
Mikhail Baryshnikov as captured Soviet defector Nikolai "Kolya" Rodchenko and co-star Gregory Hines as exiled American expatriate Raymond Greenwood in Taylor Hackford's White Nights (with two nominations and one win for Lionel Richie's Best Song)
Rutger Hauer as tortured knight Captain Etienne Navarre in Richard Donner's fantasy adventure Ladyhawke
Kathleen Turner as mobster hit woman Irene Walker in Prizzi's Honor
Cher as defiant, motorcycle-riding biker gang member, but caring mother Rusty Dennis for her disfigured son 'Rocky' (Eric Stoltz) in Peter Bogdanovich's Mask (with one successful nomination for Best Makeup)
Theresa Russell as a Marilyn Monroe-like 'Actress' in Insignificance
In director/writer Woody Allen's comedy-fantasy The Purple Rose of Cairo (with only one nomination, Best Original Screenplay), a take-off on Buster Keaton's Sherlock Jr. (1924), Mia Farrow was overlooked as unfulfilled waitress/dishwasher Cecilia, as was Jeff Daniels in a dual role as (1) the main fictional character of "The Purple Rose of Cairo" - a dashing explorer/archaeologist named "Tom Baxter", and as (2) Gil Shepherd - the real-life actor who played Tom on the screen.