1967
The winner is listed first, in CAPITAL letters.
Actor:
ROD STEIGER in "In the Heat of the Night", Warren Beatty in "Bonnie And Clyde", Dustin Hoffman in "The Graduate", Paul Newman in "Cool Hand Luke", Spencer Tracy in "Guess Who's Coming to Dinner"
Actress:
KATHARINE HEPBURN in "Guess Who's Coming to Dinner", Anne Bancroft in "The Graduate", Faye Dunaway in "Bonnie And Clyde", Edith Evans in "The Whisperers", Audrey Hepburn in "Wait Until Dark"
Supporting Actor:
GEORGE KENNEDY in "Cool Hand Luke", John Cassavetes in "The Dirty Dozen", Gene Hackman in "Bonnie And Clyde", Cecil Kellaway in "Guess Who's Coming to Dinner", Michael J. Pollard in "Bonnie And Clyde"
Supporting Actress:
ESTELLE PARSONS in "Bonnie And Clyde", Carol Channing in "Thoroughly Modern Millie", Mildred Natwick in "Barefoot in the Park", Beah Richards in "Guess Who's Coming to Dinner", Katharine Ross in "The Graduate"
Director:
MIKE NICHOLS for "The Graduate", Richard Brooks for "In Cold Blood", Norman Jewison for "In the Heat of the Night", Stanley Kramer for "Guess Who's Coming to Dinner", Arthur Penn for "Bonnie And Clyde"
---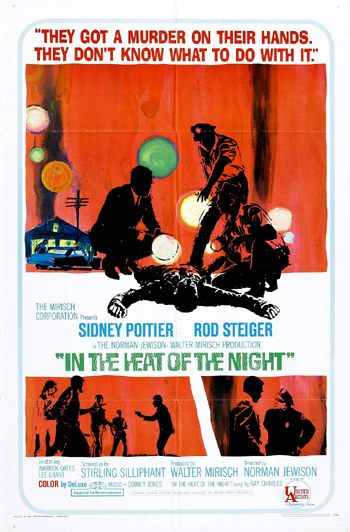 The Oscar ceremony in April 1968 was delayed by two days (and held on April 10) due to Martin Luther King's assassination on April 4th and subsequent funeral. This was the second time in Academy history that the ceremony was postponed (it was also delayed in 1938 and 1981).
This year marked the first year that the cinematography categories were merged back together - after 28 years. No longer would there be a distinction between color and black-and-white films. This would also be true for the categories of Art Direction and Costume Design.
The Oscar race was remarkably even between four of the five nominees. The films nominated for Best Picture in 1967 reflected the changing and schizophrenic times:
two films with black-racial themes (both starring Sidney Poitier)
one film with a graphically-violent ending
one film reflecting the changing mores between the generations
and the fifth - a fanciful children's story
The ultimate (surprise) compromise winner in the Best Picture category was director Norman Jewison's engrossing and serious thriller-murder mystery In the Heat of the Night (with seven nominations and five wins - Best Picture, Best Actor, Best Screenplay, Best Film Editing, and Best Sound). The sleeper comedy/drama film illustrated the racial tension, prejudice, and eventual mutual respect and camaraderie expressed between a black police detective from the North (Philadelphia) and a Southern racist, white police chief in the small Mississippi town of Sparta, where both were compelled to work together on the same homicide case. The suspenseful civil rights film, with a non-white actor in a lead acting role, was so controversial that it couldn't be filmed in the Deep South, so the sets were recreated in various small towns in two states: Sparta, Freeburg, and Belleville, Illinois, and Dyersburg, Tennessee.
It was unusual for the Academy to honor an old-fashioned, murder 'who-dun-it' as Best Picture. [Only a few traditional murder mysteries where the 'killer' was unveiled in the final moments have ever been nominated as Best Picture - The Thin Man (1934) and The Maltese Falcon (1941). In the Heat of the Night was the first detective mystery to win the Best Picture Oscar, and the first Best Picture in Academy history to feature a police officer as its central character.]
Another Best Picture nominee that was considered controversial because of its racial theme (it was Hollywood's first mainstream film about inter-racial marriage!) was liberal director Stanley Kramer's socially-relevant problem-comedy of racial co-existence, Guess Who's Coming to Dinner (with ten nominations and only two wins - Best Actress and William Rose's Best Story/Screenplay). It was about a liberal couple (Katharine Hepburn and Spencer Tracy) who are values-challenged when their sole young daughter (Katharine Houghton) brings home her prospective marriage partner - a world-renowned black surgeon (a typecast role for Sidney Poitier, the biggest box-office star at the time).
The two other choices for Best Picture in 1967 reflected the schizophrenic nature of the nominees - these two were ground-breaking and influential films that had a tremendous impact on young audiences, and signaled a significant shift that was soon to occur - the dawning of auteurism and the "New Hollywood":
Arthur Penn (with his second nomination) directed the popular "New Hollywood" film Bonnie and Clyde (with ten nominations and only two wins - Best Supporting Actress and Best Cinematography) - the gangster fairy-tale was based on two Depression-era bank robbers who roamed the Southwest and ended with a bloody finale that was unprecedented in a mainstream Hollywood film. The film's chances for winning Best Picture were dimmed after New York Times critic Bosley Crowther's scathing campaign against the picture for its excessive violence
Mike Nichols (following his previous year's success in Who's Afraid of Virginia Woolf? (1966)) directed a screen adaptation of Charles Webb's novel, The Graduate (with seven nominations and only one win - for Nichols' direction) - a funny, definitive 60s film which spoke to alienated youth in the counter-cultural generation - especially to young men who were emerging into manhood. [Note: it was the last film to ever take home Best Director and no other Oscar.]
The critical and box-office failure, 20th Century Fox's and director Richard Fleischer's trifling Best Picture-nominated Doctor Doolittle (with nine nominations and two wins - Best Song "Talk to the Animals" and Best Special Visual Effects) with Rex Harrison in the un-nominated title role as the English, 19th century animal-loving veterinarian, was not considered a serious contender, although it was a big-budget effort.
Of the five directors in the Best Picture nominees, only director Richard Fleischer of Doctor Doolittle was not nominated. Richard Brooks took Fleischer's place in the Best Director nominees for his directorship of Truman Capote's docu-drama "non-fiction novel" of a mass murder of a family in 1959 in Kansas, In Cold Blood (with four nominations and no wins). Mike Nichols' win for Best Director of The Graduate (the film's sole Oscar) was considered a consolation prize for his loss the previous year.
Both Bonnie and Clyde and Guess Who's Coming to Dinner had at least one nominee in each of the four acting award categories.
The winner in the hotly-contested Best Actor category was Rod Steiger (with his third and last career nomination and his first Oscar win) as gum-chewing, bigoted, Southern small-town local sheriff Bill Gillespie in In the Heat of the Night. By chance, he has to work on a local homicide case with the aid of Northern black detective Sidney Poitier's know-how.
The other four nominees for Best Actor were:
Spencer Tracy (in his ninth and last collaboration with co-nominee actress Katharine Hepburn) for Guess Who's Coming to Dinner as Matt Drayton - the socially-prominent San Franciscan father of a 21 year-old daughter (Hepburn's real-life niece Katharine Houghton in her film debut) who brings home her black fiance - a surgeon (Sidney Poitier) with hopes of approval for their marriage. [The nomination, received posthumously, was Tracy's ninth and last Oscar nomination for his last film. He had won his two career Oscars back in the late 1930s. Tracy died less than two weeks after filming ended.]
Warren Beatty (with his first of four unsuccessful acting nominations) for his career-launching role as impotent drifter and Depression Era bank-robber Clyde Barrow in Bonnie and Clyde
29 year-old Dustin Hoffman (with his first of seven career nominations), like Warren Beatty, for his star-making role in The Graduate as young, shy, and aimless 21 year-old Benjamin Braddock, a recent college graduate with no ambition or sense of adult responsibility who is told that "plastics" is the future
Paul Newman (with his fourth nomination) for his role as the title character, a rebellious chain-gang convict in director Stuart Rosenberg's Cool Hand Luke
Katharine Hepburn hadn't won an Oscar since 1933 - 34 years earlier, although she had been in many fine roles since then. She finally won her second Oscar (and it wouldn't be her last) as liberal-thinking Christina Drayton whose daughter is considering inter-racial marriage with a distinguished black surgeon (Sidney Poitier) in Guess Who's Coming to Dinner. It was Hepburn's tenth career nomination, tying her with Bette Davis (also with two Oscars) as the most-nominated actress. Hepburn would go on to surpass Davis with two more Oscars and a total of twelve career nominations.
The performances of the other Best Actress nominees were probably more deserving, including:
Anne Bancroft (with her third of five career nominations) as the cunning, tempting, menacingly-seductive Mrs. Robinson in The Graduate
Faye Dunaway (with her first nomination) in her break-through role as Clyde's bank-robbing partner Bonnie Parker in Bonnie and Clyde
Britain's Dame Edith Evans (with her third and last unsuccessful career nomination) as Mrs. Ross - an elderly, senile old woman living in poverty in director Bryan Forbes' melodramatic The Whisperers (the film's sole nomination)
Audrey Hepburn (with her fifth and last career nomination) as Susy Hendrix - a blind, terrorized woman in director Terence Young's thriller Wait Until Dark (the film's sole nomination)
The winner in the Best Supporting Actor category was George Kennedy (with his sole career nomination - and only Oscar) as battling and then admiring convict boss 'Dragline' who struggles against Paul Newman for leadership and eventually becomes his second-in-command friend and co-escapee in Cool Hand Luke.
Co-stars Gene Hackman (with his first nomination) and Michael Pollard (with his sole career nomination) were both nominated for Best Supporting Actor for their roles in Bonnie and Clyde as Buck Barrow (Clyde's brother) and as baby-faced car mechanic and gang member C.W. Moss.
The other Best Supporting Actor nominees were:
Cecil Kellaway (with his second and last of two unsuccessful career nominations) for his role as Drayton-family friend and priest Monsignor Ryan in Guess Who's Coming to Dinner
John Cassavetes, better known for his improvisational directorial efforts (Shadows (1960)) (with his sole career nomination) as Victor Franko, one of the dozen hardened criminals on a suicide mission in the war-action film The Dirty Dozen (with four nominations and one win - Best Sound Effects), directed by Robert Aldrich
The Best Supporting Actress award was captured by Estelle Parsons (with her first nomination and sole Oscar win) in her second film as neurotic, hysterical and annoying Blanche Barrow (outlaw Clyde's sister-in-law) in Bonnie And Clyde.
The other Best Supporting Actress nominees included:
Katharine Ross (with her sole career nomination) as Elaine Robinson (Dustin Hoffman's girlfriend and Anne Bancroft's daughter) in The Graduate
Beah Richards (with her sole nomination) as Mrs. Prentice (Sidney Poitier's mother) in Guess Who's Coming to Dinner
Mildred Natwick (with her sole nomination) recreating her Broadway role as Mrs. Ethel Banks (Jane Fonda's stodgy mother) in the film version of Neil Simon's Barefoot in the Park (the film's sole nomination)
Carol Channing (with her sole career nomination) as social Long Island widow Muzzy Van Hossmere in George Roy Hill's Thoroughly Modern Millie (with seven nominations and one win - Best Original Music Score)
Producer/director Alfred Hitchcock was presented with the Irving G. Thalberg Memorial Award, possibly in recognition of the fact that he had been nominated five times for Best Director and had lost every time: for Rebecca (1940), Lifeboat (1944), Spellbound (1945), Rear Window (1954), and Psycho (1960). This was Hitchcock's first and only 'Oscar'.
Oscar Snubs and Omissions:
Sidney Poitier starred in three films in 1967, but didn't receive nominations for any of them (both of his co-stars Hepburn and Steiger won Oscars, however):
for his outstanding performance as Virgil Tibbs in the Best Picture-winning In the Heat of the Night - as a well-dressed, honest, affluent-looking, proud black homicide detective from Philadelphia ("They call me Mr. Tibbs!") with forensic skills, investigating a case in 60s Mississippi
for his role as teacher Mark Thackeray in the tough, inner-city section of London's East End tenements in To Sir, With Love
for his appearance as African-American doctor/fiancee John Prentice in Guess Who's Coming to Dinner
It was definitely unusual that Best Picture competitor The Graduate won only the Best Director Oscar and nothing else - it should have at the least won Best Writing, Screenplay Based on Material from Another Medium for Buck Henry and Calder Willingham - and the Best Picture honor.
Theadora Van Runkle's Costume Design nomination for Bonnie and Clyde was defeated by John Truscott for his costuming of the period piece Camelot.
Five films and their superb performances were unanimously ignored by the Academy in 1967:
John Boorman's stylistic thriller Point Blank (with no nominations) with Lee Marvin as vengeful Walker
Stanley Donen's Two for the Road (with only one unsuccessful nomination for Best Story and Screenplay) with Audrey Hepburn and Albert Finney as couple Joanna and Mark Wallace in a disintegrating marriage
director/writer Orson Welles' Chimes at Midnight (with no nominations), with Welles as Shakespeare's comic character Falstaff
director Martin Ritt's Hombre (with no nominations) about racial bigotry (and a variation of John Ford's Stagecoach (1939)), with Paul Newman as half-breed Apache warrior John Russell and Richard Boone as villain Cicero Grimes (with two notable lines: "Mister, you've got alot of hard bark on you walkin' down here like this," and "Well now, what'ya suppose hell's gonna look like?")
director Luis Buñuel's Belle de Jour (1967, Fr.), (with no nominations) starring Catherine Deneuve (un-nominated) as a sexually-unfulfilled bourgeois Parisian housewife Severine Serizy with psychosexual (sado-machochistic) fantasies realized when she became a daytime prostitute
Writer/director Richard Brooks' black and white crime drama In Cold Blood, with a script by Truman Capote and a powerful un-nominated performance by Robert Blake as a murderer, received four nominations (Best Cinematography for Conrad Hall, Best Adapted Screenplay, Best Director, and Best Score - and no Best Picture nomination) without any success. Richard Harris was un-nominated as King Arthur in Camelot, as was Richard Burton (as Petruchio) opposite Elizabeth Taylor (as Katherine) in director Franco Zeffirelli's romantic comedy The Taming of the Shrew (with only two nominations: Best Art Direction and Best Costume Design).
Best Song nominees included: "The Bare Necessities" from Disney's Jungle Book, "The Eyes of Love" from Banning, "The Look of Love" from Casino Royale, "Thoroughly Modern Millie" from Thoroughly Modern Millie, and the ultimate winner: "Talk to the Animals" from Doctor Doolittle. Two very popular songs were neglected in the selections: "To Sir With Love" from To Sir, With Love, and Simon and Garfunkel's "Mrs. Robinson" from The Graduate.