1968
The winner is listed first, in CAPITAL letters.
Actor:
CLIFF ROBERTSON in "Charly", Alan Arkin in "The Heart is a Lonely Hunter", Alan Bates in "The Fixer", Ron Moody in "Oliver!", Peter O'Toole in "The Lion in Winter"
Actress:
KATHARINE HEPBURN in "The Lion in Winter" and BARBRA STREISAND in "Funny Girl" (tie), Patricia Neal in "The Subject Was Roses", Vanessa Redgrave in "Isadora", Joanne Woodward in "Rachel, Rachel"
Supporting Actor:
JACK ALBERTSON in "The Subject Was Roses", Seymour Cassel in "Faces", Daniel Massey in "Star!", Jack Wild in "Oliver!", Gene Wilder in "The Producers"
Supporting Actress:
RUTH GORDON in "Rosemary's Baby", Lynn Carlin in "Faces", Sondra Locke in "The Heart is a Lonely Hunter", Kay Medford in "Funny Girl", Estelle Parsons in "Rachel, Rachel"
Director:
SIR CAROL REED for "Oliver!", Anthony Harvey for "The Lion in Winter", Stanley Kubrick for "2001: A Space Odyssey", Gillo Pontecorvo for "The Battle of Algiers", Franco Zeffirelli for "Romeo and Juliet"
---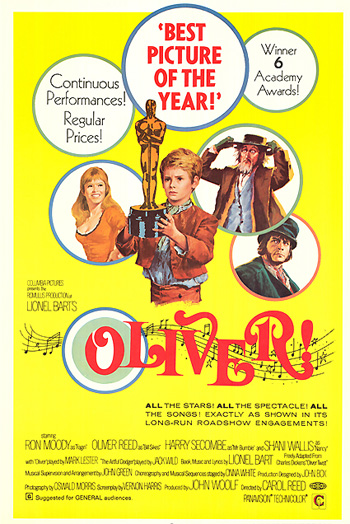 This year was the first in which the telecast on television was beamed worldwide - to 37 nations. (By the mid-1990s, the show would be telecast to over 100 countries.)
It was also an astonishing year when Charles Dickens' Oliver Twist was made into a big-budget musical film version, Oliver! by director Sir Carol Reed and the bloated musical won the Best Picture award without winning any other acting awards. The two front-runners for the Best Picture award, The Lion in Winter and Funny Girl, apparently canceled each other out, and handed the top award to the major upset winner Oliver! It held two other distinctions:
the first film with an MPAA rating to win Best Picture
to date, the first - and only - G-rated film to win Best Picture (although some pre-1968 Best Picture winners were rated G when re-released to theaters after 1968)
The American-financed British film was about an innocent, nine year-old hungry, runaway orphan in 19th century London who must join a gang of young lowlife pickpockets. From its eleven nominations, the film won only five awards (Best Picture, Best Director, Best Musical Score, Best Art Direction/Set Decoration, and Best Sound) and a sixth Honorary Technical Award for Onna White's choreography. The two musicals, Oliver! and Funny Girl (a superior musical), garnered 19 nominations between them. [The Academy had also previously honored only one other musical film with this kind of award - Jerome Robbins for West Side Story (1961). This was the last Best Picture win for a musical until 34 years later, when Rob Marshall's Chicago (2002) won the top prize.]
Its competition consisted of three costume films with period sets:
another musical genre competitor, William Wyler's musical debut of the rising career of comedian Fanny Brice to the Ziegfeld Follies, Funny Girl (with eight nominations and one win - Best Actress (tie)), featuring Barbra Streisand in her film debut -
director Franco Zeffirelli's superb version of Romeo and Juliet (1968) (with four nominations and two well-deserved awards for Cinematography and Best Costume Design) featuring two young teenaged newcomers - un-nominated Olivia Hussey and Leonard Whiting in the roles of the star-crossed lovers
director Anthony Harvey's serious historical film from James Goldman's Broadway play regarding aging medieval King Henry II and his estranged wife Queen Eleanor of Aquitaine on Christmas Day 1183 in England's Chinon Castle in The Lion in Winter (with seven nominations and three wins - Best Actress (tie), Best Screenplay, and Best Score)
The fifth Best Picture nominee was the small, less splashy psychological drama or "women's picture," Paul Newman's directorial debut film in an independent production, Rachel, Rachel, with his wife Joanne Woodward in the lead role as a Connecticut small-town sexually-repressed schoolteacher/spinster.
Two directors were denied Best Director nominations (even though they had Best Picture nominations) - Paul Newman for Rachel, Rachel, and accomplished director William Wyler for Funny Girl. They were replaced by Stanley Kubrick for 2001: A Space Odyssey (with four nominations and only one win - Best Special Visual Effects, the only Oscar won by Kubrick in his entire career!) about a mysterious black monolith and a space trip to Jupiter from Arthur C. Clarke's novel The Sentinel, and Gillo Pontecorvo for the serious documentary-style film about guerrilla war between Algerian revolutionaries and the French in The Battle of Algiers. [The neo-realistic foreign film had already been nominated in 1966 for Best Foreign Language Film, and won the Best Film award at the 1966 Venice Film Festival.]
The Best Director Oscar went to British film director Carol Reed (with his sole Oscar win) for Oliver! [Reed was better known for his great films of the late 1940s, but never won for any of them, so maybe the Academy was making amends for its historical oversights. Reed's films included: Odd Man Out (1947) (with only one nomination for Best Film Editing) and his Best Director-nominated The Third Man (1949), considered in the 1950 awards. He was also nominated as Best Director for The Fallen Idol (1949). His witty political satire Our Man in Havana (1960) lacked nominations of any kind.]
One of the biggest surprises of the year (and Oscar history) was Cliff Robertson's (with his sole career nomination - and only Oscar) Oscar win in the Best Actor category for his role in the profound 'sleeper' film, Charly (the film's sole nomination) - adapted from a short story titled Flowers For Algernon by Daniel Keyes. The award-winning actor portrayed Charly Gordon - a mentally-retarded, thirty year-old bakery worker who was suddenly (but temporarily) transformed (as in the Pygmalion stories) into a genius by radical, experimental brain surgery and then tragically regressed.
The year's Best Actor award had appeared as a three-way race between Alan Bates, Alan Arkin, and Peter O'Toole (who should have won):
Alan Bates (with his sole career nomination) was recognized for his role as Yakov Bok - an innocently-imprisoned Jewish peasant/handyman and victim of anti-Semitism when accused of a child murder in an adaptation of a Bernard Malamud novel by director John Frankenheimer, The Fixer (the film's sole nomination). [Bates had starred in such well known films as Zorba the Greek (1964), Georgy Girl (1966), King of Hearts (1966), and Women in Love (1970).]
Alan Arkin (with his second unsuccessful nomination) was deserving for his role as John Singer - a kind, lonely and gentle deaf-mute (employed as a silver engraver) living in a small Southern town (the film was shot on location in Selma, AL), who communicated through dactylology (sign language), in director Robert Ellis Miller's melodramatic The Heart is a Lonely Hunter (with two nominations and no wins), an adaptation of Carson McCullers' first novel of the same name that was updated from the Depression Era to the late-1960s
Peter O'Toole (with his third of eight career nominations) lost as King Henry II of England in The Lion in Winter. [O'Toole's nomination gave him the distinction of being the second performer to receive nominations for playing the same character in two different films (his other nominated film where he played Henry II was Becket (1964)). The first actor to do so was Bing Crosby as Father O'Malley in Going My Way (1944) and The Bells of St. Mary's (1945).]
Ron Moody (with his sole nomination) was also nominated for Best Actor as criminal gang leader Fagin in Oliver! for the role he originally created on the London stage
The greatest shock of the year was that two actresses in the Best Actress category won the award with an unprecedented exact tie - the only one in the Best Actress category in Academy history! [There had been a similar tie in the Best Actor category in 1931/2 between Fredric March (for Dr. Jekyll and Mr. Hyde (1931/2)) and Wallace Beery (for The Champ (1931/2)), but it was a nominal tie. Beery was unofficially one vote short of the vote for March.] The winners to share the Oscar were:
26 year-old Barbra Streisand in her film debut (in a role she had perfected on Broadway in 1964, that opens with "Hello, gorgeous") as the vaudeville comedienne queen Fanny Brice in Funny Girl, who drifts apart from husband/gambler Nicky Arnstein (miscast co-star Omar Sharif) due to her success. Streisand shared similar humble origins with the famed Follies star
Katharine Hepburn in her monumental role as the witty, strong-willed, aging Queen Eleanor of Aquitaine in The Lion in Winter, who battles with co-star Peter O'Toole's King Henry II over the succession of Richard I (Anthony Hopkins). Her nomination (her eleventh of twelve career nominations) was a record-breaker in itself - it was the highest number of nominations ever recorded up to that time in the Academy's history. Hepburn's win was also a record for Oscar winners - it was Hepburn's third Best Actress Oscar - she had just won her second Oscar the year before for Guess Who's Coming to Dinner (1967) and had won earlier for Morning Glory (1932/3). She became the first person to win three Academy Awards in either the Best Actor or Best Actress categories. Her total of three Oscar wins tied her with Walter Brennan (who also had three Oscar wins - all Best Supporting Actor awards - that were given to him in 1936, 1938, and 1940). [Hepburn would win her fourth and final Oscar thirteen years later for On Golden Pond (1981).]
The other three Best Actress nominees were:
Vanessa Redgrave (with her second of six career nominations) as Isadora Duncan - the creative, innovative dancer in the title role of director Karel Reisz's biopic Isadora (the film's sole nomination)
Joanne Woodward (with her second of four career nominations) as Rachel Cameron - a lonely, middle-aged Connecticut spinster with a domineering mother in Rachel, Rachel
Patricia Neal (with her second nomination) as Nettie Cleary (mother of returning WWII veteran Martin Sheen), in a film adaptation of Frank Gilroy's Pulitzer Prize-winning 1964 play/drama about a family's marital struggles, The Subject Was Roses (with two nominations and one win - Best Supporting Actor) - it was a comeback role for Neal, who had suffered a debilitating stroke a few years earlier
In the Best Supporting Actor category, Jack Albertson (with his sole career nomination) won as Patricia Neal's frustrated husband Jack Cleary, the father of returning World War II veteran Timmy (Martin Sheen) in The Subject Was Roses. He was reprising his role (as was Sheen) from the Pulitzer Prize-winning 1964 play.
The other four Best Supporting Actor competitors were:
Seymour Cassel (with his sole career nomination) as Chet in John Cassavetes' first film - an independent, improvisatory piece of cinema, Faces
Daniel Massey (with his sole nomination) as Noel Coward in director Robert Wise's $12 million box-office failure Star! (with seven nominations and no wins) - the biopic of musical comedy performer Gertrude Lawrence
fifteen year-old Jack Wild (with his sole nomination) as the Artful Dodger in Oliver!
Gene Wilder (with his first nomination) in his star-making role as meek accountant Leo Bloom who fails to produce a Broadway flop with co-conspirator Zero Mostel in writer/director Mel Brooks' The Producers (with two nominations and one win - Mel Brooks won an Oscar for Best Story and Screenplay for the film - his first!)
Aging, seventy-two year-old versatile actress Ruth Gordon (with her second and last career nomination - and her sole Oscar win) took the Best Supporting Actress award for her eccentric role as Minnie Castevet, one of Rosemary's eccentric, devil-worshipping, next-door neighbors who promotes Mia Farrow's delivery of Satan's son in director Roman Polanski's first American film, Rosemary's Baby (with two nominations and one win - Best Supporting Actress).
The other four Best Supporting Actress nominees were:
Lynn Carlin (with her sole nomination) as Maria Forst in Faces
twenty-one year-old Sondra Locke (with her first nomination in her screen debut) as sensitive 16 year-old teenaged daughter Mick Kelly, a classical music-loving friend (who dreamed of being a concert pianist) of deaf-mute John Singer (co-nominated Alan Arkin) who had come to board as a renter in her family's household, in The Heart is a Lonely Hunter
Key Medford (with her sole nomination) reprising her stage role as Fanny Brice's mother Rose Brice in Funny Girl
and Estelle Parsons (with her second consecutive nomination) as spinster schoolteacher Calla Mackie (Joanne Woodward's female friend) in Rachel, Rachel
The Best Foreign Film was Sergei Bondarchuk's 7 and a half hour epic War and Peace (aka Voyna i Mir) - originally, it lasted 507 minutes until being trimmed down for American audiences at nearly seven hours. Its award made it the longest film to ever win an Oscar. [The film was parodied in Woody Allen's Love and Death (1975).]
Oscar Snubs and Omissions:
The films that didn't receive major nominations in 1968 are now considered the films that uniquely defined their times. For example, writer/director Stanley Kubrick's great revolutionary science fiction masterpiece, 2001: A Space Odyssey (1968) was not nominated for Best Picture and received only one award - Best Special Visual Effects - from its four nominations (other nominations were Best Original Story and Screenplay, Best Art Direction/Set Decoration, and Best Director!). The Academy members presumably didn't recognize or realize the outstandingly superior, too-believable makeup in the opening scenes of 2001, that included both human actors with life-like masks and infant chimpanzees!
Other films slighted in the Best Picture category this year included:
Roman Polanski's scary horror film Rosemary's Baby (without an acting nomination for Mia Farrow as the title character, trusting New York housewife Rosemary Woodhouse who became the unwitting mother of Satan)
the Russian film War and Peace (it won Best Foreign Language Film)
Richard Lester's off-beat cult film Petulia (with no nominations), with George C. Scott as divorced surgeon Archie Bollen and Julie Christie as Petulia Danner
maverick director John Cassavetes' cinema verite Faces
Peter Bogdanovich's debut film, a crime thriller titled Targets (with no nominations)
Planet of the Apes (with only two nominations: Best Costume Design and Jerry Goldsmith's Best Score), without a nomination for Michael Wilson and Rod Serling's screenplay; it was given a Special Honorary Oscar for John Chambers' ground-breaking, outstanding makeup (there was no Best Makeup category until 1981)
The Producers (with two nominations: a win for Mel Brooks' Best Original Screenplay, and a nod for Best Supporting Actor Gene Wilder)
The Odd Couple (with only two nominations: Neil Simon's Best Adapted Screenplay and Best Film Editing), without nominations for Walter Matthau as sloppy sportswriter Oscar Madison and Jack Lemmon as neat-freak Felix Unger
The title roles in two cop films were un-nominated: Steve McQueen as a San Francisco homicide detective in Peter Yates' Bullitt, and Richard Widmark as Detective Daniel Madigan in Don Siegel's Madigan. And Tuesday Weld's performance was likewise un-nominated - as a pretty, calculating, amoral killer Sue Ann Stepanek in Noel Black's low-budget black comedy-thriller Pretty Poison (with no nominations), with co-stars Anthony Perkins as an unstable, recently paroled lumber company worker, and Beverly Garland as her strict mother.
Eli Wallach was also unrecognized for his performance as Tuco - a Mexican bandit in Sergio Leone's definitive, violent 'spaghetti' Western The Good, the Bad, and the Ugly (with no nominations). The memorable musical score by Ennio Morricone was also bypassed. Finally, Nino Rota's recognizable and popular score for Romeo and Juliet was also not nominated. And there was no nomination for Zero Mostel's Max Bialystock (arguably his best-known role) in The Producers.