2001
The winner is listed first, in CAPITAL letters.
Best Animated Feature Film


SHREK (2001)


Jimmy Neutron: Boy Genius (2001)


Monsters, Inc. (2001)
Actor:
DENZEL WASHINGTON in "Training Day," Russell Crowe in "A Beautiful Mind," Sean Penn in "I Am Sam," Will Smith in "Ali," Tom Wilkinson in "In the Bedroom"
Actress:
HALLE BERRY in "Monster's Ball," Judi Dench in "Iris," Nicole Kidman in "Moulin Rouge!," Sissy Spacek in "In the Bedroom," Renee Zellwegger in "Bridget Jones's Diary"
Supporting Actor:
JIM BROADBENT in "Iris," Ethan Hawke in "Training Day," Ben Kingsley in "Sexy Beast," Ian McKellen in "The Lord of the Rings: The Fellowship of the Ring," Jon Voight in "Ali"
Supporting Actress:
JENNIFER CONNELLY in "A Beautiful Mind," Helen Mirren in "Gosford Park," Maggie Smith in "Gosford Park," Marisa Tomei in "In the Bedroom," Kate Winslet in "Iris"
Director:
RON HOWARD for "A Beautiful Mind," Ridley Scott for "Black Hawk Down," Robert Altman for "Gosford Park," Peter Jackson for "The Lord of the Rings: The Fellowship of the Ring," David Lynch for "Mulholland Drive"
---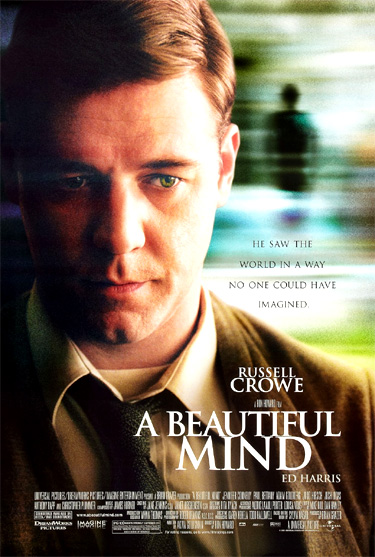 This year's ceremony, hosted by Whoopi Goldberg (for her fourth time), was notable as being the longest ever - at 4 hours, 23 minutes. It also marked the first year that the Best Animated Feature Film category was offered.
This was a year of eclectic Best Picture-nominated films:
a sword-and-sorcery Hobbit/elves fantasy adventure, the first in a trilogy, The Lord of the Rings: The Fellowship of the Ring
a period murder mystery set in a British estate, Gosford Park
an audacious musical romance set in a decadent, late 19th century Parisian nightclub/dance-hall/theatre, Moulin Rouge
a drama about an afflicted, Nobel Prize-winning mathematical genius, the ultimate winner A Beautiful Mind
another intimate drama about the torment of a New England (Maine) family over a son's sudden murder, In the Bedroom
This was the tenth consecutive year that Miramax had a Best Picture nominee (this year, it was In the Bedroom) - a record for any studio.
For the newly-created category - Best Animated Feature Film, according to the Academy's rules, an 'animated film' had to be at least 70 minutes in length, have a significant amount of major animated characters, and be at least 75% animated. The three nominees this year were
Jimmy Neutron: Boy Genius
Monsters, Inc.
PDI/Dreamworks' Shrek (the winner), with its lovable green ogre (Mike Myers) and smart-alec donkey (Eddie Murphy).
[Note: This was the first-ever Oscar for an animated feature film.]
Three of the five Best Picture-nominated films had specifically fanciful elements:
The Best Picture winner was A Beautiful Mind (with eight nominations and four major wins): Best Director (Ron Howard), Best Supporting Actress (Jennifer Connelly), and Best Adapted Screenplay (Akiva Goldsman). First time nominee and former child actor/director Ron Howard's case study drama and romance was loosely adapted from Sylvia Nasar's prize-winning biography about a courageous Princeton Univ. math genius experiencing a harrowing struggle with mental illness (schizophrenia). To date, it was the last biopic film to win Best Picture. Its tagline was: "He saw the world in a way no one could have imagined." The story's time frame spanned a period of five decades beginning with 1947. [Howard had made fifteen feature films in his career. Six years earlier, his Best Picture nominee Apollo 13 (1995) was honored by nine nominations - without a corresponding Best Director nomination.] Although its two lead actors (Crowe and Connelly) received Golden Globe awards, only Connelly went home with the Oscar.
With this Best Picture win, DreamWorks became the second studio to win three Best Pictures in a row:
Gladiator (2000)
A Beautiful Mind (2001)
The first studio to accomplish this feat was United Artists: with One Flew Over the Cuckoo's Nest (1975), Rocky (1976), and Annie Hall (1977).
The film with the most nominations (13) this year, director Peter Jackson's fantasy epic about wizards and scorcerers, The Lord of the Rings: The Fellowship of the Ring, also had four wins (in technical categories basically): Makeup, Cinematography, Visual Effects, and Original Score. The first installment in the film trilogy, based on the best-selling novels of J.R.R. Tolkien was one of the most financially-successful of the year, and the first Best Picture nomination for its studio - New Line (a division of AOL Time Warner). This was also the first nomination for 40 year old New Zealand filmmaker Peter Jackson.
[The Lord of the Rings became the ninth film ever to receive 13 Oscar nominations or more. Two other films in Academy Awards history have had 14 nominations, and six other films have had 13 nominations. [Three of these nine films did not win Best Picture: Mary Poppins (1964), Who's Afraid Of Virginia Woolf? (1966), and The Lord of the Rings: The Fellowship of the Ring (2001).]
No other sci-fi fantasy adventure of this kind, with loads of special effects, has been nominated for Best Picture since Star Wars (1977) (and Lucas' film lost the top award).
Australian director Baz Luhrmann's gaudy, fantasy musical-romance Moulin Rouge (with eight nominations and two wins for Luhrmann's collaborator and wife Catherine Martin in two similar categories: Costume Design and Art Direction) was set in late 19th century Paris and featured a soundtrack with 20th century pop tunes. Nicole Kidman's Best Actress nomination was one of its eight nominations, but Luhrmann was denied a Best Director nomination.
[It was the first live-action musical to be given a Best Picture nomination since All That Jazz (1979). The last musical to win Best Picture was Oliver! (1968). The animated musical Beauty and the Beast (1991) was nominated for Best Picture ten years earlier.]
Veteran, 77 year old, five-time maverick nominee/director Robert Altman's upstairs/downstairs murder mystery Gosford Park (with seven nominations and only one win) was set in 1930s Britain (Altman's first in this satirized Masterpiece Theatre-Merchant Ivory genre) at a country estate. It displayed his signature naturalistic, sprawling style (with 23 lead characters and as many plot strands all extraordinarily knitted together) and an all-star and talented British cast. Its only win was for Best Original Screenplay (Julian Fellowes). [It was Altman's first Best Picture AND Best Director nomination since Nashville (1975). This was Altman's fifth unsuccessful Best Director nomination - he was also nominated as Best Director for M*A*S*H (1970), The Player (1992), and Short Cuts (1993).]
First-time writer/producer/director Todd Field's low-budget, emotionally-powerful and honest, laconic-paced family drama In the Bedroom (with five nominations - three for its actors - and no wins) lost in all categories. Usually, bleak dramas of this sort were only nominated in the various acting categories in recent years (i.e., Leaving Las Vegas (1995), Requiem for a Dream (2000)), and not for Best Picture.
Among the other major film nominees were the following:
Ridley Scott's Black Hawk Down (with four nominations and two wins, for Film Editing and Sound; it lost for Cinematography and Director)
Pearl Harbor (with four nominations and one win, for Sound Editing)
director Jean Pierre Jeunet's delightful and amusing French-imported fairy-tale love story Amelie (with five nominations and no wins), that starred the adorably-cute, pixie-ish Audrey Tautou (whose sadness morphs her into cascading water). It lost its favored Best Foreign Film nomination to Bosnia's entry, No Man's Land
Pixar's and Disney's animated Monsters, Inc. (with four nominations and one win, for Randy Newman's Original Song "If I Didn't Have You") - this marked Newman's 16th nomination and first Oscar!
director Richard Eyre's biographical portrait of novelist Iris Murdoch in Iris (with three nominations and one win, for Best Supporting Actor)
Three of the directors of the five nominated Best Picture films were included in the list of Best Director nominees. Two of the five directors who had Best Picture nominations were conspicuously denied Best Director nominations:
Baz Luhrmann for the dizzying and hyper-real spectacle Moulin Rouge
Todd Field for In the Bedroom
In their places were directing nominations for two three-time nominees who had never won a Best Director Oscar: 56 year old eccentric director David Lynch for the twisty, surreal, neo-noir, nightmarish love story Mulholland Drive (with one nomination and no wins), and 64 year old Ridley Scott for Black Hawk Down (with four nominations and two wins), an intense and brutal war film and graphic recreation of America's 1993 involvement and botched mission in the E. African city of Mogadishu, Somalia.
[Moulin Rouge's chances of winning Best Picture were proven to be slight, based upon Academy Awards history. The only three times a film won Best Picture without its director being nominated are the following:

(1) un-nominated director William Wellman's Wings (1927/28) won Best Picture, while the Best Director award went to Frank Borzage for Seventh Heaven (1927/28)
(2) Edmund Goulding's Grand Hotel (1931/32) was named Best Picture, while Frank Borzage won Best Director again for Bad Girl (1931/32)
(3) Driving Miss Daisy (1989), when Oliver Stone won Best Director for Born on the Fourth of July (1989).

Ridley Scott and David Lynch also faced unlikely odds to win Best Director. Director Frank Lloyd has been the only person to win the Best Director Oscar for a film not nominated for Best Picture - The Divine Lady (1928/29).]
Three of the four Oscar winners in the four major acting categories were first-time nominees. And this was an historic year - the top acting honors went to two African-Americans, the first time ever in Academy history.
The Best Actor winner was Denzel Washington (with his fifth nomination and second win) as a corrupt, rakish, 13-year veteran cop of a narcotics squad, a hateful but charismatic Detective Sergeant Alonzo Harris in director Antoine Fuqua's police drama/thriller Training Day (with two nominations and one win).
[Note: With his nomination, Washington became the most-nominated black actor. He also became the first black actor to win two Academy Awards, and the first African-American since Sidney Poitier (a Best Actor winner for Lilies of the Field (1963)) to win a Best Actor statue. Note: Some argue that Poitier's Bahamas heritage makes Denzel Washington the first true African-American actor to win Best Actor. (Washington received his earlier Oscar for Best Supporting Actor in Glory (1989), another supporting nomination for his role as Steven Biko in Cry Freedom (1987), and two Best Actor nominations for Malcolm X (1992) and The Hurricane (1999).)]
In the Best Actor category, it was the first time that two African-American actors were nominated for Best Actor in the same year. The other African-American nominee was Will Smith (with his first nomination), as legendary boxer and former heavy-weight champ Muhammad Ali (from 1964-1974) in director Michael Mann's sports bio-drama Ali.
The other three Best Actor nominees were:
New Zealand-born Russell Crowe (with his third nomination and third Best Actor nomination in a row), for his role in A Beautiful Mind as delusional mathematical genius John Forbes Nash, Jr. - who won the 1994 Nobel prize for his work in game theory and was afflicted with paranoid schizophrenia. (Crowe was last year's Best Actor winner for playing a Roman general-turned-slave in Gladiator (2000), and he was previously nominated for The Insider (1999).)
[The last actor to receive three consecutive nominations was William Hurt, in Kiss of the Spider Woman (1985) (an Oscar win), Children of a Lesser God (1986), and Broadcast News (1987).]

Maverick actor Sean Penn (with his third nomination) as Sam Dawson in director Jessie Nelson's I Am Sam (a combination of Rain Man (1988) and Kramer vs. Kramer (1979)), as a developmentally-disabled father who works in a coffee shop and seeks the custody of his 7 year-old daughter Lucy (Dakota Fanning).
British-born Tom Wilkinson (with his first nomination) as grief-stricken New England doctor and justice-seeking vigilante father Matt Fowler in In the Bedroom
There were two veteran Oscar nominees and three first-timers in the Best Actress category. In a monumental, career-altering victory, 35 year old Halle Berry (with her first nomination) became the first black actress to win a Best Actress Academy Award in AMPAS' 74 year history! She portrayed African-American Leticia Musgrove, an executed killer's (Sean Combs) grief-stricken widow in a town poisoned with Southern racism in director Marc Forster's racially-charged romance Monster's Ball (with two nominations and one win). (The last Best Actress nomination for a black actress was Angela Bassett for What's Love Got to Do With It? (1993).)
The other Best Actress nominees were:
Sissy Spacek (with her sixth nomination and one past Oscar win) as the traumatized, withdrawn, chain-smoking, middle-aged, silently-angry and grieving mother Ruth Fowler in In the Bedroom. (She won an Oscar 21 years earlier for playing Kentucky singer Loretta Lynn in Coal Miner's Daughter (1980), and was last nominated for Crimes of the Heart (1986).)
67 year old Briton Judi Dench (with her fourth nomination in five years, and one past win) as feisty English philosophical and libertine-spirited novelist Iris Murdoch who eventually suffered from Alzheimer's in later life in Iris. (Dench's previous nominations were Best Actress for Mrs. Brown (1997), a win for Best Supporting Actress for Shakespeare in Love (1998), and a nomination for Supporting Actress for Chocolat (2000).) [This was the second time that two actresses were nominated for playing the same character in the same film - Kate Winslet was also nominated for her role of Iris in Iris. The first time this occurred was when Kate Winslet and Gloria Stuart were both nominated for playing the same character (Rose) in the same film -- Titanic (1997).]
34 year old Australian-raised Nicole Kidman (with her first nomination and in her first musical role), as an ill-fated, dying-from-consumption, sexy nightclub singer and doomed lover/courtesan named Satine in the bold, hyperactive and re-inventive Moulin Rouge (she was the film's only acting nominee). [If Kidman had won in this category, she would have been the first actress in almost 30 years to win an Oscar for a musical (Liza Minnelli won for Cabaret (1972)].
32 year old deglamourized American Texan Renee Zellweger (with her first nomination) as a thirty-something, lovelorn, weight-challenged Londoner in a publishing house haplessly seeking romance in director Sharon Maguire's British comedy Bridget Jones's Diary, a witty adaptation of Helen Fielding's popular novel
Note: The acting nominations of the trio of Smith, Washington and Berry marked the third time that three African-American actors have been nominated for acting roles. (This also happened in 1972 and in 1985). However, it must be noted that this was only the second time that three African-American performers have been nominated in the top acting categories. (In 1972 in the Best Actress and Best Actor categories, Diana Ross was nominated for Lady Sings the Blues (1972), and Paul Winfield and Cicely Tyson for Sounder (1972). None of them won.)
The Best Supporting Actor and Actress categories each had a first-time nominee as the winner. Surprise winner 52 year-old British actor Jim Broadbent (with his first nomination) won the Best Supporting Actor Oscar as Iris Murdoch's doting, clumsy, affectionate and devoted husband John Bayley in Iris. (Broadbent also starred in un-nominated roles in both Moulin Rouge and Bridget Jones's Diary.)
The other nominees in the Best Supporting Actor category included two other British performers:
the favored 62 year old Sir Ian McKellen (with his second nomination after a nod three years earlier for his great performance in Gods and Monsters (1998)) as kindly wizard Gandalf in The Lord of the Rings: The Fellowship of the Ring
[Note: Although not recognized at the time, Ian McKellen was the first openly gay actor nominated for his work in The Lord of the Rings: The Fellowship of the Ring.]
58 year old Sir Ben Kingsley (with his third nomination and one past win) as menacing, bullying, volatile mobster/hitman Don "Malky" Logan in director Jonathan Glazer's UK crime thriller Sexy Beast. (Kingsley was a previous Best Actor Oscar winner for Gandhi (1982).)
30 year old Ethan Hawke (with his first nomination) as Jake Hoyt, an eager, idealistic rookie narcotics detective in the Los Angeles Police Department serving under Alonzo Harris (Denzel Washington) in Training Day
63 year old Jon Voight (with his fourth nomination and one past win) for his caricatured, heavily-made-up portrayal of ABC sports broadcaster Howard Cosell in Ali - with only 13 minutes of screen time. (This was Voight's first nomination for a supporting role. He won his sole Oscar for Coming Home (1978), and his last nomination was as Best Actor for Runaway Train (1985).)
In the Best Supporting Actress category, the category's only first-time nominee was also the winner. The Oscar was presented to 31 year-old Golden Globe winner Jennifer Connelly (with her first nomination after two decades and 23 films in her career) as Nash's beautiful former student and loyal, stalwart, devoted, and long-suffering wife Alicia in A Beautiful Mind. Two other Best Supporting Actress nominees were co-stars in Altman's comedy of class manners ensemble film, Gosford Park. (As a footnote to this pair of nominations for an Altman film, it also happened for his film Nashville (1975), when Ronee Blakley and Lily Tomlin were honored with competing nominations.)
The four other Best Supporting Actress nominees were:
56 year old Helen Mirren (with her second nomination) as the cooly efficient, but tragic, melancholy and impenetrable 'downstairs' housekeeper Mrs. Wilson in Gosford Park
67 year old, two-time Oscar winner Maggie Smith (with her sixth nomination and her fourth for Best Supporting Actress) as flighty, pampered, snooty, sarcastic and tippling matronly guest Lady Constance - the spoiled aristocratic Countess of Trentham in Gosford Park. (Maggie Smith previously won Best Actress for The Prime of Miss Jean Brodie (1969), and Best Supporting Actress for California Suite (1978).)
37 year old Marisa Tomei (with her second nomination and one past win) as attractive, separated, and troubled mom Natalie Strout involved with her boyfriend/lover Frank Fowler (Nick Stahl), a ten years younger high school graduate (and summer lobster fisherman) in In the Bedroom. (Nine years earlier, Tomei won a Best Supporting Actress Oscar - in an upset - for her role as Brooklynite Mona Lisa Vito in My Cousin Vinny (1992).)
26 year old Kate Winslet (with her third nomination) as Iris Murdoch in her resolute, free-spirited and bolder youth in Iris. (Winslet was previously nominated as Best Supporting Actress for Sense and Sensibility (1995), and Best Actress for Titanic (1997).)

This year's Honorary Award was presented to Sidney Poitier, "in recognition of his remarkable accomplishments as an artist and as a human being." He was the first male actor of color who won the Best Actor Oscar for Lilies of the Field (1963) - his sole Oscar win. He was also nominated as Best Actor for The Defiant Ones (1958), although he had appeared in lots of great films including The Blackboard Jungle (1955), and A Raisin in the Sun (1961), and three major films in one year alone: To Sir With Love (1967), Guess Who's Coming to Dinner (1967), and In the Heat of the Night (1967).
Another Honorary Award was given to Robert Redford, "Actor, Director, Producer. Creator of Sundance, inspiration to independent and innovative filmmakers everywhere." In his career, he had been nominated four times (with one win): once as Best Actor for The Sting (1973), twice as Best Director for Best Picture-winning Ordinary People (1980) (with his sole Oscar win) and Quiz Show (1994), and also Best Picture for the latter film. He had also appeared in many memorable roles in films such as Butch Cassidy and the Sundance Kid (1969), The Candidate (1972), All the President's Men (1977), Out of Africa (1985), Indecent Proposal (1993), and served as director for A River Runs Through It (1992) and The Legend of Bagger Vance (2000).
Oscar Snubs and Omissions:
Black Hawk Down (with four nominations and two wins) and Mulholland Drive were favored for Best Picture nominations, but didn't receive them. Other films without major film nominations included Darabont's failing The Majestic and Steven Spielberg's A.I.: Artificial Intelligence (with 29 year old Jude Law). The director of Best Picture-nominee Moulin Rouge, Baz Luhrmann, was surprisingly left out of the Best Director race, as was actor and leading man Ewan McGregor as ambitious but poor British poet/writer Christian in the romantic musical opposite love interest Nicole Kidman as Moulin Rouge courtesan Satine. One of the most successful films of the year, Chris Columbus' Harry Potter and the Sorcerer's Stone, had only three nominations (Art Direction, Costume Design, and Score) and no wins.
Billy Bob Thornton was not deservedly nominated for his appearances in three films: as Hank, an emotionally-tortured Georgia Death Row prison guard in the melodramatic Monster's Ball, as a costume-changing, hypochondriac bank robber (one of the "Sleepover Bandits") Terry Collins in Barry Levinson's Bandits, and as humble, unassuming (but scheming) barber Ed Crane in the Coen brothers' beautifully filmed black and white noir The Man Who Wasn't There.
Golden Globe winner Gene Hackman was also overlooked for his role as the partly sinister, shifty, high-living patriarch Royal Tenenbaum in Wes Anderson's comedy-drama The Royal Tenenbaums (with only one nomination) . Tovah Feldshuh was overlooked as Scarsdale Jewish matron Judy Stein with a lesbian daughter in Kissing Jessica Stein. And Steve Buscemi should have received a supporting nod for his role as nerdy, misfit, socially-inept record collector Seymour, as should have Illeana Douglas as the high school art instructor named Roberta, in Terry Zwigoff's Ghost World, but the film did get a Best Adapted Screenplay nomination. And if 80 year old Carl Reiner had been nominated for Steven Soderbergh's Ocean's Eleven, it would have been his first nomination.
Three Best Actress nominations were clearly left on the cutting room floor:
Tilda Swinton for her role as blackmailed, maternally-protective, burdened and determined Margaret Hall, in David Siegel's dramatic The Deep End
Australian Naomi Watts for her dual roles as wholesome, idealized small-town girl Betty Elms in Hollywood whose identity was 'robbed' (and her alter ego as failed aspiring actress Diane), in David Lynch's mesmerizing, disorienting and dizzying, puzzling fantasy Mulholland Drive
Audrey Tautou as the title character - a 23 year-old Parisian waitress in the delightful comedy Amelie
Three-time nominee Michelle Pfeiffer was ignored for her role as lawyer Rita Harrison who assumed Sean Penn's case in I Am Sam. [Pfeiffer has two Best Actress nominations, for The Fabulous Baker Boys (1989) and Love Field (1992), and one Best Supporting Actress nomination for Dangerous Liaisons (1988).] And Thora Birch in Ghost World and Reese Witherspoon in Legally Blonde were likewise neglected in their comedic roles. Ghost World received only one nomination - for Best Adapted Screenplay.
Both Richard Linklater's innovatively-animated experimental film Waking Life, and Hironobu Sakaguchi's sci-fi Final Fantasy: The Spirits Within, the first feature-length motion picture to use CGI for its characters, were un-nominated in the newly-created category Best Animated Feature Film. (And there were only three nominees: Jimmy Neutron: Boy Genius, Monsters, Inc., and the winner Shrek).
Also, writer/director Christopher Nolan's clever, highly inventive, Mobius strip told-in-reverse noir Memento (2000) - one of the most popular plot-twisting films of all time, was mostly forgotten (as was Guy Pearce's pivotal role as the tattooed, traumatized, short-term amnesiac Leonard Shelby). Nolan's breakout directorial effort had only two unrewarded nominations for Film Editing and Original Screenplay.
Also omitted was Life as a House (and 20 year old Hayden Christensen's supporting role as the troubled and hateful estranged son Sam), director Lasse Hallstrom's The Shipping News with Kevin Spacey as Quoyle in Newfoundland, Cameron Crowe's Vanilla Sky (and Cameron Diaz' role as Julie Gianni, Tom Cruise's jealous ex-lover when he falls for Penelope Cruz), the Australian film Lantana (and Anthony LaPaglia's performance as police detective Leon Zat, and Kerry Armstrong's role as his emotionally-starved wife), and director/writer John Cameron Mitchell's gleefully-unusual, trans-gendered rock opera Hedwig and the Angry Inch (with no nominations).
Oscar-nominated Nicole Kidman's other film - director Alejandro Amenabar's creepy and classic ghost story titled The Others, was devoid of nominations. [Academy rules prohibited actors/actresses from receiving more than one nomination per category, so Kidman's superior work in The Others was edged out by the more recent Moulin Rouge.]