Background
---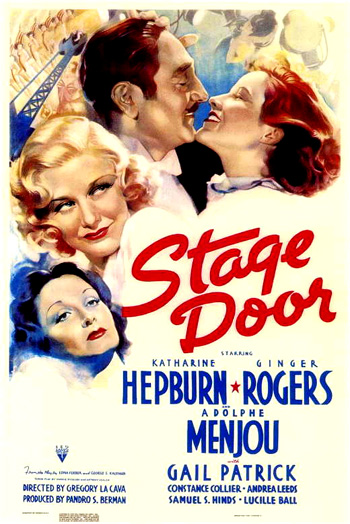 Stage Door (1937) is director Gregory La Cava's superb, realistic, behind-the-scenes film about show business, female camaraderie, and the lives of aspiring, tough-talking rival actresses who are looking for a break into show business on the New York theater stage. [La Cava's previous film was the classic screwball comedy My Man Godfrey (1936).]
The backstage comedy features snappy dialogue and acting from some of RKO's greatest female stars - Katharine Hepburn and Ginger Rogers (in her first serious actress role without Astaire), and other up-and-coming actresses such as Lucille Ball, Eve Arden, Gail Patrick and Ann Miller (a 17 year old, underage actress who secured the part with a fake birth certificate).
The famous lines in the film about "calla lilies" were taken from the unsuccessful 1933 Broadway play The Lake, in which Hepburn had starred (the dialogue became parody material for Hepburn impersonators for the remainder of the star's legendary career).
With much of the film's action occurring within a theatrical boarding house (the Footlights Club) for young, star-struck, vulnerable ingenues and debutantes, it is filled with bitchy and sassy, and stage-struck young women - who laugh and heckle each other, shed tears, express their hopes, dreams and aspirations, spout wisecracks, barbs, and insults, and genuine, heartfelt words of experience.
The adapted film's witty and funny screenplay, with crisp and crackling ensemble pieces, was written by Morrie Ryskind and Anthony Veiller, and was loosely based upon the Broadway stage play of the same name, written by George S. Kaufman and Edna Ferber. The hit theatrical version starred Margaret Sullavan (in the Hepburn role), Phyllis Brooks (in the Rogers role) and Frances Fuller (in the Andrea Leeds part).
The film received four Academy Award nominations (without Oscars) for Best Picture (or Production), Best Director, Best Screenplay, and Best Supporting Actress (Andrea Leeds). Surprisingly, neither Hepburn or Rogers received an acting nomination.
Plot Synopsis
---
After the credits, the camera views the outside of a brownstone building in New York, and moves down to focus on the structure's plaque which reads: Footlights Club. It is a seedy Manhattan theatrical boarding house filled with young, out-of-work, Broadway-aspiring actresses. The living room inside is crowded with talkative young ladies, either playing the piano, lounging around, or complaining to the maid Hattie (Phyllis Kennedy) who is singing an awful-sounding aria while sweeping up broken glass.
Descending the staircase into the living room is sveltely-dressed Linda Shaw (Gail Patrick), who summons Judy Canfield (Lucille Ball) to take the ringing phone call. Wise-cracking Eve (Eve Arden) has a somnolent white cat named Henry/Henrietta (credited as Whitey the Cat) draped across her shoulders and neck. Down the stairs after Linda bounds her roommate - insultingly sarcastic poor blonde girl Jean Maitland (Ginger Rogers), wearing a plain blouse and slacks, and demanding that she remove and return her stockings. She peels the stockings from Linda's legs, complaining:
Come on, take 'em off...You heard what I said. Take off those stockings or I will and take a little of the hide along with it...If you think I'm going to give up my lunch to buy you stockings, you're mistaken...From now on, you wear your own stockings or go bare-legged. To the places you go, it doesn't make any difference anyhow.
The club's elderly proprietress Mrs. Orcutt (Elizabeth Dunne) tries to referee the loud, free-for-all argument: "Girls! What's going on here?...How do you expect me to run a respectable house...?" After Jean threatens her hated roommate during the quarrel: "I'll slap her ears flat against the back of her head!" Linda decides to immediately change rooms. Judy complains that the "bar-room brawl" is making it impossible to speak on the phone. Acerbically, Jean yells up to Linda: "When I get back to my room, you're the only thing I want to find missing." As she inspects the recovered stockings, Jean mutters: "I knew it. I knew it!" Seattle-born Judy hangs up after speaking to "lumbermen" from her hometown and offers an eight o'clock date to Jean:
Judy: I said, 'Do you want a date?'
Jean: To some other lumberman?
Judy: Am I supposed to apologize for being born in Seattle?
Jean: Well, the last couple we went stepping with were made of lumber, especially their feet.
Judy: All right, all right, you can stay here and gorge yourself on lamb stew again.
Jean shrewdly accepts after learning it's a dinner date: "That lamb stew's got me counting sheep at night....They can't step on you when you're sitting down...You know me, the lumberman's delight."
The chauffeur (Harry Strang) of the car of Broadway theatrical producer Anthony Powell (Adolphe Menjou) waits on the curb for "Miss Shaw" - Jean (functioning as a "carrier pigeon") crassly yells a message up the stairs to Linda:
Jean: Oh Linda, Mr. Powell's car is here. Mr. Powell isn't here, just his car.
Eve: (snidely) Peaceful little haven we have here.
Two other boarders enter the front door, identifying themselves as "tired Tyrolean peasants" following a poorly-attended, "folding" matinee show which was "very intimate. We had a hundred people on the stage and fifty in the audience." Jean provides advice to the newly-unemployed girls: "Let's all go on relief and get it over with."
Haughty newcomer, cultivated, privileged rich-girl debutante Terry Randall (Sims) (Katharine Hepburn), who was first glimpsed outside the boarding house as a shadow while knocking and rattling on the wrong French doors, makes a dramatic entrance at the front door into the midst of the turmoil - she immediately encounters Jean:
Terry: How many doors are there to this place?
Jean: Well, there's the trap door, the humidor, and the cuspidor. How many doors would you like? (The other girls laugh at the joke.)
Terry: I only asked a simple question.
Terry, wearing a stylish dark, military-style coat emblazoned with brass buttons and a fez hat, inquires about speaking to someone about "accommodations." After Jean wisecracks about speaking to the "keeper on duty," Terry takes note of more laughter accentuating Jean's flippant and crisp remarks: "Evidently, you're a very amusing person." For her admiring female audience, Jean mocks her new victim's true-blue, goody-goody, superior airs: "If you young ladies will pardon me, I shall take the wolfhounds for a stroll through the park. (To Linda) Oh, need I remind you that Mr. Powell's car awaits without." A haughty Linda and Jean rebuff each other with snobbish remarks about Powell, her high-class benefactor/date:
Linda: If you were a little more considerate of your elders, maybe Mr. Powell would send his car for you someday...Of course, he would probably take one look at you and send you right back again, but then you have to expect that.
Jean: Is that so?
Linda: Do you know, I think I could fix you up with Mr. Powell's chauffeur. The chauffeur has a very nice car too.
Jean: Yes, but I understand Mr. Powell's chauffeur doesn't go as far in his car as Mr. Powell does.
Linda: Even a chauffeur has to have an incentive.
Jean: Well, you should know.
Linda I hope you enjoy your lamb stew again tonight. I'll be thinking of you while I'm dining on pheasant bordelaise.
Jean: (mimicking her high-brow tone) Bordelaise, no less. Whoa, girls, listen, bordelaise she says.
Linda: Or maybe it's casserole, I'm not quite certain.
Jean: Be sure not to eat the bones and give yourself away.
Speaking to the landlady ("the person I see about accommodations"), Terry asks for a room in the "theatrical boarding house" and requests unrealistically: "I want a room with a private bath." After more laughs from the girls in the parlor, she ponders: "Is there anything strange in that request?" Mrs. Orcutt replies: "Oh you mustn't mind the girls. They're just full of fun. We're like one great big family. I may not be able to give you just what you want, but I can put you in a room with a very charming girl, temporarily, that is, until we get a vacancy." Terry pays the fee of $13 dollars a week (excluding lunch meals) for a shared room - with a crisp, $50 dollar bill.
Terry's baggage is brought in from her taxi and taken upstairs to her room. As the luck of the draw would have it, she is assigned to the vacant room with Jean, now that Linda has been expelled. According to Mrs. Orcutt, a former actress herself, the front parlor of the boarding house exhibits a roped-off shrine of "the chair Bernhard sat in when she was rehearsing Queen Elizabeth over here. I was in the company." Another of the elderly boarders, an experienced actress named Catherine Luther (Constance Collier) remembers: "As a matter of fact, although it isn't generally known, Bernhard and I had the same coach."
As Jean hangs her stockings in her upstairs room, she witnesses men depositing Terry's three large trunks there and makes another acidic comment: "What is this, another boat docking?" After being introduced - again - to Terry by Mrs. Orcutt ("I'm quite sure you'll get on very well together"), Jean warily appraises her new room-mate as she moves from left to right into the frame in a full close-up shot and then leans against her dresser bureau. After stand-offish glances, Terry begins to unpack her commodious trunks. The two heroines competitively square off, battling against each other with a back-and-forth flurry of verbal retorts:
Jean: When does your baggage get here?
Terry: I'm expecting the bulk of it in the morning.
Jean: We could leave the trunks here and sleep in the hall. There's no use crowding the trunks.
Terry: I don't know what we're going to do when the wolfhounds arrive. I hope you don't mind animals.
Jean: Oh, not at all. I've roomed with a great many of them before.
Terry: Yes, I can see that.
Jean: (after smelling Terry's ermine wrap) Fresh kill?
Terry: Yes, I trapped them myself.
Jean: Do you mind if I ask a personal question?
Terry: Another one?
Jean: Are these trunks full of bodies?
Terry: (pointing to two of the trunks) Just those, but I don't intend to unpack them.
Jean: Well, I was just thinking if the room got too crowded, we could live in the trunks.
Terry: Yes, that's a good idea. You don't mind helping me unpack. Oh, I beg your pardon, you're not the maid, are you? (Terry drapes unpacked articles of clothing over Jean's arm.)
Jean: Oh, that's quite all right. What a lovely dress! Whipped up at home by loving hands.
Terry: Every stitch.
Jean: Do you cook too?
Terry: Nothing fancy. Just plain home-cooking.
Jean: I'll bet you could boil a terrific pan of water.
When Terry places a framed portrait of her grandfather on the top of a bureau, Jean chides her generous, privileged upbringing and the family resemblance "especially around the whiskers." Terry attempts to shrug off the steady stream of insults:
Terry: I see that in addition to your other charms, you have that insolence generated by an inferior upbringing.
Jean: Hmm. Fancy clothes, fancy language and everything.
Terry: Unfortunately, I learned to speak English correctly.
Jean: That won't be of much use to you here - we all speak pig Latin.
Terry: And I use the right knife and fork. I hope you don't mind.
Jean: All you need's the knife.
Downstairs in the parlor, the young actresses spend more time denouncing the new resident:
Judy: Did you get a load of that hat? I expected a rabbit to jump out any minute.
Another girl: Yeah, I thought old Orcutt would fall over in a faint when she handed her that fifty dollars.
A third girl: If she had a fifty dollar bill, what's she doing here?
Eve: It must have been counterfeit. There's no such thing as a fifty dollar bill.
Judy: You know, I think she's as phony as that bill...
Eve: Maybe she's a social worker doing a little slumming.
Judy: Well, she picked the right place.
As the boarders gather around and wait for the lamb-stew "sacrifice," another of the residents (beloved by all), a tired and depressed ("blue") Kaye Hamilton (Andrea Leeds), a gentle and sensitive, dark-haired brunette, returns with "great news" about another failed encounter:
Kaye: I actually saw one manager...It wasn't an interview. I just saw him as he rushed out of his office...
Judy: Well, at least you know there is such an animal. What did he look like?
Kaye: Like any other animal. He had on pants, a tie, and collar...
Eve: Did smoke come out of his nose?...
Judy: Did he say 'Man, Man' when you squeezed him?
Kaye: I didn't get that close to him.
Eve: You didn't see a manager, dearie. What you saw was a mirage.
The talented, out-of-work actress confides how disappointing it is to experience another fruitless day in producers' offices: "After playing a whole season in Powell's outer office, he might at least have said hello. It gets pretty discouraging once in a while but I guess it's all in the game." Because she is dirt-poor and three weeks behind on her rent at the boarding house, she forgoes meals: "I've practically been promised a part and I'm not eating any meals."
Upstairs while sitting on the second floor stairs with her, Jean commiserates with Kaye, last year's already-forgotten star, as she expresses how stricken and miserable she is after a whole year of not working. She has a burning desire to play the ingenue lead in a new play that Powell is planning entitled Enchanted April [An in-joke: this was the title of a disastrous 1935 RKO film.]:
Kaye: My mind's been wandering lately...Oh, it's just one of those days. Let's sit down and have a good cry...No casting today. Leave your name and telephone number and we'll get in touch with you later. Mr. Powell isn't seeing anyone until the end of the week. Last week, and the week before, and the week before that. Where did I ever get the idea that I was a good actress?
Jean: Say, who got all those rave notices a year ago?
Kaye: Yeah, but that was a year ago.
Jean: Oh boy, you do sound gloomy.
Kaye: Oh, I don't know why I'm hanging on except there's nothing else I can do and no one I can go back to, except someone I'll never go back to.
Jean: Listen, you don't have to go back to anybody. You're the best actress in this whole club. Something good's bound to be coming your way.
Kaye: Oh, I hope so. But it had better be soon.
Jean: Well, I don't mean to be butting into your private affairs, but I - if it's a matter of a few bucks, I'd be very...
Kaye: (frantically) Oh, Jean, I've got to get that part in Enchanted April. It's been my whole life. It's me. No one else can play that part. It belongs to me. (She tearfully and hysterically collapses into Jean's lap) Oh Jean, I've got to get that part.
Following dinner, the young actresses vehemently complain about the dinner food: "I got most of it caught in my teeth...Well, now I know why sheepherders go crazy. It's the lamb stew...Say, I bet Orcutt's husband died of wool poisoning...The coffee tastes like iodine. They ought to serve bandages with it...Yeah, it would make a good linament." A solicitous Catherine Luther praises and respects Terry for her intelligent dinner-time conversation about William Shakespeare's play Twelfth Night:
Catherine: I can't tell you how interested I was in your discussion of Twelfth Night. It was so intelligent.
Terry: Oh, thank you very much. I'm afraid that the rest of the inmates didn't share your enthusiasm.
Catherine: Barbarians! They've had no training, my dear, no training. Why, when I played in Twelfth Night...
Terry: Oh, did you play in Twelfth Night?
Catherine: Yes, I - I have a few of my notices here if you'd care to see them...Oh how lucky, they're right on top.