Background
---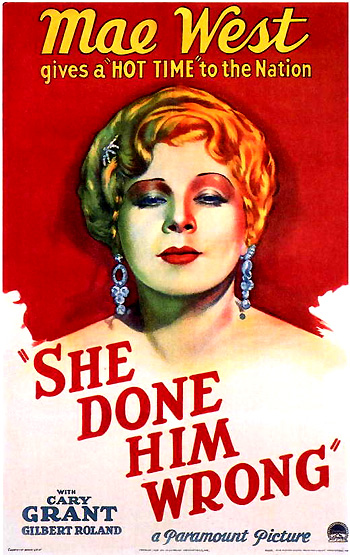 She Done Him Wrong (1933), from director Lowell Sherman, is Mae West's star-making, most famous film role as a liberated, racy woman who enjoys her sexuality - as a character named Lady 'Diamond' Lou. The Naughty/Gay Nineties character was a recreation of her 1928 Diamond Lil Broadway stage play (and its bejeweled title character). Credits for its screenplay are given to Harvey Thew, John Bright and Mae West herself.
The box-office smash film for Paramount Pictures, given a different title than Diamond Lil to disassociate itself from the toured, scandalous play during part of 1929, was shot in approximately three weeks (including rehearsal time). Its single Academy Award nomination was for Best Picture, but it lost to Cavalcade. (It was the only Mae West film ever to be nominated.)
The famous film, featuring West's first starring role (she had appeared in a supporting cameo role in Night After Night (1932) with George Raft), is filled with lots of clever innuendo, witty one-liners, and bold carnality, as she spouts irreverent one-liners (the oft-misquoted 'Why don't you come up sometime 'n see me?'), seduces a unspecified mission worker/undercover cop (Cary Grant), and sings bawdy songs (including Frankie and Johnny, I Like A Guy What Takes His Time, and Easy Rider).
It has been generally claimed that this film and West's other 1933 picture, I'm No Angel (1933), both helped to spur the coming of stricter enforcement by the Hays Production Code one year later, and the development of the Catholic Legion of Decency.
The film's criminal subplot about white slavery and counterfeiting was confusing due to the Hays Office's demands to rid the film of references to white slavery, although odd fragments remain. The tagline of one of the film's posters confirmed the film's dangerous sentiment:
"Mae West gives a 'HOT TIME' to the Nation."
The Story
---
A title card describes the Gay Nineties and the turn-of-the-century setting of New York City's Bowery:
When they did such things and they said such things on the Bowery. A lusty, brawling, florid decade when there were handlebars on lip and wheel - and legs were confidential!
Bejeweled chanteuse and brash entertainer Lady Lou (Mae West) works in the 1890s Bowery bar-room saloon of her boss and benefactor Gus Jordan (Noah Beery, Sr.), who has given her many diamonds (hence her nickname Diamond Lil). There is a large nude painting of her over the bar.
Unbeknownst to her, Gus traffics in white slavery (prostitution) and runs a counterfeiting ring (to help finance Lou's expensive diamonds). He also sends young women to San Francisco to be pickpockets. Gus works with two other crooked entertainer-assistants, Russian Rita (Rafaela Ottiano) and Rita's lover, the suave Serge Stanieff (Gilbert Roland).
A city mission (a thinly-disguised Salvation Army) is located next door to the bar. Its young missionary director, Captain Cummings (Cary Grant) is, in reality, an undercover agent working to infiltrate and expose the illegal activities in the bar. Gus is unaware, only worried that Captain Cummings will reform the place and scare away the bar's customers.
Lady Lou first appears riding in her carriage with a parasol, encouraging nasty looks from a group of women. She descends and affectionately pats a child's head. His mother remarks what a fine gal and woman she is. Lou announces herself as
...one of the finest women who ever walked the streets.
When introduced to Lady Lou, male admirer Serge kisses her hand gallantly: "I am delighted. I have heard so much about you." She answers: "Yeah, but you can't prove it." She shows the group a recent set of pictures she has had taken with her "rocks." One of them she prefaces by describing: "For the bedroom. A little bit spicy, but not too raw - you know what I mean?"
Upstairs, her black maid Pearl (Louise Beavers) is impressed by her riches: "You're so rich." Lou explains: "Yes. I wasn't always rich. No, there was a time I didn't know where my next husband was coming from." Lady Lou admits she has known harder times: "The wolf at my door? Why, I remember when he came right into my room and had pups!"
One day in the Jordan's barroom, a depressed young girl named Sally Glynn (Rochelle Hudson) enters with torn clothes. In silhouette, she attempts suicide but is prevented, and brought to Lou's upstairs room to recover. Lou perceptively knows it is a romantic problem with a man. Sally wonders how she knows a man is involved. Lou replies:
You know, it takes two to get one in trouble.
Lou asks: "What was he? Married?" Sally replies: "Yes, but I didn't know." Lou offers more advice:
Men's all alike - married or single. It's their game. I happen to be smart enough to play it their way. You'll come to it.
Lou suggests that Sally get some new clothes, and continues to encourage her: "Always remember to smile. You'll never have anything to worry about. Forget about this guy. See that you get a good one the next time." Sally is convinced that no one will ever want her after what she's done ("Who'd want me after what I've done?"). Lou replies, with a famous line:
Listen, when women go wrong, men go right after them.
Lou explains to Gus, Serge and Rita what the commotion was about: "Some guy done her wrong. The story's so old it should have been set to music long ago." Rita is interested in the innocent but wronged girl, thinking she might be useful to them (possibly as part of their corrupt racket as a prostitute on the "Barbary Coast"):
What a sweet, innocent face?...Can you sing and dance, perhaps?...Well, but you'd be willing to learn...Then I think I can find you a very nice position. Have you heard perhaps of the Barbary Coast?
Gus and Rita tell Lou that they will help the girl, but obviously they have their own intentions. As Serge leaves, Lou delivers a suggestive double-entendre line to him:
Lou: Come up again, anytime.
Serge: I shall. And I hope you will be alone.
Lou: So do I. (He graciously kisses her extended hand) Warm, dark, and handsome.
Lou postpones her activities if there are more important things to attend to, mostly male admirers. Pearl announces: "Your bath is ready, Miss Lou." Lady Lou replies: "You take it. I'm indisposed." Pearl and Lou have both noticed the man from the mission, Captain Cummings. Her maid notes that he is different from other admirers: "He ain't like the other men you done made history of."
Lou has forgotten former boyfriend Chick Clark (Owen Moore) who was convicted for robbery and went to prison for trying to steal diamonds for her. She is more attracted to the young handsome, psalm-singing Captain Cummings. Lou meets him and compliments him:
Lou (seductively): I always did like a man in a uniform. That one fits you grand. Why don't you come up sometime 'n see me? I'm home every evenin'.
Captain: Yeah, but I'm busy every evening.
Lou: Busy? So, what are you tryin' to do, insult me?
Captain: Why no, no, not at all. I'm just busy, that's all...
Lou: You ain't kiddin' me any. You know, I met your kind before. Why don't you come up sometime, huh?
Captain: Well, I...
Lou: Don't be afraid. I won't tell...Come up. I'll tell your fortune...Aw, you can be had.