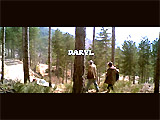 D.A.R.Y.L. (1985)
D.A.R.Y.L. was a sci-fi drama, from Australian director Simon Winder, about a super-intelligent, 10 year-old, precocious android boy (Barret Oliver) named Daryl (Data Analysing Robot Youth Lifeform). The mysterious and miraculous boy possessed a computer brain and an organic body - he was created as a government experiment in artificial intelligence (AI).
After he was freed by sympathetic scientist Dr. Mulligan (Richard Hammatt), amnesiac Daryl lived with adoptive foster parents, a childless couple named the Richardsons, for awhile.
Joyce Richardson (Mary Beth Hurt)
Andy Richardson (Michael McKean)
With them, he learned human socialization skills and traits, and some new emotional responses. When Daryl's whereabouts were discovered, he was returned to the top-secret government facility where he was created (the TASCOM facility in Washington, D.C.), to be examined by military scientists.
In the disquieting, disturbing scene, Daryl was wired up for tests and exams on a table and scans were completed, to see why he was "malfunctioning." Daryl betrayed his true nature as a human that was capable of showing emotions (fear and anxiety) when he conveyed the computer-printed words on a monitor: "I'M FRIGHTENED." When the words were read, the tests were cancelled by Dr. Jeffrey Stewart (Josef Sommer) ("No tests, okay?").
However, other scientists and the military judged the D.A.R.Y.L. experiment to be a failure - Daryl was only considered to be a faulty, malfunctioning, and "expensive piece of hardware." A decision was made by the evil military establishment to terminate the project - which meant destroying Daryl, their human-acting robot. As one general put it:
Baseball? Ice-cream preferences? Friendships? That's all right for America, but hardly what we need in the Department of Defense. The Joint Chiefs have made their decision in light of this report. Youth Lifeform Project as of now is terminated.
The military chiefs wished to create an "adult version" of the D.A.R.Y.L. prototype ("a fearless, technically-skilled, devastating soldier"): "D.A.R.Y.L. goes to the scrapyard."
In the film's exciting conclusion, Dr. Stewart was mortally wounded during an attempt to free Daryl and return him to his foster parents. Daryl's escape in a USAF Lockheed Blackbird aircraft ended when the plane was self-destructed and the ejected Daryl 'drowned' in a lake. Although declared officially dead (and no longer a target by TASCOM), Daryl's electronic brain was reactivated and he was joyfully reunited with his parents.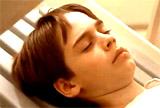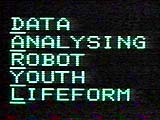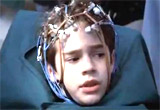 Daryl - Experiment in Artificial Intelligence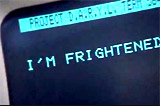 "I'm Frightened"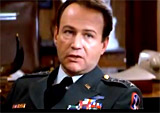 "Youth Lifeform Project as Of Now Is Terminated"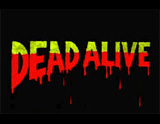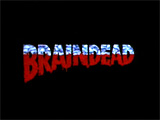 Dead Alive (1992, NZ) (aka Braindead)
#21

This over-the-top, disgusting, bloody and gory R-rated Peter Jackson horror-comedy zombie film, his third feature film following Bad Taste (1987, NZ) and Meet the Feebles (1989, NZ), was indisputably the goriest, grossest, and bloodiest (and funniest) film ever made. Its low-budget production (at $3 million) grossed only $242,623 - a major box-office disaster. Full of bad taste and cartoonish splatterings, some of the slapstick cult horror film's gory parts were often banned, edited, or censored. Its morbid gore and blood was reminiscent of Re-Animator (1985) and Evil Dead 2: Dead by Dawn (1987).
The deranged film's tagline was:
"Some things won't stay down...even after they die."
The film set up its premise in a pre-titles prologue - on Sumatra's Skull Island in 1957, zoo animal explorer Stewart McAlden (Bill Ralston) and his assistant were attacked by spear-throwing, face-painted natives, for trying to remove a rare Sumatran Rat-Monkey in a cage from the island. The dangerous creation was a rabid, hybrid organism (part monkey and part rat) that resulted from the rape of tree monkeys on Sumatra's Skull Island by ravenous, plague-carrying rats. During a rapid flight from the natives, Stewart became the first human to be infected by multiple rat-monkey bites, with bite marks on his right hand, left arm, and also scratch marks on his forehead. His fearful guides amputated his two appendages before it was eventually decided to slice off his head with a machete, to prevent the spread. Animated blood splattered as his head was chopped off, leading into the title credits. Stewart's captured rat-monkey was flown in a crate to a zoo in the New Zealand town of Wellington.
Multiple Amputations and Decapitation of Explorer Stewart
Shy bachelor, and clumsy, dweebish mama's boy Lionel Cosgrove (Timothy Balme) lived with his oppressive Mum Vera Elizabeth Cosgrove (Elizabeth Moody) in Wellington, NZ, in a multi-story Victorian mansion set on a hillside. The domineering and overbearing Vera developed an instant dislike for Lionel's growing romance with his first girlfriend - a sweet young grocery store clerk named Paquita María Sánchez (Diana Peñalver), a local Spanish shopkeeper's (Silvio Famularo) daughter.
During their first date at the zoo, Lionel experienced a haunting, long-held memoriy of his father's death when he was attempting to rescue young Lionel from drowning at the beach. They watched in horror when inside the monkey cage, the nasty, vicious and super-rare, infected rat-monkey (SIMIAN RATICUS) dismembered another monkey's appendage and cannibalized it. The attending zoo keeper described the rat-monkey's origins: "Story goes, these great big rats come scuttling off the slave ships and raped all the little tree monkeys. You know, the natives use 'em in black magic rituals. Don't ask me how, probably suck the blood of virgins, eh, eh?"
When Vera jealously followed them to the zoo to spy on the couple from afar, she slipped and fell up against the monkey cage, and was attacked and bitten in the left-arm by the rat-monkey: "Look at this! It bit me. I've been savaged! And my dress!" She angrily squashed its head with one of her high-heeled stiletto shoes to kill it. Lionel's date with Paquita was ruined, and she was disappointed that Lionel chose to devote himself to his Mum rather than her, although they made up that evening and Paquita strongly believed that he was her chosen one: "There will be one romance, and it shall last forever" - they slept together, although there were omens of death, dark forces, fear, danger and destruction foreseen by Paquita's grandmother (Davina Whitehouse) for the future. [Later, the grandmother presented Lionel with a necklace/pendant in the shape of a pointed cross to wear, to protect him with "the power of the White Knight."]
Rat-Monkey Incident at the Zoo
That same evening and into the next day, Vera began to show signs of physical deterioration, slurred speech, pus leakage on her arm and pulsating infection, face-skin peeling, zombification, a ravenous appetite for live flesh, and increased decrepitness.
In the outrageous custard-eating lunch scene with Vera's friends, the Mathesons, over for lunch to represent the Wellington Ladies Welfare League, Vera accidentally squirted pus from her arm bandage into Mr. Matheson's (Lewis Rowe) bowl of porridge-pudding dessert, as he was noting aptly while taking a spoonful with his eyes closed: "Damn fine custard, rich and creamy, just the way I like it!" When her rotting right ear (with a pearl earring) fell off into her own custard pudding dish, Vera disgustingly ate it with the mush. The nauseated Mrs. Nora Matheson (Glenis Levestam) excused herself from the table to run off and barf before the couple fled.
Rotting and Deteriorating Vera Cosgrove

The Porridge/Custard Pus and Ear Eating Scene
Shortly later, Vera's desire for meat compelled her to eat Paquita's dog in her bedroom. Paquita exclaimed to Lionel: "Your mother ate my dog!" He responded with understatement: "Not all of it."
The Remains of Paquita's Dog Consumed by Vera (Paquita: "Your mother ate my dog!")
Vera seemed to succumb to her condition, after which she reanimated as a murderous zombie (Elizabeth Brimilcombe) and killed her attending nurse Mrs. Emma McTavish (Brenda Kendall) by attacking her face from behind, thereby infecting her as well. To prevent Vera and the Nurse from any more harm and from infecting others, Lionel pushed the two zombies into the basement and locked the door. He kept their confinement and condition a secret from Paquita. He then injected them with a sedative (animal tranquilizer) obtained from a veterinary office. Shortly later, Vera escaped from her imprisonment by busting through the door, but was hit by a passing tram in front of Paquita's store. Her body was propelled through the door and landed at Lionel's feet. He again tranquilized her with a shot of sedative to her nostril to subdue her.
Lionel arranged for his mother's memorial service (led by Father Jon McGruder (Stuart Devenie)), funeral and burial in a church graveyard. Lionel's greedy and eagerly opportunistic uncle Les Kalkon (Ian Watkin) suspected that his sister Vera was deceased and arrived to attend the service - and to dispute the "inheritance" of the Cosgrove estate after her death. The despicable Les also attempted to come onto Paquita. During the service as the Father intoned: "Lionel, despite being deprived of his father at an early age, was blessed with an abundance of mother love," Lionel was with his mother's coffin in a back room. He approached her still-alive body in her coffin to tranquilize her and to prevent her from assaulting the mourners, when she burst out of the coffin and tried to strangle him. He crashed through the wall into the church service, disrupting the proceedings. The Father shockingly observed Lionel hugging his mother's corpse: "Well I've seen some displays of grief in my day, but nothing quite like that."
After the service, in the middle of the night in the cemetery, Lionel was digging up his mother's grave when he was attacked and robbed by a foursome of punk delinquents, one of whom - Thomas Jacob "Void" Randell (Jed Brophy) - was urinating on Vera's gravesite (Lionel: "That's my mother you're pissing on"). Vera soon caused a zombie outbreak when she burst out of her grave, grabbed Void by the groin and disintegrated him and one his buddies, tranforming them into zombies. The alerted Father McGruder, actually a Kung-Fu Priest, attacked the two newly-enlivened zombies ("This calls for divine intervention...I kick arse for the Lord") and kicked the head off of one of them, but it landed on his shoulder and he was bitten and also became 'undead.' Lionel was forced to continue to keep the sedated zombies: Vera, Void, the Father, and the Nurse in his home's locked and concealed basement, feeding them mush laced with tranquilizers.
During an unexpected visit, Les overheard the Father and Mrs. McTavish having loud sexual intercourse in the dining room behind closed doors and suspected something kinky was happening: "Ahhh, so you found your dad's old stag movies, hey?... Is that the one with the donkey and the chambermaid?" But then he left without any further questions. As a result of their love-making, the Father and Mrs. McTavish produced a troublesome Baby Zombie Selwyn Matheson (Daniel Sabic) that was birthed almost immediately.
[Note: The zombie birth scene paid homage to the birth scene in It's Alive (1974), and was copied in Dawn of the Dead (2004).]
Lionel struggled in the park to take care of the aggressive, problematic baby. Shortly later, Les returned and discovered the zombies ("collection of stiffs") in the basement. He quickly blackmailed his nephew Lionel to relinquish his demands for the house and his inheritance, and then moved into Vera's luxurious mansion. Although Lionel objected, Les held an impromptu house-warming party to celebrate his acquisition of the Cosgrove property. Paquita entered the raucous house to find Lionel, and was sexually-assaulted by Les - she kicked him in the groin. Lionel came to her rescue when she was attacked in the basement, and they finally reconciled and got back together. She encouraged him to destroy the zombies. After all of them were injected, they were buried in the basement's soil.
As the two emerged from the basement, Les grabbed his nephew and threw him down the stairs into the locked cellar, where Lionel discovered to his horror that he had wrongly administered an animal stimulant (rather than poison) to the zombies in the basement - it only activated their condition. Paquita was again attacked by Les and this time dragged into a side room to be raped. She fought back while simultaneously, the 'family' of zombies burst out of the soil in the basement. Super-energized and super-strong, they emerged upstairs where they attacked the party guests in an extended sequence of complete chaos and mayhem.
During the climactic party scene, one flesh-eating living dead zombie removed a man's rib-cage, while another's face was pulled off, while another woman had her heart snatched from her chest. One man's legs were stripped of flesh. A fist was punched through the back of a woman's head and emerged out of her mouth. Even severed limbs (entrails and bowels) could continue to attack after being cut away. The regeneration or reanimation of dead guests who were transformed into new zombies intensified the havoc.
Attack on Party-Goers


Rib-Cage Removed


Face Ripped Off


Heart Snatched From Chest


Legs Stripped of Flesh


Punched In Back of the Neck Through Mouth


Attacking Entrails
Zombified Void chased after Lionel through a bathroom into the attic, even though his body was cut in half (and both parts moved separately). Even his intestines moved independently. He was able to eventually pull all his disparate parts together and launch one final attack, although Lionel escaped, but continued to be pursued
In the attic in an old wooden chest, Lionel discovered B/W photographs of his father with a mistress, and then found the skeletal rotting remains of his father.
The zombie baby struck Les in the groin with a severed leg, causing Les to pursue Selwyn into the basement where he discovered Lionel's mother Vera unearthing herself from the soil. She grabbed him in the groin and then obliterated Les by pulling him up, thereby stretching his lengthy spinal cord and head from his body (seen in a silhouetted shadow), as Baby Selwyn chuckled.
Most of the horde of zombies were finally massacred in the infamous and climactic zombie slaughter scene when dweebish Lionel strapped a running rotary-blade lawnmower (with the blades facing outwards) to his chest ("Party's over!") in the room full of party-crashing zombies - he sent buckets of blood, stringy intestines, spinal cords and body parts flying everywhere. After one pass through the zombies, he turned and grinded through them a second time. One decapitated head (with glasses) was chewed up in a blender. Paquita was able to destroy Les' zombified head by after spitting in his face by grabbing the attached spinal cord, swinging it around, and pounding it into a table-top counter.
One of the most grisly images was of Baby Selwyn emerging from inside the body of bespectacled Rita (Elizabeth Mulfaxe), who had been zombified earlier from a bite. The baby's hands appeared on both sides of her head and pulled her face apart. At the same time, zombie Mandy's (Tina Regtien) head (impaled on a lighted bulb) ignited, and Paquita added to the flames by opening the gas valve nozzle to set the house ablaze.
Vera's Grotesque Transformation Into a Naked, Disfigured Zombie
Vera was now transformed into a gigantic, grotesque, bloated, naked, over-estrogenized, fertile monster with a distorted huge head and pendulous breasts. She appeared and pursued Paquita and Lionel to the rooftop (through a fireplace chimney) where she cornered them during a final stand-off, while the house was becoming engulfed in flames.
Lionel confronted his mother about the reason for his father's demise, admitting that as a child, he had witnessed Vera drowning his father and his mistress in the bathtub:
"You don't scare me, Mum! All my life, you told me nothing but lies! That stuff about Dad? None of that was true! You drowned them both, Mum! Dad and that blonde woman, you caught them together and you killed them, didn't you?!"
She had lied to him about the beach-drowning accident. Enraged, she opened up a cavity in her stomach and swallowed up Lionel by stuffing him back into her womb, to be with her forever. She enveloped him inside her opened-up body, declaring: "No-one will ever love you like your mother!...Such a good boy!"
She also tried to kill Paquita, who screamed in horror while dangling and hanging from the rooftop. Lionel retaliated by rebirthing himself - cutting his way out of her giant, blood-gushing womb with the sharp necklace (a pendant-cross) he had been given by Paquita's grandmother. He emerged from her bloody placenta, as Vera fell back into the burning house's roof while fire officials arrived.
Vera's Opened-Up Womb - Sealing Lionel Inside


Lionel Gushing Out After Cutting Through With Pendant


Lionel Reborn From Vera's Bloody Placenta
Covered in bloody gore, Lionel and Paquita kissed, embraced and walked away, together at last.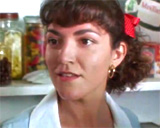 Paquita María Sánchez (Diana Peñalver)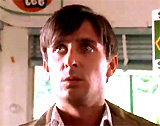 Lionel Cosgrove (Timothy Balme)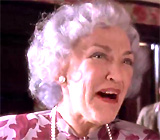 Mum Vera Cosgrove (Elizabeth Moody)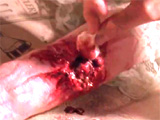 Vera's Infected Arm Bite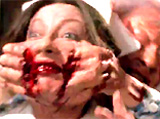 Re-Animated Vera's Murder of Nurse Mrs. Emma McTavish (Brenda Kendall) From Behind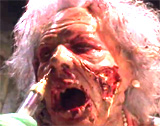 In Cellar, Zombie Vera Injected with Animal Tranquilizer Sedative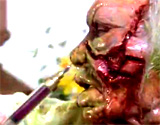 Lionel Tranquilizing Vera in Her Coffin at Funeral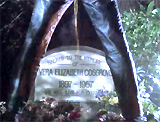 Void Pissing on Vera's Cemetery Grave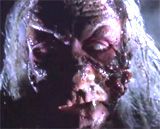 Zombified Vera's Attack on Hoodlums in Cemetery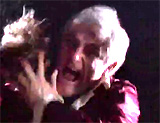 The Father Bitten by Decapitated Zombie Head During Cemetery Fight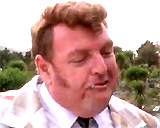 Lionel's Uncle Les Kalkon (Ian Watkin)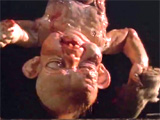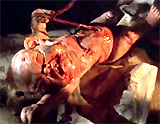 Zombie Baby Selwyn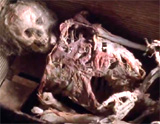 Skeletal Remains of Lionel's Father in Attic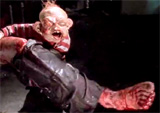 Baby Selwyn Using Severed Leg as Weapon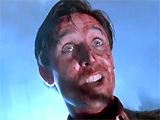 Lionel: "Party's Over"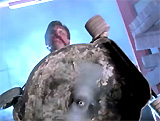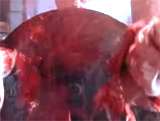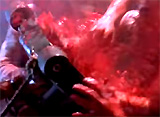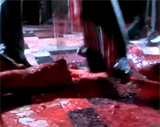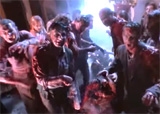 Rotary-Blade Lawnmower Scene - Lionel's Retaliation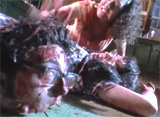 Decapitated Zombies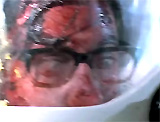 Severed Head Stuffed in Blender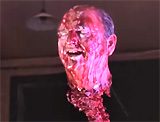 Les' Zombified Head on an Extended Spinal Cord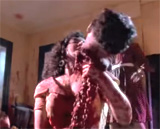 Paquita Destroying Les' Head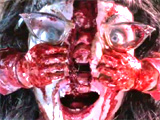 Baby Selwin Within Rita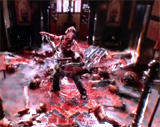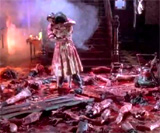 The Aftermath of Bloody Mower-Massacre - Paquita and Lionel Hug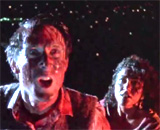 On the Rooftop: Lionel to His Mum: "You don't scare me, Mum!"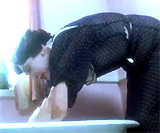 Lionel's Flashback to His Mum's Act of Murder That He Witnessed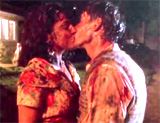 Ending Image: A Kiss Between Paquita and Lionel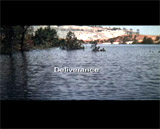 #63

British director John Boorman's gripping, absorbing action-adventure film told about four suburban Atlanta businessmen friends who encountered disaster in a summer weekend's river-canoeing trip.
At shot-gun-point in the woods, in a nightmarish and frightening sequence, a sexually-perverted, gay rustic hillbilly (Bill McKinney) viciously targeted and humiliated Bobby Trippe (Ned Beatty in his film debut) - a chubby-faced insurance salesman - viewing him as a defenseless intruder into his territory.
Strapped against a tree, his partner Ed Gentry (Jon Voight) helplessly watched in horror as the Toothless Man terrorized Bobby. He forced the overweight, middle-class salesman to first strip down to his underwear. After a degrading roll around in the dirt and up a steep, leaf-strewn hillside while fondling and groping his prey. The mountain man/rapist made Bobby squeal like a female sow before sodomizing him:
Mountain Man: Now, let's you just drop them pants.
Bobby: Drop?
Mountain Man: Just take 'em right off.
Bobby: I-I mean, what's this all about?
Toothless Man: Don't say anything, just do it.
Mountain Man: Just drop 'em, boy! (To Ed - at knifepoint) You ever had your balls cut off, you f--kin' ape?
Bobby: Lord.
Mountain Man: Look at there, that's sharp. I bet it'd shave a hair.
Toothless Man: Why don't ya try it and see?
Bobby: Lord, lord. Deliver us from all.
Toothless Man (To Bobby): Pull off that little ol' bitty shirt there, too. (To Mountain Man) Did he bleed?
Mountain Man: He bled. (To Bobby) Them panties, take 'em off. (After attacking him) Get up, boy. Come on, get on up there.
Bobby: No, no, no. Oh, no. No. Don't.
Mountain Man: Hey boy. You look just like a hog.
Bobby: Don't, don't.
Mountain Man: Just like a hog. Come here, piggy, piggy, piggy. (Holding Bobby's nose as he straddled him from behind) Come on, piggy, come on, piggy, come on, piggy, give me a ride, a ride. Hey, boy. Get up and give me a ride.
Bobby: All right.
Mountain Man: Get up and give me a ride, boy.
Bobby: All right. All right.
Mountain Man: Get up! Get up there!
Bobby: All right. (His underwear was pulled off) Oh no, no!
Mountain Man: Looks like we got us a sow here, instead of a boar.
Bobby: Don't. Don't.
Mountain Man: What's the matter, boy? I bet you can squeal. I bet you can squeal like a pig. Let's squeal. Squeal now. Squeal. (Bobby's ear was pulled)
Bobby: Wheeeeeeeeeeeeeee!
Mountain Man: Squeal. Squeal louder. Louder. Louder, louder. Louder! Louder! Louder! Get down now, boy. There, get them britches down. That's that. You can do better than that, boy. You can do better than that. Come on, squeal. Squeal.
The final frightening image of the entire film was of Ed, snapping awake next to his wife from a vivid nightmare of his journey. He was fearfully haunted by a white, bony hand (of the Mountain Man that was murdered by Lewis (Burt Reynolds)) rising above the surface of the water of the newly-flooded wilderness.
The man's stiff, outstretched hand - pointing nowhere - served as a signpost. Ed laid back in his wife's arms - unable to rest and experience 'deliverance' from his recurring nightmare of their experience with extreme violence.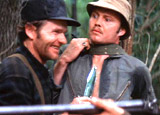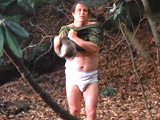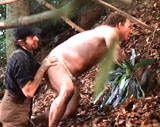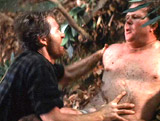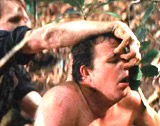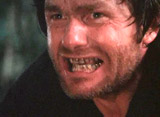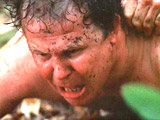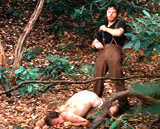 Rape Sequence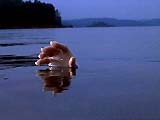 Film's Nightmarish Epilogue - Floating Hand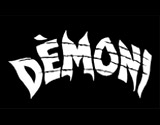 Demons (1985, It.) (aka Dèmoni)
#53

This mid-1980s gory Italian horror film was set in a movie theatre (with the familiar concept of a "movie within a movie"). The Italian production was directed by Lamberto Bava, and produced and co-written by Dario Argento.
The cult classic opened with Cheryl (Natasha Hovey), a pretty music-major college student in an almost abandoned subway station in Berlin, Germany, being offered free movie tickets by a creepy, black-robed, silver-masked guy (Michele Soavi). They were free invitation-only passes to a grand reopening of the renovated Metropol movie-house. With her friend Kathy (Paola Cozzo), the two attended the showing of a horror film in the cathedral-like building. Other individuals at the showing included:
Tony (Bobby Rhodes), a black pimp with a white suit, bald head, sideburns and Fu Manchu mustache
Rosemary (Geretta Geretta) and Carmen (Fabiola Toledo), Tony's two favorite black prostitutes
Hannah (Fiore Argento) and Tommy (Guido Baldi), young lovers
Werner (Alex Serra) - a blind man, Liz (Enrica Maria Scrivano) - Werner's guide and daughter, and Liz's Lover (Claudio Spadaro)
Frank (Stelio Candelli) and Ruth (Nicole Tessier), an elderly, married bickering couple
George (Urbano Barberini) and Ken (Karl Zinny), two preppy college kids
The movie that was projected was a horror film - the movie within a movie. Four teen-aged students in a graveyard crypt found a book written by 16th century fortune-teller Nostradamus in a tomb and a silver mask (similar to the one in the theatre lobby). They were warned - whoever wears the mask becomes a demon. The mask scratched the face of one of the students (Michele Soavi), causing him to turn on his friends with a knife and murder them.
Similarly, Rosemary received a bloody cut on her cheek after she tried on the silver mask in the lobby. During a trip to the yellow-colored women's restroom, the pus-filled wound grew, exploded, and she soon became a bloodthirsty demon with red eyes, fangs, and vampire-shaped nails.
In one close-up during the many demon transformations, teeth popped out to be replaced by fangs, and grotesque tongues grew.
Grotesque Demon Transformations
As the show progressed, movie patrons were attacked. In flight, Carmen came from behind the canvas movie screen, pursued by the slime-spewing demons (as the infection spread) at the start of a series of gory, blood-splattering scenes.
Bravo's scariest scene(s) involved the ever-present scratching and ripping apart of flesh and throats by claws and fangs, as the trapped audience members vainly fled to the bricked-over exits to escape. Gore included scalpings and beheadings, fingers blown off, eye-gougings, slashings, impalings, and disembowelings. In one incredible scene, a nasty black male demon burst from Kathy's back. Lobby display swords, a motorcycle and a rescue helicopter figured into the spiraling action as George and Cheryl escaped, but found the outside world also overrun by zombie demons. By film's end, the only surviving audience member was George.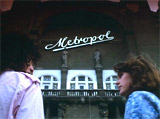 Metropol Movie House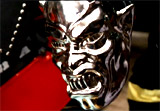 Silver Mask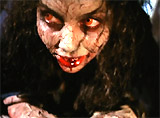 Rosemary as Demon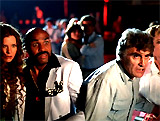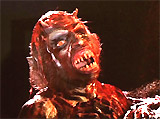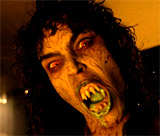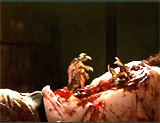 Zombie Attacks on Audience Members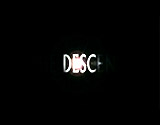 The Descent (2005, UK)
#1

Neil Marshall's claustrophobic horror thriller told about a group of six, extremely-athletic female spelunkers (six unknown actresses) including:
Sarah Carter (Shauna MacDonald), Scottish protagonist
Juno Kaplan (Natalie Mendoza), macho expedition leader
Sam (MyAnna Buring)
Rebecca (Saskia Mulder)
Beth O'Brien (Alex Reid)
Holly (Nora-Jane Noone)
The group were trapped deep underground in the dark in an Appalachian cavern after a cave-in. They realized that they were in the wrong place - not Boreham Caverns but an unknown and unmapped section ("We're in the wrong f--kin' cave!"). Juno admitted to everyone: "It hasn't got a name. It's a new system. I wanted us all to discover it. No one's ever been down here before." The six were very concerned that there wouldn't be a way out of the chamber.
The first intimation of horror was a quick appearance of a hairless, pale creature in the distance drinking water. The horrors were revealed to be predatory, sharp-toothed, whitish, carnivorous humanoid underground beasts called "crawlers" in the thick darkness, who attacked them relentlessly in the maze-like, entrapping lair. Sarah explained: "They're totally blind, and judging from what we've seen, I'd say they use sound to hunt with - like a bat. And they've evolved perfectly to live down (here) in the dark."
Beth's Accidental Life-Threatening Injury After Juno Fought Off a Creature
Holly was the first to have her throat ripped out by one of the crawlers. Juno was viciously attacked, and after knifing the creature with her pick-axe, she quickly turned around fearing another creature behind her. Horrified, she realized that she had swung her pick-axe and accidentally speared Beth in the neck. Later, Beth begged to be mercy-killed by Sarah, and her head was bashed in with a large rock. After she had killed one of the younger creatures, the beast's mother (with visible breasts) attacked Sarah and together they fell into a bloody pool. To protect herself, Sarah reached for a jagged bone and stabbed the creature in the eye - killing it.
Sarah's Killing (Stabbing in the Eye with a Bone) an Attacking Female Creature in a Bloody Pool
Sam and Rebecca were the next two victims of the creatures - Sam had her throat ripped while attempting to climb across a rocky roof to safety, and Rebecca was cannibalized alive when her stomach was chomped. Sarah and Juno were left to battle four of the creatures and a second wave of attackers. They were successful, although there was a confrontation between the two (Sarah believed that Juno had purposely harmed Beth), and Juno was injured by Sarah's pick-axe.
In the ending, the wounded Juno died (off-screen) when she was surrounded by the creatures, but Sarah survived after escaping and falling unconscious down a chute. When she awoke, she crawled up a long pile of skeletal bones into daylight, where she emerged from the ground, took a deep breath of air, and then ran hysterically through the woods to her vehicle and drove away.
After she stopped by the side of the road to puke, Sarah turned and saw Juno (with a blood-streaked face) in the passenger seat - Sarah screamed - and then the trauma of the vision caused her to awaken underground, where she realized that her escape was only an hallucination.
| | |
| --- | --- |
| Sarah Driving Off - Overwhelmed | Vision of Juno in Car - Sarah's Traumatic Scream |
| Only an Hallucination - Sarah Back in the Cave | Her Daughter Jessica's Birthday Cake |
In one final vision, she imagined her tragically-killed daughter Jessica's birthday (and a candle-covered birthday cake) as she stared into her torch's flame (her daughter spoke: "Mummy?"), and the camera drew backward into the darkness as her flame began to dim. She had imagined that the flickering flames of her torch were the candles on the cake. The sounds of creatures threatening to attack were heard. The credits played atop a black and white group photo of the six cave-explorers.
[In the North American release, the film ended a minute earlier, at the point where Sarah saw Juno. The UK version was considered too dark for American audiences and was modified.]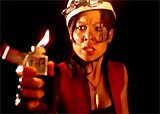 Juno - Lost!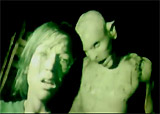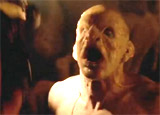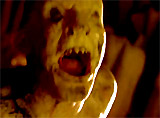 The First Creature Attacks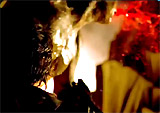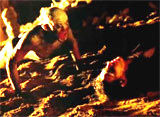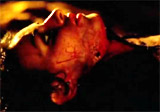 Holly's Throat Bitten and Ripped Out by a Crawler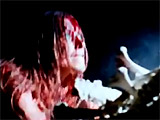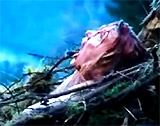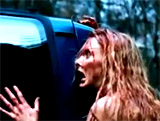 Sarah's Escape to Daylight and a Vehicle?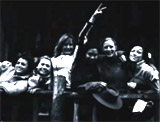 B/W Photo of Six
Spelunkers