Background
---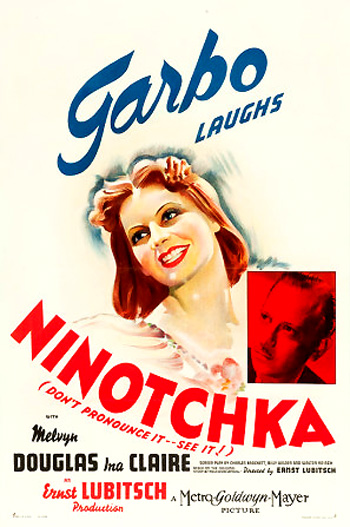 Ninotchka (1939) was the long-awaited, classic romantic comedy, with a clever and witty script and the magnificent presence of actress Greta Garbo in her first official American comedy (in her next-to-last film). The charming film about clashing ideologies (Soviet communism vs. capitalism) begins with Garbo portrayed at first as a humorless, cold, curt, deadpan, and seriously-austere Russian envoy (in a parody of her own stiff onscreen image), who soon melts and is transformed and softened by Parisian love (and a persuasive playboy Count) into a frivolous, romantic figure and converted Communist.
The charming, sparkling screenplay that satirizes the Communist political system with sexual humor was written by Billy Wilder (before he became a director), Charles Brackett and Walter Reisch, based on a screen story by Melchior Lengyel. They returned to a slightly similar theme two years later in their screenplay for Ball of Fire (1941).
Other spin-offs of the Ninotchka theme include MGM's Comrade X (1940) with Clark Gable and Hedy Lamarr (in the Soviet Union), and The Iron Petticoat (1956) with Katharine Hepburn and Bob Hope (in London). The storyline also became the foundation for the Broadway (Cole Porter) stage musical Silk Stockings - that was later filmed by director Rouben Mamoulian in a 1957 film version with Cyd Charisse in Garbo's role opposite Fred Astaire.
The film was nominated for four Academy Awards (with no wins in the year of the victorious Gone With the Wind), including Best Picture, Best Actress (Greta Garbo with her fourth and last unsuccessful nomination), Best Original Story (Melchior Lengyel), and Best Screenplay (co-writer Billy Wilder's first of a career 21 nominations). Director Ernst Lubitsch wasn't even nominated!
MGM's film promotions and publicity used the slogan: "Garbo Laughs!" capitalizing on the legendary Garbo mystique and persona and promising to humanize it. She succumbs to laughter in the film when her co-star falls clumsily from a cafe chair after a joke he has told fails to produce a response. [Note: This was shades of an earlier campaign for her talkie debut in Anna Christie (1930) - "Garbo Talks!"] Additional ads proclaimed: "Don't Pronounce It - See It!"
Masterfully produced and directed by Ernst Lubitsch, known for sophisticated, witty, and stylish comedies, this film was major star Greta Garbo's 26th film (and only Lubitsch film), and considered to be her last great film. Few of the easily-recognizable, elegant "Lubitsch touches" are obvious throughout the film, although the film gracefully and elegantly presents the romantic love affair between the two lead characters. [Note: Melvyn Douglas and Greta Garbo had previously appeared in only one other film, As You Desire Me (1932), and they also starred together in Two-Faced Woman (1941), Garbo's last film when she quit the industry at age 36.]
The film is also noted for being one of the earliest political spoofs of Stalin's Communist Russia (with its absolute control, power of censorship, and drab life of deprivation for average citizens), especially remarkable because the film was released during war in Europe (a month after Hitler's Nazi Germany invaded Poland). The Russian emissaries in the film are portrayed as comedic, stereotypical caricatures who actually take a liking to the capitalistic system. When the film was released, it was banned in the Soviet Union and its satellites. Lubitsch would go on to make an even more biting wartime comedy a few years later, To Be or Not to Be (1942), with Carole Lombard and Jack Benny.
Plot Synopsis
---
After the credits, the film's prologue is viewed over a long shot view of the Place de la Concorde in Paris:
This picture takes place in Paris in those wonderful days when a siren was a brunette and not an alarm --- and if a Frenchman turned out the light, it was not on account of an air raid!
One by one, three strangely dressed Russians - all comic stereotypes - enter through a hotel lobby's revolving door and into the luxurious, first-class Parisian Hotel Clarence. Each of them looks around in awe at the splendid hotel, raising the curiosity of the hotel's manager (Rolfe Sedan). The Russian comrades [three German emigrants in real-life] who are being spoofed are:
Buljanoff (Felix Bressart): timid and bespectacled, with a small moustache
Michael Iranoff (Sig Rumann): fur-capped, burly and bearded
Kopalski (Alexander Granach): short, fat, and dim-witted
Outside on the street, the Russian functionaries are viewed discussing whether they should stay in such a fancy hotel. They feel only slightly guilty about a life of luxury as they ask themselves:
Kopalski: Comrades, why should we lie to each other? It's wonderful.
Iranoff: Let's be honest. Have we anything like it in Russia?...Can you imagine what the beds would be in a hotel like that?
However, Buljanoff thinks it would be best for them to live like the common people and go back to their cheaper Hotel Terminus, where the Soviet Russian government had made reservations for them: "We are on an official mission, and we have no right to change the orders of our superiors...I don't want to go to Siberia!" Courageous Kopalski and then Iranoff persuade Buljanoff to change his mind, persuading him that Lenin would approve: "Buljanoff, Comrade, for once in your life, you're in Paris. Don't be a fool," and "Doesn't the prestige of the Bolsheviks mean anything to you? Do you want to live in a hotel where you press for the hot water, and cold water comes? And when you press for the cold water, nothing comes at all. Phooey, Buljanoff."
Having decided to stay in one of the nicest hotels in Paris, they ask where they can lock up their only piece of luggage - a large, double-handled suitcase. The manager informs them that none of the boxes in the hotel's vaults are large enough, but there is a private safe big enough to hold it in the Royal Suite. However, the manager explains: "The apartment may suit your convenience but I doubt that it will fit your convictions." After a short discussion, the three committee members decide they must take the Royal Suite because of its safe - defending and rationalizing their right to have a good time. In the suite, they stash the suitcase in the large vault in the room.
A Russian exiled waiter, Count Alexis Rakonin (Gregory Gaye), who is preparing the room's breakfast table, overhears Iranoff's phone conversation with a Parisian jeweler named Mercier (Edwin Maxwell). Iranoff explains the Russian emissaries' mission to sell confiscated imperial jewels (encased in the vault), acquired during the Bolshevik Revolution, and originally owned by Grand Duchess Swana:
Yes, we have everything here, the necklace too. All fourteen pieces...the court jewels of the Grand Duchess Swana...
The waiter, a Czarist spy, hurriedly leaves the room and the Hotel Clarence. He steps into a taxi and asks for "Eight Rue de Chalon." The next scene is introduced by the exterior house number - 8 - the luxurious residence on Rue de Chalon of the former owner of the 'legally confiscated' jewels - the ultra-sophisticated Grand Duchess Swana (Ina Claire, former wife of actor John Gilbert, who reportedly had an affair with Garbo in the 20s), who now lives in exile in the French capital. The noblewoman is very brittle, self-absorbed and vain - illustrated by how she looks at herself in a hand-held mirror and talks to herself:
It's really a wretched morning, wretched. I can't get myself right. I wanted to look mellow and I look brittle. My face doesn't compose well - it's all highlights. How can I dim myself down, Leon? Suggest something. Oh, I'm so bored with this face. I wish I had someone else's face. Whose face would you have if you had your choice? Oh well, I guess one gets the face one deserves.
Her dapper boyfriend/lover, who shares her cynical view of love and a business partnership, is the suave and handsome playboy Count Leon D'Algout (Melvyn Douglas), who responds wittily: "There's one marvelous advantage to your conversation, Swana. However many questions you ask, you never expect an answer." In her dressing room, they discuss his negotiations to sell the Duchess's memoirs and "life's secrets" to be printed in the Gazette Parisienne as "The Life and Loves of the Grand Duchess Swana of Russia":
We won't have to worry about our future if you're willing to raffle off your past.
A knock on the door interrupts them. Sympathetic and loyal to the Duchess' cause, Rakonin nervously enters and tells her that he remembers having been on guard at the summer palace during one of the Czar's birthday celebrations, viewing her wearing her "diadem and a necklace." He informs on the three Russian committee members, telling her that they have been ordered to sell her jewels in Paris to raise money for their financially-ailing country:
It's something of the utmost importance. It concerns your jewels...They are here. Your jewels here in Paris...This morning, three Soviet agents arrived. I overheard a telephone conversation with Mercier the jeweler. Your Highness, they are going to sell them.
Incensed but unable to purchase the jewels herself, the Duchess immediately calls her lawyer Mr. Cornillon, and demands a court injunction to get her jewels back, but the lawyer doesn't offer her much hope: "There may be a chance, that's all. The French government has recognized Soviet Russia and he doubts that they will risk a war for my poor sake. He might be able to make up some kind of a case but it would cost money, money, money. That's all they are interested in - those lawyers!" Leon, the well-heeled, true Parisian, calms her agitation and suggests that he may be able to assist - by stopping the sale and recovering the jewels.
In the hotel suite of the three Soviet emissaries, Mercier the jeweler examines the jewels with an eyepiece and shrewdly bargains with the Bolsheviks over the terms of the sale of the jewels: "Very good, superb, excellent, it would be foolish to belittle the quality of the merchandise but your terms are impossible. My counter offer is the absolute maximum...We're undertaking this deal only because of the prestige involved. And frankly, we're expected to take a loss." The suspicious Russians whisper critically of capitalism:
Iranoff: Capitalistic methods.
Buljanoff: They accumulate millions by taking loss after loss.
Refusing to give in to the first offer and "to uphold the prestige of Russia," the Russians decide to postpone their decision about the terms of purchase for a short while.
Count Leon D'Algout deliberately pushes his way into the room on the pretext of speaking to Mercier. He spies the sparkling jewels and tells Mercier that he wishes to prevent their illegal sale: "Those jewels are the property of the Grand Duchess Swana and were seized illegally by the Soviet government. I am acting for her Highness. Here is my power of attorney." Leon also serves them with a copy of a petition for a court injunction - to prevent them from either selling or removing the jewels by throwing the question of ownership into the French courts. Although Iranoff protests that the jewels were "confiscated legally," Mercier must postpone his purchase of the jewels until a clear title of ownership is presented to him.
As part of his campaign (beyond legal means) to prevent the sale of the jewels, Leon decides to seduce the three bumbling Russians by wining and dining them throughout Paris, thereby distracting them with the Parisian high life, preventing them from accomplishing their mission, and turning them into pro-capitalists. They are to be corrupted by the decadent bourgeois lifestyle and pleasures of capitalism.
First, he corrupts the humanly-frail, submissive men by ordering a lavish "lunch" for them in their royal suite. Tray loads of caviar and hors d'oeuvres are delivered down the hotel corridor by hotel waiters. Director Lubitsch, in a typically-characteristic sequence, positions his camera outside the doors of their suite as each new delivery arrives, followed by sounds of satisfied approval inside. A loud roar of delight follows the entry of a shapely cigarette girl, with an even louder burst when champagne is delivered with glasses on a tray. Finally, the loudest sounds erupt when three short-skirted cigarette girls are summoned.
The three Russians are rapidly corrupted by Hungarian orchestral music, dancing and more drinks. They drunkenly agree to allow their trusted friend Leon to write a telegram for them to their Russian Commissar Razinin (Bela Lugosi in a rare non-horror film role) in Moscow, a "bad man" who has a reputation for sending people to Siberia:
Commissar Razinin, Board of Trade, Moscow
Unexpected situation here. Grand Duchess Swana in Paris claims jewels and has already brought injunction against sale or removal. After long and serious study, we suggest in the interest of our beloved country a 50/50 settlement is best solution.
Iranoff, Buljanoff, and Kopalski
To visually illustrate the comrades' complete corruption as time passes, a close-up of their hatrack first displays their three commoner hats and then slowly dissolves into two stylish bowler hats and a top hat.
After awhile, a telegram is received from the concerned Commissar in Russia, announcing the immediate arrival of a replacement, dispatched from Moscow by train to find out what has happened to the three commissar comrades, the reason for the delay in selling the jewels, and to untangle any problems:
Halt negotiations immediately. Envoy Extraordinary arrives Thursday, 5:20 pm with full power. Your authority cancelled herewith.
Razinin.
To insure that their decadence will not be detected - possibly sending them off to Siberia, Iranoff orders the hotel desk to move their things to the "smallest" room in the hotel, and to prepare the royal suite for the Russian envoy.