Background
---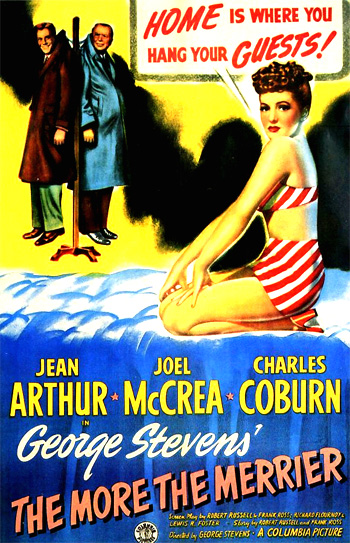 The More the Merrier (1943) is a delightful and pleasant romantic comedy about the homefront at wartime, with an amusing exploration of the problems of housing-bed-man shortages.
Director George Stevens' and Columbia Pictures' terrific war-time romantic comedy featured excellent performances and an effervescent flair, although it reflected a dark time period during the war years when Americans on the homefront faced many hardships. It was remade as Walk Don't Run (1966) with Cary Grant (his last film), substituting the shortage issues in DC with similar problems during Tokyo's 1964 Olympics.
The film was nominated for six Academy Awards, including Best Picture, Best Actress (Jean Arthur with her sole career Oscar nomination), Best Director, Best Original Story, Best Screenplay, and won one Oscar - Charles Coburn as Best Supporting Actor for his comic role.
Other films in the early 1940s that provided commentary about conditions during wartime Washington DC, included RKO's romantic comedy Government Girl (1943) starring Olivia de Havilland, Paramount's Standing Room Only (1944) with Paulette Goddard and Fred MacMurray, and Universal's hour-long musical comedy Get Going (1943).
Plot Synopsis
---
The film opened with a narrator's voice-over about the problem of no-vacancies in the nation's capital, prefaced by some views of the city's major landmarks. The narrator's commentary was belied with views of crowded conditions, rationing, and shortages - and 'NO VACANCY' signs posted everywhere:
Our vagabond camera takes us to beautiful Washington, D.C., the national capital of our United States, situated on the broad banks of the Potomac River. Living is pleasant and leisurely - for it is a city of formality and custom. Manners and courtesy are responsible for the well-ordered conduct of its daily affairs. The many fine restaurants of Washington are the delight of the epicurean and the gourmet, where one may enjoy to the full the rare dishes of the old south. Washington's beautiful homes have the quiet dignity of another day. Our trip would be incomplete if we neglected to visit the quiet, staid and dignified residential section. It is with pride that we view hospitable Washington, friendly Washington, welcoming us to her doorstep, eagerly throwing wide her doors.
Elderly gentleman Benjamin Dingle (Charles Coburn), a "retired, well-to-do millionaire" - was in Washington for business as a housing shortage advisor. His hotel reservation had mistakenly been made for two days hence, and therefore he needed a place to stay for a few days. He had been seen wandering around Washington DC with his suitcase, when he saw a placard below a statue, reading "Damn the Torpedoes, Full Speed Ahead" - his oft-stated saying.
Much against her will, due to a shortage of hotel rooms (and men) in the capital city, young prim and proper apartment-dweller Connie Milligan (Jean Arthur) was compelled to rent half of her tiny place out to a lucky tenant - it ultimately turned out to be Dingle, due to his quick thinking.
In front of Connie's apartment in her absence, Dingle spoke to the throngs of other eager tenants and pretended he was the landlord that had already rented the apartment ("I'm sorry but the apartment is all rented"). Then he convinced the real landlord, young working bachelorette Connie to rent him half of her apartment: ("Well, look at me, I'm neat, like a pin. Aw, let me stay...I'll tell ya what. We'll try it out for a week. End of the week comes, if you're not happy, we'll flip a coin to see who moves out").
In one of the most amusing sequences, Mr. Dingle received Connie's minute-by-minute, fast-paced morning schedule and a map:
It's a matter of efficiency. You just follow this and we won't have any trouble. Here, I'll show you. See, this is a floor plan of the apartment. Here's my room, here's your room, here's the bathroom and here's the kitchen. Now, my alarm goes off at seven o'clock, and we both get up. And at seven one, I enter the bathroom. Then you go down to get the milk, and by seven five you've started the coffee. One minute later, I leave the bathroom, and a minute after that, you enter the bathroom. Now that's when I'm starting to dress. Three minutes later, I'm having my coffee, and a minute after that at seven twelve, you leave the bathroom. At seven thirteen, I put on my eggs, and I leave to finish dressing. Then you put on your shoes, and take off my eggs at seven sixteen. At seven seventeen, you start to shave. At seven eighteen, I eat my eggs, and at seven twenty-one, I'm in the bathroom fixing my hair, and at seven twenty-four, you're in the kitchen putting on your eggs. At seven twenty-five, you make your bed. Seven twenty-six, I make my bed. And then while you're eating your eggs, I take out the papers and cans. At seven twenty-nine, you're washing the dishes, and at seven thirty, we're all finished. You see? It's really very simple.
He responded by simply asking: "Do we do all this railroad time or Eastern war time?", but she ignored his question. She boasted that she was very skilled at scheduling: "I used to work in the office of facts and figures." Their first attempt at carrying out the schedule, to keep out of each other's way, was tremendously funny.
Then, without Connie's approval, and as an attempt to play Cupid, Mr. Dingle sublet out half of his half of the apartment to clean-cut, handsome, young aviation expert and Air Force airplane mechanic Joe Carter (Joel McCrea), in Washington DC on special assignment-duty before being shipped out to Africa. Connie did a double-take upon noticing another apartment roommate Sgt. Joe Carter - who was already living in half of Dingle's sub-let space for a few days before deployment. He was carrying an airplane propeller. When Connie and Joe confronted each other for the first time outside the bathroom, she asked: "Who are you? How did you get in here?"
In the midst of slapstick complications and humorous situations involving space and privacy, matchmaker Dingle was ultimately able to get the two romantically involved during his one-week trial period, although Connie continually and staunchly insisted that she was engaged to her pompous older boss - stuffed-shirt housing bureaucrat chief Charles J. Pendergast (Richard Gaines).
Joe offered a parting gift ("peace offering") to Connie as he was about to move out and journey to Africa in a few days: "Just a sort of genuine top grade cowhide traveling bag with all the accessories" - and she was flabbergasted by his generosity and attentiveness, but said she had to refuse it because her fiancee Mr. Pendergast would object ("I couldn't take it"). Joe responded that it could be seen as a "wedding present - take it on your honeymoon," and then pleaded:
"I want to give it to you. Will it kill you to do me a favor and keep it? All I'm asking is that you accept, as a gift, no strings attached, one genuine cowhide traveling bag?"
And then he popped a question: "Say, do you think we could go out together and have dinner tonight?" - but she was later reluctantly forced to go on her scheduled 8 pm date with her fiancee.
On a balmy summer evening, Joe accompanied room-mate Connie on a walk back to their apartment after her date with Mr. Pendergast. She kept up pretenses when she bragged about her upcoming marriage - she was provocatively dressed in an off-the-shoulder black lace evening dress, with a string of white pearls around her soft neck, and her hair was decorated with a white flower. On the way she turned a streetcorner and nearly walked into one of many kissing couples on the sidewalk. As they talked about his family, he kept taking off and putting on her wrap, putting his hand on her bare shoulder, and taking her arm in his. When she asked about his girlfriends, they almost kissed in a shot framed between two small tree trunks, but then she resisted and pulled away, asking: "Are you afraid to get married or something?" As he embraced her, they collapsed on the front steps of their shared apartment.
In their famous courtship scene on the front steps of her brownstone apartment, the best scene in the film (and the most sexually-exciting), she spoke about her plans for her own marriage and her future with her fiance, an older man, a forty-two year old ("a safe and sane age") government official - her boss Charles J. Pendergast: "I consider myself a very lucky little lady...being engaged to Mr. Pendergast."
All the while, he was amorously embracing her, caressing her, and fondly touching her hands, arms, and shoulders - she vainly attempted to ignore his advances. She held out her engagement ring for his approval and he responded by kissing her wrist. Connie became visibly distracted and her voice cracked when he admired and then nuzzled her bare neck. "Well you see, that's the way with those older men like Mr. Pendergast. A girl gets to appreciate their more mature..." He passionately kissed her on the lips - when he released, she finished the sentence: "...viewpoint."
She paused, looked away for a second, and then took the two sides of his face with her hands and boldly kissed him back - harder. But then, she realized that they were getting too involved - she stood and politely and stiffly stated: "I've gotta go. Good night, Mr. Carter." He responded: "Good night, Miss Milligan." She ascended the stairs into the building and shut the door. He began walking away and then sheepishly remembered that he was leaving his own apartment: "I almost forgot where I lived." Connie held the door open for him.
As they bedded down in adjacent rooms, they had their own version of the "Walls of Jericho" bedroom scene (from It Happened One Night (1934)) between their apartment windows. The scene was shot from outside in a frame split by the wall between them, when they discussed how uncomfortable and restless they were, and Joe finally admitted: "I love you Connie," and she responded likewise: "I love you more than anything in the world." And then he abruptly sat up and proposed:
"You asked me if I was afraid to get married. I'm not afraid... I mean, Will you marry me? I want to marry you, Connie."
She immediately accepted: "Thank you, I'd love to," although they worried about being forced to separate ("And I'd be worrying about YOU, and you'll be worrying about ME").
Trouble briefly arose when Joe was arrested by the FBI after being falsely reported to be a foreign agent (a Japanese spy) by a misinformed, gullible neighborhood boy. When Connie, Dingle and Pendergast all showed up at FBI headquarters to offer denials, Connie's betrothed, self-centered beau felt scandalized by the situation (that Joe was cohabitating in an apartment with his fiancee). With Dingle, Pendergast ("Mr. Smug") suggested that to clear his name, Connie must marry Joe - and then she could seek an immediate annulment afterwards. She agreed with the idea, and Joe and Connie followed the scheme to avert the crisis. The two flew to South Carolina for a quickie marriage, and then returned to Connie's apartment.
In their final night there before Joe was to be deployed, the wall separating their bedrooms had been removed by Dingle. At last, Mr. Dingle, the aging Cupid who had stage-managed their pairing, could finally celebrate with his favorite line - encouraging them to remain married as he shouted from downstairs:
"Damn the torpedoes! Full speed ahead!"
He placed a new name-plate on the apartment door: "Mr. and Mrs. Sgt. Carter."