Background
---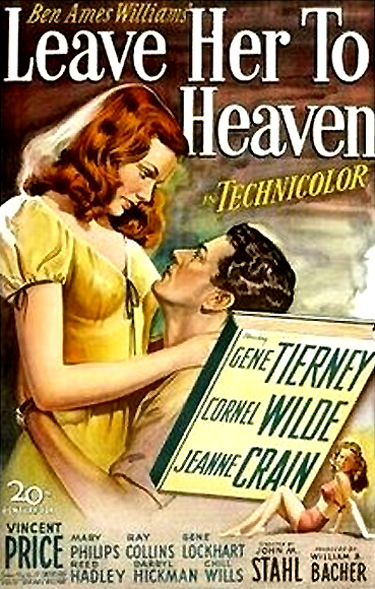 Leave Her to Heaven (1945), an unsettling psychological noir thriller and lush Technicolored melodrama from director John M. Stahl, was based on the recently-written novel by best-selling author Ben Ames Williams. After an intense bidding war, studio head Darryl F. Zanuck acquired the film rights in 1944 for an exorbitant price tag of $100,000 for the unpublished work (it was published a month later). Its screenplay was written by Jo Swerling, a Ukrainian-born Hollywood screenwriter known for previous hits including The Westerner (1940), the remake Blood and Sand (1941), The Pride of the Yankees (1942), and Hitchcock's Lifeboat (1944). Alfred Newman's thrilling score was meticulously planned and written during the film's production, to closely match the story's emotional ups and downs.
The movie's taglines hinted at the film's major themes: obsession, jealousy, and base human sin:
HERS WAS THE DEADLIEST OF THE SEVEN SINS!
The sin she committed in the name of love could not be judged by man...or punished by law!
For love she would give anything...even her life...or destroy anything... EVEN THE LIFE OF ANOTHER!
The title for the "woman's picture" was derived from the phrase ("leave her to heaven") in Act 1, Scene 5 of Shakespeare's Hamlet, spoken by the ghost of Hamlet's father to his princely son Hamlet. The dead father described how he had been murdered as he slept in his garden, when villainous Claudius poured poison into his ear in order to assume the throne as Denmark's King, in concert with Hamlet's corrupted and incestuous mother, Queen Gertrude. However, the spirit urged Hamlet to not seek revenge: "Leave her to heaven, and to those thorns that in her bosom lodge to prick and sting her."
The 110 minute post-war film, the first film noir shot in incongruous Technicolor (with an orangish or amber tint), was a tale of psychotic, compulsive love and doomed romance. The morbid story was about a menacing, father-fixated, unstable, deranged, and darkly archetypal femme fatale named Ellen Berent (Gene Tierney). The classical Greek mythic elements of the film have also been commonly observed:
the Electra complex of the femme fatale - exhibiting an overwhelming possessiveness for her beloved father
the memorable horseback ride to scatter her father's ashes from an urn held at her waist, resembling empowered female Hippolyta (with a magic girdle)
the disturbing murders of her husband's younger brother and her own unborn child, resembling Medea - a figure of great intelligence, skill, plotting manipulation, and vengeful cold-blooded murder
Obsessed with possessing her newlywed husband entirely to herself, she committed three ghastly murders to have her way - the deliberately neglectful and passive drowning murder of her own crippled brother-in-law, a do-it-yourself miscarriage by tumbling down stairs, and her own suicidal murder via poison to jealously implicate (after her death) a romantic rival - her own adoptive sister/cousin. Nonetheless, Leave Her to Heaven (1945) was 20th Century Fox's top-grossing film of the 1940s, earning $5.5 million in domestic ticket sales alone. In tone, the film resembled Douglas Sirk's later color-drenched melodramas in the 1950s, including Magnificent Obsession (1954) and Imitation of Life (1959), and Todd Haynes' more recent Far From Heaven (2002).
Alluring, ethereal and appealing (but often under-rated because of her "Ice Queen"-like persona) screen actress Gene Tierney - with sparkling green eyes - had recently received acclaim for her previous performances in Fox's and Ernst Lubitsch's dramatic comedy Heaven Can Wait (1943) opposite Don Ameche, and as the title character in Otto Preminger's noirish mystery Laura (1944). Soon after, she went on to more hits, including The Razor's Edge (1946) opposite Tyrone Power and Joseph L. Mankiewicz's The Ghost and Mrs. Muir (1947) opposite Rex Harrison. However, before she was chosen for the lead role in mid-January of 1945, other actresses were considered, including Tallulah Bankhead, Ida Lupino, Linda Darnell, Paulette Goddard, Joan Fontaine, and Lauren Bacall. [Coincidentally, this film marked the second time (on-screen) that Vincent Price played the role of Tierney's rejected love interest - in an earlier film Laura (1944), Price was also Tierney's jilted former lover.]
The subversive film required some tricky finnagling, due to censorship challenges from the Breen Office regarding the depiction of a deliberately-induced or forced 'miscarriage' (that could have been interpreted as an abortion). It was the first on-screen 'abortion' passed under the Production Code since stricter Hays Code enforcement had been established in 1934. Films were not allowed to depict 'abortion' as an alternative to pregnancy - until the mid-1960s when Alfie (1966, UK) became the first major film to discreetly depict an 'abortion' (although the term was never explicitly used) - performed in Alfie's (Michael Caine) apartment behind a curtain. Alfie had hired an 'abortionist' (Denholm Elliott) for Lily (Vivien Merchant), and after the operation was over, Alfie had a grim reaction to a view of the almost-formed unborn child (off-screen).
The film had four Academy Award nominations with one Oscar win - (Best Color Cinematography - Leon Shamroy) - it was rare that the dark film noir was filmed in such exquisite Technicolor. The main nomination was for the lead character portrayed by Gene Tierney (honored with her sole career nomination) as the beautiful and 'wicked' Ellen Berent - a pathologically neurotic, possessive and insanely-jealous woman. Tierney lost to a deserving Joan Crawford for her comeback role in Mildred Pierce (1945). The other two nominations were for Best Sound Recording and Best Color Art Direction/Interior Decoration.
The film was remade as a TV-movie titled Too Good to be True (1988), with Loni Anderson in the lead role.
Plot Synopsis
---
The film's opening title credits were portrayed in storybook format. Various chapters identified locations -
Deer Lake, Maine
A boat glided into the dock of a beautiful lake, bringing author-writer Richard "Dick" Harland (Cornel Wilde) home from a two-year prison sentence. He was met and greeted by his defense attorney, Glen Robie (Ray Collins). Dick was transferred to an awaiting canoe, to paddle himself up to his family's cabin-lodge. A nervous bystander, one of many who averted their gaze, remarked: "Poor dear man." He had supposedly "been through hell," though Robie thought: "To a man like that, two years in prison is worse than hell." Another onlooker recognized the ex-con as Dick Harland, who lived in a nearby lodge known as "Back of the Moon." Robie sat at an outdoor cafe overlooking the lake and spoke to his friend:
Well, of all the seven deadly sins, jealousy is the most deadly.
Beginning of Flashback
Robie related the story in flashback (a common technique in film noirs), about how Richard had ended up spending two years in prison, beginning with a preface about how the protagonist had first met a deadly and deranged femme fatale socialite on a train - she changed his life forever:
Some might say I lost the case for him...Well, there's some things that couldn't be told in the courtroom. Yet, of all the people involved, I suppose I'm the only one who knew the whole story. You see, it was through me they first met. He'd been working very hard on a new book. I invited him up to my place in New Mexico for a rest. They met on the train.
Richard was on a journey via train to Robie's Rancho Jacinto in New Mexico. The first view inside the rear club car (with a green color scheme) of the train was of a female, her face covered by the book she was reading - it was Richard's latest novel: "Time Without End." She lowered the book, revealing her unusual beauty, and then feigned falling asleep to gain Richard's awe-struck attention by having her book drop to the floor. She intensely stared at him, then apologized for awkwardly becoming fixated on him, and added that he closely resembled her late father - undoubtedly revealing her own Electra complex (the female version of the male Oedipus complex - a desire to possessively love her father):
You look so much like my father. When he was younger, of course, your age. A most remarkable resemblance.
He chuckled, nervously admitted he was also staring at her, but not because she looked like his mother. Captivated, he complimented her on her remarkable exotic beauty and claimed he was being truthful (but not just to flatter her), using flowery and poetic prose:
It'll be the truth and nothing but the truth. Any resemblance to flattery will be sheer coincidence...While I was watching you, exotic words drifted across the mirror of my mind as summer clouds drift across the sky...Watching you, I thought of tales in the Arabian Nights of myrrh and frankincense and... patchouli.
She recognized that he was quoting from the book she was reading, and found the exact passage - possibly thinking of him as plagiaristically unoriginal. He rated the book as a "sloppy job" and to his surprise, she agreed. Soon after, at the station in Jacinto, New Mexico, Glen Robie greeted - not Richard - but three obviously-wealthy females disembarking together, including the pretty female:
Ellen Berent (Gene Tierney), wearing dazzling white furs
Mrs. Margaret Berent (Mary Philips), Ellen's mother
Ruth (Jeanne Crain), Ellen's adopted (or foster) sister, actually her cousin
Glen also strode up to Richard and greeted him, before everyone was introduced to each other. The group of four visitors was escorted up to the ranch in a wood-paneled, blue station wagon. Once they arrived at the ranch, surrounded by iconic reddish sandstone buttes and spires, they were warmly greeted by Mrs. Louise Robie (Olive Blakeney) and her two young children: Tess Robie (Betty Hannon) and Lin Robie (Hugh Maguire). Richard explained that his younger disabled brother Danny Harland was not able to visit - he was "flat on his back" at Warm Springs, Georgia while being treated by doctors.
[Note: 1940s audiences would have been well aware of the geographical reference. President Franklin D. Roosevelt, afflicted with a paralytic illness, was regularly treated at the spa at Warm Springs, known for naturally-heated hot mineral springs. Presumably, he suffered from polio but maybe Guillain–Barré syndrome. Frequent visits led to the locale being dubbed FDR's "Little White House."]
During a dinner of freshly-caught trout later that evening, Ellen announced that her mother didn't care for New Mexico (even though it was her first visit). Ellen said that she had annually vacationed during springtime at the ranch with her father (a friend of Glen's), and again mentioned the remarkable resemblance between Richard and her father ("his face, his voice, his manner"). Richard expressed an interest in meeting Ellen's father, not realizing that the family were there for the patriarch's funeral. He learned that Professor Berent had died some time ago in the East, and that family members were there to spread his cremated ashes the next morning high up in the New Mexico mountains ("a favorite spot of his").
Richard listened as Ruth played the piano that evening while Ellen was out on a strolling walk - Ruth told him that both Ellen and herself were "psychic" but they were not true biological sisters:
I'm her cousin. I've lived with her family ever since I was a child. Mrs. Berent adopted me.
Shortly later on the outdoor terrace with Mrs. Berent (from the Beacon Hill area in Boston), Richard remarked: "I think everything's more beautifuI here." When he caught up to Ellen, he apologized for clumsily asking about her father during dinner conversation, and she accepted. She said she was very close and "inseparable" from her father: "We were both happiest when we were together." He noted that she was wearing a diamond engagement ring.
Early the next morning at 5:00 am, Richard followed on horseback after Ellen into the New Mexico hills, and watched with a fascinated look from afar as she dramatically rode over a ridge scattering her father's ashes (dumping them from a large urn that she moved from side to side). The film's musical score emphasized the wild and emotional nature of her thunderous ride. Both Ruth and Mrs. Berent also sat on horseback and calmly observed. Later inside the ranch-house about 12 hours later, as Ruth was again at the piano playing tinny music, in stark contrast to the ash-scattering sequence, everyone's emotions were under control. At the window, Richard was awaiting Ellen's delayed return from "the pretty wild country up there." Glen and Mrs. Berent were surprisingly unworried: "Nothing ever happens to Ellen." Impatient and unable to wait any longer, Richard rode up to the high-country and located Ellen. She thanked him for attending the family's funeral and spoke about her father:
Father used to say it was like riding across the front lawn of heaven. We made a pact to bring our ashes here when we died. 'If you die first,' I told him, 'I'll bring yours here. If I die first, you'll bring mine.' Yet, I know now, people you love don't really die.
The ranch clock chimed three times (3:00 am) on their return as they entered the ranch's front door. She stated she had a "different opinion" of his book and had found it "quite absorbing" - the change came because she "got interested in one of the characters...the author." She explained how the book reflected his personality:
'Every book's a confession,' my father always said. Course, you have to read between the lines.
She described her new-found understanding of him - confessing afterwards that she had read the dust-jacket blurb under his picture:
You're a bachelor. Thirty years old. You were born and raised in Boston and you went to Harvard, where you edited the Lampoon. When you graduated, you went to Paris and you studied painting for a while. You have a lodge in Maine called 'Back of the Moon'. Before you went in for writing novels, you were a newspaper man. Your favorite sport is fishing, and you speak French and Spanish quite well.
He congratulated her for her sleuthing skill, but then also foretold her possessed and crazed nature: "Shades of Sherlock...If you'd lived in Salem a hundred years ago, they'd have burned you."