Background
---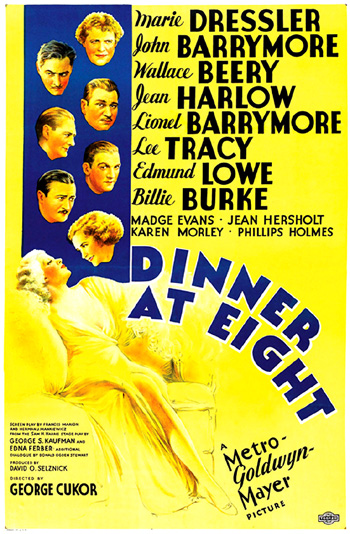 A masterfully-directed, poignant melodramatic comedy by "woman's director" George Cukor and producer David O. Selznick, Dinner at Eight (1933) was filled with a tremendous cast of stars (inspired by the format of MGM's previous year's Grand Hotel (1932) set at a ritzy art-deco Berlin hotel). Four of the stars, John and Lionel Barrymore (first popular in silent cinema), Wallace Beery, and Jean Hersholt, appeared in both films.
It was Selznick's first assignment at MGM after leaving RKO Studios, and he was responsible for selecting Cukor as the director. At first, Selznick was uncomfortable about being at MGM, sensitive to criticism that he was nepotistically working at his father-in-law's studio (Selznick was married to mogul Louis B. Mayer's 23 year-old daughter Irene Mayer in 1930), but he agreed when asked to fill in for MGM's ailing "Boy Wonder" producer Irving Thalberg. [Note: An oft-quoted observation was made about Selznick rise to power - "The son-in-law also rises" - a clever word-play on Hemingway's 1926 novel The Sun Also Rises.]
The elaborately-polished and stylish MGM film was based on the popular, dialogue-heavy Broadway hit by George S. Kaufman and Edna Ferber, that was originally produced on the stage by Sam H. Harris. The screenplay for the film was written by Herman Mankiewicz and Frances Marion, with Donald Ogden Stewart providing additional dialogue.
One of the era's earliest actresses, Marie Dressler (originally in vaudeville), after a comeback Oscar-winning role in Min and Bill (1930), performed her most quintessential career-ending, next-to-last role here as a fading stage star - she died shortly afterwards from cancer at the age of 65 in 1934. And Jean Harlow exhibited her comedy potential (a carry-over from her sexy and wisecracking appearance opposite Clark Gable in Red Dust (1932)) and received a major career boost.
The story, composed of many subplots or mini-dramas seen in vignettes or series of tableaux, surrounded one main event - a formal, posh Friday night Manhattan dinner party during the height of the Depression. The overly-stagy film looked at the tangled and changed lives of the high society guests, from the time the invitations were given out for "dinner at eight" at the Jordans to the time of the party itself. The film ended with the start of the party just as the beleaguered guests entered the dining room. On the day of the dinner party, a clock periodically chimed on the hour, on the soundtrack.
The witty romantic comedy was filled with many choice lines of dialogue, and revolved around the various challenges, complications, setbacks, problems, and relationships during the dinner party's preparation phase. Most of the characters were hiding serious problems and issues. Cracks in the facade of the high-society members began to emerge - suicide, financial ruin due to a business take-over, love, infidelity, economic pressure, class conflict, the dawn of the talkies, divorce, aging and fading careers, and alcoholism all adversely affected their interactions. [Note: John Barrymore's life, including his alcoholism and acting decline, was semi-mirrored in the film.]
Thematically, the main point of the film was societal change at the height of the Depression - (1) silent actors and stage stars from the past were overlooked, aging, alcoholic, and mostly destitute, (2) a new class of corrupt, self-made, ruthless, and unscrupulous corporate tycoons were beginning to emerge to take over businesses through shady deals, (3) an emerging industrial revolution was on the horizon ("...machinery is going to take the place of every profession"), (4) the power of low-brow sexual conniving and manipulation (in the Pre-Code era) was evident before it was squelched by conservative forces of censorship, and (5) wealthy and self-centered socialites were struggling with personal and financial issues as much as the common folk.
A poorly-made TV movie remake version was attempted, Dinner at Eight (1989), with Marsha Mason and John Mahoney as Oliver and Millicent Jordan, Stacy Edwards as their daughter Paula Jordan, Charles Durning and Ellen Greene as Dan and Kitty Packard, Lauren Bacall as Carlotta Vance, Harry Hamlin as Larry Renault, and Ralph Bruneau as Dr. Wayne Talbot.
The 1933 film received no Academy Award nominations - a tremendous oversight, when it should have been nominated (at the least) for Best Picture (there were 10 nominees for the award presented in 1934). Any number of pictures that year should have defeated the stuffy and stale winner Cavalcade (1933) - for instance, Best Picture nominee 42nd Street (1933).
Plot Synopsis
---
During the opening credits, the film introduced the major players in the cast by illustrating them as part of a formal dinner place setting. Each performer's face was seen in the middle of a dinner plate on a table. The film's title and the remainder of the credits appeared over an art-deco designed clock-face reading 8 o'clock.
One Week Before the 'Dinner at Eight' Party
Scheming, excitable, social-climbing Park Avenue snob Millicent Jordan (Billie Burke) was in the midst of planning and hosting a fancy dinner party, scheduled for the following Friday evening ("Dinner at Eight"), a week away. The shallow socialite was overjoyed and bragged excitedly to her long-suffering, kindly husband Oliver Jordan (Lionel Barrymore) about her social coup. She had fortuitously acquired an RSVP acceptance (via radio) from the distinguished and wealthy Lord and Lady Ferncliffe - it was reflected in the film's first line of dialogue:
Darling, I've got Lord and Lady Ferncliffe. They'll come to dinner next Friday. I just had a radio from them on the boat. Wasn't that brilliant of me, getting the Ferncliffes?
The Ferncliffes had entertained them in London the previous year, and were arriving the next day via ship. Millicent thought she was helping her husband's shipping line business with shipping magnate Lord Ferncliffe's acceptance: "You don't realize how important it is, Oliver. Everybody will be after them." She added them to her invite list: "Lord and Lady Ferncliffe, the Talbots: The Doctor and Lucy," in addition to aging actress Carlotta Vance (Marie Dressler), newly-arrived the previous day on the Europa. The Jordan's 19 year-old engaged daughter Paula (Madge Evans) entered the room - unenthusiastic about her future marriage in a month to her fiancee Ernest DeGraff, who was currently in Europe. (She was keeping it a secret that she was having an affair.)
Oliver Jordan, the third heir in the shipping line business that had existed for a century, arrived at his unremodeled office in New York's Battery, supervised by his secretary Miss Copeland (Elizabeth Patterson). He mentioned that one of their ships, the Castilian, wouldn't sail because the cargo business was drying up due to the Depression. His assistant Fosdick (Harry Beresford) confirmed that the trend was ominous: "No Jordan boat has missed a trip in 60 years." They were wary that some unknown financier was buying up stock in their company for a hostile, competitive take-over.
The witty (slightly wacky), 1890s celebrated, one-time stage star - plus-sized actress Carlotta (or "Lotta") arrived at the office - enthusiastically greeting Oliver as "Ducky!" and they mutually agreed that they were both graying, but still looking distinguished and presentable. She explained the motive for her visit: "Trying to mend my shattered fortune." She had an appointment with the US Customs Inspector, to complain about exorbitant customs duties, now that she had taken to owning six fur coats. She admitted to her dire financial situation: "I'm as flat as a millpond." Her inherited "rat-trap" theater in London had been condemned as a "spiders' rendezvous" and locked up for six months, ending a rental revenue flow. Originally, she was overjoyed with acquiring the theater, but now mourned the fact: "Now I wish I'd taken a sandwich." All that she had remaining were some dwindling stocks ("railroads, oil, cotton"). She also blamed her age for never returning to the stage again:
I'll have my double chins in privacy. I've seen too many hardened arteries dragged out to make a first-night holiday.
She claimed she was becoming destitute due to the high cost of entertaining visitors and living in London ("it all takes money"). After she had been in New York for four days already [Inconsistency: in the opening, Millicent announced that Carlotta had arrived the previous day], this was her first visit back to the US after 10 years, and she felt "lost already...Everything's changed. I couldn't stand it here. I'd die." The eccentric, matronly grand dame fondly remembered the old days:
I belong to the Delmonico period. Table at the window looking out on Fifth Avenue. Boxes with flowers and pink lampshades, string orchestra and I don't know, yes, yes, willow plumes, Inverness capes, dry champagne and snow on the ground. They don't even have snow anymore.
Miss Copeland attempted to offer a compliment about Carlotta's acting years earlier, but Carlotta wasn't interested in dwelling on the past. Perturbed, she interpreted the praise as a statement about her advancing age:
Copeland: I saw you when you played in Trelawney. You were wonderful...I remember it as plainly as if it was yesterday, though I was only a little girl at the time...
Carlotta: We must have a nice talk about the Civil War sometime, just you and I.
As one of the few stockholders in the Jordan shipping business, she proposed selling back her declining Jordan stock, her only remaining wealth, to restore herself ("Ladies must live") during the hard times. Oliver tried to dissuade her because of the difficult circumstances he was facing, and the state of the economy: "I'm afraid you wouldn't get what it was worth if you sold it now." She remembered fondly how he had been her ex-beau ("Dear Oliver, you were sweet. So serious. So respectful. I was very fond of you, Oliver"). In the past, she recalled that she was once "gorgeous" and that "they named everything after me. Cigars, race horses, perfumes, battleships." When he was twenty-one, he had proposed:
Carlotta: But one thing I shall always remember. The day you were 21, you asked me to marry you, Oliver....I thought it very sweet of you. You see I was 30-ish. I remember I went home and wept a little. They didn't often ask me to marry them.
Oliver: You broke my heart when you refused me, Carlotta. So I buried my grief in the shipping business.
The crass, wheeling and dealing nouveau riche businessman Dan Packard (Wallace Beery), an ex-Western miner and self-made millionaire, arrived for an appointment with Jordan. He immediately recalled Carlotta's popularity as an actress among the burly miners: "Your picture was on the wall of every mining shack up there in Montana, right alongside of John L. Sullivan." She excused herself from the office, but promised to attend the Jordan's "dinner at eight" party, and would be residing at the Hotel Versailles in the meantime.
Packard hinted, on his way to Washington DC, that he had political aspirations: "Seems like the President wants to get down at the bottom of things." He continued to insult Jordan's 75 year-old office structure (he called it a "dump" that had "gone to seed"): "Say, who put up this building, Peter Stuyvesant? Looks more like a museum than an office." Nonetheless, Jordan asked for some temporary financial support from Packard, by offering to sell some of his holdings to him:
I want to know if you and your associates would be in a position to sort of tide us over. I appreciate that I'd have to turn over some of my holdings to you. I'd rather not disturb the other stockholders.
Although Packard downplayed the business' worth ("I don't think you have much to offer"), he was agreeable to consider the proposed deal: "You get me some figures on this thing: The assets, the stockholders, a list of them, and the holdings. And you submit it to me, and I'll give you an answer within 24 hours." Jordan was suffering from a heart condition, and the thought of losing his business aggravated his physical health. He reached for his chest, but said he only had "indigestion." After Packard left, Fosdick expressed his opinion about the bullish and corrupt tycoon:
I wouldn't trust that man as far as I could throw a bull by the tail.
As Jordan stumbled to his desk in despair, he received a phone call from a stressed-out Millicent, who was completely unaware of his impending bankruptcy and serious heart condition. She was obsessing and fussing over the guest list, in particular, finding an "extra-man" partner for her single guest Carlotta: "I'm simply out of my mind. I'm still shy one couple, and I just can't find an extra man." The fluttery Millicent resisted the suggestion of her husband to invite the Packards for dinner (as an "enormous favor" to help him out of his financial difficulties, and to increase Dan's interest in his deal):
You're joking! Ask that common little woman to my house? And that noisy, vulgar man? He smells Oklahoma!
But then she reluctantly agreed, but later exclaimed: "Those Packards. Really."
Millicent then explained to her uninvited cousin Hattie Loomis (Louise Closser Hale) that her invitations had all been filled for her "small" dinner party. Hattie was actually relieved for her movie-buff husband Ed's (Grant Loomis) sake:
No need to apologize. A cousin is a cousin....Ed hates anything that keeps him from going to the movies every night. I guess I'm what's called 'a Garbo widow.' [Note: This was a reference to the ascendant star-popularity of Greta Garbo, who had appeared in MGM's previous year's Grand Hotel (1932).]