Plot Synopsis (continued)
---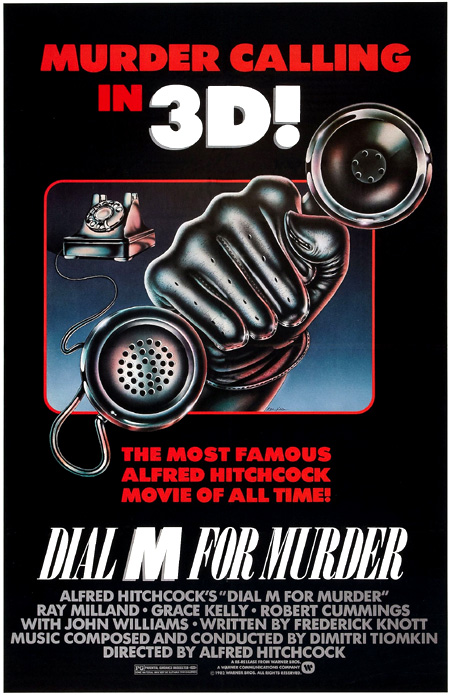 The Suspicious Inspector - More Questions For Tony About Large Sums of Cash and a Latch-Key:
The door buzzer sounded and the Inspector unexpectedly arrived, while Mark hid in the rear bedroom. He had come to purportedly make inquiries about a recent robbery, but presumably hadn't given up on the Wendice case. He wanted to know where Tony had obtained large sums of cash that he had on hand. He had recently paid a big bill at a garage with cash - was it somehow connected to the stolen money?:
I'm making inquiries in connection with a robbery that took place about three weeks ago, sir...The cashier of a factory in Ledberry Street was attacked in his office, and two men made off with several hundred pounds - mostly in pound notes...In cases like this, all police divisions are asked to keep a lookout for anyone spending large sums of money.... I was wondering if you'd sold anything recently for cash?...My Sergeant happened to be making inquiries at Wales' Garage the other day, and it appears that you settled an account there recently for, uhm, just over £60 pounds....Had you just drawn this money from your bank?...Where did you get it, sir?...If it was stolen money, yes, sir, it is my business....Until you tell me where you got it, I shan't know what to think, shall l? You see, if you got this money from someone you didn't know, I mean, that might be the very person we're looking for.
The Inspector bent down and retrieved a latch-key that he had just found lying on the rug at his feet. He asked if it was Tony's latch-key, but Tony confirmed that he had his own latch-key in the pocket of his trench-coat ("Mine's here!"). The Inspector then tried the key on the front-door, but it didn't work. He then realized that it was his own key that had dropped out of his similar-looking trench-coat - with a hole in its pocket:
No, it's not yours. It may be mine, then. Yes. Yes, it is mine. It must have dropped out of the pocket. There's a small hole there. That's the trouble with these latch-keys, they're all alike.
Tony's Attache Case Filled With Cash:
The subject returned to the large payments of cash that Tony admitted he was carrying around - more than £100 pounds - and the numerous bills he was paying - with cash - about town. Tony guiltily explained how he had been lucky with some big wins at dog racing, but admitted it was a touchy and shameful subject that he was gambling while his wife faced a death sentence.
As he was leaving, the Inspector stopped at the open door and wondered about a small dark blue attache case: "Have you a small, blue attache case?" Tony thought it was a coincidence that it was mentioned, and made up another lie: "You found it already....I was going to report it this afternoon. I think I left it in a taxi." While listening from the bedroom, Mark looked back at the bed - and realized that he had uncovered a similar-looking attache briefcase lying there. Tony described the circumstances of his lost briefcase:
he had hailed the taxi at Hyde Park corner a half-hour earlier
inside, the case had a few books and "two or three pounds in an envelope"
The Inspector had already known of the existence of Tony's briefcase because it had been reported that he had it in his possession when he paid his garage, wine shop and tailor bills. Meanwhile, Mark had feverishly pried open the case, and discovered it had wrapped bundles of used £1 pound notes. He called out to the Inspector, hinting at his suspicions: "I think Mr. Wendice has something to tell you."
Both of them were brought to the back bedroom to take a look at over £500 pounds in cash inside the case. Mark noted: "No wonder you couldn't bear to sleep in her bedroom." He theorized - not WHERE - but WHY Tony had that much cash - it was the remainder of the £900 pounds (£100 had already been paid) meant to pay-off murderer Swann, after he had paid some of his larger bills, amounting to about £300 pounds. Tony stood calmly and leaned against the doorway as Mark accused him of hiring Swann for cash to murder his wife. While awaiting his wife's execution and inheritance of her fortune, he was paying his bills with the money intended to pay off Swann:
This money was to have been paid to a man named Swann after he murdered Mrs. Wendice, but as you know, there was an accident, so it wasn't necessary to pay Swann after all. Obviously, he couldn't produce all this without questions being asked, so he lived on it. He's been living on it since the 27th of March.

[Note: This was an obvious inaccuracy. During the trial, it was specifically stated that Swann was murdered on September 26th. Therefore, Tony would have been living on the cash since the 27th of September.]
Tony's Defense Against Multiple Accusations:
To refute Mark, Tony went into a long-winded account of how Mark was suspiciously imagining that he was the guilty one, and how he had suggested fabricating different testimony to free Margot ("Before you came, Inspector, he was trying to persuade me to go to the police with the most fantastic story you ever heard"):
The Motivation for Murder: "Apparently, I bribed Swann to murder my wife....so that I could inherit all her money."
The Theft of the Love Letter: "Apparently, Swann didn't steal it, I did."
The Blackmail Attempt: "And I wrote those two blackmail notes."
The Love Letter in Swann's Coat-Pocket: "I kept Mr. Halliday's letter and planted it on the body."
Margot's Stocking: "I substituted my wife's other stocking for the one that..."
And then Tony let Mark fill in the blanks for anything he left out:
The Front Door Key: "He told Swann he'd hide his key somewhere out here, probably up on this ledge. Swann let himself in. He hid behind the curtains, then Wendice telephoned from the hotel, that brought her..."
Remarkably, as Mark had earlier surmised, Tony had summarized the real truth of what had happened.
The Inspector again interrupted with the oft-most mentioned puzzle in the whole scenario: "If Swann had used Mr. Wendice's key, it would still have been on him when he died. Besides, how did Mr. Wendice get in when he returned from the hotel?" Mark answered with two possibilities: "She could have let him in. And he could've taken his key from Swann's pocket before the police got here." The Inspector reminded Mark of court testimony during the trial: "He let himself in with his own key." Mark then thought of the most credible location for the hidden key, although his guess was slightly wrong:
Swann could have taken the key down from here (above-the-door ledge), unlocked the door, and then replaced the key on the ledge before he came in.
The Inspector was still impatient to know where Mr. Wendice got the money. He turned and went around to the desk, opened a drawer, and pulled out Tony's bank statements ledger. Both he and Mark struggled for possession of the ledger, as Tony looked on nervously. Mark speculated that the day after the murder (committed on September 26th, not March 26th - the date "this all happened"), Tony began to live off the unused pay-off funds for Swann:
The last check he wrote was on the 26th of March. That's the day before this all happened. I tell you, he's been living off it ever since.
There had been a series of regular weekly withdrawals (never above £53 pounds), so it was suspected that Tony had saved the money over a long period of time. Pressed for an answer, the quick-witted Tony fabricated another on-the-fly impromptu explanation for the money in the case. His newest story was that it was Margot's pay-off funds for Swann. She had changed her mind and killed Swann in a moment of panic instead of paying him off. Knowing that the money was to be used by Margot for the pay-off, Tony concealed the money to hide her guilt - to protect her from certain conviction if the authorities found out about it during the trial:
When she called me back from the party that night, I found her kneeling beside Swann's body, going through his pockets. She kept saying he had something of hers, but she couldn't find it. She was almost hysterical. That's why I wouldn't let the police question her. In the state she was in, she would have told every lie under the sun. The next morning, she showed me the money just as it is now, all in £1 notes. And she said, 'If anything happens to me, don't let them find this.' Well, after she was arrested, I took the money in that case to Charing Cross Station and left it in the checkroom. Whenever I needed money, I took it out and left it in some other checkroom. I knew if you had found it, she wouldn't stand a chance. You see, she was just about to give it to him when she killed him instead.
The Inspector thought Tony's explanation was convincing and plausible, and seemed to dismiss Mark's theory. Mark was disbelieving and incensed that Tony was telling more lies that meant death for Margot. He felt that the authorities had arrested the wrong person. He threatened that Margot might change her will if she heard Tony's latest deceitful fabrication ("What'll happen when Margot hears about this?...Perhaps she'll change her will. You'll have done it all for nothing, Tony").
Before departing, the Inspector reassured Tony: "Before nearly every execution, someone comes forward like this. This must have been very distressing for you coming as it did." The Inspector suggested that Tony speak to his lawyer if he was worried about the will, and he should also safeguard the money in his attache case. As a ruse, he asked Tony to glance outside to see if Mark had actually left, and in just the few quick moments that Tony retreated to the bedroom window, he switched or swapped the locations of their two nearly-identical trench-coats.
[Note: Remember that Tony's trench-coat pocket had the front-door key to the Wendice apartment, and the Inspector had his own lodging's key. Now after the switch, the Inspector had Tony's apartment key.]
As the Inspector left, his last words were to remind Tony to retrieve Margot's belongings at the police station - her books and handbag. Tony gulped down a stiff drink and stuffed some cash from the case into his jacket pocket before leaving with 'his' trenchcoat. The Inspector watched from the upper part of the hallway stairwell as Tony departed. Mark ducked behind a gate pillar to avoid being seen by Tony on his way out.
The Final Trap to Snag Tony:
Once Tony had left, the Inspector took Tony's key out of the switched trench-coat and let himself back into the apartment. With a flashlight to see, he dialed the Desk Sergeant O'Brien at the local police station and ordered: "Start the ball rolling."
[Note: It was an order to release Margot from prison. The coast was clear now that Tony had vacated the apartment.]
Mark returned to the apartment, knocked and identified himself, and was let in and told to keep quiet ("Shut up! If you want to save Mrs. Wendice, keep quiet and let me handle this!"). A horn honked outside, and the Inspector watched from the bedroom window as Margot was driven up in a car (escorted by two plainclothes police detectives). She entered the hallway to try her key at the door from her handbag. When it didn't work, she buzzed the doorbell (the door was not answered), and then walked back to the car. She obviously did not know that a key was hidden under the stair carpet. "Amateur" sleuth Mark was confused - not realizing that the "flatfooted" Inspector was setting a very clever trap:
They talk about flatfooted policemen. May the saints protect us from the gifted amateur.
The Inspector opened the garden drapes and window-door and waited until Margot appeared with the police. He let her in (with Mark standing behind him) and she first asked where Tony was. The Inspector questioned her about why she didn't use her own handbag's key. Bewildered, Margot said that she had, but couldn't understand why her key didn't fit the lock ("I thought it was mine").
[Note: Her handbag's key was actually the key to Swann's apartment, taken from the dead Swann's pants pocket by Tony and put into Margot's handbag the night of the murder. Tony wrongly thought Swann's key was her key. All along, however, her key was under the stair carpet where Swann had returned the key before entering.]
The Inspector also showed her Tony's attache case - she didn't recognize it ("I don't understand"). The Inspector had expected her reaction: "No, I don't believe you do." He told one of the plainclothes cops to return Margot's handbag to the police station.
Before explaining his theory, the Inspector prefaced his words with a warning. His intention was to prove, with certainty, that Tony had plotted to kill Margot, and had now determined that she was entirely innocent of the crime:
Inspector: What I'm about to tell you may come as a shock....We strongly suspect that your husband had planned to murder you.
Mark: Tony arranged for Swan to come here that night and kill you.
She was numb and stunned by the news - "I don't seem able to feel anything" - and had never suspected Tony. The Inspector explained how he began to suspect that Tony had masterminded the murder of Margot:
the previous afternoon, the Inspector had lifted the key from her handbag to secretly enter the apartment when Tony wasn't at home, in order to check his bank statements; he discovered that her handbag key didn't fit the door ("The key that I'd taken from your handbag didn't fit the lock")
At that moment, the Inspector was interrupted by a signal that Tony was returning to the apartment - he knew, of course, that Tony would not be able to get in due to the switched trenchcoats. The Inspector watched as Tony, on the front steps, realized that he was carrying the wrong overcoat. He headed to the nearby police station to get his own overcoat - and Margot's handbag. The Inspector phoned the station to make sure that Margot's handbag had been returned to the station by the time Tony would arrive. The desk Sergeant was instructed to have Tony sign for the handbag and books, and then was told: "If he wants his own key and raincoat, tell him I've gone to Glasgow."
The Inspector continued his explanation of Tony's plot to kill Margot. The Inspector's trap was two fold - to prove Margot's innocence and establish Tony's guilt:
the Inspector showed Mark and Margot the location of Margot's key - it was where Tony had placed it for Swann's convenience - under the stair carpet on the 5th step in the hallway. Obviously Margot didn't know that the key was there. Tony was still under the impression that the key was in Margot's handbag, and therefore didn't use it: "He didn't use it because he doesn't realize it's there. He still thinks it's in his wife's handbag."
the Inspector described Tony's original instructions to Swann about the key: "He told Swann that he would leave your latchkey under the stair carpet, Mrs. Wendice, and told him to return it to the same place when he left. But as Swann was killed, we naturally assumed that your key would still be in one of Swann's pockets. That was his little mistake because Swann had done exactly as you suggested, Mr. Halliday. He unlocked the door, then returned the key before he came in. (Mark: And it's been out there ever since. And the key Wendice took out of Swann's pocket and returned to her handbag was) Swann's own latchkey."
the Inspector had become puzzled when no key was found on Swann's body ("Most men carry a latchkey about with them"). Then, he had a revelation - and was able to prove that the key in Margot's handbag was actually Swann's apartment latchkey: "And then I had a brain wave. I took the key that was in your handbag to his girlfriend's, Mrs. Van Dorn's, and unlocked the door of her flat. And then I borrowed her telephone and called Scotland Yard."
the Inspector was completely assured that Margot did not know the key was hidden there. She was vindicated, but knew what it meant (and began to have a "breakdown") - her husband would be charged with the crime of attempted murder.
After visiting the police station (OFF-SCREEN), Tony returned to the apartment with Margot's handbag - he was planning on using Margot's key to let himself in. However, her handbag held Swann's key!
the Inspector hopefully predicted that Tony would incriminate himself: "Sooner or later, he'll come back here. As I've pinched his latchkey, he'll try the one in the handbag. When that doesn't fit, he'll realize his mistake. Put two and two together and look under the stair carpet....Once he opens that door, we shall know everything."
Mark noted that if Tony didn't reach for the latchkey under the stairs, nothing could be proved: "But if he doesn't do that, all this is pure guesswork. We can't prove a thing."
Tony entered the hallway a second time, unsuccessfully tried "Margot's key" from her handbag, and walked away. Outside the building on the stairs, he looked down at the key, while the Inspector spied on him from the bedroom window and imagined what was running through Tony's head:
He's wondering why that key doesn't fit. He's going around to the back entrance. He's stopped again. He's looking at the handbag now. And he's trying to remember when he put the key back in there. Now he's given up. I'm afraid we've had it this time. He's going way down the street. Hold it. He's stopped again. He's turning round. He's staring at the key. Of course, that's Swann's key, isn't it? Now he's got it! He's coming back fast. He's remembered.
Tony re-entered and walked down the hallway to his front door. He reached for the key from under the stair carpet, pondered for a second, and then opened the door.
As the lights went on inside the apartment (symbolic of his revealed crime), he turned and found himself face-to-face with the Inspector, Margot and Mark waiting inside. Quickly turning, he opened the door to flee, but a detective blocked his escape into the hallway. He turned back, as a very tearful Margot averted her eyes.
Tony acknowledged to Mark that his brilliant scheme had failed ("Well, as you said Mark, it might work out on paper, but....") and that he had been found out, and congratulated the Inspector for solving the case. With stiff British reserve, he calmly poured himself a large drink and casually offered to serve Margot and Mark - still the perfect host. The Inspector, remaining on duty, dialed the telephone to inform Scotland Yard, as he proudly brushed his mustache.