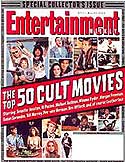 The Top 50 Cult Movies: Entertainment Weekly Magazine published their list of the Top 50 Cult Movies in their May 23, 2003 issue. Seven of their choices below were pre-1970, and only two pre-1950.
The magazine's introduction to the article on the Top 50 Cult Movies stated that "most died at the box office, some of them horribly. Mangled and despised, they were re-animated on video. And now they compose our cultural Esperanto, a subliminal vocabulary of vaguely subversive images, ideas, and phrases that we continue to obsess over and dissect at parties, around watercoolers, in bars, over the blaring banalities of the mainstream media din. They are Cult Movies...So if you take your dead evil and your buckaroos banzai-ed, pour yourself a tall glass of Kool-Aid and peruse this list complete with signature lines and a near Talmudic trove of trivia."
Filmsite has always had its own descriptions and recommendations for well-known and beloved cult films, at Cult Films.